Vales – Una Voce March 2017

ANDREWS, Daera | BARLOW, Lt Peter Donald | GRACE, Geoff | HERA, 'Sir' Pendepa | HEWITT Peter Ronald | HOLDER, Iain | HOLT, Colin Raymond (aka Tim) | JONES, Paul Milton | MARVELL, Peter Clifford | MIDDLETON, Veronica Valda "Val" | MITCHELL, Iain | REITANO, Mary Alice Kathleen | SAGE, Mark | STEEN, Thomas Authur | STRANG, JOHN FRANCIS RODERICK AO | TOMLINSON, Lawrence 'Lon' | WILLIAMS, Kelvin (Kel)
ANDREWS, Daera
2/8/1940 – 6/1/2017
Daera was born eldest Child of Mea Lahui and Hane Puka of Poraporena (Hanuabada). Her childhood was spent largely at the LMS Mission at Hanuabada where she received a basic primary education. She then attended the Primary "T" school and advanced to the top level Grade 8. She then went on to the Co-operative College in Port Moresby and graduated as qualified book keeper.
She was then appointed the first ever female inspector of Co-operatives .She was also sent on a tour of Co-operatives in Queensland for further familiarisation. In 1964,on a career change, she was selected to attend the South Pacific Training centre in Suva where she took a year's course in Home Economics and Social Welfare. Returning to PNG in late 1964 she worked in the Western District, the Ahioma Training Centre in Milne Bay and finally in the Madang District.
She married Roy Andrews in 26th February,1966. Roy and Daera moved to the Southern Highlands, then Chimbu District and Milne Bay, At all these stations Daera on a voluntary basis ran Women's Clubs and engaged in training women in domestic skills .
Roy and Daera returned to Australia for good in February,1974 firstly for 2 years at Frankston and then for over 33 years at Chirnside Park, Lilydale. She was a tireless worker in the swimming fraternity, the school canteens, the Church where her legendary plant stalls earned thousands of dollars for the Church and its charities, plus many other community activities., Her culinary skills and her hospitality were legendary. Her loving and generous nature earned much love and respect and this was never more evident than at her requiem service attended by over 300 people (plus many apologies) A service was also held at Hanuabada United Church on the same afternoon.
Daera is survived by her husband Roy, Her Children Maria, John, Christopher and his wife Rebecca, Bubu to Harrison, Teyah, Billy, Ruby ,Lily and Zoe and 4 God Children and her sister Geau Rone in Port Moresby. Greatly loved and sadly missed by all.
Provided by Roy Andrews


BARLOW, Lt Peter Donald
13.6.1939 – 25.12.2016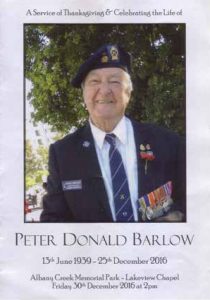 Peter worked with Customs in PNG. Prior to his enlistment in PNGVR in the1960s, Peter was a National Serviceman. He was a WO2 at PNGVR's annual camp in 1969 and was on the No1 Guard at the Presentation of PNGVR Colours in Lae. Peter was commissioned in the early 1970s and was a Platoon Commander in A Company, Lae, at the time PNGVR was disbanded in 1973. He returned to Australia in 1973 and transferred to the RCMF (Reserve of Officers). Whilst in PNG he married Therese. Peter kept his links with National Servicemen and was a member of the Northern Suburbs Branch, Brisbane of the NSAAQ. In 1983 Peter was involved in the formative years of the NGVR & PNGVR Association .Over the years both Peter and Therese attended Anzac Day and other reunions.
GRACE, Geoff
D. 20 NOV 2016
A former British infantry platoon commander, and British colonial police officer, Geoff joined ASIO where one of his first jobs was as officer in charge of ASIO's Rabaul office, in January 1964. ASIO later seconded him to help establish and build the expertise of the Special Branch of the Royal Papua New Guinea Constabulary. He left PNG in March 1969, only to return again in 1971 as the Deputy Director of PNG's Intelligence Branch, a position he held when that organisation was restructured and renamed the Papua New Guinea Security Intelligence Organisation (PNGSIO) in 1972. He later returned to Australia, and continued to work for ASIO.
HERA, 'Sir' Pendepa
Died at Wagiya Village in North Koroba LLG, Hela Province 13th January 2017.

See separate article HERE
HEWITT Peter Ronald,
Born in Windsor UK, died suddenly on 30.9.2016 aged 88 at Cockfosters, Herts, UK In 1946 he joined the Royal Navy Fleet Air Arm attaining the rank of Petty Officer before leaving to join the British Colonial Police Service in November 1953. Between that date and until September 1962, he served in the former British African colonies of Kenya, Cyprus and Nyasaland. He migrated to Australia in 1963 and on 11.11.1963 was appointed to the Royal Papua and New Guinea Constabulary He served at Port Moresby, Goroka, Kundiawa, Kavieng, Rabaul and Lae During his period at Goroka he flew to Nondugl and with a small group climbed to the summit (about 16,000feet) of Mount Wilhelm He resigned at the rank of Inspector 3/c on 10.4.1972 to join Her Majesties Diplomatic Service as a security officer. He served in Sierra Leone, East Berlin, Guyana and Portugal. He is the author of a book based on his experiences in Kenya during the during the Mau-Mau emergency, entitled "Kenya Cowboy". He leaves a widow, Altan.
Provided by MR HAYES.

HOLDER, Iain
D. 22 November 2016.
Iain Holder passed away in Cairns after a long illness. Iain was originally a Traffic Officer with TAA and after the formation of Air Niugini, became Air Niugini Goroka Manager. Iain was in partnership with Dave Hunter (Air Traffic Controller in Goroka) in the Kotouni Trout Farm outside Goroka. Iain settled in Cairns and after obtaining a pilot license, was the Cairns Base Pilot for Talair. He later joined Flight West Airlines in 1987. Iain's wife lost her life in a car accident on the Kuranda Range. Iain raised his daughter Serena. A Memorial Service was held for Iain in Cairns on 15 December.
Provided by Bob Fulton

HOLT, Colin Raymond (aka Tim),
11.9.1930 – 26.10.2016 aged 87 years
Tim died after a long illness in Nth Queensland aged 86. Born in Nambour, he joined the Queensland Police Force as a cadet on 11/9/1950 and served until 5/4/ 1959. On 20/4/1959 he was appointed to RP&NGC. He served widely at Moresby, Samarai, Popondetta, Mendi, Mt.Hagen, Daru and Konedobu PHQ. He also served as the Chief Licensing Inspector and was retrenched under the provisions of the Permanent Officers Employment Security Scheme at rank of Inspector 1/c on 3/7/1975, just prior to PNG Independence. He was awarded the Police Long Service and Good Conduct medal in 1973. His son, Robert a member of the RAAF, predeceased him in 1976, as did his wife Joan, in 2007. After PNG, he worked with Colonial Sugar Refinery as their concrete tester for about 13 years, retiring in 1995. Then followed a long period when with his wife, he travelled widely in North Queensland amateur gold prospecting.
Provided by MR HAYES
Additional information: On 20th April 1959 Colin was appointed to the Royal Papua New Guinea Constabulary as a Sub Inspector and stationed at Port Moresby. In 1961 he transferred to Samarai as District Inspector Milne Bay District. In 1964 Colin transferred to Port Moresby and promoted to Inspector Third Class Shift Inspector Port Moresby then Prosecutor Port Moresby, promoted to Inspector Second Class in 1966 as officer in charge Port Moresby. Colin became District Inspector Southern Highlands stationed at Mendi in 1968 and in 1972 he was promoted to Inspector First Class and transferred to Mt Hagen as Officer in Charge. From 1972 – 1974 he served as District Inspector Western District, stationed at Daru. Colin was awarded the Police Long Service and Good Conduct Medal on 19th April 1972. In 1974 Colin was transferred to Police HQ Konedobu and appointed chief Licensing Inspector (Liquor Commission) – a police position, and advisor on other licensing matters to the Commissioner of Police. He was seconded twice to the Liquor Licensing Commission to act as Chief Licensing Commissioner.

JONES, Paul Milton
D. 18 December 2016, aged 74 years
Mr Jones was a Patrol Officer with the Royal Papua New Guinea Constabulary from 1963 to 1971, where he was a Commissioned Officer and later became a Magistrate. He joined the Australian Capital Territory Police on 20 May 1974 and transitioned to the Australian Federal Police in 1979. He retired from the Australian Federal Police as Superintendent, Operations Support Services, on 16 February 2000.
In recognition of his service he was awarded the Police Overseas Service Medal, National Medal and 25 year clasp. Mr Jones also received the Commissioner's award for excellence on his recruit course.
Provided by Geoff Woodman and the AFP

MARVELL, Peter Clifford
27 May 1932- 8 June 2016
Peter Marvell was born in North Sydney on 27th May, 1932. He completed his schooling at North Sydney Boys' High School from where he matriculated in 1949.He excelled at Rugby and represented Combined High Schools. He remained throughout his life a keen member of the Old Falconians- an old boys' club from North Sydney Boys High School.
From the end of 1949 to the start of 1954 he worked for Kuring-Gai Council as a clerk. In January 1954 he accepted a position with the Administration of Papua New Guinea By then he had married Mondy Healy. They had met when they were both only 16, engaged at 18 and married in 1952, both aged 20.
Peter applied for a job in 1954 and was accepted by the Department of Agriculture Stock and Fisheries, Port Moresby. He had to leave straight away even though Mondy was pregnant with their first child. Although promised housing it took six months to secure married housing and by that time Monday arrived she was carrying their six week old son Steven in her arms. They were picked up at the airport by great friends Norm Webster and wife Pat. Norm passed away in April 2016, two months before Peter. They remained close friends all their lives.
Twelve months later Peter was promoted to Supply Officer for the Department. Like many others at that time he accepted much responsibility at a very young age.
Peter joined the Konedobu Hockey Club and later went on to represent Papua. Mondy had joined the Papuan Players and appeared in several plays and musicals. They had a great life in Port Moresby and were very happy there.
In 1955 Peter was transferred to the Lae office as Regional Clerk replacing Jack Thomas, a B4 [lived in PNG pre WWII] who was retiring. They secured a house on a hill above the hockey fields. You could see all the way to Salamaua. Unlike Port Moresby they had to get used to the extra rain and the earth tremors. His position included the regular internal audit of all agricultural centers, promotion of cash crops for the locals, quarantine control on the New Guinea mainland and he travelled extensively through the country. Peter became one of the founding members of the Lae Hockey Association.
After nine years in Papua New Guinea, with the children getting older and with the lack of schooling locally, there was a need to send them to Australia for schooling. Peter and Mondy could not entertain the thought of sending them away so in 1962 they returned to Sydney. The family then comprised Steven (born Sydney), Cheryl (born Port Moresby), Garry (born on leave in Sydney) and Kevin (born Lae).
Peter obtained a position with Sydney University Union where he was to become Secretary (CEO) in 1969 and the first Secretary of the amalgamated Union and Sydney University Womens' Union in 1972.
In 1973 Peter moved to The Grain Elevators Board of NSW – later to become the Grain Handling Authority of NSW. He took the position of Board Secretary and stayed for the next fifteen years. Recreation during those years included coaching junior Rugby and sailing. In 1988 he took early retirement from the Authority to concentrate on the wholesale plant nursery which he and Mondy were establishing on four acres of land at Terrey Hills. While at Terrey Hills Peter became involved in local affairs and served as Secretary and Treasurer with the Terrey Hills Progress Association for several years.
The nursery (Petamon, a combination of both their names), although small, became quite successful but by 1998 the heavy work was taking its toll. They decided to sell and retire to North Turramurra.
In retirement, as a hobby, they took up beekeeping, both Peter and Mondy became active in the North Shore Beekeepers' Association where Peter served as Librarian, Secretary and President. In 2013 they were both made Honorary Life Members of the Association. Over the years they won many prizes for their honey at the Hawkesbury Agricultural Show and the Sydney Royal Easter Show.
Peter was a great supporter of the Papua New Guinea Association of Australia and was an early adopter after its inception. His daughter Cheryl is a current member. Peter made many great lifelong friends from his time in Papua New Guinea and it remained a highlight of his and Mondy's lives. His family and friends miss him terribly.
Provided by Cheryl Marvell

MIDDLETON, Veronica Valda "Val"
04-03-24 – 11.12.16
Val was born in the front room of the family home at Carnegie, Victoria, not far from the Caulfield Racecourse. She was the youngest of 3, having a brother who was 14 years her senior and a sister who was 7 years older. Her education commenced at the local Catholic Primary school which was not far to walk and then she was fortunate to win a scholarship to complete her secondary schooling to leaving (year 10) at the Presentation College – Catholic Girls School at Windsor. This involved a huge amount of travelling by tram and walking. This was the beginning of her life long involvement with her religion and the nuns.
Her first job was in a Department Store in the city of Melbourne and her mother used to come and have lunch with her regularly. At the of 17 years she sadly lost her mother to Breast Cancer. Whilst in her early 20's Val made the decision to broaden her life and become more adventurous by gaining employment with the Commonwealth Government in the Territory of Papua – that was in the mid 1940s just after the war. It was the beginning of a 25 year association with this adopted country. It was here that she met Vince Middleton and they were married in 1958 in Australia and returned to Port Moresby where both their daughters Mary and Helen born. She returned to Australia for the final time in 1969 and settled in Nambour in 1972.
Over the years Val still had the adventurous spirit with travelling as a family or with one daughter at a time. Sport played an important part of her life and even just before she passed, horse racing was still being watched at home daily.
Val was diagnosed several years ago with Alzheimer's and this coupled with Breast Cancer in more recent times showed her true determination to maintain a life as normal as possible. She was cared for at home by family until the last few days of her life. She is survived by her daughters, Mary and Helen and granddaughter Alana.

MITCHELL, Iain
7 June 1924 – 4 September 2017 aged 93 years
Born in Glasgow, Scotland on June 7, 1924, Iain was 15 when the Second World War began. At 18, he joined the Royal Navy, and served in the North Atlantic, the Murmansk and Malta convoys, and was aboard HMS Arathusa for the Normandy landings on D Day. He survived torpedo attacks and his ship hitting a mine. He was recently awarded a medal for his Russian convoy service.
In November 1951 Iain and his wife Greta (Margaret) immigrated to Australia. Iain soon secured a job with Cadbury as a sales representative, travelling NSW in all seasons with eskies full of chocolate in his non air-conditioned station wagon. After a successful sales career, he was offered the position of Cocoa Buyer with the Cadbury Company in Rabaul.
The family arrived in Rabaul in 1964 and led an idyllic existence until this was marred by the death of Robyn, their first child in 1966. After a trip to Scotland seeking medical help, and a brief return to Australia, the family returned to Rabaul for the next nine years.
Iain's business was Cocoa buying …accepting only the cocoa that met the stringent standards of Cadbury. The smell, the taste, the texture all taken into consideration. After a number of years he left Cadbury and founded his own company in Rabaul, The New Guinea Cocoa Export Company, and sub contracted for Cadbury. He exported cocoa worldwide.
Both Iain and Greta were wonderful hosts. Many parties were held in Paluat, their Rabaul home – for the church, friends, Scottish parties, Robbie Burns parties. Occasionally bagpipes could be heard, mournful sounds drifting through coconut palms down to the beach.
On Easter weekend 1973 the Mitchell's house burned down, after a kerosene refrigerator blew up and the family lost everything. A few months later Ian was involved in a serious motor vehicle accident. Due to his injuries he had to sell the company and return to Sydney. Never one to give up, after much rehabilitation, Iain took up work again in the Government Insurance Office.
When Iain retired he needed outlets to keep him occupied. Probus was one of those outlets for him, engaging in the activities Probus offered. He was never idle.
He studied Political Science because, as he said, it's interesting and challenging – and achieved his degree as a mature aged student. An avid reader; he loved literature and poetry, Burns in particular.
Anzac Day was sacred for him. Three days before his death he asked his son to take him to the march – a wonderful insight as to where his mind was near the end…to be with his comrades.
Iain meant many things to many people. A comrade, a work colleague, a neighbour, a fabulous host, an employer, an employee, a father, a competitor, a member of their congregation. Iain was a complex mix. He was able to converse with a wide variety of people. A larger than life gregarious man who looked life and adversity fair and square in the eyes, saying, "It doesn't matter what you say life, I'll do it my way".
Provided by Colin Mitchell

REITANO, Mary Alice Kathleen
3rd July 1917 – 18 August 2016, aged 99 years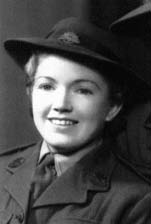 Wartime Nurse (QFX52128), Social Worker, Netballer, Embroiderer
Mary Alice Kathleen Reitano was born in Bangalow, NSW. Mary was one of 11 children born to Alexander and Alice Fleming. At 99, Mary outlived them all. The family lived on a farm near Bangalow. From here Mary did her early schooling at Corndale Public School along with her younger brothers, often riding to school on horseback. Mary later attended Lismore High School. These were largely carefree days for Mary. Her Dad and the older boys worked the farm while Mary and her younger brothers and sisters enjoyed the country life – playing with their friends, and going on picnics. Her family attended the Presbyterian Church in Clunes every Sunday before returning home to have the Sunday roast.
The Great Depression impacted all walks of Australian including country NSW. Unemployed men wandered throughout the country side looking for work. Sometimes her Dad was able to provide work for them. Her Mum used to send food packages to the needy in Lismore. Mary saw poverty at first hand. These were indeed hard times. Mary never forgot these early experiences. Since then, Mary always had a strong sense of social justice and caring for others.
War clouds were gathering in the 1930s. Mary enlisted in the Australian Military Force at Redbank Plains on the 8th June 1943 before transferring to the Australian Army Medical Service. Mary completed her initial training with the 1st Women's Training Company. Mary nursed at 2/6th Australian General Hospital (AGH), Rocky Creek, Queensland, from 9th July 1943 before embarking from Cairns to Morotai, Borneo, on the Hospital Ship 'Manunda' on the 10th July 1944 to support to the Allied advance against the Japanese. Mary nursed wounded soldiers. After the cessation of hostilities on 15th August 1945, Mary and other nurses embarked from Labuan for Sydney on the Hospital Ship 'Wanganella', on the 16th December, 1945. Mary was transferred to the 2nd Women's Hospital Brisbane on the 6th March 1946 before being discharged on the 2nd April 1946. For her war service Mary was awarded the Pacific Star, War Medal, Australian Service Medal 1939-1945, 1939-1945 Star, and Australian Service Medal 1945-1975 (clasp SW Pacific).
Five of Mary's siblings also served in the Second World War. Her brother, Allen Carsen Fleming, served in the 2/3 Motor Ambulance Convoy in Malaya, was captured by the Japanese and sent to work on the Burma/Thai railway as a POW. He died there and is now buried at Kanchanaburi; her other brother William Birdwood Fleming, served with the 18/80 Anti-Tank Battery, was captured by the Japanese in Ambon (then The Netherlands East Indies) and served out the war as a POW; another brother, Robert Fleming, served with the 9th Division in North Africa; Mary's sister, Keir Fleming, served with 2nd/6th AGH; her other sister, Agnes Fleming, served in the Australian Women's Land Army
It was during Mary's service in Borneo that she met her future husband, Frederick Victor Reitano. He was the escorting officer for a group of nurses to a dance when somewhere along the journey their eyes met. They were married on the 10th January 1946. At the time of their meeting Frederick was serving with the British Borneo Civil Affairs Unit. This job of assisting in the reconstruction of war ravaged regions of Borneo seems to have provided Frederick with a natural progression to the Australian colonial administration in the Territory of Papua and New Guinea. Soon after tying the knot they caught one of Burns Philp ships, the 'Malaita' to Port Moresby. After a stint in Mt Hagen, Frederick was selected to attend the 1st long course at The Australian School of Pacific Administration (ASOPA). He graduated in 1951. Frederick's first posting was to Bogia as a Patrol Officer. By this time, Jeffrey and Paul appeared in the world. While Frederick was out on patrol, Mary did her best to make our lives comfortable in this isolated outpost. Other postings in the next 12 years included Wewak, Maprik, Goroka, Manus and Rabaul.
It was during Frederick's posting as an Assistant District Officer at Lorengau, Manus, that Mary first became actively involved in community affairs. As guide leader of the girl guides along with Mrs English and RAN wives, Mary encouraged community activities with Manus Island girls. In 1957 the family moved to Rabaul, New Britain, where Mary started her career in social work.
Mary was also a great gardener. Colourful shrubs surrounded their home, and in Rabaul Mary displayed a great sense of resourcefulness by using Japanese war helmets as hanging baskets for flowers. This love for gardening continued throughout her life.
After graduating with an LLB from the University of Queensland 1961 Frederick took up a position in Crown Law at Port Moresby. Mary continued her social work when she was stationed at Ela Beach Sub-District Office. Ably supported by Papuan assistants Mary often travelled to faraway places to promote healthy lifestyles amongst village women. Mary travelled either by Land Rover or by local coastal traders. These were interesting times. Along with Lady Cleland, Mary developed netball in Port Moresby. The aim was to promote sport and in general healthy activities but also to encourage girls to network with girls from other villages.
Mary genuinely cared for the welfare of Papuan New Guinean people. During her time in social work she had to deal with some difficult cultural situations involving divorce cases, for example, often intervening to settle matters of estate. These were also very sensitive times as Papuan New Guineans were transitioning from colonial rule to independence. Mary and Frederick left Papua New Guinea in 1975. They spent 3 years in Darwin where Frederick worked in Crown Law. He retired in 1978.
After settling in Sunnybank, Queensland, they both became involved in a range of activities. Mary joined The Embroiderers' Guild at Fortitude Valley in 1980. Over the years Mary produced magnificent hand stitched patch work quilts for family members; Mary was also involved in quilting classes for young people. Mary and Frederick moved into Cazna Gardens RSL Care in 2010. Frederick passed away on 16th October 2012. Mary did not lose her common touch with people; she would often stop by a fellow resident's room to say hello and to check on their wellbeing. Mary was expert at the harmonica and used it to bring cheer to both staff and residents.
Mary lived through a period of great change but this child who grew up during the Great Depression never changed. Mary always put others first. Mary served her country for which we are very proud. Beloved Wife of Frederick Victor (deceased); Loving Mother of Paul and Jeffrey; Mother–in-law of Janelle, Kate, and Susan; Beloved Grandma of Odette, Noel, Emma and Peter; and Great-grandmother to Nikolas, Daniel, Ashley, Gabrielle, Michael and Nicola.
Provided by Paul Reitano

SAGE, Mark
D. 2016, Melbourne
On 14 November, 2016 I received a 'phone call from Warren Dutton in Kiunga to inform me of the death of Mark, here in Melbourne. I knew Mark in Bougainville in 1968 and flew with him in his Cessna 210. I last saw Mark in Kiunga a couple of years ago, when he was helping Warren to get one of his boats ready for "survey". Mark discussed with Warren the time he died on the operating table a few years earlier but was revived some minutes later and thus was cherishing his extra time. Vale Mark.
Provided by Chris Warrillow
STEEN, Thomas Arthur
27/06/1932 to 3/11/2015
Tom Steen was born in Leeton, New South Wales. Tom attended the long course at ASOPA in 1958. Whilst there, he was involved in the publication of the magazine "Tok Tok". In March,1959 he was posted to the Western Highlands to Tambul in the Mount Hagen Sub-District, where he was involved in Census and General Administration work. Following a long and cherished career in PNG, he made the decision that he wanted to live in the U.K. In early 1979 he went to Heptonstall in Yorkshire, then moved to Scotland for health reasons. He leaves behind his wife Bessie, daughters Fiona and Catherine, grand-daughter Nea, and grandsons Samuel, Conrad, Harrison and Hector, sons-in-law, Charlie and Boyd, and his younger brother Philip. Tom asked the following be written on his grave. "Bihain mi lukim yu"
More can be found HERE. And HERE.
STRANG, JOHN FRANCIS RODERICK AO
20/07/1940 TO 29/09/2016
We honour and celebrate the life of John Strang who died peacefully at home on 29 September 2016 after a long illness. He lived a life of purpose, of achievement and most importantly lived a life filled with great love; a deep love for family, for friends, for colleagues and for life itself.
John was a humble man, and for him, actions spoke far louder than words. He was an amazing father, husband, grandfather, friend, mentor, visionary, entrepreneur, chairman and industry leader. But most of all he was a wonderful human being.
In 2016 John was awarded an Order of Australia (AO) for distinguished service to the transport and logistics sector through executive roles in progressing industry development and to professional business organisations.

TOMLINSON, Lawrence 'Lon'
17 November 1916 – 21 November 2016, aged 100 years
Surrounded by family, Lon Tomlinson passed away a few days after his 100th birthday in Sydney.
A World War II veteran, Lon had a long affinity with PNG and its people. He commenced as a Field Medical Assistant in or about 1946. In that capacity, he was intimately involved in the disaster recovery efforts on the ground following the volcanic eruption in Mount Lamington in 1951.
After various health and medical education postings, in 1959 he was elevated to the position of Assistant Director, Department of Public Health (Administration) and, concurrently, the position of Secretary at the Institute of Human Biology. Like many PNGAA members, Lon was required to undergo a number of courses at the Australian School of Pacific Administration (ASOPA) and spoke fondly of the friendships he made there. Lon was also awarded a World Health Organisation Fellowship in London which he used to further explore solutions to some of the health related challenges in PNG.
Academically, Lon published a number of articles on topics as diverse as the origins and use of superstition in PNG and Western cultures, Health Workers in the new public service and Health Education in Rural PNG.
Lon was particularly well known for his avid sense of humour. In 1971, the then Director of Public Health for the Territory of Papua and New Guinea, Dr Symes, said: "Everyone I know enjoyed working with you. In the midst of our daily crises you brought often a tension-easing laugh to the conference table and showed frequently the pathway to a solution of a problem".
He will be sorely missed. Lon's daughter, Christi De Brennan, who faithfully cared for him for over a decade, is a current member of PNGAA.
Provided by Sebastian De Brennan

WILLIAMS, Kelvin (Kel)
D. 20th January 2017 at the Caboolture RSL Care Centre.
Kel regularly attended PNGVR Anzac Day marches until a couple of years ago when his medical issues curtailed his movements. Kel served with the PNGVR in Port Moresby for about a year in the early 1950s. He was working on oil exploration rigs in the Gulf. On his return to Australia he served until retirement with the Queensland Fire Emergency Service.