HEBOU PNG Barramundis By Patrick Bourke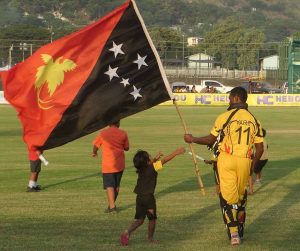 I recently watched the PNG national cricket team, the HEBOU PNG Barramundis, batting at Hurstville Oval, Sydney, during the 50 over match on Sunday 12 February 2017. They were playing a NSW Second XI team. Two members of the PNG team have played in Australia recently. Lega Siaka who was in the Melbourne Renegades squad for the Big Bash (T20, 20/20, competition) this year, and Chad Soper who plays 1st grade for Gordon in the Sydney grade competition. Both are still young. Lega Siaka is 24 and Chad Soper is 25.
PNG Barramundis play most of their cricket in the limited over games format i.e. 20/20 (20 overs for each team) or the one day game where each teams bowls 50 overs each. The longer games are a challenge for the players but they are making progress as this article by Nagraj Gollapudi testifies. http://www.espncricinfo.com/magazine/content/story/892025.html .
More information about the PNG Barramundis tour of NSW and their match in Canberra is on the Cricket PNG website at http://www.cricketpng.com .