President's Report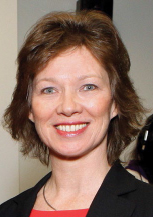 It was wonderful to see three new nominations for the 2017-2019 PNGAA Management Committee join nominations from former committee members. Welcome to Russell Wade, Yana Di Pietro and Chris Warrilow – joining Doug Wood (Treasurer), Roy Ranney (General – Membership), Murrough Benson (Secretary), Belinda Macartney (Editor), Sara Turner (General – Events), Phil Ainsworth, Steven Gagau, Steve Burns (General – PNGAA Collection) and myself. This is a full complement on the committee and, as nominations did not exceed positions available, there is no need for a postal ballot. There was no nomination for President and the position will now be filled as a casual vacancy by a member of the PNGAA Management Committee.
After eight years on the PNGAA Management Committee Paul Munro AM will be stepping back from a front line position but we look forward to his future involvement from the sideline. Paul has done an outstanding job as Public Officer and as an active member and regular contributor to committee activities. Whilst Paul has assisted in all areas of the PNGAA Management Committee, the committee was particularly grateful to have his help with the Ten Terminal in 2016. His attention to updates and submissions has been incredibly detailed and thorough.
The last submission to the SHFT and OEH/NPWS was due in just before Christmas! Paul has been a reliable support to me, personally, and his wise counsel has been much appreciated by all the committee. On behalf of the PNGAA Management Committee and members, we thank you, Paul, for enriching our lives and with all your efforts to strengthen the Australian PNG people to people relationship.
The PNGAA AGM will be held on Sunday 30 April 2017. A recommended change to the rules of the PNGAA by Special Resolution is to be considered and determined at a Special General Meeting to be held immediately prior to the Annual General Meeting. The motion for an amendment to the rules to establish that 10 members, not 20 members, constitute a quorum at an AGM
was discussed in General Business at the 2016 AGM. A proxy form is attached and we ask members to urgently vote on this. Our Treasurer, Doug Wood, has prepared a one page concise P&L and Balance Sheet for inclusion in this journal. If you are unable to attend the AGM and would like a full set of accounts when they are ready, please email treasurer@pngaa.net.
Every PNGAA member can assist with the activities of the association in strengthening our people to people links between Australia and PNG; as a priority, encourage people to join the PNGAA!
I regularly get calls with terrific ideas but the resources of the committee are limited to a small group of people who should not solely be relied upon. Members can offer to speak with local schools about PNG (especially around Anzac Day), have a morning tea or other event to
raise funds to assist either a special project in PNG or the PNGAA itself in the area of digitisation. Or they might know of someone who could influence a special project organised by other PNGAA members, and approach 'the influencer' to see if they know about the PNGAA and its network and activities, enhancing our role in the community and
widening our membership base further. Due to our unique network base, we are being continually
asked for funding assistance or to contribute resources in some way. Whilst Una Voce and other resources (DVDs), the website, the historical PNGAA Collection (always needing funds for digitisation) and various cultural events are the backbone of the association, the broad network
of interested members is what makes it all happen. If you are considering donating funds or resources anywhere as a well-meaning gesture, please consider carefully. This association is a valuable resource
but it could be eroded if too much attention goes elsewhere. Instead, building the PNGAA network increases capacity to support others.
In this issue we hear about Peter and Marion Comerford who, together with Gordon Doyle and others, recently organised a Trivia Night for the children of Tingwon Primary School in New Ireland. PNGAA has offered to assist in collecting donations on their behalf. After making a donation by EFT (put Tingwon in the subject line) please email membership@pngaa.net providing your details and noting the amount donated.
Also in this issue – Paul Oates contacted the Management Committee regarding a 'Kiap Scholarship' to 'perpetuate the name of the PNG Kiap after we are all gone'. This project will be developed by a team outside the Committee and with Committee support.
There were several events late last year much enjoyed by our members. A wonderful afternoon was had by all those who attended the screening of 'Kiap: Stories Behind the Medal' at the State Library of Queensland in November 2016. We were grateful to, and thank, Bob Cleland, Bob Fayle, David Hook and Vin Smith for their assistance with a Q&A panel after the film was screened.
Sara Turner organised 'something different' – a ladies night at Diana Ferrari which was great fun for all who went.
The annual PNGAA Christmas lunch in early December was a thoroughly enjoyable day thanks to Sara Turner's organisation.
The Adelaide and Perth lunches were lovely occasions too and our appreciation goes to the organisers. In Sydney we were fortunate to have Monique Turner-Carroll lead us in the national anthem and song with her beautiful voice. Little Ruby, Sara's granddaughter and Monique's daughter, assisted Roger with the raffle. It was a special day as one of
our regular attendees, Libby Cadden, turned 100 years just a few days later. Monique and Ruby helped present pretty balloons and a posy of flowers to Libby.
We were also delighted that Roy Mumu (Secretary for Transport
– PNG Government) from Port Moresby was able to join us. He was impressed by the passion that those at the lunch had for the Australia-PNG relationship. It also highlighted the potential that the PNGAA network has to assist
with business, professional and civil engagements between PNG and Australia in the future.
Highlighting the achievements of both Australians and Papua New Guineans recognises the hard work and commitment in achieving goals.
It was exciting to hear that the HEBOU PNG Barramundis were to play ACT XI in the Prime Minister's XI curtain raiser at Manuka Oval, Canberra, on 15 February. Our congratulations to them for their well-deserved win!
In Brisbane again – and many of our members visited the 'No 1 Neighbour: Art in Papua New Guinea 1966-2016'
exhibition at GOMA which was outstandingly spectacular. If only it was permanent! 'A Bit Na Ta' was also the title of a project
commissioned by GOMA for this exhibition. Comprising a music video installation and performance event, the project featured newly commissioned songs by leading Australian and Papua New Guinean musicians including the celebrated George Telek. These drew on the rich oral histories of the Tolai people, transposing into contemporary beats, personal stories of the period between 1875-1975, thanks to Gideon Kabakin. Project leader, musician and producer was David Bridie.
2017 is the 75th anniversary of many Australian battles in Papua New Guinea. The Rabaul and Montevideo Maru group, integrated into the PNGAA in early 2013, have organised services in Rabaul on 22 June 2017 and at the Australian War Memorial in Canberra on Saturday 1 July 2017 with a dinner following. All are welcome. Tragedy brings people together and these services are to remember all the men, women and children who suffered because of the start of the Pacific War in January 1942. On 1 July 1942 over 1000 Australian men died on the MS Montevideo Maru. Others died because of the Japanese invasion, of sickness, starvation and drownings,
the Tol Massacre and other atrocities. People on all New Guinea islands,
whether soldier or civilian, regardless of nationality, were affected and we remember them.
Late last year I met with Doug Roser, President of the Battle for Australia Association of NSW.
Doug explained that the objectives in their Constitution require them to foster the special relationship from WW2 with PNG and also focus on education of children. Against this background the Battle for Australia Association NSW would like to work with the PNGAA to ensure
the PNG connection of the Battle for Australia is recognised in future Services held on the first Wednesday of September each year at the Martin Place Cenotaph, Sydney.
On committee news, we are still looking for a person to be the webmaster for the new website. If you know of anyone who can assist us in this voluntary capacity it would be hugely appreciated.
There was a flurry of visits by Australian politicians to PNG in October, November and December 2016. Minister for International Development and the Pacific, Senator the Honourable Concetta Fierravanti-Wells travelled to Alotau Milne Bay Province, and Goroka, Eastern Highlands Province in mid- December 2016.
Labor Senator Penny Wong, the Shadow Minister for Foreign Affairs together with New MPs Damian Drum (National Party), Ann Sudmalis (Liberal Party) and Madeleine Kind (Labor Party) visited Papua New Guinea in October 2016.
The visit was organised by Save the Children Australia. Save the Children Australia director
Stuart Schaefer said that the visit was part of the international program of educating Australian
parliamentarians early in their career in understanding the development challenges and how they could improve their policies.
In early November 2016, Tony Abbott visited Port Moresby where he met Papua New Guinea Prime Minister Peter O'Neill and a group of Australian Federal Police officers deployed to PNG during his time as Prime Minister.
Penny Wong, in a discussion paper for the Lowy Institute on 9 November 2016, made a point that we believe
is and should be common ground between many who share an interest and concern about the importance of Australia's relationship with PNG:
'PNG is spoiled for choice when it comes to international partners and its own engagements with global interests. Australia cannot afford
to be complacent when it comes to investing in a strong relationship with our nearest neighbour.
Because Australia's place in PNG's changing worldview is not assured, we face an ongoing challenge
to strengthen our relations with PNG, both at a high level in terms of strategic interests, and at an on-the- ground level of investment by civil society and people on both sides of the bilateral relationship.'
I am encouraged by those remarks and by my contacts with Ministers and staff of the current government to believe that there is a fairly high level of bipartisan acceptance of the need to meet the contemporary challenges to an optimal bilateral relationship.
Now, if only both sides of government could see the benefit in funding an Australian Community Centre for Pacific Nations on Australian soil to strengthen those links!
Andrea Williams
16 February 2017