NGVR & PNGVR Association Patron Awarded Royal Life Saving Society's most prestigious award by The Queen
A renowned Brisbane paediatrician whose work led to the fencing of backyard pools to prevent toddler drownings has received the Royal Life Saving Society's most prestigious award from the Queen at Buckingham Palace.
Professor John Pearn, a world leader in preventing child drownings, was presented with the King Edward VII Cup at a palace reception on 23rd November, 2016 to mark the society's 125th anniversary.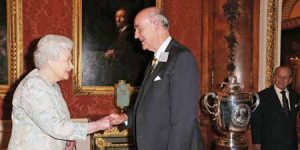 The 76-year-old said it was an "enormous privilege" to receive the cup, which is awarded every two years to Commonwealth members of the Royal Life Saving Society.
"It's been very special to have the work of not just me but so many people who work to keep children's lives safe recognised in this way" Prof Pearn told reporters after the awards ceremony. "Her Majesty, of course a great grandmother herself, loves children very much and is very sympathetic to all who work to keep children safe."
The Queen, who is the life saving society's patron, presented the award in the palace's picture gallery and posed with Prof Pearn in front of the very large cup, which will stay in the UK. Back in the 1970s when backdoor pools became affordable and popular, Prof Pearn and other child safety advocates noted a spike in toddler drownings. "In my own
city of Brisbane, a child was pulled out of the water dead, or apparently dead, once every week within 25 km of the GPO," he said.
A campaign led to legislation requiring the fencing of pools. "Now for example it's extremely rare for a toddler to drown in a backyard pool in any of the Australian states where there's rigorously enforced safety barriers around backyard water hazards," Prof Pearn said. "It was also important to teach first aid and resuscitation which can greatly increase the chances of survival", he said.
"But child drowning remains a worldwide problem. "Even today, unbelievable numbers of children drown in Bangladesh, 20,000 a year," Prof Pearn said. He is known for his work at Brisbane's Royal Childrens' Hospital and the University of Queensland's School of Medicine and in 2009 was awarded an Order of Australia (AO) for serviceto medicine. Justin Scarr, the CEO of Royal Life Saving Society Australia, was at the reception and said the award to Prof Pearn was an honour for all Australians.
"To this day swimming pool fencing legislation is a really effective way of reducing child drowning." For the past 10 years, Professor Pearn has been the Patron of NGVR & PNGVR Association. He is a former Surgeon General of the Australian Army. He served in PNGVR as a Medical Officer in C Company, Goroka and 2 PIR. He was also a member of the medical recovery team at the time of the tsunami near Aitape in 1998.