No 1 Neighbour – Art in PNG 1966 – 2016" at Queensland Art Gallery and Gallery of Modern Art.

PNGAA members were doubly impressed by this exhibition and by the knowledge and commitment of Curator, Ruth McDougall when they enjoyed a private tour for PNGAA members in January, 2017.
Extract from the Essay by Ruth Mc Dougall in exhibition catalogue is published with permission.
Photos taken at the exhibition by Andrea Williams
How many Australians really know anything at all about Papua New Guinea? What percent know the name of the PNG Prime Minister? Who knows that PNG was once an Australian territory? Probably not many.
"No1 Neighbour – Art in PNG 1966 – 2016" at Queensland Art Gallery and Gallery of Modern Art was designed to help address some of the questions above.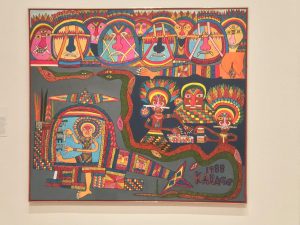 In fact, a key conceptual thread within the exhibition was the importance of the ongoing relationship between Australia and Papua New Guinea. It achieved this by introducing Australian audiences to artworks that expand our knowledge of shared history.
The exhibition attracted 200 386 visitors from 15 October 2016 until 29 January 2017. With displays of traditional and contemporary masks, bilums, carvings, pottery, fashion, photography, music and multi-media presentations audiences experienced an exciting display which provided the framework for deeper understanding of the issues faced by the people of Papua New Guinea.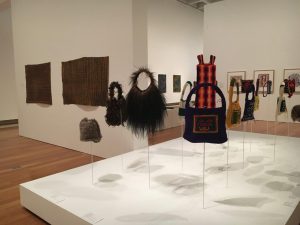 Six broad themes were used to introduce the culture of PNG:
Continuing dynamism and strength of custom
Importance of sing-sings
Storytelling and its translation into image
Tensions between traditions and modernity
Vibrancy and strength of women's voices
Contemporary initiation process involved in "making men"
During Australia's governance of PNG from 1906 until 1975 the region experienced extraordinary cultural and economic change as well as two world wars and three major volcanic eruptions. Numerous Australians participated in these events of change including administrators, kiaps (patrol officers), teachers, soldiers, nurses, scientists and missionaries. These people are acknowledged by the artists in the exhibition which demonstrates how the PNG people themselves have reflected on colonial occupation in history. And it is their insight and perspective that the exhibition profiles.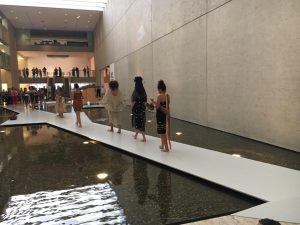 Some installations were specifically commissioned for the Gallery's exhibitions and Collection including spectacular spirit house entrance – Kwoma Koromb. Exhibition Curator, Ruth McDougall and Co-curator Martin Fowler made two visits to the villages of Apengai and Tongwinjamb to discuss the project with elders and villagers. Artists from Abelam and Kwoma then travelled to Brisbane to create, work and engage with gallery staff. To further outreach, interviews with artists and staff were videoed and played near the Koromb. The positioning of the Kwoma Koromb at the beginning of the exhibition is a nod to ithe ceiling at Parliament House in Port Moresby which is inspired by the ceiling of a Koromb. Along with the exhibition title this positioning alludes to the formal legacy of the Australian administration and the importance of strong ongoing relationships.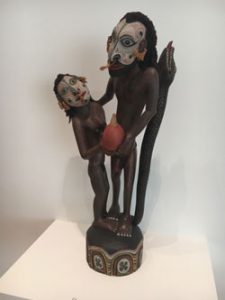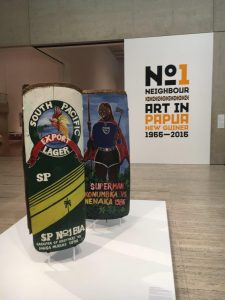 The a Bit na Ta (Source of the Sea) project describes elements of the colonial period from the perspective of the Tolai people of East New Britain. Songs written collaboratively by Tolai musician George Telek and Australian David Bridle draw on research by historian Gideon Kakabin and expose events occurring in and around Blanche Bay between 1875 and 1975.
The exhibition also celebrated pioneering PNG artists in the era of independence including Timothy Akis, Mathias Kauge and Jakupo Ako.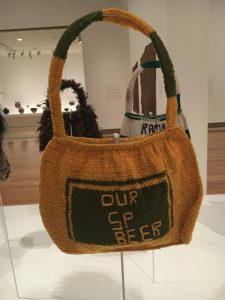 The No 1 Neighbour exhibition was an invitation to acknowledge Australia's colonial past in PNG and in accepting the invitation it compelled us to participate in new conversations and partnerships that recognise the vibrancy, richness and strength of our number one neighbour.
'No.1 Neighbour' was supported by the Gordon Darling Foundation and through the Australian Government through the Australian Cultural Diplomacy Grants Program of the Department of Foreign Affairs and Trade.