Vale September 1998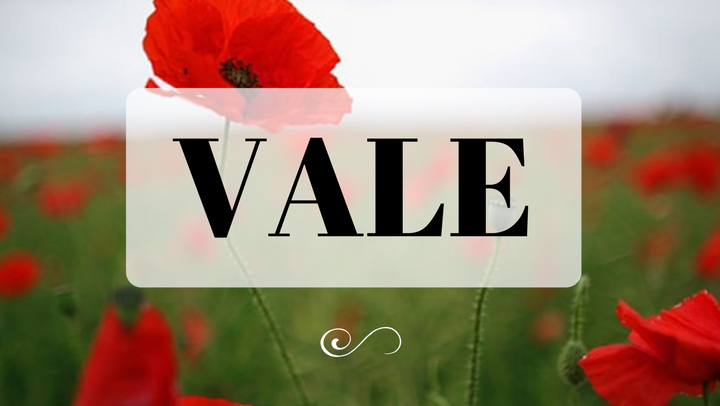 BATT, Bertram Clifford(10 August 1998) | BURT, Nellie Louisa(13 June 1998) | GREANEY, Robert (Bob) Kevin(5 August 1998) | HAYES, Betty Rose(23 June 1998) | MACGREGOR, Isa Ruby(30 June 1998) | McVEY, Molly(early 1998) | OAKES, Wesley Daniel(10 July 1998) | Van HOECKEL, Peter H J(5 August 1998)
Molly McVEY (early 1998, aged approx. 80)
Molly, from Buderim, Qld, lived in Goroka from 1959 to 1962 when her late husband, Malcolm, was manager of the Bank of New South Wales there. No further details available.
Betty Rose HAYES (23 June 1998, aged 73)
After graduation Betty went bush nursing in the Myrtleford area in north east Victoria, then did further nursing training at Crown St Women's Hospital, Sydney, and in 1950 completed ophthalmic nursing training at Moorfields Eye Hospital, London; subsequently she was selected for a Queen's appointment to the Ophthalmic Hospital in Jerusalem (Venerable Order of the Hospital of St John of Jerusalem) and she remained there for about two years. There were only three European sisters there at any one time, and all had the ex officio rank of commissioned officer in the Arab Legion, commanded by General Sir John Glubb, Pasha. It was usual for the Legion to allocate ranks to nurses as they believed this would encourage the hospital's many Arab Legion patients to treat the nurses with more respect. Betty held the rank of Captain, and is possibly the only Australian nurse ever to have held a commission in the Arab Legion.
Betty went to PNG in 1959, on her husband's appointment to the Royal Papua New Guinea Constabulary. In the early 60s she worked at Nonga Base Hospital, Rabaul, and was also the Girl Guide Commissioner at Rabaul for several years. Later postings took her to Kainantu and Lae. As with many overseas officers, she left PNG in 1974, returning to the family home in Melbourne. However, the lure of the Myrtleford area was strong, and she returned there to take up a small holding, spending the last 12 years of her life there. During this time she took an active interest in local affairs, many social groups and the University of the Third Age, and came to be highly regarded in the community.
Betty is survived by husband Maxwell, daughters Suzanne and Vanessa and grandchildren. Max Hayes
Isa Ruby MACGREGOR (30 June 1998, aged 101)
Isa Ruby Florence Towner was born in Charleville, Qld, in October 1896, was educated in Sydney and in 1921 married a WW1 returned soldier, Roy Macgregor. Daughter Faye was born in 1924 and in 1927 the family moved to Madang where Roy became interested in coconut plantations and trading, Faye attending school in Sydney. Ruby was evacuated at short notice in 1942, landed in Cairns and did the long trip to Sydney by train, where she stayed until the war's end. Roy stayed in New Guinea with the New Guinea Volunteer Rifles.
After the war Ruby and Roy returned to Madang and re-established the business and plantations. They retired to Pennant Hills NSW in 1964. Roy passed away in 1967. Ruby spent the last 41/2 years at Woodlands Nursing Home at Cherrybrook, enjoying a weekly visit to Castle Hill RSL to play the poker machines and have a quiet drink and a cigarette.
Ruby is survived by daughter Faye and grandchildren Robyn, Yvette, Don and Ricky. Frank Smith
Peter H J Van HOECKEL (5 August 1998, aged 84)
With his wife Trisha, Peter spent 14 happy years in PNG, arriving in Goroka in 1956 and leaving Madang, Peter's last post, as OIC with Stores and Supply, in 1970. Peter also served in Lae, Wewak and Rabaul.
He and Trisha retired to Atherton where they lived until 1982. From there they moved to Nambour. Peter is survived by his wife Gertrude Louise (Trisha). Trisha
Robert Kevin GREANEY (5 August 1998, aged 68)
After leaving school, Bob Greaney found employment in Victoria, mainly in clerical and sales areas. In 1951 he went to PNG as a Cadet Patrol Officer; he served firstly in several areas of the Milne Bay District, then as OIC at Gumine and Lufa and also in the Kundiawa and Goroka areas. His time in the Highlands was largely concerned with consolidation and development of the peoples and the infrastructure of the area.
Bob was then posted to the Goilala area where he was engaged on developmental tasks and the encouragement of Local Government and economic development. His final 'field' years were at Wau and Namatanai where he held the position of Deputy District Commissioner. Finally, from 1969-1975, Bob was stationed in Port Moresby as a District Inspector (this entailed extensive travel throughout PNG) and later as First Assistant Secretary (Policy and Planning). Before leaving PNG Bob was involved in many top level Government Committees concerned with the progress towards Independence.
Bob and his young family left PNG in 1975 and settled in Brisbane. From 1975 to 1990 Bob was employed at the University of Queensland in the External Studies area, overseeing the operation of the undergraduate degree programme. He retired in 1990 and he and his wife Pat moved to Bribie Island. Unfortunately Bob's health began to deteriorate soon afterwards, and became progressively worse. In spite of his severe health problems, Pat said he never lost his good mind and sense of humour, and he never complained: he was always talking about going on a trip when he recovered.
Apart from his wife, Pat, Bob is survived by daughter Rebecca, sons Paul and Brendan, and two grandchildren. Pat Greaney
Bertram Clifford BATT (10 August 1998, aged approx. 80)
Cliff Batt, the son of a naval man, was educated at Royal Hospital School at Greenwich, England. On completing his education, he was bonded for 5-8 years. He chose to go into the Air Force and in his middle to high teens went to India where he qualified as a Fitter A (air frames), then as a Fitter E (engine man). During the war he undertook a flying course in Rhodesia and became a pilot. He returned to India and during the war in Burma was flying Douglas transport aircraft.
After the war, he came from England to Australia and worked as a jackeroo in Western Queensland. From there he went to New Ireland in about 1948. Some time later he acquired Kapsu plantation. From Kapsu he went to Maron in the Hermit Islands group, and from there he acquired most of the big copra plantations in the Western Islands, west of Maron, including Pelleluhun, Heina and Wuvulu. Cliff and his family lived for a time in Madang where he kept his boat, the Rudolph Wahlen, at a private wharf.
Cliff eventually sold his PNG interests and came to Australia. He bought a cattle property in the Atherton Tablelands, and later moved to a motel on the Gold Coast. It was from there that he finally retired from business. Cliff was renowned for doing the unusual: for example, he was the oldest man to swim the English Channel.
Cliff is survived by his wife Gisela, two daughters and a son. Peter Murray
Wesley Daniel OAKES (10 July 1998, aged 38)
Wesley Oakes was born in Rabaul. He spent three years at Pomio, Jacquinot Bay, where his father George was Patrol Officer. His childhood years were spent at Kokopo, Lae and Port Moresby. He attended Boroko East School, then two years at Port Moresby High School, then went to Kinross Wolaroi School at Orange, NSW. He was born with a serious congenital heart defect which restricted him at times in his development. In his early twenties he underwent surgery and this gave him fair health. He had heart surgery several times since, the last being in June 1997, which was not as successful as had been hoped. He was always positive in his outlook on life. He achieved and managed to do much in his life: travelling, screen printing T shirts and recently cladding his house. On 10 July, he was driving alone near Uralla not far from Armidale when he suffered cardiac arrest. A large gathering attended his funeral at Hazelbrook.
Wesley is survived by his wife Elisabeth and 4 year old son Jonathan, his parents George and Edna, sister Denise and brother Stephen. George Oakes
Nellie Louisa BURT
(13 June 1998)
Nellie Lousia BURT (13 June 1998, aged 38)
Nellie Louisa Burt was the wife of the Late Harold Thomas Burt. No further details available.