Vale December 1998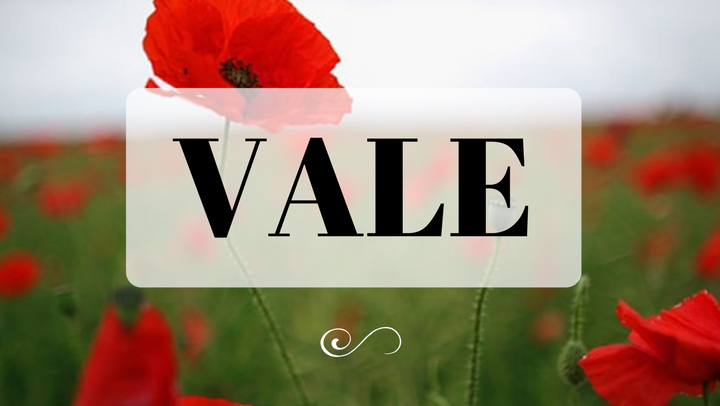 ABBOTT, Patricia Kathleen(13 September 1998) | ADAMS, Theodore Francis(17 September 1998) | ALLMAN (née Evans), Gwen(26 September 1998) | ANDERSEN, Francis William George(8 August 1998) | ASTLEY, Hazel Elena(25 June 1998) | BAKER, Kevin(September 1998) | BRASH, Elton Thomas, OBE(10 September 1998) | CLARKE, Eileen Alice(30 August 1998) | FOX, Stephenson (Peter) (8 September 1998) | FRAWLEY, John William(21 September 1998) | HANNAN, James(22 September 1998) | HARRISON, Charles Featherstone(21 September 1998) | HAWTHORNE, Ronald Leslie(2 October 1998) | HIGHAM, Bill(31 July 1998) | LEAHY, Jean (late June/early July 1998) | LONGMORE, R (Mac)(19 August 1998) | MADDEN, John Bernard (Barney)(25 July 1998) | OWNER (née Keating), Mary Josephine(11 July 1998) | SCHINDLER, Aubrey, MC(October 1998) | SELLEN, Dorothy Ella(30 August 1998) | SMITH, Ernest Yarwood(10 October 1998) | SPENCER, Brian William(7 July 1998) | STUART, Joan Elizabeth(21 March 1998) | THICK, Joyce Marjorie(8 July 1998)
Joyce Marjorie THICK (8 July 1998, aged approx. 84)
Joyce was born in 1914 at Cunnamulla, Qld. Both parents died during her first year of life and she was brought up by her older sisters. At 21, Joyce married Jack Thick. Jack was then working on the wharves, and the couple soon started travelling all over Australia following the work. In 1939 their daughter Pat was born. When war broke out, Jack became a member of the "Flying Wharfies" and was sent away to numerous ports.
After the war, in 1947, Joyce and Pat joined Jack in Darwin for a couple of years. They then went to start the Moroak Cattle Station in central Northern Territory. There was no house, except an ex-army cooking caravan to sleep in at night. Later they moved into the luxury of a corrugated iron house with ant-bed floors. Joyce quickly learned to make bread and soap, and cater for three months of provisions at a time. Her skills also included bleaching the bags the flour and sugar came in, and making them into interesting underpants for themselves. After a couple of years the family moved to Katherine where Jack began trucking from Darwin to Alice Springs.
In 1953 Jack and Joyce went for a visit to New Guinea. They decided to stay, living first in Bulolo and then Wau. Eventually they moved to Goroka to start a trucking business and later branched out into sawmilling. In Goroka they first lived in a kunai house, then Joyce finally got her first real home: at that stage without electricity, but with the luxury of running tank water. Eventually electricity and the septic were connected, and years later the telephone. In 1975 the couple sold up their businesses in Goroka and moved to Gumdale, Qld, to be nearer to Pat and the grandchildren. Jack passed away in 1984. Joyce remained at Gumdale until early 1997 where she continued to enjoy handcrafts and reading, and the company of family and friends. Joyce was a very kind thoughtful lady who never wanted to be a nuisance to anyone.
She is survived by her daughter, Pat, five grandchildren and ten great-grandchildren. Taken from the eulogy sent by Allan Neilsen
Gwen ALLMAN (née Evans) (26 September 1998, aged 84)
Gwen was one of the schoolchildren in Rabaul in the early 20s, along with her brothers Hal and George. Their father, Bielby Evans, was with the Expropriation Board. Years were spent in Buka on plantations, later at boarding school, and in her late teens as one of the 'bright young things' in Rabaul, where she met and later married patrol officer Bill Allman.
They eventually settled in Wahroonga, Sydney, raising a family of three daughters and one son. Bill had joined the pharmaceutical firm Johnson & Johnson, eventually becoming financial director. He predeceased Gwen by twenty years. Gwen is survived by her three daughters and son, and grandchildren. Linda Evans
John William FRAWLEY (21 September 1998, aged 67)
John passed away on the Central Coast. He went to PNG as a cadet patrol officer in 1949 and served in various parts of PNG with the Department of District Services. He spent eight years in Port Moresby as a magistrate after joining the Department of Law in 1969.
John left PNG in 1974 and practised as a solicitor in Gosford for some time. He is survived by his former wife Kerry, four daughters and seven grandchildren and his second wife Denise and two stepchildren. Kerry Frawley
Hazel Elena ASTLEY (25 June 1998, aged 72)
Hazel Astley, who died in Perth after a long illness, worked for many years in Papua New Guinea and was a director of nursing at Rabaul. After returning to Australlia she was for some years on the staff at the Blood Bank in Melbourne. From the Alfred Hospital Nurses' League publication, "Nursing Notes"
John Bernard (Barney) MADDEN (25 July 1998, aged 74)
Barney was born in Maleny, Qld, and later moved to Brisbane to continue his education at Gregory Terrace College. After serving with the RAAF in the Pacific, he completed teacher training and taught in various Western Queensland schools. Whilst teaching at Dalby he met Maisie, who was a nursing sister at the Dalby Hospital, and they were married in 1956.
After their marriage they went to New Guinea where Barney was District Education Officer in Mendi and Sohano before becoming Principal of both Port Moresby and Goroka Teachers Colleges. In 1957 whilst in Mendi, Barney was in the Norseman VH-BNE piloted by the late Helly Tschuchnigg which crashed at Lake Kopiagu. With the experienced climber Dr Lawrence Malcolm, Barney climbed Mt Giluwe, an achievement he was very proud of.
In 1967 the family travelled to the United States where Barney completed his PhD in Sociology. Returning to Brisbane in 1974, the family settled in Kenmore and Barney took up an academic position at Mount Gravatt CAE. He retired in 1986. He was a dedicated member of Rotary and Probus where he was President of both. With great regularity he joined his friends at the Indooroopilly Golf Club.
Barney is survived by his wife Maisie, son David, daughter-in-law Pearl and three grandchildren, and daughter Camilla and her fiancé. Maisie Madden
Theodore Francis ADAMS (17 September 1998, aged 74)
Theo Adams first went to New Guinea in 1944, aged 21, as a member of the 2/2nd Commando Unit of the AIF attached to the 7th Division. He joined the Unit at a place called Fita, eight days walk from Goroka. He was involved with patrols into territory which was occupied by the invading forces in the Ramu and later towards Shaggy Ridge, the scene of heavy action and losses of men and equipment. Theo volunteered to take part in these patrols. He was always cheerful and did his job as a signalman with great skill under awful conditions. Once he said that he was never afraid of going on these patrols until someone took a shot at him, and he has been frightened ever since! But this was typical of Theo, always causing a laugh.
After the war Theo became a traffic officer with Ansett Airways at Madang and Goroka for a number of years. Latterly he was the Manager of Minogere Hostel at Goroka, operated by the Goroka Council as a middle range hostel and conference centre. He was an expert at organising functions, whether for Anzac Day or the Melbourne Cup. Minogere Hostel was also the site of the Goroka Swimming Pool operated by the Goroka Council and subsequently by the Eastern Highlands Capital Authority.
Theo's wife Ato owned and operated several second hand clothing shops in Goroka in the 1990s.
Theo had over 30 years in Papua New Guinea. A large gathering attended his funeral including Ralph Conley, Hank Cosgrove and many from Papua New Guinea. He was given military last rites by members of the Commando Association.
Theo is survived by his wife Ato, sons John, Paul and Billy and daughters Dulcie and Lisa. Doug Franklin
Bill HIGHAM (31 July 1998)
Bill Higham, who flew as a navigator with the RAAF in World War 2, worked at Bulolo Gold Dredging and later was employed by the Commonwealth Department of Works as a technical officer. He was a popular member of the Police Club at Port Moresby. He is survived by his wife Benny who worked in the Traffic Department at the Port Moresby Police Station. John Herbert
Brian William SPENCER (7 July 1998, aged 55, of cancer)
After four years in Victoria Police, Brian Spencer joined the Royal Papua New Guinea Constabulary as a contract officer in March 1968, serving at various stations and Bomana College until resignation in December 1971.
He returned to RPNGC in 1980 with brevet rank of Chief Superintendent as personal assistant to the then Commissioner of Police, but decided to resign in early 1982, returning to Australia. He rejoined Victoria Police in October 1982, serving there for seven years before taking up a beef property in South West Gippsland.
He later moved to Townsville where he spent several years as a jobs skill consultant. Brian is survived by his wife Sandra and children. Max Hayes
Elton Thomas BRASH,
OBE (10 September 1998, aged 60)
Dr Brash was one of the most respected and widely known Australians to reside and work in Papua New Guinea. His former students read like a 'Who's Who' of PNG. He was involved at many levels of education in PNG, culminating in his appointment as Deputy Vice-Chancellor (1978-82) and Vice-Chancellor (1982-85) of the University of Papua New Guinea.
The son of a Seventh Day Adventist missionary, he graduated from the University of Western Australia in 1958 and joined the PNG Education Department in 1960. In 1964 he joined the staff of the Administrative College where his students included such future leaders and advocates of PNG independence as Michael Somare, Albert Maori Kiki and John Kaputin. Later he was deputy principal of Goroka Teachers' College. In 1970 he joined the staff of the University of PNG. He was awarded a PhD by the University of Sussex (UK) in 1975 and the OBE in 1985
Dr Brash returned to Australia as Projects Director for the International Development Program of Australian Universities and Colleges and in 1994 he and his wife set up consultancy services. He was diagnosed with leukaemia in the early 90s but he did not let that stop him from travelling extensively in South East Asia and the Pacific. In late 1997 his health suffered a further reverse when he was found to have a brain tumour. A memorial service was held at the PNG High Commissioner's residence in Canberra.
Dr Brash is survived by his wife, Nora Vagi Brash, a prominent PNG writer, two children of that marriage, and five adopted children. Friends of the Brash family
Mary Josephine OWNER (née Keating) (11 July 1998, aged 78)
A mixed bunch freshly arrived from ASOPA, we joined for tea the crisply starched District Education Officers who were conferencing behind wooden louvres at Konedobu. Originating from WA, I was presented to Mr Boisen to join Jo Keating at the four-teacher school in Rabaul. Perched in the canvas seats next day en route, he spoke about how single girls were expected to behave and dress, about shared accommodation, and of his need for me to teach refresher courses in the school holidays. Landing at the shed there was an excited head-teacher wearing huge red hat, red handbag on crooked arm, red elbow-length gloves and spike-heel red shoes. We drove straight to the school in the Land Rover.
Visiting Jo Keating in her spacious suburban home September last year, she and I recalled that day in 1957. The 41 years fell away and the heat, colours, harbour, job and marvellous people that was life then exhilarated us again. Messrs Groves and Owner had interviewed me in Adelaide, and Don was Chief of Division for a time after I moved to teacher education, so I could empathise with her stories about her intoxicatingly happy later life as Mrs Don Owner. We spoke at length on the phone in April and she was her bright positive self, so the news of her passing surprised me. I have contacted her sister who said she declined suddenly and death came within twenty-four hours of entry to hospital. Pam Quartermaine
Kevin BAKER (September 1998)
Kevin Baker died after a long illness (leukaemia). He went to New Guinea in 1938 and worked in Customs in Rabaul. Later he was transferred to Lae where he was Chief Clerk. He joined the NGVR in 1941 and served in Morobe and later in ANGAU. After the war he returned to Australia. Ira Halliday
James HANNAN (22 September 1998, aged 65)
Jim Hannan died in Queensland barely a year after leaving Darwin, having retired from the Bench on the day before his 65th birthday. Jim went to PNG as a cadet patrol officer.
He studied for a Law degree and was a magistrate in Port Moresby and Lae. He was in the Federal legal system in Canberra and left there to take up a magisterial position in the NT in 1984. He is survived by four children and three grandchildren. Jim Toner and Paul Ryan
Francis William George ANDERSEN (8 August 1998, aged 83)
George Andersen was born in Samarai in 1914. He was the son of Captain Christian Andersen, a well known skipper of ships trading in PNG waters in the early part of the century. George's initial education was at the Anglican school in Samarai, then he went to school in Brisbane. Returning to PNG at the age of 16, he was with Steamships Trading Company in Port Moresby for four years before joining the Oroville Dredging Co., exploring for gold in the upper Fly River area. The following year he was offered a patrol officer position and in 1936 took up his first posting at Cape Nelson (Tufi), In 1937 he joined Claude Champion in a six month patrol up the Kikori River to Lake Kutubu. Subsequently he carried out patrols from Daru, Cape Nelson and Ioma. At the outbreak of war he was ARM at Goilala.
During the war George was a coastwatcher under the command of the Navy and in this capacity gave radio warning of the first air raid on Port Moresby. He then served in ANGAU at Cape Nelson and Milne Bay, where he later headed the Milne Bay ANGAU unit. Towards the end of the war he was posted to Lae and Esa'Ala. Return to civilian life saw him District Officer (now with wife and son) at Rigo and later Kerema.
In 1949 George took a job in the Aboriginal Welfare Department in WA, rising to the position of Deputy Commissioner. In 1965 he was appointed official secretary at the WA office in London and for some time served as WA's Agent General.
He returned to Australia in 1970 and spent a quiet but happy retirement at Mollymook, NSW. George is survived by his wife Patricia, son David and two grandchildren. David Andersen
Aubrey SCHINDLER, MC (12 October 1998, aged 83)
Aubrey was born in Brisbane in 1915. He was a bright student, achieving a degree then a Master's in Agriculture and a diploma in tropical dairying. In the 1930s he became a staff member of Gatton Agriculture College and while there he joined the CMF 25th battalion. With the outbreak of war Lt Aubrey Schindler was sent to Milne Bay. He was awarded the Military Cross for his involvement during the battle at No. 3 airstrip on the night of 31 August 1942.
About a year after Milne Bay while on Rest and Recreation leave in North Queensland, Aub was asked to return to New Guinea under ANGAU to establish a cinchona plantation at the DASF Experiment Station at Aiyura in the Eastern Highlands. Cinchona is the source of quinine which was needed to supply the troops for the treatment of malaria. Aub remained at Aiyura after the war to establish cash crops for the indigenous people. He experimented with a number of crops, the two most important being coffee and pyrethrum.
In 1946 Aub married Ancie Carson Beales, and over the next ten years their three children, Peter, Ivan and Gillian, were born. During his time at Aiyura, Aub travelled to Africa to study tropical agronomy. He continued as Agronomist in charge of Aiyura until 1962 when he left the administration and bought a coffee plantation, Karanka. Aub became heavily involved with the Farmers and Settlers Association in the Highlands. He had a wealth of knowledge of the cultivation of coffee and always gave it freely. He also became a member of the New Guinea Education Board as he thought that the indigenous people should be taught agriculture in the early years of school. He felt the people should remain in their villages rather than gravitate to the towns where they had little future: by learning about farming, they would remain self sufficient. Aub continued to experiment on his own plantation with other plants such as duboisia, tropical fruits and different ways to cultivate coffee and tea. Nerada tea from North Queensland was originally grown from Karanka tea seed.
In 1974, Aubrey and Ancie retired and moved back to Brisbane where they enjoyed the company of their children and grandchildren. Ancie died in 1995. For the past three years Aub was in turn cricket coach, spelling tutor, monopoly master and adviser and was always good company. From a eulogy given by one of Aubrey's sons
Jean LEAHY (late June/early July 1998)
Jean Leahy did not go to New Guinea, but several of her children did: these were Sir Daniel Leahy, James Leahy and John Leahy. Her husband Thomas Joseph Leahy predeceased her. She is survived by 8 children and 68 grandchildren and great-grandchildren. Editor
Ronald Leslie HAWTHORNE (2 October 1998, aged 78)
In 1941 Ron joined the AIF and served in the Middle East, Greece and Papua New Guinea. In 1944 he married Meta and the couple had four children. Following the war, Ron and his family moved to Port Moresby where he became a foreman fur the country's largest construction company. The family settled into a stay of almost 30 years during which time Ron was very active in the RSL and was awarded life membership for his work for ex-servicemen and Legacy children. Another great interest of Ron's was lawn bowls: he became a champion bowler and represented PNG at tournament level.
Ron left PNG in 1980 and continued his interest in the RSL and lawn bowls in Brisbane. Recently he took over the organisation of the annual PNG Bowls Day at his Club at Hendra. Ron is survived by his wife, children Graham, Stuart, Russell and Rosemary and their families. Ira Halliday
Ernest Yarwood SMITH (10 October 1998, aged 79)
Ern Smith began his working life in engineering at Mt Isa Mines. Early in the war he was exempted from military duty as he was in an essential industry, but later he was sent to Jacquinot Bay and Rabaul and was mentioned in despatches. He took over the Rabaul powerhouse from the Japanese.
Ern married in 1947 and the couple settled in Rabaul. Their four children were born in PNG. Ern was a Health Inspector at Rabaul for 13 years, then was transferred to Wewak where the family remained until Independence. Ern stayed on in PNG in private enterprise and he left in 1981 to settle on the Gold Coast. He dedicated many years to writing and researching the Western Islands of PNG.
Ern is survived by his wife Helen, four children and eight grandchildren. From a eulogy read by one of his grandchildren
Charles Featherstone HARRISON (21 September 1998, aged 83)
Charles died in Nepean Hospital after a long illness. He first went to PNG for the Department of Labour in 1959 and was stationed in Mt Hagen, Kokopo, Madang and Port Moresby, where he retired in 1974, along with Joan, to settle in Werrington, NSW.
Charles loved cricket and golf and was one of the pioneers of the Mt Hagen Golf Club. He is survived by his wife Joan, children Charles Jnr, Raymond and Elizabeth and their families. Provided by Charles' daughter Elizabeth
Stephenson (Peter) FOX (8 September 1998, aged 86)
Peter Fox was a well known and high profile businessman in Goroka in the 1970s, also actively involved in PNG Rugby League.
No further details available.
R (Mac) LONGMORE (19 August 1998)
No further details available.
Patricia Kathleen ABBOTT (13 September 1998)
Patricia Abbott was the wife of the Late Dr Terence Kingsmill Abbott, former Deputy Director, Medical Services in Port Moresby. No further details available.
Eileen Alice CLARKE (30 August 1998)
Eileen Clark was the wife of the Late Patrick Harold Clark, formerly of Dept of Forests and of the Public Service Commission in Port Moresby. No further details available.
Dorothy Ella SELLEN (30 August 1998)
Dorothy SelIen was the wife of the Late William Ernest Sellen. No further details available.
Joan Elizabeth STUART (21 March 1998)
Joan Stuart was the wife of the Late William Holland Stuart. No further details available.