Vale March 1999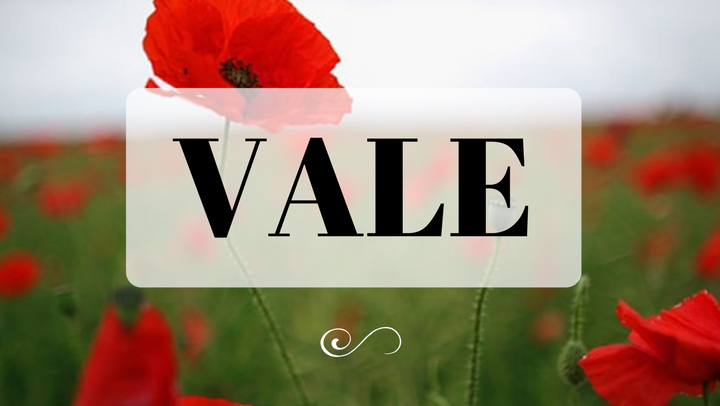 ASH, Brian | (late 1998) BAKER, George, CBE | (August 1996) BARNES, Charles Edward (Ceb) | (November 1998) BREARLEY, Bruce | (21 September 1998) BUNTING, Bob, DFC, DFC (US) | (9 February 1999) CHAMPION (née Ross), Elsie May Sutherland | (23 October 1998) COX, Jean Stewart | (12 January 1999) CRAINEAN, Maria | (5 July 1998) DUNSTAN, Harry Kenneth | (15 February 1999) DURKAN, Ellen | (17 November 1998) GRIEVE, Ellen Hanora (Ellie) | (3 January 1999) HARWOOD (née McLellan), Jean | (13 October 1998) HARRIS, Frank | (18 December 1998) HATTERS, Alvin | (20 November 1998) HEAGNEY, Brian Redmond | (29 May 1998) IRELAND, Isabel Ellen | (18 January 1999) LINSLEY, Gordon Thomas | (1 January 1999) MARSHALL, Norman Richard | (21 January 1999) MATTHEWS, Shirley | (early 1999) McARTHUR, Jack | (24 November 1998) NIZETTE, Ken | (13 January 1999) SCHALLMEINER (née Cooke), Jan | (6 January 1999) SCULLY, Phil | (28 February 1999) SHUTT, Horace Michael | (12 October 1998) WELDON, Betty Maud | (22 January 1999) WRIGHT, Malcolm Hugh, DSC | (27 October 1998)
Isabel Ellen IRELAND (18 January 1999, aged 77)
Isabel was a committee member of the Retired Officers Association: she was always bright and cheerful and was a reliable hard-working member. She was born in Griffith, NSW, the daughter of a soldier settler. During the war she was a Morse code operator, stationed in Townsville. In 1956 Isabel went to PNG to do a six-month stint as a comptometrist. Subsequently she learned the accounting machine and worked for Civil Affairs and Treasury. She was headquartered in Port Moresby but worked at Samarai, Lae, Madang and Rabaul. Later she became a training officer at Badili (Stores and Supply), training stock controllers. She left PNG in 1971. Isabel is survived by a sister and brother. Editor
Ellen DURKAN (17 November 1998, aged 78)
Ellen Durkan and her husband Ted, who were both born in Ireland, migrated to Australia and shortly after to PNG. Ted first went to PNG in 1956 and Ellen and their children followed in 1958. Three more children were born in Port Moresby where Ted was involved mainly in the construction industry. The family moved to Australia in 1982 and settled on a farm near Gympie in South East Queensland. Ellen is survived by husband Ted, seven children—Ann, Margaret, Eddie, Helen, Kathleen, Mary and Anthony—and 17 grandchildren. Kathleen and her husband Douglas Maskelyne and family still live in Port Moresby. Robert Blaikie
Charles Edward (Ceb) BARNES (November 1998, aged 96)
Ceb Barnes, a Queensland farmer and grazier, entered Parliament as a Country Party member in 1958. In 1963 he was chosen by the Prime Minister, Sir Robert Menzies, to take over the position of Minister for Territories from Paul Hasluck. Ceb Barnes and his new Secretary, George Warwick Smith, chose to emphasise economic development over all other activity, believing that greater economic development should precede self-government. Over the eight years of his leadership (under four Prime Ministers), he held fast to that belief, with the result that his critics said he was ultra conservative and could not understand the aspirations of the people. Ian Downs in The Australian Trusteeship, Papua New Guinea 1945-75, said, "The Minister was … unable to accept the views of his critics, and his administration is usually remembered for failure to accept political realities rather than for the direction and achievement of a phenomenal period of economic development between 1964 and 1972." Mr Barnes retired from Canberra in early 1972 with the intention of returning to his earlier career as a successful horse-breeder and trainer. Editor
Jean HARWOOD (née McLellan) (13 October 1998, aged 86)
Sister Jean McLellan, who died in Brisbane on her 86th birthday, was on the staff of Namanula Hospital, Rabaul, in early 1942. Together with nurses Joyce Oldroyd-Harris, Joyce McGahan, Grace Kruger, Alice Bowman, Dorothy Maye and Mary Goss, she was part of a group of 19 women taken prisoner by the Japanese invaders and shipped to Japan where they suffered as prisoners of war for the duration of the war. There are now only six of the group of 19 surviving. Bert Speer
Phil SCULLY (28 February 1999, aged 71)
Phil spent 31 years in PNG with the Department of Posts and Telegraphs. Most of this time he was Postmaster in Lae, but prior to that he was in Rabaul and Bulolo. He married Rosemary in Lae in 1958 and their son was born there. Among other activities, Phil was President of the Orchid Society. In 1982, he and Rosemary settled on a small property at Park Ridge, Qld. Phil is survived by his wife Rosemary and son Marcus. Ira Halliday
Elsie May Sutherland CHAMPION (née Ross) (23 October 1998, aged 88)
Elsie was born at Mount Morgan, Queensland, on 7 August 1910. At that time her father was working at the Mount Morgan Mines and soon after moved to Mt Chalmers. From there her father joined the AIF and the family moved to Brisbane. After the war the family moved back to Rockhampton, and soon after her father moved to Port Moresby where he was employed at the Bootless Inlet Copper Mines.
Elsie's first trip to Papua was in 1921 when she joined her father for a very short time. As there was no married accommodation available, the stay was at Mrs Wright's boarding house at Sapphire Creek. While her father was working at Koitaki she joined him for about a year. Elsie was able to show her ability as a good horsewoman there as she had the use of the plantation stock. The next move for the family was back to Australia while her father took the managership of Obu Estate at Hisiu, and after he settled down she joined him.
During her late teens Elsie went in to Port Moresby and worked for the Papuan Courier, which at that time was owned by E.A. (Jimmy) James, later to become her stepfather. During this time she boarded with Mrs H.W. Champion and it was during this period that she first met Ivan. They were married in Port Moresby in September 1929 and, like most Territorians, left on the Marinda for a honeymoon in Australia. Their daughter, Ivane, was born in June 1930.
Like most wives of Sir Hubert Murray's "Outside Men", Elsie served on many outstations: Ioma, Daru, Rigo, many times at Misima, and other locations. Ioma had for years been a single man's station, but the Government Secretary had decided to upgrade it to a married man's station and posted Ivan there. Elsie was having a difficult time with a very underweight and sick baby, but to carry on the tradition of the outstation wives, she decided to join Ivan at Ioma. Transport was non-existent and the only way to get there was by canoe up the Mambari River and part of the time she had to walk notwithstanding the mosquitoes, leeches and other insect pests. On one occasion the heels came off her shoes and Ivan's efforts to repair them were hopeless, so she carried on heel-less. After a very trying journey they arrived at Ioma only to find that the baby was so sick she had to return to Buna and to Port Moresby.
While Ivan was carrying on his exploration on the Purari and Bamu River hinterland, on many occasions becoming long overdue, she was able to carry on not really knowing if her husband was just overdue or perhaps missing. When the war came to the Pacific, Elsie and family were evacuated to Australia and spent most of the time in Sydney.
Daughter Ivane married Harry Plant and in the fullness of time Elsie was the very proud grandmother of Ross, Andrea and Damien.
After the war, when civilians were allowed to return to PNG, Elsie went back to Port Moresby and became interested in the Red Cross and other voluntary activities. She was an excellent organiser and without her help the entertainment at Government House during the Murray era would not have been of the high standard that it was. She was asked by Len Smith to run his jewellery business and did so until Ivan retired and she came to live in Brisbane.
After living in Brisbane and later at Benora Point, NSW, Ivan and Elsie decided that they should move to Canberra where Ivane and Harry lived and two of the grandchildren. During her time in Canberra she was active as the Patron of the Wontok Association and also entered into other Papua New Guinea activities. Ultimately Ivan and Elsie decided to enter a retirement village, Mirangini, and lived there until Ivan died. The loneliness of living alone was just too much and at Harry and Ivane's suggestion she moved to live with them. She passed away on 23 October.
A very touching part of the cremation service was the singing by the Wontok Association's Choir of the first two hymns in Motu and one in Pidgin. Finally, the person reading the eulogy finished with "Bamahuta Elsie": a fitting end to a very colourful life in Papua, and later Papua New Guinea. Elsie is survived by her daughter Ivane and grandchildren. The foregoing was written by members of Elsie's family
Betty Maud WELDON (22 January 1999)
Betty was the wife of Cec Weldon who was in Burns Philp Headquarters in Moresby. Betty is survived by her husband Cec. No further details available.
George BAKER, CBE (August 1996, aged 79)
Brief information about George Baker was given in the Sept 1996 issue of the Una Voce Newsletter. M.F. Cichocki recently sent further information, some of which is printed below.
George Baker spent an adventurous 30 years serving in far-flung places as a Colonial Officer and diplomat. He was a perfectionist in all he undertook, and enjoyed a challenge. He ended his career as Britain's first High Commissioner in PNG. He had been posted to Port Moresby in 1974. His talent for making friends with local politicians immediately made itself felt, so that he was able to foster trade while forwarding the constitutional negotiations. He was at the Queen's side during her State visit for the Independence celebrations in 1975, and afterwards stayed on as High Commissioner until his retirement two years later.
During the war he served in the Navy and was also an official photographer to the Admiralty. On demobilisation he entered the Colonial Administration Service and began his 16 years' service in Tanganyika. He and his family lived is primitive conditions. To Baker this was heaven: to administer his territory he would set off on foot, visiting the villages and meeting the local chiefs—he was a fluent Swahili speaker. Later postings were to Sierra Leone and Zaire.
In retirement he took up making furniture and clocks. He founded Clockmakers' Times and was its editor for eight years. He took an an active part in Operation Raleigh (which provides adventure training for young people) and the Scientific Exploration Society.
Norman Richard MARSHALL (21 January 1999, aged 74)
Norm first went to PNG in 1949, spending all his time in the Morobe District. He worked first for Bulolo Gold Dredging Co. at Bulolo, then for several years in Wau and lastly Lae. He retired from Lae in the mid 70s to reside on the Gold Coast. He is survived by his wife Faye, daughter Judi, son Jeff and three grandchildren. Faye Marshall
Jack McARTHUR (24 November 1998, aged 83)
Jack McArthur was born in Sydney in 1915 and served in New Guinea in WWII. He went to Lae in 1950 with wife Betty and daughters Carla and Jon. Their youngest daughter, Jane, was born in Lae in 1951. Jack started Lae Taxis, then tried his hand at growing coffee near the Markham River. He joined DCA Fire Service in 1955 and in 1960 was transferred to Wewak. In 1965 Jack was transferred to Sydney due to Jon's ill health, and the family settled in Smithfield. Jon passed away shortly after arrival in Sydney. Betty McArthur passed away in 1976 and Carla a few years later. Jack moved to Caringbah in 1991 and in 1993 met up with an old friend, Edna Beyington from Barcaldine, Qld. From then, Jack and Edna spent six months in Sydney and six months in Barcaldine. Jack is survived by daughter, Jane Hutchins.
Brian ASH (late 1998, aged approximately 66)
Brian lived in Auckland, New Zealand. He worked in Rabaul, Wewak, Madang and Port Moresby between 1956 and 1980. He passed away in New Zealand. No further details available.
Alvin HATTERS (20 November 1998, aged 83)
Father Hatters, the Anglican Minister, and his wife Con were active in the life of Madang in the years preceding Independence. Alvin will be remembered not only for his service to the community, but also for his love of fun: he took leading parts in Gilbert and Sullivan musicals which were hugely successful and left many happy memories.
Alvin completed 50 years as an ordained priest in April 1998 until which time he was still active in ministering to the people of Smithton, Tas, and nearby areas. In May 1998 he was honoured with an Appreciation Dinner and began his second retirement (the first was in 1982). At this dinner he was presented with a gold watch by the Church, Rotary awarded him a Paul Harris Fellowship, and he was highly praised by people in the district in which he lived and served since 1973. He missed Con very much in these latter years: she passed away almost 25 years ago. Information provided by members of Con's family and sent to us by Dulcie Donald.
Brian Redmond HEAGNEY (29 May 1998, aged 71)
Brian was educated by the Christian Brothers in Perth. He enlisted in the Air Force in 1945, one of his instructors being Kerry Leen. He went to PNG as a Kiap in 1946, first to the Western District, then New Ireland. In 1952, while in Mendi, he resigned and walked out from Mendi to Simbu where he borrowed enough from the publican, another ex-patrol officer, to pay his carriers. He started his business career as a travelling salesman on a motor bike selling trinkets from a bag on his back. Through years of hard work, long hours and neither holidays nor weekends off, Brian eventually became a very successful businessman. His business empire included a soft drink manufacturing company, a tea and coffee packaging business, a service station, a freight company and numerous trade stores spread throughout the highlands.
He left PNG in 1985. Brian never forgot his roots in Perth and returned to live there. While in Perth he kept in touch with PNG. He was always keen to meet ex-PNG expatriates and also nationals such as students. Brian's birthday celebrations in Perth became annual de facto PNG reunions. He regularly travelled to see PNG rugby teams in action and continued to support them financially, something he had done since the beginning of rugby league in Goroka. Brian was always a generous man even in the days when he had little money. Brian suffered for some years from cancer which he faced bravely with loving support from his wife Juliana whom he met in 1979.
Brian is remembered from one end of the PNG Highlands to the other as 'Braun'. A couple of years ago, a PNG academic who was only a small boy when Brian was living in his area visited him in Perth as he wanted to meet the legend in person. He was very surprised to find that the man's name was Brian Heagney. He knew of him as Braun Nugini.
Brian is survived by his wife Juliana and their children Patrick and Brenna, and his first wife Gai and children Gary, Brendan, Shawn, Moira and Berenice. From information supplied by Margaret Clancy and eulogies by Pat Dwyer and Jim Side.
Frank HARRIS (18 December 1998, aged 68)
Frank was born and educated in Sydney. He died peacefully at Redcliffe hospital. Frank joined the Department of District Services and Native Affairs as a cadet patrol officer after completing the 1952 course at ASOPA. He was posted at first to the Eastern Highlands district which included a stint at Kainantu with ADO Harry West and PO Bill Brown as his mentors. Subsequently he served in many other areas of PNG including the Gulf, New Ireland, New Britain and Morobe Districts as a PO and ADO. In 1956 he returned to Sydney, completed the Certificate course, and met and married Natalie.
In the 1970s Frank served for some years in the Department of District Administration Headquarters until he retired and returned with his family to Australia shortly before Independence. In total he spent more than 20 years in PNG. The Harris family then settled in Jindalee, Qld, and Frank was employed for some years in the English department at the University of Queensland. After retirement from the University he moved to Bribie Island where he had many friends. Frank is survived by his wife Natalie and their children: Marianna who lives in Queensland, Paul who lives in northern NSW and Alexandra who lives in the USA. Provided by Paul Ryan with the help of Paul Harris, Jack Baker and Adrian Geyle.
Jan SCHALLMEINER (née Cooke) (6 January 1999, aged 58)
Jan was born in Geelong, Vic, in 1940. She arrived in Port Moresby in 1960 to spend a holiday with her sister, and stayed, working first for Regional Forests and ultimately the Public Curator. Jan married Erich Schallmeiner (Comm Works) in 1961. The couple had two daughters and in 1965, a son, during two years back in Geelong. On returning to the Territory they again lived in Port Moresby, at Kimbe and on Manus Island before settling in Lae where Jan worked for Turner and Davey. Basketball, boating, fishing and the beach shack at Salamaua with family and friends were Jan's leisure loves.
The family relocated to Darwin in late 1976. Prior to retirement Erich took a two year AusAID contract to Indonesia in July 1997. Jan of course accompanied him. She died very suddenly on Flores Island. Jan is survived by her husband Erich, daughters Kerrin and Amanda, son Rohan and four grandchildren. Pauline Grundy (Jan's sister)
Malcolm Hugh WRIGHT,
DSC (27 October 1998, aged 86)
Many people did many brave things during WWII and among them were small teams of men who served as Coastwatchers. Their lonely vigil in New Guinea and the Solomon Islands played a critical role in stalling the Japanese advance through Melanesia towards Australia. Among them was Malcolm Wright, who has died at 86. He had been a resident of the War Veterans' Home at Collaroy Plateau on Sydney's northern beaches.
On learning of Wright's death, one admirer, who had never met the man, faxed a message to the Herald pointing out that he'd been involved "in some hair-raising escapades in New Guinea" and was "quite a heroic character". Indeed he was that.
Malcolm Hugh Wright was born at Bendigo in Victoria, one of two sons in a family which moved at the end of WWI to Toowoomba in Queensland. Young Malcolm was a bright lad who won a scholarship to the town's top school, Toowoomba Grammar.
In the early 1930s he started law studies, but quickly tired of that and applied for a position in New Guinea. All bureaucracies take their time and it was not until 1936, after a short course in anthropology and law, that he was on his way to New Guinea as a cadet patrol officer.
In 1941, as WWII moved from Europe into the Pacific, he joined the Royal Australian Navy as a sub-lieutenant, then joined the Coastwatchers, his services specifically requested by the group's charismatic leader, Eric Feldt, author of The Coastwatchers (Oxford UP, 1946). This is how Feldt introduces Wright to his readers: "He was a dark, cheerful young man with a soft voice and the most efficient scrounger in Ferdinand [Feldt's code name for his coastwatchers], who stole pencils off Paddy Morgan's desk with such a charming smile that the latter forgot to take them back."
In his book, Feldt explains why Wright was sent on his first mission in July 1942. It was essentially a reconnaissance to see if an experienced officer could be landed by a US submarine, stay a few days gathering intelligence and then be picked up safely: "Malcolm Wright, in Townsville, that dark young man with the friendly smile, was ready for just such a venture," Feldt wrote, adding, "Wright would land alone, with only food, bedding and a rifle, and would remain about a week." Wright did just that. He tells his story in If I Die (Lansdowne Press, 1965). After rowing for hours, he heard the unmistakable sound of a surf beach: "Amid the roar of the surf, I felt the rubber boat being swept ashore, and a moment later I was engulfed by crashing waves." He landed, felt exhausted and went to sleep until dawn.
The reconnaissance was a success and in February 1943 Wright was part of a three-man team landed near Cape Otford on the southern coast of New Britain. Wright would remain to the end of hostilities in New Guinea.
A brave man—he was awarded a Distinguished Service Cross—he was no gung-ho adventurer. In If I Die, he writes. "Secretly, I had a great fear of bayonets and machine-guns, the stock weapons of the Japanese, and I knew that if we got into a scrap with enemy patrols, I would need a great effort to control that fear."
In 1944, he married Grace Ferguson in Brisbane and, post-war, the two of them set up house in New Guinea. His daughter, Robyn, recalls that Wright "approached everything with great integrity and commitment, especially New Guinea. He had great compassion and respect for the people and their country. Apart from his great devotion to my mother, New Guinea was the passion of his life."
The Wrights' two children were both born on the New Guinea mainland: Robyn at Lae, and their son, Christopher, at Finschhafen. In 1951 he was appointed a district commissioner, then a position of great authority. A year later he left New Guinea for family reasons and joined the Commonwealth Public Service.
Apart from writing his memoirs—If I Die was followed by The Gentle Savage (Lansdowne, 1966)—Wright, between 1955 and 1972, worked in Melbourne and, as his family discreetly puts it, "served in Rome, Cologne and Belgrade, attached to the Australian Embassy". Given his intelligence background during WWII, a job with ASIO is a safe bet.
His wife, Grace, died before him; he is survived by their children, Robyn and Christopher. Reprinted from Sydney Morning Herald of 7 November 1998, with thanks
Horace Michael SHUTT (12 October 1998, aged 87)
Horace Michael Shutt went to PNG in 1936 and worked as a winch man and dredge master on gold dredges. He left the Territory in 1977. His wife predeceased him. No further details available.
Bruce BREARLEY (21 September 1998, aged 71)
Bruce Brearley was born in 1927 in Bankstown, NSW. He commenced an aircraft engineering apprenticeship with W R Carpenter Airlines at Camperdown NSW in 1942 and went to Lae in 1946 to work for Mandated Airlines (MAL), then to Wewak as Base Engineer. In 1948 he joined Gibbes Sepik Airways. In Wewak in 1951 he married Audrey Pote whom he met when on holidays in Africa. Bruce was engineer for Gibbes, MAL and Ansett/MAL in succession until 1973 when they moved to Kenmore, a Brisbane suburb. Bruce worked for Ansett at Eagle Farm Airport until retirement in 1986.
He is survived by his wife Audrey and sons Robin and Andrew and families. Frank Smith
Maria CRAINEAN (5 July 1998, aged 81)
Maria was born in Romania in 1917 and came to Australia with her husband's family in 1938. John and Maria took their five children to Port Moresby in 1949 where they lived at "Eight Mile" and John worked in the sawmill of Mr Tom Flour. Maria worked valiantly to raise her children in what she found were very primitive conditions. She helped supplement the family income by dressmaking. Eighteen months later they moved to Wau where John worked for New Guinea Goldfields. Life was still a struggle with five children in a two-bedroom house. In time the eldest began going to boarding school at Avondale College near Newcastle. In 1956 the family moved to Lae where Maria had a bigger house, did more sewing, and enjoyed the fellowship at the SDA mission. In the early 60s they moved to Mendi where Maria enjoyed life in the small expatriate community—and grew beautiful flowers. After a short stint in Port Moresby John and Maria "retired" to the family farm. They sold the farm in 1994 and finally retired.
Maria is survived by her husband John, and their five children—Emily, David, Joseph, Julia and Veronica—and grandchildren and great-grandchildren. Joseph Crainean
Gordon Thomas LINSLEY (1 January 1999, aged 78)
After a childhood on a sheep property in NW Queensland, and secondary education at Mt Carmel in Rockhampton, Gordon went to PNG with the AJF in the 2/8th Australian Commando Squadron. In 1946, after attending the School of Civil Affairs course at Duntroon, Gordon was posted as a Probationary Patrol Officer to Esa'ala, and later Goodenough Island, in the Milne Bay District. He later served in Wabag, Kainantu and Minj in what was then the Central Highlands District before attending the two-year course at ASOPA in 1952-53.
Following this he served in the Central, Northern and Sepik Districts rising to the position of Deputy District Commissioner. Gordon then became Principal Officer, Community Development at DDA Headquarters. This position entailed extensive travel throughout the Territory. Gordon's last position was Chief of Division, Security and Intelligence. Retiring from PNG in 1974. Gordon spent the next ten years working for Steamships Trading Company in Australia, travelling all over the country conducting job interviews for personnel for Steamships' many PNG services. From 1984 onwards, Gordon worked for the St Vincent de Paul Society in a voluntary capacity: he particularly enjoyed helping in the area of community aid.
Gordon's son, Michael, said, "Gordon had a love of learning and discovery, and an eye for detail and beauty. He loved constructing things of a practical nature and gardening gave him peace and joy. … The dignity with which he faced the adversities of his later years is to be admired. … He always gave of his best in everything he did."
Gordon is survived by his wife Phil son Michael, and daughters Mary, Judy and Cathy, and grandchildren. Phil Linsley
Jean Stewart COX (12 January 1999, aged 83)
Jean died suddenly at John Hunter Hospital, Newcastle. She can lay claim to the title "B4", having spent her late teenage years in the Solomons where her father, David Cunningham, was a plantation manager. Her family then moved to Rabaul where she experienced the 1937 volcanic eruption and met future husband John, before going south as the Japanese invasion threatened.
Returning to PNG in 1946 with husband John, Jean worked in Port Moresby in the Sub-District office, then in the Department of Information and Extension Services under the leadership of Kate Vellacott Jones and later Lisle Newby. She was active for a time in the local horticultural society and succeeded in creating a colourful, leafy garden from the arid slopes of Lawes Road.
Jean and John retired in 1968 to spend an active rural life on farms at Moss Vale then Wauchope, before settling in the Hunter Valley town of Dungog. At each location, her patient efforts produced spectacular gardens, particularly at Moss Vale. Late last year, due to the frailty of old age, she left her garden in Dungog for the practicality of an aged care unit in Newcastle.
Predeceased by husband John and younger sister Gwenyth, Jean leaves two children, Loris and Ross and four grandchildren. Ross Cox
Harry Kenneth DUNSTAN (15 February 1999, aged 61)
Harry's childhood was spent in various Queensland towns. He went to PNG in 1959 as an Agricultural Extension Officer and spent the next seven years patrolling, initially in New Hanover and later in the Lae Highlands, walking on bush tracks through rough country, visiting coffee gardens as he went. He was an expert raconteur and his pidgin was perfect. At evening meetings in the rest house there was much entertainment and laughter through the fog of twist tobacco when the serious meetings finished. It was these meetings, he said, that created a high level of rapport which made extension work much easier and effective. Harry then became OIC Kainantu, then Goroka, Vanimo and Finschhafen. After undertaking postgraduate study in Australia, he was based in Port Moresby and became Regional Training Officer, Dept of Primary Industry, at Kila Kila. After Independence, he spent two years as Principal and Deputy of Vudal Agricultural College in East New Britain. Harry was the last white Principal of Vudal and his friend Oscar Natera was the first PNG Principal. He spent his final seven years in PNG as Chief Information Officer and Coordinator of Agricultural Support Services Project (at DPI HQ).
Harry left PNG with his family in 1984 to live in Brisbane. He then joined the Qld Dept of Harbours and Marine. His final position in 1998 was Human Resource Advisor (Qld Transport) Rail, Ports and Aviation Division, a job that he thoroughly enjoyed. Harry participated in many sports, but his special interests were marathon running and golf. He was involved in the development and operation of several golf courses in PNG. Back in Australia he was extremely active in the Moggill Country Club golf and tennis activities, and course redevelopment. Harry battled cancer for almost seven months.
He is survived by his wife Leah, and children Catherine and Don. Taken from a eulogy given by Michael Belfield
Ellen Hanora (Ellie) GRIEVE (3 January 1999, aged 93)
Ellie qualified as a Nursing Sister and went to New Guinea in 1938, working in Salamaua, Madang, Rabaul and Wau. After being evacuated to Australia just before the Japanese invasion, she joined the staff at Rosemount Hospital in Brisbane and nursed army and naval personnel for the duration of the war. She returned to PNG in June 1946 and the following year married Neil. They lived in Bulolo for a while and moved to Madang in 1951, starting their own business, Madang Slipways. In 1969 they retired to Australia, settling at Biggera Waters, Qld.
Ellie is remembered as a charming considerate person and is sadly missed by Neil, her husband of 52 years. Garamut
Shirley MATTHEWS (early 1999)
Shirley died suddenly at her home on the Gold Coast. She is survived by her husband Adrian and daughters. Garamut
Ken NIZETTE (13 January 1999, aged 70)
Ken and his wife Billie went to PNG in 1957. Ken was a radiographer, working firstly in Madang and then Lae with the Health Department. In 1970, the family moved to Port Moresby where Ken worked for T & G Assurance. Ken was very active in many organisations including Apex and Rotary, the Anglican Church, the Chamber of Commerce, the Lands Board and the Lae Golf Club. While in Port Moresby he was President of the PNG Orchid Society and Chairman of the Boy Scouts Association. In 1974 the family moved to the ACT, then the Gold Coast, and then early in 1984, following Ken's surgery for a brain tumour, he and Billie went to the UK for a two-year holiday—and remained there.
Ken is survived by his wife Billie and children Deborah, Peter, Mark and Philip. Another daughter, Michelle, died in 1967 and is buried at Lae. Garamut
Bob BUNTING, DFC, DFC (US) (9 February 1999, aged 76)
Bob spent his early years in Melbourne and began work with the GPO as a cadet in 1939.
In 1941 he joined the RAAF: his ambition was to be a Spitfire pilot. He achieved this and more, as he was awarded a DFC in Italy in 1943 for a lone attack on 50 Luftwaffe aircraft, and awarded an American DFC for the destruction of enemy planes at Corsica in 1944.
In 1946 he went to PNG as a Patrol Officer, taking his bride Nancy with him. He attended the ASOPA course in 1954. During his long career in PNG he served in many areas including Lae, Kainantu, Goroka, Mt Hagen, Samarai, Misima, Finschhafen, Maprik, Wewak, Kerema, Port Moresby and Vanimo where he was District Commissioner of the North Sepik District along the Indonesian border in the period leading up to Independence. Bob was a keen and excellent golfer and held office on several golf club committees and was awarded Life Membership of two.
On his return to Australia in 1974, he worked for Legacy on the Gold Coast Qld. Bob wrote short stories and poems. He has recently been recognised as a war poet and what is possibly his best work will appear as the preface in the next edition of Aces High. Apart from golf, he enjoyed bridge, chess and fishing.
Bob passed away in hospital at the Gold Coast after a long illness. He is survived by his wife Nancy and son Anthony. From the eulogy given by Bob's son Anthony