Vale June 1999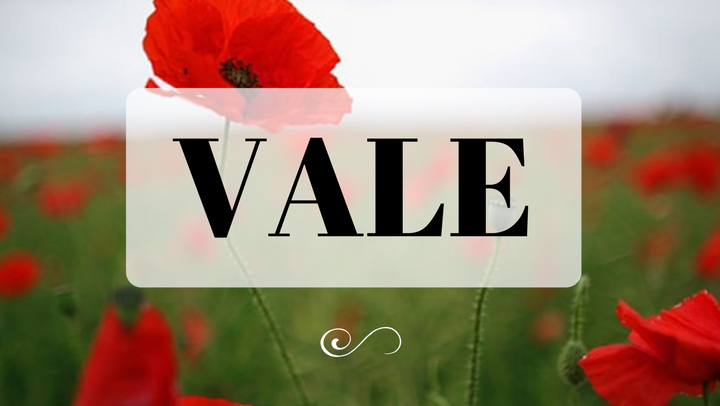 ALCORN-FROST, Heather E M(late February 1999) | BLACK, Guy Bryden, MC(25 December 1998) | BLISS, Olga Eileen(19 May 1999) | BROOKS, John(28 March 1999) | COOPER, Len(11 March 1999) | COX, Helen Rose(23 May 1999) | COX, Paul(12 April, 1999) | CRISP, Charles William (Bill)(mid-May 1999) | FITZGERALD, Ted(18 April 1999) | FYSON, Craig Robert(2 March 1999) | GAYWOOD, Harry(12 December 1998) | GILLMAN, Betty (Bros)(28 April 1999) | HARTLEY, Grace | HAY, Joan Stoddard(4 April 1999) | HYDE, Kathleen (Kit) Mabel(2 February 1999) | MacLEAN, Donald H(27 November 1998) | McPHERSON, Norma (Gemma)(1997) | MORTON-FOLKES, Norman James(31 January 1999) | SPREAG, Sydney Raymond(5 April 1999) | WATKINS, Nan(18 February 1999) | WOLSTENHOLME, Rita Florence(6 March 1999) | ZWECK, Alexander John(2 January 1999)
Joan Stoddard HAY (4 April 1999, aged 84)
Joan Hay passed away after a short illness. She was the wife of Dr Arthur Hay who was captured in Rabaul and went down on the Montevideo Maru. She lived in Mudgeeraba, Qld, near her daughter, Mrs Margaret Young of Robina. Heather Seale
John BROOKS (28 March 1999, aged 73)
John Brooks was the second husband of Pamela Brooks, known in PNG as Pamela Barrie. John was a journalist with News Ltd and retired about 13 years ago. He spent a large part of his working life in New Zealand. Pamela Brooks
Craig Robert FYSON (2 March 1999, aged 66)
Craig held various clerical positions with the Public Service Commission and the Department of Agriculture, Stock and Fisheries in Port Moresby and Rabaul from 1958 to 1969. He then returned to live in his home in Canberra. In 1986 he married Fay, and the couple retired to Hobart in 1994. Craig always enjoyed visits from old friends from his PNG days and these contacts gave Fay an insight ('slight', according to her) into the time he spent in PNG.
Craig is survived by his wife Kay. Kay Fyson
Harry GAYWOOD (12 December 1998)
Harry Gaywood came from Western Australia. During the war he became a prisoner of the Japanese at Changi. He joined the Administration in 1946 as a Patrol Officer and attended the second Long Course at ASOPA. He served in Manus, the Western District and at Headquarters in Port Moresby. He was very prominent in the Labor Party in Port Moresby. Max Orken
Grace HARTLEY (22 May 1999)
Grace was the wife of the late Grafton Hartley, Medical Assistant. Her husband served in many parts of the Territory, mainly on the New Guinea side, for 23 years, departing in 1957 For much of that time Grace and their four children had to remain in Queensland due to serious illness. For many years Grace lived at Ormiston, Qld. She was always very generous to this organisation. ROAPNG records
Paul COX (12 April, 1999, aged approx. 68)
Paul Cox, a journalist in PNG from the early 70s, died in Port Moresby General Hospital after a long illness. His first position was with the Department of Information and Extension Services in Rabaul where he was manager of Radio Rabaul when the Mataungan Association was most active. Luke Sela of the Post-Courier wrote that Paul played a major role in the Tolai Warwagira festival which helped unite the groups on the Gazelle Peninsula and encouraged the Tolai people to keep their traditions. Following this, Paul worked for various Government ministers including Sir Julius Chan, and later for Niugini Nius and Word Publishing. He compiled the 'Price Watch' column for the Post-Courier for several years and wrote the 'James Pinder' column in The Times, the forerunner of The Independent. One of our PNG members wrote, "We will miss him in PNG. He talked straight and wasn't afraid to hit hard when needed."
Paul is survived by his wife and two daughters. Post-Courier, 14 April 1999, and Bet Whitten
Len COOPER (11 March 1999)
Len died suddenly of a heart attack. For many years he was Engineering Manager of TAA and Air Niugini in Lae and Moresby. He is survived by his wife Eda at Woodburn NSW. No further details available.
Alexander John ZWECK (2 January 1999, aged 78)
Alex joined the Administration in 1946 and rose from Patrol Officer to Acting District Commissioner. He served in the Sepik, Central, Morobe and Bougainville Districts and was a/District Commissioner of the Southern Highlands and Manus Districts. His last position was as Town Planner in Port Moresby. In 1973 he and his wife Mary retired to live in Western Australia. When Mary passed away he moved to Henty, NSW. ROAPNG records
Guy Bryden BLACK, MC (25 December 1998, aged 84)
Guy Black attended Toowoomba Grammar School along with Colin Hooper, Malcolm Wright and Lou Searle. (All went to PNG and all became Coastwatchers.) Guy trained as an accountant and joined the Administration in 1936. He was posted to Salamaua as a clerk. He served in Lae, Madang, Wewak and finally Rabaul where he joined the New Guinea Volunteer Rifles. He left with the first contingent, his number NGX55. Most became 6th Division serving in Africa, Greece, Crete, Palestine and Syria.
He came back to Australia to undertake special training to become a Coastwatcher. He and three others, named 'Locust Party', were then sent to the Aitape area which Guy was familiar with. Guy recalled, "We marched up and down New Guinea for 950 miles, eating dry mince and dry veges and when that didn't arrive by airdrop we ate the local yams, taro, coconuts and sago. We did it for a year in continual rain with sodden boots and no dry firewood."
In 1943 Guy married Jane, a schoolteacher/artist. The following year Guy and a team of 23 trained locals were dropped off by a US motor torpedo boat to 'chase Japs in New Britain'. Guy was awarded the Military Cross. Later he was Commandant of the Z, M and Commando staging post at Milton Tennis Courts in Brisbane.
After the war Guy returned to Treasury, Rabaul. In about 1947 he resigned and started an Accountancy, Customs and Forwarding Agency, and also a limited company of five investors to build the Palms Theatre. The theatre was built using a Quonset hut Guy bought in Manus together with local materials for the front, office and refreshment stall. Guy and machines were not compatible but his good friend Ernie Smith was a wizard. He not only operated the machines but kept them in first class order. In about 1952 Guy had a Sydney architect design a new modern theatre. The new theatre was well on its way when Guy discovered he was to have opposition. There was not room for another theatre so in 1956 the theatre was sold.
In about 1947/48, in partnership with his friend Colin Hooper, Guy bought Marau Plantation from Oscar Rondahl. Colin built a house of native materials on it but the loneliness was too much for him and he 'went South'. Colin and Guy agreed to sell the plantation later on when they had management problems. When the theatre was sold Guy bought Noel Barry's Trade Store. This he sold in 1959 when he and Jane left for Australia. They settled in NSW where Guy raised fat lambs and Murray Grey stud cattle very successfully.
In 1979 Guy and Jane returned to Queensland, and settled on the Sunshine Coast. Guy died at home in Buderim. He is survived by his wife Jane, son Ian, daughter-in-law Judy and grandchildren Rebecca and Paul. Jane Black and Helen Smith
Betty (Bros) GILLMAN (28 April 1999, aged 81)
Betty (Bros) first went to Port Moresby during the war as an Army nurse. She returned to Moresby in November 1955 and nursed at the old European Hospital and was Matron at the old native hospital at Ela Beach. In 1957 Betty married Jim (Finance). After a honeymoon at Wau the couple were transferred to Rabaul where Betty worked at Don Clark's pharmacy prior to the birth of their daughter in 1959. Early in 1961 Jim and Bet returned to Port Moresby where their son was born in May that year. Once the children went to school, Bet worked for Tonimy Johnson's pharmacy at Boroko and later for the Electricity Commission at Boroko. Betty returned to Brisbane in 1974. For the last two years she has been a patient at the Canossa Hospital in Brisbane suffering from Alzheimer's disease.
Betty is survived by her husband Jim, daughter Elizabeth, son Anthony and grandsons Benjamin and Jake. Jim Gillman
Norman James MORTON-FOLKES (31 January 1999, aged 72)
Jimmy was born in Sydney in 1926. He was 16 years of age when his father went missing in action in Singapore in 1942. Devastated by his father's loss, he left Sydney High School and joined the American Small Ships Fleet which was set up to protect and supply 'Bird Watchers' along the isolated Australian and New Guinea coastlines. After spending nearly two years dodging bullets and gunboats and being twice wounded, Jimmy was 'called up' by the Australian Defence Forces but they were told by his mother that he was already at war. The Defence Force Military Police escorted him back to Australia (in handcuff's) to do his 'Rookies' and it was at this point that he joined the RAAF where he met and courted his wife of 50 years, Jean.
Discharged in 1947, Jimmy returned to PNG spending time as a Plantation Overseer in the Madang Province and then moved to Samarai where he celebrated his 21st birthday. After a further year in PNG he returned to Australia and worked with Australian National Airlines, later Ansett-ANA. He married Jean in 1949 and the couple settled in Sydney. Ten years later, now with two daughters, Jimmy accepted a three-year transfer to Port Moresby, but stayed there for 17 years. Jimmy and Jean opened the town's first licensed restaurant, The Hibiscus Room, with Jean running the restaurant for several years. Next project was the Outrigger Motel which Jimmy built on a block of land he purchased soon after arriving in Port Moresby. Eventually it was time to `go South'. After a few years of semi-retirement in Brisbane, Jimmy and Jean retired to Mt Tamborine, Qld.
Jimmy passed away after a severe heart attack. He is survived by his wife Jean, daughters Jennie and Susan, grandchildren Jody, Lincoln, Sarah and Amy and great grandchild Jacob. Information provided by Jimmy's daughter Jennifer
Nan WATKINS (18 February 1999, aged 84)
Nan grew up in Perth WA and did a Stenography/Office Management course. She married Wally Watkins in 1940 and the couple settled in Perth. However in 1946 wanderlust set in with Wally from the war days and he applied for and won the position of Legal Officer for Papua & New Guinea. After 'doing it rough' waiting for accommodation, the couple eventually moved into a 3 bedroom 'R' type house, constructed on the side of Tuaguba Hill, Port Moresby, with a beautiful view. Nan settled down to CWA work where she became International Officer and then National President. Then the ABC approached her to become a relieving announcer on Radio 9PA which broadcast throughout PNG. Nan was well known as 'the Sinabada with the dog'. When she was on duty she always took Barter (a nondescript medium size brown dog of unknown origin) with her. She would always get him to say good morning to the listeners by barking at the microphone: it was hilarious. Nan's success on 9PA led to her appointment as Women's Affairs Controller for the ABC, covering both European and Papua New Guinean women. In the meantime Wally had been appointed head of the Crown Law Department. Nan led a busy life both at Station 9PA, and at home entertaining visiting dignitaries in her position as wife of the head of Crown Law.
After leaving PNG in 1969 Wally and Nan lived Sydney, and then in 1979 they moved to the Gold Coast. Wally passed away in 1984. Nan then moved to Surfers Paradise and in 1992 to Island Quays where she lived until moving to Alexandra Lodge in 1996. David Houghton
Charles William (Bill) CRISP (mid-May 1999, aged 69)
Bill Crisp of The Grange, Qld, worked in PNG and for Telecom Australia. He passed away suddenly. No further details available.
Heather E M ALCORN-FROST (late February 1999, aged 79)
Heather Alcorn-Frost lived in PNG from 1955 to 1983. She was involved in Maternal and Child Health clinics and the Dental College, and in Psychiatric Social Work. She served in Manus, Lae and Port Moresby. She is survived by her husband John, her daughter Heatherbell and two grandchildren. ROAPNG records
Sydney Raymond SPREAG (5 April 1999, aged 83)
Ray Spreag was born in Liverpool, England, and left school at 14 to work as a clerk with British Railways. At the outbreak of war he won entry to Sandhurst Royal Military College and on graduation was seconded to the Royal Armoured Corps. He took part in the D-Day landing, distinguishing himself commanding tanks in battle and earning the rank of Major. In 1947 Ray left England for Australia and PNG, and became well-known for his journeys into the Highlands and as a coastal trader in his own vessel. He married Mary in PNG and the couple settled on their plantation in the Markham Valley. They and their son Roland eventually left PNG for Norfolk Island in 1971. Ray loved the life at Norfolk and was always ready to support the local community and its institutions. He passed away in Sydney after a short illness. Ray is survived by his wife Mary, son Roland, and grandchildren Joshua, Roxanne, Alanah and James and families. Paul Bolger and Pam Nobbs (Vicary)
Norma (Gemma) McPHERSON (1997)
'Mac' McPherson wrote that he has not been well for some time and was not able to advise the Association of the passing of his wife Norma (nick-named 'Gemma ') at Nambour, Qld, in 1997. He sent his best wishes to all members who might recall his family.
Norma and her husband 'Mac' (Wallace James) lived in Port Moresby from 1946 to 1960. Before going to PNG, Norma worked in the Press Gallery in Canberra. In Moresby, Norma worked for some years with solicitor Norman White while Mac was with Posts and Telegraphs. Mac said that whenever he had new Postal staff arriving from Australia, he would collect them from the Qantas terminal and take them home where a hot breakfast prepared by Norma would be awaiting them. Norma had many friends scattered throughout PNG.
Norma is survived by her husband Mac, sons Jim and Gordon, two grandsons and one granddaughter. Wallace (Mac) McPherson
Ted FITZGERALD (18 April 1999, aged 82)
Ted Fitzgerald, one of the pioneers of post-war education in Papua New Guinea, died recently in Brisbane, just a few days short of his 83rd birthday. Ted had trained as a teacher after war service in the Middle East and PNG. In the army he had risen to the rank of Major in the Intelligence Corps. Ted with Vin McNamara was responsible for starting the Education Centre at Nganalaka, East New Britain, in the early 1950s. He was responsible for the teacher training project there. He then taught at Telefomin when Ron Neville was Assistant District Officer.
Ted became an assistant Inspector and Inspector of schools serving in Milne Bay and Malang provinces. He was Principal of Goroka Teachers' College in the early 1960s when it trained primary teachers. He then transferred to Education headquarters in Port Moresby when he became Inspector of Teachers' Colleges, covering both government and mission colleges. He worked with people such as Lisle Newby, Graham Munkley, Pam Quartermaine and Geoff Gibson and with people who had been his ex-students and protegés: Sir Alkan Tololo, Sir Paulias Matane, the late Sir Vincent Eri and Betuel Peril. He retired from the Department of Education in 1971
He stayed on in PNG and became the first Registrar of the National Arts School. Later he took up a lectureship at the Bomana Police College. In 1980 he retired to Australia, living in Brisbane and then in Sydney, returning to spend his last years in Sunnybank Hills, Brisbane. Maurice Wilson, a member of the Association, gave the eulogy at Ted's memorial Mass. John Howard
Rita Florence WOLSTENHOLME (6 March 1999)
Rita and her husband Jack (Lofty) ran the business Papuan Electrical, where Rita was Secretary/bookkeeper. Rita also opened a boutique selling ladies and children's clothing as well as records. She sent consignments to Samarai, Wau, Daru, Wewak and many outstations. In 1967 the couple retired to the Sunshine Coast where, with her daughter, she established and ran Fuchsia Boutique for 11 years. She is survived by Lofty, two children and two grandchildren. No further details available.
Olga Eileen BLISS (19 May 1999, aged 93)
Olga was very special: warm, witty, a sparkling personality, and her engaging (sometimes wicked) sense of humour was always a joy. She first went to New Guinea in 1936 to marry Geoffrey Bliss. From the comfort of her home in Melbourne and the position of responsibility she held in the legal world of Melbourne, Olga flew to Wau, which was a rough and tough gold mining town in those days. After a short honeymoon they journeyed to Edie Creek where, pending house completion, they lived in two tents—like most of the miners in those days—one tent for day use and the other for sleeping. Olga learnt to cook over an open fire of perpetually wet firewood, with two four-gallon kerosene tins for saucepans. But this didn't faze her unduly: she coped, as she always coped with everything that happened to her. They eventually moved to Rabaul where Geoffrey took a position with the Department of Agriculture, and they lived in one of those so-called 'aeroplane' bungalows. Son William was born in Rabaul early in 1937.
I first met Olga in May 1937 when residents were evacuated from Rabaul to Kokopo during the eruptions of the volcanoes Matupi and Vulcan. Olga with baby William and I with two year old Patricia, were billeted at Tokua Plantation outside Kokopo where we shared the same bedroom. One soon gets to know a person under such circumstances. Olga and I were very compatible which was fortunate as the conditions under which we were existing would have been intolerable otherwise. We have been firm friends ever since, mutual confidantes with our various worries, especially so during the war years which were terrible for both of us because the whereabouts of our husbands were unknown and we had no letters from them or news of any kind. The lack of contact and information was really alarming, but Olga did not lose her optimism although I know she had long sleepless nights of anxiety as we all had.
During this period Olga joined the New Guinea Women's Association in Melbourne. The group met monthly at the homes of various members but more often at Olga's when she became Secretary. Money was raised to provide scholarships for some Australian children born in New Guinea to further their studies in Australia. The Association was broken up after the war when many of the women returned to New Guinea.
After the war Olga joined Geoffrey who managed Dylup Plantation in the Madang District and son William was at school in Melbourne. They were happy years for them both; nevertheless they decided to return to Australia and in the late 50s purchased a house in Caulfield, Vic. In 1964 William and Sandy were married: a great joy for Geoffrey and Olga. Geoffrey died in 1969. Losing Geoffrey was a devastating blow for Olga but with characteristic determination she managed to come to grips with her huge loss. Eventually she returned to the legal firm she had enjoyed working for in earlier years. She continued her legal work until she retired at age 77.
In recent years Olga moved to Berwick to be closer to her family. Although Olga and I were often far apart, we did see and stay with each other from time to time and our friendship of 60 odd years became very precious. All who knew Olga will sorely miss her support, her pithy comments, advice and her often ribald sense of humour. She was a great role model for us all.
Olga is survived by her son William, daughter-in-law Sandy, three grandchildren and one great-grandchild. Roma Bates
Donald H MacLEAN (27 November 1998)
Don spent many years on Tavanakus Plantation and also spent some time in Rabaul and Madang. Don's first wife Sonia (née Maxwell) passed away in 1975. In 1977 he married Cecile after he had settled in Sydney to be near his children and grandchildren. Garamut
Kathleen (Kit) Mabel HYDE (2 February 1999, aged 90)
In 1927, at the age of 19, Kit went to PNG on a holiday. There she met Arthur Hyde, known as Bob, and they married in 1928. Bob was with the Administration and the family lived in Rabaul, Wau, Madang and Wewak. Kit worked for the Administration and for BP's. She also wrote for the South Pacific Post. She left in October 1941. Kit is survived by a son and daughter.
Helen Rose COX (23 May 1999, aged 90)
Helen was born at Leyton, England, and was originally married to Horace Collins who died during the blitz on London in WWII. She married William Cox in Sydney in 1956. Helen spent most of her working life as a legal secretary. Among those for whom she worked were Claude Prentice (brother of ex Chief Justice PNG Sir William Prentice) in Sydney, Dudley Jones in Rabaul and myself as Deputy Crown Solicitor (Rabaul) in the late sixties. Bill spent many years with CPL in Rabaul. Despite total blindness just before Bill's death four years ago, and other afflictions of age, Helen never complained and retained a sense of humour right to the end. Norris Pratt