Vale September 1999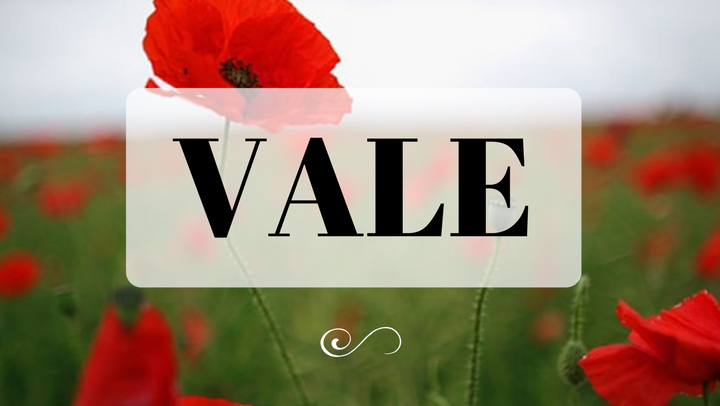 AITCHISON, Thomas George(29 July 1999) | ARKFELD, Leo(21 August 1999) | BACK, John Brian Douglas(17 June 1999) | GRAY, Dorothy Beatrice(19 April 1999) | KETTLE, Sr Ellen Sarah, MBE(5 August 1999) | LOSCHDORFER, Janos J(21 July 1999) | PRIMROSE, Nancy(8 July 1999) | ROWTON SIMPSON, Stanhope, CBE(July 1999) | RYAN, Bill (William Andrew)(16 June 1999) | WILLIAMS, Ronald Maslyn(11 August 1999)
Nancy PRIMROSE (8 July 1999, aged 87)
Nan moved to Goroka in 1951 from the Gold Coast with husband Prim, who had been appointed Branch Manager of Gibbes Sepik Airways. Nan travelled to New Guinea with her two young daughters, Jocelyn and Penny, on the Bulolo. She worked for Gibbes Sepik for a while and then became the Postmistress. She then became the Sub-District of clerk in Goroka, a position she held for many years. She was a very keen golfer and held positions on the Associates Committee. She and Prim helped build the Goroka Sports Club, where they spent many happy hours over the years. Prim died in 1968 and Nan retired to the Gold Coast in 1971. She became a founding member of the New Guinea Club, played lots of golf and cards and helped with meals on wheels. She enjoyed spending time with her many friends. She moved to Perth in 1986 and later to a retirement village at Tewantin, Qld.
Nan is survived by her two daughters, and their families, including seven grandchildren and five great grandchildren. Otto Alder (Nan's son-in-law and husband of Jocelyn)
John Brian Douglas BACK (17 June 1999, aged 39)
John Back, son of Brian and Jill Back, was born in Madang Hospital in 1960; he grew up in Madang. He attended Knox Boys Grammar College in Sydney at the age of seven and remained there until the completion of his Higher School Certificate. During 1978 through to mid 1982 he worked at a variety of jobs in Sydney that included Westpac Bank, Customs Department and 3M Corporation. In September 1982, John arrived in Goroka and commenced work with ANGCO Limited, a PNG coffee and cocoa exporter.
In 1985 John and Lesley Hilgendorf were married at St Johns Lutheran Church, West Goroka. At the completion of their honeymoon John was transferred to Bougainville to work for ANGCO Cocoa in Kieta. They remained there for three years. In December 1988 John was transferred to ANGCO Coffee in Lae, and in 1993 he was promoted to Manager of the Lae Branch. In August 1998 John and Lesley were blessed with the birth of their twin sons Brendan John Back and Justin Brian Back.
John was tragically killed in a plane crash while travelling to Goroka on business. He is survived by his wife Lesley and sons Brendan and Justin, his parents Brian and Jill, and his sisters Jan and Sandy. From the Notice of Service, Knox Chapel, Sydney
Ronald Maslyn WILLIAMS (11 August 1999, aged 88)
Maslyn Williams was born in England but was sent to Australia in his teens after the death of his mother. He became a jackeroo in the Northern Tablelands. That experience was the basis of his last major work, His Mother's Country (his 16th book), which was published in 1988 and won the Fellowship of Australian Writers' Christina Stead award. Early in his life he achieved considerable success in writing for film and radio and in 1940 was appointed producer and writer for the official Services Film and Photography Unit. As a war correspondent he travelled widely in Europe, North America, Asia and the Pacific and later produced documentaries on the plight of post-war European refugees.
After the war he travelled widely in China, Cambodia, Indonesia and PNG and wrote of his experiences in about a dozen entertaining travel books. Maslyn was deeply interested in PNG. Bert Speer wrote, "The members of the crew who assisted Ron to produce the epic film New Guinea Patrol were represented [at the funeral] by Neil Grant, John Leake and Albert Speer. This film was of great assistance to the Australian Government in persuading the United Nations to delay a demand for a crucial early vote on Independence until further uncontacted New Guineans could be educated."
Maslyn is remembered by many old friends in the literary, film and music world. He is survived by his children John Paul and Kerry and their families. Albert Speer and the Southern Highland News of 13 August 1999
Janos J LOSCHDORFER (21 July 1999, aged 82)
Dr Loschdorfer obtained his medical degree and specialist qualifications as ophthalmologist at the University of Budapest, Hungary.
He came to PNG in 1950, as a member of a group of continental doctors who were recruited to re-establish the Territory's medical service. He established his ophthalmology (eye) surgery at the Port Moresby General Hospital, but he also travelled throughout PNG to examine patients, carry out surveys and select patients requiring eye surgery. He was widely known and recognised as an outstanding and highly skilled eye surgeon. Many people owe the restoration or improvement of their sight to him. During leave periods in Europe, he regularly visited eye clinics to observe the latest techniques and instruments and bring back to PNG these skills and methods.
He retired in 1972 but after a brief period commenced private practice at Orange in Western NSW. There too his outstanding quality as an ophthalmic surgeon was quickly recognised and he built up a busy practice, with patients consulting him from a wide area. He finally retired in 1987, to live in Cremorne (Sydney), still in very good health until his final illness. He is survived by his widow Simonne. Gabriel Keleny
Thomas George AITCHISON (29 July 1999, aged 88)
Tom Aitchison (sometimes known as 'Tommy') grew up in Victoria, and graduated from Melbourne University with a degree in Economics and Commerce. In 1933 he went to the Territory as a Patrol Officer. He revelled in the challenge. He was one of the first Government officers to serve in the Eastern Highlands when that area was being opened up in the 30s and was involved in surveying the first section of road leading down into the Ramu and Markham Valleys, which eventually became the Highlands Highway. In 1936 he married his wife Sylvia at the Upper Ramu Police Post.
With the advent of war, Tom joined the Army and served in ANGAU, the Australian New Guinea Administrative Unit. Tom played a leading role in the evacuation overland from Wewak to Port Moresby of a party of Chinese fleeing the Japanese. This journey, through some of the most inhospitable terrain in the world, was achieved in six weeks without the loss of a single person. At war's end, Tom—now with two daughters, Judy and Kaye—re-joined his old department in the PNG civil service and he and his fellow officers set about the formidable task of rebuilding the shattered country. Tom rose through the ranks to District Commissioner and in this capacity served in Madang, Manus and New Ireland.
In 1957 he was appointed Chief of Division, Government and Research. His Division played a leading role in the planning and implementation of the first national census in PNG, the preparation of a common roll, and the conduct of the first House of Assembly elections. He subsequently rose to the position of First Assistant Director and Acting Director of the Dept of District Administration.
In 1968 Tom retired to Schofields, in Sydney's West, where he acquired a small acreage, upon which he bred and established facilities for the agistment and spelling of race horses. He was an active member of the RSL in both PNG and Australia. During his final years Tom moved to a retirement village where he was able to maintain his independence almost to the last.
Tom is survived by daughters Judy and Kaye, grandchildren and great grandchildren. His wife Sylvia predeceased him. Taken from the eulogy given by Malcolm Lang
Dorothy Beatrice GRAY (19 April 1999, aged 84)
In 1937, a few weeks after her wedding day, Dorothy, a trained teacher, and husband Ken left Sydney to undertake missionary work in Papua with the Seventh Day Adventist Mission. The family spent 1942 at Avondale College and then Ken was appointed to Fulton College in Fiji. In 1947 the couple returned to PNG and worked in Kabiufa, Port Moresby and Lae. They left PNG in the early 60s to work in the Pacific Islands. They retired in 1973. Dorothy taught in every place they lived as a paid and often unpaid teacher. Ken passed away in 1986. Dorothy is survived by her children Jo, Tony and Ken and their families. From the eulogy sent to us by Dorothy's daughter Jo Lee
Sr Ellen Sarah KETTLE, MBE (5 August 1999, aged 77)
Ellen Kettle was born in Colac, Vic, and trained in nursing. In 1951 she nursed at Thursday Island, then in 1952 she went to the Northern Territory where she worked for the Commonwealth Department of Health as a Senior Survey Sister until 1968. She was awarded the $5,000 H J Heinz Scholarship of Nursing. In 1967 she was awarded an MBE for 14 years' work among the Northern Territory Aboriginal people. Her book, Gone Bush (1967), is a charming account of her early days in the Northern Territory.
She was then seconded to Port Moresby and served as Principal Matron in charge of nursing with the Department of Public Health in PNG from 1969 to November 1974. She was instrumental, under Drs Scragg and Syme, in energising training colleges and upgrading the administration of the profession. On going South in 1974, having been succeeded by a National, she wrote an astonishingly detailed history of nursing in PNG from the arrival of the first missionaries to the Nation's Independence on 16 September 1975 entitled That They Might Live.
On retiring to Darwin, where she died, she completed a definitive history of Health Services in the NT which was published by the Australian National University in 1991. Albert Speer and Jim Toner
Bill (William Andrew) RYAN (16 June 1999, aged approx. 33)
Bill Ryan, the son of Greta and F X Ryan, was killed in a tractor accident at Nyngan, NSW. While carrying out repairs in the field the tractor fell, killing him instantly. Bill was born at Kerema in 1966. He had been married eight months. F X Ryan
Stanhope ROWTON SIMPSON, CBE (July 1999, aged 96)
Dr Rowton Simpson's connection with PNG was that, after 37 years in the British Colonial Service, he had become a pre-eminent authority on land law and registration. Needing all the advice it could get on this fundamental problem, the Department of Territories in 1970 commissioned him to prepare a report on PNG. The result, according to Ian Downs, was an excellent adaptation by Don Grove, then Director of Lands, of 'an African solution' in support of Minister Hasluck's policies. In the event, of course, bills attempting to promote land title conversion to individual tenure through the Torrens system were rejected by the House of Assembly as contrary to 'Melanesian Way'.
During his long life which ended in England, Rowton Simpson acquired the Order of the Nile 4th class and a PhD from Cambridge University at the age of 73. Jim Toner
Leo ARKFELD (21 August 1999, aged 87)
Bishop Arkfeld, the son of an American farmer, was ordained in 1943 and travelled to Australia on the Monterey along with 19 other priests ordained at the same time. A year later he went to New Guinea and worked in the Madang, Morobe and Sepik provinces. It was while serving in Madang and Lae that he trained to become a pilot. He returned to the US in 1948 to be ordained as a bishop and was appointed Bishop of Wewak. As road and river transport was hazardous and time-consuming, he piloted his own plane, regularly visiting the most isolated mission stations in his area and opening new stations. He became known as 'The Flying Bishop': in one day he could visit a dozen stations. In 1990, when he made his last flight for Wirui Air Service, it was calculated that he had probably made 25,000 to 30,000 flights. He said, "I did a lot of work but I could do that only because I could fly. Everything else just fell in line."
Having solved the transportation problem, Bishop Arkfeld improved communications with the mission stations. He established an extensive radio network, providing each outstation with a transmitter. Later he set up a printing press, and established numerous schools and health centres including a Minor Seminary and a Teachers College. In 1997 he returned to his homeland to celebrate his 50th year as a bishop and to be reunited with his family. He returned to Australia and then to PNG towards the end of 1997 and lived in retirement at Wirui, Wewak, having been given the title Emeritus Archbishop. Post Courier, 21 October 1999, and The Independent, 17 October 1999