Vale June 1998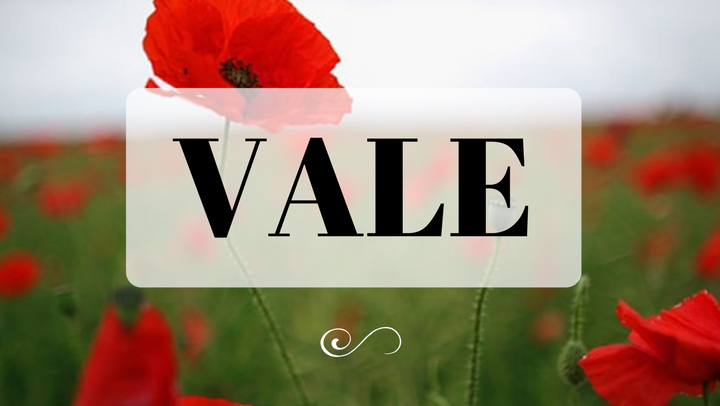 BENTLEY, Geoffrey(27 April 1998) | BIDDLE, John(15 March 1998) | CARTER, William (Bill) Frederick, OBE(27 May 1998) | CHAMPION, Emily Louisa(28 May 1998) | COWLEY, Amalia(11 April 1998) | DELANEY, Graham John(early 1998, aged 55 years) | DROVER, Christine(25 May 1998) | FLEMING, Thomas(10 December 1997) | FOAD, Edward (Ted) Ernest(13 January 1998) | FORD, Peggy Edith(16 April 1998) | GORRINGE, Ken(29 May 1998) | HOLLAND, Frank, MBE(March 1998) | McADAM, Eileen Alexandra(8 April 1998) | NEWMAN, Anthony (Tony) Philip John(9 April 1998) | READE, Barrington (Barry) Gerald(9 April 1998) | TOLIK, Erimas, MBE(November 1997) | TUDOR, Ethel Ellen (Judy)(24 March 1998) | WAGNER, Karl Kurt(27 March 1997) | WEBB, Peggy | (March 1998)
Ethel Ellen (Judy) TUDOR (24 March 1998, aged 87)
Ethel Ellen (Judy) Tudor, who died at Erina on the NSW Central Coast, was a New Guinea B4 who exchanged goldmining for a long writing and publishing career in Sydney, during which she edited the Pacific Islands Monthly (PIM), the Pacific Islands Yearbook, the Handbook of Papua New Guinea, the Pacific Who's Who and many books on islands subjects. She published her autobiography, Many a Green Isle (Pacific Publications), in 1966. Judy was widely known and respected in the islands, PNG probably being her favourite.
Born in Granity, New Zealand, she arrived in Canberra in 1927 and took a job as a statistics officer with the Commonwealth Public Service. In Canberra she met Len Tudor, whom she married in Melbourne in 1934. From 1936 they spent about three years gold prospecting in the Sepik with a party that included her father-in-law, Harry Tudor, Jack Thurston and E T (Ted) Fulton. After prospecting east of what is now Dreikikir and north of Maprik for months they ended up on the Harry Tudor/Thurston gold sluicing lease, No 1 Gold, on the headwaters of the Ulahau. The five day walk-in from the coast was from But, where the Boram schooner landed cargo. This was before Ray Parer made an airstrip at Maprik and, a year later, the Maprik patrol post was established.
Judy was in Rabaul working for Colyer Watson when, after the outbreak of war in 1939, she returned to Melbourne, where she and Len later divorced. In mid-1942, while working as a statistics officer with Shell in Melbourne, she received a job offer from the NZ-born Sydney publisher R W Robson to help bring out a new edition of the Pacific Islands Year Book, needed urgently by the American forces in Australia. The offer changed her life. After they produced the edition in record time, Robson put her to work on PIM. They began a close personal relationship that ended only with Robson's death in 1984 at the age of 99. They never chose to marry.
An indefatigable worker to whom writing came easily, and with a good business head, Judy was indispensable to the expansion of Pacific Publications Pty Ltd, especially following the company's purchase of the Suva Fiji Times group in 1956, which occupied a lot of Robson's time. She directed publishing activities in Sydney while continuing to co-edit PIM, compile and edit new editions of the various handbooks and other publications and established and ran a successful general book publishing division.
She became a director and part-owner of the company. We colleagues admired the firm but even-handed management style of a boss who never for a moment believed that being a woman was a handicap in business, or in anything else she might choose to do.
Judy travelled widely, particularly when compiling editions of the Year Book, and the regular reports and commentaries on islands affairs she sent back to PIM were penetrating and fearless. She could employ a caustic wit and her sense of irony to devastating effect, particularly when aimed at some of the bureaucratic or political incompetencies of the colonial administrations of the day.
Nevertheless, she pushed no personal barrows and on her island visits she was invariably a welcome guest of governors, administrators and senior civil servants because of her obvious integrity and objectivity, and her wide and sympathetic understanding of island problems. PIM readers also relished her entertaining, no-nonsense travel pieces and perceptive book reviews.
Judy never formally retired from Pacific Publications, but from 1974 she and Robson, who was then approaching 90, spent decreasing time there after selling a controlling interest in the group to Wilke and Co of Melbourne. We who were left wished she could stay on and direct the company through the next few years, which she would have liked to have done, but she was loyal to Robson and put his personal welfare first. She busied herself in writing a popular history (unpublished) of the world's more famous goldrushes, visiting all the old fields from the Rand to the Klondike.
Pacific Publications and the Fiji Times are today parts of the Murdoch empire and NM is published from Suva.
Judy is survived by her sister, Mrs Sheila Hunter, of Avoca Beach, and her two brothers, Keith and Lewis. The foregoing was written by Stuart Inder, onetime editor and publisher of PIM, and includes some material from the obituary he wrote for the Sydney Morning Herald of 28 March 1998.
Graham John DELANEY (early 1998, aged 55)
Graham Delaney was an outstanding student, skilled in debating, with an interest in current affairs. He became a lawyer and in the late 60s was appointed secretary to the Public Service Union in PNG. While in Port Moresby he was an active member of the Pangu Pati. It was while he was in PNG that he found he was becoming progressively deaf: the condition was incurable. Graham returned to Australia and took up a position in Perth, in the Crown Law office. He later became Deputy Crown Solicitor in WA. Graham is survived by his wife Jo, and sons Jacob and Keir. Editor
Barrington (Barry) Gerald READE (9 April 1998, aged 59)
Barry Reade was born in Surrey, England, and came to Australia at an early age. He joined the Victoria Police in 1958 and remained in that force until the Royal Papua New Guinea Constabulary beckoned in 1963. He remained in the RPNGC until terminated under the former E.S.S. on 9 August 1974. He then moved to Melbourne where he joined the Commonwealth Police for a short time before moving into the Commonwealth Employment Service where he remained for 20 years. He retired in 1996 to take up a small property at Nerang and pursue other interests.
Barry was a keen cricketer and played in and coached teams in PNG particularly the police team. He was awarded the Commissioner of Police 'Certificate of Commendation' in 1970 at Lae for the apprehension of a Goilala person involved in the gunshot murder of a German and shooting of others at Lae. He separated from RPNGC with the rank of Inspector (First Class).
Barry is survived by his widow and sons. Max Hayes
Erimas TOLIK, MBE (November 1997)
Erimas Tolik died at his village at Raluana, near Rabaul, ENBP. Erimas joined the New Guinea Police Force (Native Constabulary) some time around 1939, and showed a special aptitude for music, in which he spent a major part of his police career. However he also had other fine police skills and gained commendations for his service during WW2. Perhaps he was best known for his leadership of the Rabaul police band for some years, before going into regular police duties at Lae in which he excelled in leadership qualities. He retired in the late 70s after some 35+ years' police service. He was guest of honour at a dinner at the Kaivuna Motel in early September 1997 at which he was presented with Life Membership of the RSL. Sadly this was not to be for long, and he died some two months later. Max Hayes
Thomas FLEMING (10 December 1997, aged 79)
Tom was born in Cleish, Kinross, Scotland on 25-1-1918. He was a tropical-tree planter and consultant, working for Harrison Crossfield in Malaya and PNG. He formed Harrison Fleming and was the founder of the Oil Palm Development at Kimbe, West New Britain. He died peacefully at his home at Duns, Berwickshire. Pat Hopper
Frank HOLLAND, MBE (March 1998, aged 91)
Frank migrated to Australia under the Empire Settlement Scheme. He married Mabel Kennedy in mid-1938 and the newlyweds travelled to New Guinea for their honeymoon on the MV Montora. They loved Rabaul and did not return to Australia.
Frank worked as a timber cutter in the Wide Bay and Open Bay areas and was at Pondo when the Japanese landed at Rabaul. His family was evacuated but Frank stopped at Pondo and was given the task of finding as many of the escaping troops as possible and returning with them to Talasea. This he did, picking up 22, including two from the Tol massacre. For his effort he was awarded the MBE.
After arrival in Australia he joined Z Special Unit and was sent to Timor. He gave the Japanese such a hard time that they posted a reward of 1,000 patachas for his capture. He was then evacuated by the American submarine Gudgeon and taken to Perth. After training he was dropped into Borneo spending the rest of the war there. After the war Frank returned to Rabaul to resume his timber cutting on the Warangoi River.
Frank returned to Australia in 1964 to take up citrus farming and retired in 1974 to Hervey Bay. In his retirement he was involved with the RSL: he was invited to return to Rabaul with the 2/22nd for the 40th Anniversary of the Fall of Rabaul. Frank is survived by his wife Mabel and family. Editor
Edward (Ted) Ernest FOAD (13 January 1998, aged 89)
Ted Foad was born in England in 1908, travelled to Australia at the age of 20, then proceeded to New Guinea to join his father's fishing business. Subsequently he got his master's ticket for coastal vessels, and later acquired his own boat and began trading. When the copra trade slumped he took up gold prospecting, at times in uncontrolled territory.
With the outbreak of war, Ted joined the NGVR, but soon found himself back in small ships supplying the forces around the NG coast, which earned him numerous medals and a US Presidential Citation.
After the war, still in PNG, Ted built up a coastal transport business and in the 60s started a helicopter business to service the goldfields. In all, Ted spent 41 years in New Guinea. Later he transferred his helicopters to Queensland to undertake aerial cattle-mustering. He retired in 1969 and settled in Atherton. Doug Parrish described Ted as 'one of nature's gentlemen'. Editor
Peggy Edith FORD (16 April 1998, aged 73)
Peg Ford passed away at Palmwoods, Qld. Sadly she had been widowed for almost thirty years: her husband, Max, then Administrative Officer of the Department of Native Affairs, died in November 1968. Peg and Max had been in the Territory since the early fifties, serving at Samarai, Popondetta, Goroka and Port Moresby. Their daughter, Narelle, predeceased her. Jim Toner
Christine DROVER (25 May 1998, aged 58)
Christine Hudson came to Port Moresby in 1967 as secretary to the Professor of Economics, John Williams, at the University of Papua New Guinea. In 1969 she married Don Drover who was then the Professor of Chemistry. They lived at Waigani until leaving for Darwin in 1981 and later Sydney. Christine was also secretary to the Japanese Ambassador in Port Moresby and in the administration of Air Niugini.
Christine is survived by her daughters Alison and Camilla, son Angus and husband, Don. Don Drover
Amalia COWLEY (11 April 1998, aged 93)
Amalia Cowley was the wife of Cecil Cowley (deceased), mother of Erl (deceased) and daughter Pamela. She is survived by Pamela, son-in-law Gerry and three grandchildren. Pamela Virtue
Ken GORRINGE (29 May 1998, aged 88)
Ken's interests were many and varied. In his early years he studied commercial art, but began his working life as a clerk. He was working for W R Carpenter, Madang, in the early days of the war and then joined the New Guinea Volunteer Rifles. In 1944, along with Nep Blood, Bill MacGregor and Rhys Healy, he spent over eight months on patrol in the Highlands, until advised by radio of the capitulation of Japan. During this period the patrol collected a number of Birds of Paradise, which are now in the Sydney Museum. All told, Ken spent 30 years in PNG, much of this time working with the Department of Agriculture as a project manager. He spent 10 years working with the Tolai Cocoa Project, six years as its manager.
Ken retired to Wentworth Falls in 1971. He became an active member of the Blue Mountains Wildlife Society, going on regular walks. He had a love of photography, was a member of the photographic society and developed his own work in his darkroom. The house Ken purchased in Wentworth Falls was about 500 yards from his parents' home in which he was born and lived. Ken had a wide variety of friends and will be remembered as a generous host and loyal friend. Taken from an obituary by Reg Collins and biographical notes
Karl Kurt WAGNER
(27 March 1997, aged 77 years)
Karl spent four years with the Police Department at Mt Hagen, departing in 1974. He is survived by his wife Marjorie. No further details available.
Emily Louisa CHAMPION (28 May 1998, aged 88)
Emily was born in Essex, England, the younger of two daughters. She was interested in the theatre, ballroom dancing and music—she played the piano all her life. She met her future husband at a party, when Alan was a young ship's engineer travelling the world and she was just 18. They wed six years later. After their marriage Alan decided to give up his life at sea and join his father as a patrol officer in Papua, planning to have Emily join him as soon as possible.
These things took time; however in 1936 Emily, who had never been out of England, set sail for Sydney and then travelled to Port Moresby in the Macdhui. Papua was largely unexplored and Alan and his two brothers, Ivan and Claude, often went on long and dangerous foot patrols into the mountains to explore and make contact with as many local people as possible. Emily stayed on her own while Alan was away. For most of the time the only people around her were a few Papuan prison guards and prisoners from the local jail. She later moved to Daru when Alan was transferred to Goilala, a place considered too dangerous for a white woman. Alan and Emily had numerous postings including Mapamoiwa, Buna, Kokoda, Higaturu, Daru, Samarai and Port Moresby. While living at Samarai, their only son, Peter was born.
When WWII came, Emily and Peter spent five years in Australia. The family had a close shave with death when Mt Lamington erupted killing many Europeans and thousands of local people. The Champion family had flown out of the area and back to Port Moresby the day before the eruption. Alan was a senior Administration official when he reached 55 years of age and retirement.
Emily and Alan retired to Brisbane in 1960 and, as fate would have it, they moved into the house next door to Bill and June McGrath. The two families became very close: a loving relationship which lasted for nearly 38 years.
In their later years, Emily and Alan moved to a retirement village. When Alan passed away in 1988, Emily stayed on at 'Villa La Salle' surrounded by many photographs and memories of their life together. Emily always spoke of her life in PNG with love and affection. She told many interesting tales of those times but her friends never did succeed in getting her to write her life story. Emily is survived by her son Peter and two grandchildren, Shona and David. Bill McGrath
Peggy WEBB (March 1998)
Peggy, late of Caboolture, Qld, daughter of long time Madang Hotel publicans Pop and Flo Gilmore, married to Bill Webb, a solicitor in Madang in the 1950s. She often served behind the bar and was famous for her potent cocktail "The Peggy Webble"!
John BIDDLE (15 March 1998, aged 70)
John went to PNG in 1954. He worked for the Department of Works in Port Moresby, Wewak and Madang. John was a keen golfer, and was known in PNG as 'sweet singing John Biddle'. In 1957 he won the Territory Championships at Goroka and the following year was runner-up. He partnered Jack Page and won the Territory Foursome Championship in 1964.
John married Muriel Asmussen in 1958 and their only daughter, Leonie, was born in Wewak. The family returned to Brisbane in 1972 where John worked at Amberley Air Force Base until he retired in 1988. Garamut Newsletter
Anthony (Tony) Philip John NEWMAN (9 April 1998, aged 80)
Tony went to Port Moresby in 1946 to work in Treasury when W N M Chester was Treasurer. He served in Treasury for a number of-years, then took over the job of Treasurer from Harold Reeve. Later he became Assistant Administrator Economic Affairs and Deputy Administrator. Tony and his wife Joyce left PNG in 1973 to settle in Portugal and later England before returning to Australia.
Tony is survived by his wife Joyce and children Anthony, Shane and Jaqulin. Editor
William (Bill) Frederick CARTER, OBE (27 May 1998, aged 74)
Before going to PNG, Bill was a telecommunications engineer with the PMG Department in NSW, responsible for an Engineering Division with headquarters in Parkes. He was chosen by Paul Hasluck, then Minister for Territories, to create a Department of Posts & Telegraphs in PNG. Bill was then 30 years of age. Most of the postal and telecommunication services in PNG at that time were inefficient and were heavily subsidised by the Government, and there was no in-service staff training for Papua New Guineans. By the time he retired in 1975, both services were operating in a healthy profit position and about 98% of postal staff and 80% of telecommunications staff were Papua New Guineans.
Bill's interests extended well beyond the running of his Department. He was an avid bushwalker, surfer, skier, and family man. He helped build the Kone Pre-School and was a Trustee for many years. He was active in the Apex movement and was made a Life Member. He became Chief Commissioner in the Scouting movement. He was an Official Member of the PNG Legislative Council (1959-64) and the House of Assembly (1964-68) (he requested not to be appointed to the Second House of Assembly as he wanted to concentrate on his own Department). He was a senior member of numerous high-level advisory committees. After leaving PNG Bill did some consultancy work in connection with the building of Black Mountain Tower in Canberra.
Bill's wife, Anne, predeceased him. He is survived by daughter Beverley, and sons Andrew, Stuart and Bruce. Editor
Geoffrey BENTLEY (27 April 1998, aged 73)
Geoffrey Bentley worked as a Health Extension Officer with Public Health. No further details available.
Eileen Alexandra McADAM (8 April 1998)
Eileen McAdam of Nundah, Qld, was the wife of the late James Bannister McAdam. No further details available.