Vale March 1998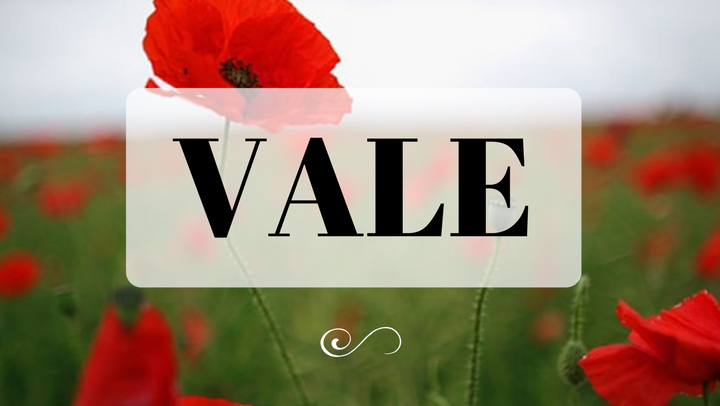 ATKINSON, Lancelot (Lance) Ivor(30 September 1997) | BAILEY, Peter | (18 January 1998) | BALFOUR-OGILVY, Winifred(23 September 1997) | BIDDULPH, John, OBE(January 1998) | BIRD, Theresa(11 September 1997) | BROAD, Johanna(18 September 1997) | BYRNE, Leo James(2 November 1997) | CALDWELL, Douglas Gordon (Jock)(15 February 1998) | CAMERON, Dorothy(25 May 1997) | CHRISTENSEN, Olaf(25 January 1997) | COOK, Tony(December 1997) | CORRY, Alan, OAM (December 1997) | DOBSON, Kathleen(5 November 1997) | EDWARDS, George Charles(November 1997) | GOUGH, George Andrew(10 January 1998) | HEWISON, Maureen(31 December 1997) | JACKSON, Jean Kathleen(14 February 1998) | JENTSCH, Emily(4 November 1997) | KELLY, Kevin Adrian(8 December 1997) | KIRKE, Craig Peter Wharton(16 November 1997) | LOCKWOOD, Ian James, DFC(31 January 1998) | LOWE, Richard Douglas(25 August 1997) | McCASKER, Alan Wray (Bill)(November 1997) | MILNER, William Tagg(21 December 1997) | MURPHY, Marjorie(20 October 1997) | NEW, Cecil George(2 February 1998) | NEWBY, Lisle Richardson(14 November 1997) | NORTH, John(13 November 1997) | O'ROURKE, Jean(6 November 1997) | PARER, Bernard Dominic (10 August 1997) PARER, Ferdie(13 December 1997) ROSS, Hilda Agnes | (23 June 1997) SARGEANT, David (Jack) | (24 December 1997) | SHOPPEC, M J (Jo(October 1997) | TAPLIN, Evelyn(8 December 1997) | THOMAS, Dorothy(24 February 1998) | WALMSLEY, Charles Thomas(9 November 1997)
Lisle Richardson NEWBY (14 November 1997, aged 79)
A veteran of the Public Service in pre-independence Papua New Guinea, Lisle Newby died at Kenilworth Retirement Village, Bowral, on Friday. He was 79. Newby was also a teacher in Aboriginal communities in Central Australia and a senior bureaucrat in the independent nation of Nauru.
Lisle Richardson Newby was born at Taree, the fourth of six sons of Joseph Albert Newby and Evelyn Richardson. He grew up on the family farm at Dumaresq Island opposite Cundletown on the Manning River. Newby went to the local primary school, Taree High School (1930-35) and trained at Armidale Teachers' College (1936-37). He taught until he volunteered for World War II (as did all five of his brothers) and served in the Australian Army in PNG for four years as a captain in intelligence.
Upon demobilisation, he returned to Australia, went to the University of Sydney as a returned soldier in 1946-48 and then returned to teaching in 1949. In the early 1950s, he joined the Department of Territories and went as a teacher to the Northern Territory from 1953 to 1957.
It was during that period that Newby took a journey that would change his life. He went back to the scene of his war service, back to PNG under the influence of one of the great figures in PNG's colonial experience: his former commanding officer and friend, Charles Rowley.
He taught in schools and at teachers' college until 1963 when he became the first Director of PNG's Department of Information and Extension Services, known generally as DIES. This was the department which in the movement to self-government and independence did for education in its broadest sense what aviation had done for transport.
DIES established a network of ratio services in English, pidgin, Motu and scores of other local languages across PNG, supported by local pamphlets, booklets and newspapers. Newby played a pioneering role in the process of "localisation"—the training and promotion of Papua New Guineans in their own Public Service—and he played a role in the development of the leaders of the Pangu Pati, including the father of PNG, Sir Michael Somare.
He was also active in organising sports, helped to promote Australian rules football clubs in Port Moresby and was one of the organisers of the South Pacific Games in Port Moresby in 1969. He retired in 1975 and had the satisfaction of seeing his place taken by a Papua New Guinean.
In the following years he went to Nauru as Director of Education, Minister for Health and Secretary of Government and remained until 1980 when he again retired. He was consulted by the Government of Nauru many years after he left and remained in contact until the early 1990s.
His final move was to Bowral where he lived first in his own home until ill-health forced him to move to the retirement village two years ago.
Throughout his life Newby took a special interest in the less fortunate: pupils he had taught in Aboriginal communities in Northern and Central Australia, and Papua New Guineans he had known and encouraged to develop.
A shy man, he loved company, books and music and took a keen interest in the visual arts. He had a modest collection of paintings including several by Albert Namatjira and his school, a natural collection given his feeling for nature, the bush and the way people fitted into the natural world. The Sydney Morning Herald, 19 November 1997
Dorothy CAMERON (25 May 1997)
Dorothy was in Wau pre-war and after the war, and was involved with the pre-school there for many years. She is survived by her son. Garamut Newsletter
Alan Wray (Bill) McCASKER (November 1997, aged 77)
A wartime coastwatcher who later became an economic adviser with a critical role in preparing Papua New Guinea for independence, Bill McCasker has died at Canberra's Calvary Hospital. He was 77.
Born in Ballarat, Alan Wray (Bill) McCasker was educated at Melbourne High School and graduated in arts with honours from the University of Melbourne, just in time to serve for four years in the Royal Australian Navy's intelligence division.
Lieutenant McCasker's first posting was to Noumea, a political hotbed of conflict between Free and Vichy French. In his war history, Gavin Long mused that de Gaulle's followers enacted a coup de force, handing the Australian Government a delicate problem in regional diplomacy, one that demanded prompt decisions. McCasker played his part with his fluent French—and the threatened use of a revolver.
He was then chosen for a coastwatching position on Ontong Java, a remote island east of Bougainville where his job was to give early warning of the presumed Japanese naval thrust against New Guinea and Australia. In the event, the Japanese attacked in a pincer movement from the north and south, and were dealt with convincingly at the Battle of the Coral Sea in May 1942. With the formation of the Allied Intelligence Bureau, McCasker helped co-ordinate commando activities behind the enemy lines from a base in Madang.
At war's end he completed a Diploma in Education and, while teaching at Caulfield Grammar, a commerce degree. McCasker then joined the Department of Defence, married Margaret Webber and transferred to Canberra to join the Treasury.
In 1961 he was appointed executive officer of the Vernon committee of inquiry into the Australian economy. The inquiry ran for two years and produced a major document. The then Prime Minister, Robert Menzies, who had commissioned the inquiry, found its recommendations to be politically inconvenient and ignored them. For McCasker, the Vernon experience would be the foundation of his work for PNG.
When the Australian Government moved towards granting PNG independence, the World Bank was asked to report on its economy. The bank reported in 1965 and called for the preparation of an economic development plan: McCasker got the job of preparing that plan. An economic development program was produced in September 1968, providing the basis for five years of rapid economic, educational and social welfare growth. The Australian Government approved administration expenditure of $100 million, more than double previous amounts. Private sector investment responded at a multiplied rate.
When self-government became a reality, all expatriate departmental heads had their contracts terminated and PNG nationals took their place. When McCasker left in 1972, the PNG kina was valued higher than the Australian dollar, PNG had international direct dialling before Australia, and CRA had developed large-scale mining techniques on Bougainville that would only later be introduced into its Australian operations.
On his return to Australia, McCasker was appointed to the Prime Minister's Department in Canberra and then to the Department of Administrative Services. He worked on the new Australian honours system and the establishment of the Prices Justification Tribunal.
McCasker's wife Margaret died in 1980; he lived at Hawker in Canberra until his death. The Sydney Morning Herald, 3 December 1997
Jean O'ROURKE (6 November 1997, aged 72)
Jean Lesmond, born and raised in Lithgow, NSW, went to New Guinea in 1947, to Bulolo where husband Alan was employed by Bulolo Gold Dredging. In 1953 they moved to Madang where Alan was employed by Madang Slipways. Jean worked for a time in the office of Modilon Motors. In 1959 Jean left Madang and in 1961 married Les O'Rourke, settling in Belfield NSW.
Jean is survived by husband Les, son Brendan and his wife Joy, and granddaughter Natalie. Frank Smith
George Charles EDWARDS (November 1997)
George Edwards of Cleveland, formerly of Rabaul, is survived by his wife, children, grandchildren and great-grandchildren. No further details available.
Maureen HEWISON (31 December 1997, aged 80)
Maureen arrived in New Guinea in 1934 and left in 1942. She worked as Secretary to W V Quinn of Mandated Airlines, Wau, and Secretary to Jack Sedgers of W R Carpenter & Co., Salamaua. Maureen was married to Hereward Philip Oscar (Bill) Hewison. Bill predeceased her. Maureen is survived by her daughter Rowan. ROAPNG Records
Leo James BYRNE (2 November 1997, aged 75)
Leo served with the PNG public service in Port Moresby from 1951 to 1974, initially in the Office of the Public Service Commissioner, then Government Stores and later as Administrative Officer in the Department of Information and Extension Services.
He married Winsome Murphy in 1957 who, with their daughter Sherren and son Tony, lives in Western Australia. Leo died in Melbourne after a long period of poor health. Bruce Leslie and Winsome Bryne
Lancelot (Lance) Ivor ATKINSON (30 September 1997, aged 74)
Lance was born in the UK and came to Sydney as an infant with his parents. He joined the AIF in 1943 and served in Bougainville with the 13th Smallship Company. He was there at the finish of the Pacific War in 1945. After a brief period in Australia he returned to PNG in 1946 and worked for the Bulolo Gold Dredging Company operating a ferry barge across the mouth of the Markham River at Labu which was the starting point of the Wau/Bulolo Road. For the next 50 years he worked as a coastal ships master for many employers: Government, Commercial and Catholic Mission.
He spent his last years in PNG as master of the MV Theresa, owned and operated by the Vunapope Catholic Mission, East New Britain. He was a survivor from the MV Kavieng Trader which blew up and sank on a voyage from Kavieng to Rabaul: he was badly burnt and carried the scars for life. For many years he was a member of the Papua New Guinea Volunteer Rifles operating out of Rabaul.
Lance retired to Gordonvale, Qld, at the age of 72 where he enjoyed the relaxing lifestyle as a shore-bound resident. At the time of his death he was a full active member of the PNG Volunteer Rifles Ex-Members Association and the Gordonvale Sub-Branch of the RSL. His retirement was short-lived: he died suddenly after admission to hospital with stomach pains. Condensed from a longer obituary by Kevin Robert Doherty
Johanna BROAD (18 September 1997, aged 83)
Johanna Broad was born in Kokopo in 1914, one of three children of Carl Wilhelm (Bill) and Florence Rundnagel. She spent her childhood on the family plantation "Reiven" until being sent to boarding school in Australia. After attending the Sydney Conservatorium, where she continued her violin studies, she returned to Rabaul and the plantation. Later she was evacuated on the Neptuna. Her brother and parents were interned by the Japanese in Rabaul. In 1942 she married Guy Moore Broad in Sydney. After the war they returned to New Guinea, settling in Port Moresby where Guy took up a position as architect with the Department of Works and Housing. However her connection to plantation life remained, and she travelled regularly between Moresby and Rabaul. Her husband Guy predeceased her. Johanna died in Brisbane after a short illness.
Johanna is survived by her sister Mrs Hede Farrell, daughter Jillian, son-in-law Gerhard, and grandchildren. Condensed from information from Johanna's daughter, Jillian
Hilda Agnes ROSS (23 June 1997, aged 87)
Hilda was the wife of E A Sutherland Ross (Suthie). Hilda and Suthie were married in Brisbane in 1968. She passed away after a short illness with cancer. Hilda is survived by her husband Suthie, who kindly provided the above information.
Bernard Dominic PARER (10 August 1997, aged 92)
Robert Parer of Aitape, PNG, wrote: "Am enclosing details of the passing of the last of the older generation of the Parers. Bernard was my dad's brother (Dad was Bob) and his cousin Fr Ferdy, a Franciscan. Ferdy came to visit us last year, almost blind and on crutches and in pain from cancer, and wanted to stay on at Nuku, his old station, as parish priest. A real character!'"
Bernard first went to PNG in the early 1930s, and was gold mining at Watut and later in the Sepik. At one time he was storeman/clerk at Wau for Parer Air Transport. During the war he was given a commission although he didn't have a day's training and couldn't even salute. He was helping with the supervision of labourers for the proposed road over the range to Wau. Bernard was a deeply religious man, always thinking of others, a quiet person with a wonderful sense of humour. After the war he and Cyril Parer operated Karlai Plantation in Wide Bay in East New Britain for many years until they retired to Australia in the 70s.
Fr Ferdie PARER (13 December 1997, aged 87 years)
Father Ferdinand Parer was born Adrian Parer, the sixth child of John and Teresa, members of a large clan who immigrated from Spain, proud of their heritage and deeply Catholic. John and his brother ran the hotel on King Island in Bass Strait and married sisters. The extended family was brought up together. A younger brother, Damien, was the famous war photographer.
Before the war Father Parer worked as a storeman in Melbourne while he studied for his matriculation, then accountancy. However his ambition was to become a priest. He was ordained in 1942 and joined the Franciscans. He served in Sydney and Brisbane, then spent the years from 1946 to 1967 as a missionary in PNG. His station was at Nuku, a remote mountain village in the Sepik District.
After that he studied in the Philippines for a masters degree in linguistics followed by six years of work with the Aborigines of Palm Island. Following that he worked at the St Vincent de Paul Society's South Brisbane hostel for the homeless. At various times he worked with people with alcohol problems and in the field of mental health. Taken from an obituary by Mary Mennis
Alan CORRY, OAM (December 1997, aged 79)
Father Corry was a Missionary of the Sacred Heart in PNG 1947-1955. He spent the remainder of his life in the Northern Territory and was awarded an OAM for work amongst the Aboriginal community. Jim Toner
David (Jack) SARGEANT (24 December 1997)
Dave passed away in New Plymouth, New Zealand, after a brave struggle with illness. Dave joined the PNG Public Service as a field officer in 1949 but soon felt the urge of private enterprise and became an exploration manager for several field and oil companies. He married Barbara, out from England, and was posted to Yule Island Base Camp where Barbara became a teacher in Kairuku in the late 50s. After working overseas in the UK, China and other parts of Asia for many years, he rejoined the PNG Administration and became Director of Water Resources within the Department of Minerals and Energy through the 1980s until his retirement in 1991. Dave is survived by his wife, and son Peter. Garamut Newsletter
William Tagg MILNER (21 December 1997, aged 86)
William Milner was a Clerk with the Police. His wife predeceased him. Editor
Kevin Adrian KELLY (8 December 1997, aged 68)
Kevin died suddenly at home at Golden Beach following a battle with cancer. Born in Perth, Kevin went to Port Moresby in 1953 and worked for Comworks, living at Paga Point. After a short stint in Canberra in 1958 he returned to Moresby with Admin. working for Treasury. It was here he met Jean and they were married in 1961, taking up residence in Laurabada Avenue, Boroko. Kevin had played Rugby League for Paga but decided golf was for him and for some years he was Secretary of the Port Moresby Golf Club. Kevin and Jean had three children (all born in Port Moresby).
In 1969 they decided to move back to Australia. Kevin had been with the Departments of Agriculture, Taxation and Police in Port Moresby prior to taking up a position with the Department of the Interior in Canberra. When he retired in 1989 he had had 41 years of public service. Kevin never forgot his days in PNG and the lifelong friendships forged there. There were many old Paga-ites at his wake.
Kevin is survived by his wife Jean, sons Ronald (Canada) and Andrew (Canberra), and daughter Toni (Canberra) and their families. Jean Kelly
George Andrew GOUGH (10 January 1998, aged 90)
George was born at Rosedale, Queensland, on 9 April 1907 and was educated at St James' College, Brisbane. His parents were hoteliers in country Queensland. He became an apprentice baker at Mundubbera but lost his job in the depression. He then had various jobs on farms, the railways and cotton harvesting. In 1936 he went down with diphtheria and his doctor recommended he go to a warm climate to recover. His brother Tom was the police officer in charge at Port Moresby and so George accepted his invitation to come up. During this time the Government Secretary met George and offered him a job as there was a shortage of staff. After a period as supervisor on the Sangara coffee project, George was posted to Bomana Gaol, Port Moresby. Here he set about re-establishing the prison gardens which had been allowed to lapse. Thirty acres of bananas, 10 acres of pineapples and 1800 citrus trees were planted, as well as 200 acres of cultivation. This was achieved with the help of villagers he recruited, as well as prison labour. George organised an irrigation system using materials lying unused. On the outbreak of war George became part of ANGAU. Food production was a top priority as there was a danger of Moresby being cut off by the Japanese. George was told to grow as much fresh fruit and vegetables as possible, to supply the army. In 1942 George became ill with scrub typhus and malaria arid was evacuated. In 1945 he was instructed to return to Bomana with ANGAU.
When control of Bomana was transferred to the Justice Department, George chose to remain with the Police doing work he understood and liked. George was instrumental in establishing a timber mill at Bomana, made from disused milling equipment. The project was a success and timber that had previously been stacked and burned was now put to good use. Similarly, George obtained several brick making machines and Bomana was soon supplying bricks for school construction and staff housing. Another project was the manufacture of steel-framed collapsible school desks. These were sent all over the country. They also made water tanks, roof guttering and downpipes. George was at Bomana for 26 years and left PNG in 1962. He then worked for the P&O shipping line until his retirement in 1972.
George's wife predeceased him. He is survived by his children and grandchildren. Doug Franklin
John NORTH (13 November 1997, aged 78)
John died suddenly at Kingscliffe. He was returning from his usual walk along the beach and did not make it back to his home. John worked in PNG in the Port Moresby, Sepik and Madang Districts with DCA from 1956. He is survived by two sisters and a brother. Garamut Newsletter
Ian James LOCKWOOD, DFC (31 January 1998, aged 83)
Ian was one of the originals in the Department of Agriculture, Stock and Fisheries (DASF). He went to PNG in 1935 as a Cadet Patrol Officer, posted to Lorengau. The then Director of Agriculture found out that Ian was a Gatton College graduate (1933), and convinced him to switch to DASF. Ian had postings to Keravat and Aiyura in 1937. In 1938 he was posted to Wewak as the first Agricultural Officer with responsibility for the coast up to the Dutch border and up the Sepik as far as Ambunti. A great potential was recognised for the Maprik area, especially for cocoa and upland rice. Ian surveyed and mapped out the Bainyik Agricultural Station.
In 1941 Ian returned to Australia and trained as a Catalina pilot in the RAAF. With his expert local knowledge he was posted back to New Guinea with the RAAF and involved with landing MOSS (Special Service troops) behind enemy lines. Ian was then sent to the Trobriands for further hazardous rescue work. After one operation he was awarded an immediate Distinguished Flying Cross.
After the war Ian worked in the Queensland Department of Primary Industry for many years and was an External Examiner for Gatton. His wife Bunny whom he married in Wewak in 1940 died in 1991. Ian took a trip back to PNG in 1992 and visited Maprik. Not only did the lapuns remember him from before the war but they reminded him that he used to go on patrol on a horse called 'Jack'! Ian is survived by a son and a daughter. Doug Franklin
Craig Peter Wharton KIRKE (16 November 1997, aged 75)
Craig was born at Mullumbimby, NSW, and was educated at Sydney High and Sydney University Law Faculty. He joined the AIF in World War II. He saw action in PNG and was involved with the recapture of Lae. Craig went to PNG in 1952 and entered a legal practice. He was there for 32 years, leaving the country in 1984.
A large number of friends gathered at his memorial service at The Southport Yacht Club. Judge Eric Pratt said that Craig had been a partner and close friend during the 1960s and 70s. He said Craig was everything that you wanted in a law partner; that if a case was lost there were no recriminations and that Craig's clients were all friends: Craig was there to listen and research and offer quiet advice, and he never led anyone into expensive litigation without explaining the possible results and chances of winning; that Craig was involved in sponsoring Papua New Guineans to the University of Papua New Guinea and he did not support people coming up from south.
Another friend who attended the service, Ted Higgins (of an architectural practice in PNG), said Craig was one of the best-known people in PNG. He described Craig's achievements beginning in 1955 when he started the first pre-school bus service in Boroko. Craig sat on the Law Board for PNG and helped Bernard Narakobi and Sir Tony Siaguni with their law studies. He was a Past President of the PNG Law Society and Member of the International Commission of Jurists. In 1974 he was Leader of the PNG Bar and became its longest serving member. He was elected to the Port Moresby City Council and served two terms. He donated his salary for this work to the Red Cross, which he also served. He was a great Rotarian and helped the Victoria League. He was a Life Member of The Royal Papua Yacht Club and had much to do with the development of Tuaguba Hill in Port Moresby.
Errol, Craig's younger brother, said Craig had a love of jazz and big band music. He could charm, offend and shock you, then had you in the palm of his hand, and was always a friend. He loved a good argument and gave praise when it was earned.
Craig's wife, Pam, predeceased him. He is survived by his children and grandchildren. Doug Franklin
Cecil George NEW (2 February 1998, aged 85)
Cecil New was a teacher with Education. He was single upon his death. No further details available.
Olaf CHRISTENSEN (25 January 1997, aged 86)
Olaf Christensen was born in Queensland in 1910. His family had many connections in Denmark, his father's country of birth. The family was in Berlin when World War One started and with difficulty they returned to Sydney. Olaf had a chequered schooling and left school early. While still very young, he became an assistant cook on a boat servicing lighthouses from Brisbane to Broome. On one of these trips he jumped ship at Thursday Island and headed for New Guinea, ending up at Edie Creek where he spent several years. Then followed a stint with the Australian Navy.
During the great depression Olaf started a refrigeration company in Sydney and soon moved on to work with Peters Ice Cream, where his brother was Manager. Around this time he also became interested in flying and, when the Pacific War started, he worked with the Americans setting up refrigeration plants at various locations in the Pacific. Eventually he ended up flying Mitchell Marauders on missions over occupied territories.
After the war Olaf spent some years fishing and then for 25 years ran the "Fixit North Brighton Sport Store" in Bay Street, Brighton, Melbourne, selling bait and fishing tackle, sportswear, seashells, and New Guinea artefacts. He was widely known as 'Mr Fixit' and was much respected in the Brighton community. Olaf married three times, and is survived by his daughter Karen, son Jacob and his last wife Rung 'Rainbow' Bunnag. Deryck Thompson (based on Olaf s autobiography "Gold, Pearlshells, Feathers and Sharks")
Peter BAILEY (18 January 1998, aged 70)
Peter began work as a Radiographer for the Public Health Department in Port Moresby in 1953. Of his time in PNG Peter once wrote, "The next 20 years were wonderful. Working in a tropical paradise, working with gifted and dedicated medical people, teaching basic X-ray techniques and helping to set up the Tuberculosis Control Unit. Wonderful and happy years." Peter served in various centres including Samarai until 1957 when he was co-opted to work with Dr Stan Wigley as part of the Tuberculosis Control Unit. He spent the next sixteen years travelling around PNG as part of this team.
Peter married Yvonne Tabua in 1960. Yvonne was in the first batch of nurses to graduate after completing all their nursing training in PNG. The family left PNG in 1973, after which Peter worked in various fields including in Darwin and Gove, and a stint with Health Victoria doing radiation protection work, a field he had long felt was not given enough attention. Peter was diagnosed with cancer in 1985 and received extensive radium treatment as well as surgery. Although this treatment slowed down the progression of the disease he eventually succumbed.
Peter is survived by his wife Yvonne, son Stephen, and daughters Helen and Corinne. David Eyre
Tony COOK (December 1997)
Tony joined the PNG Public Service as a Cadet Patrol Officer in 1961 and remained on after Independence until 1978. He served in Madang and Saidor, later in Lae and Morobe and then the Highlands. He was one of the last remaining former permanent overseas officers to serve the Independent State of PNG as a senior field officer in Mt Hagen and became the Deputy District Commissioner before retiring to Australia. Later Tony joined the Queensland Dept of Aboriginal Affairs, later transferring to ATSIC.
In September 1964, Tony was one of the four survivors from the fateful Dornier crash in the Surinam River near Shaggy Ridge behind Dumpu, Madang District. Together with his DC, Freddie Kaad, DDC, Vin Smith and the RMO, Dr L. Malcolm, he escaped the burning wreck and although badly bruised, took up the task of climbing back up the mountain face for 4,000 ft to the newly opened airstrip at Tauta to obtain carriers and help for the other three officers.
Tony is survived by his daughter Louise Mereille of Brisbane. Garamut Newsletter
John BIDDULPH, OBE (January 1998, aged 62)
John Biddulph, regarded as the 'father of paediatrics' in Papua New Guinea, has died in Brisbane. British-born Robert Arthur John Biddulph was the grandson of a Christian medical missionary in China and married an American nurse and former missionary.
He rejected the militaristic traditions of his English high school, Wellington College, where he refused to join its cadet corps and announced: "I'm going to heal people, not kill them."
His family migrated to Sydney in the early 1950s, and he first went to PNG as a medical student in 1954 and was there permanently from 1961 to 1990.
Realising that a Western-style doctor-based and doctor-run health service was inappropriate and impractical in PNG, he was instrumental in the establishment of a system driven by nurses, orderlies and medical aides. He was responsible for laws to discourage bottle-feeding and encourage breast-feeding. The PNG legislation was the first to restrict the sale of bottles, teats and dummies to prescription, and came into effect years before the World Health Organisation's code of marketing.
Dr Biddulph was the nation's senior specialist paediatrician, professor of child health at the University of Papua New Guinea, and a WHO adviser on paediatrics in the Pacific, Asia and Australia. He received an OBE from the PNG Government in 1984.
Dr Biddulph retired to Brisbane, where he died at his Wynnum home last month after almost five years battling chronic lymphocytic leukaemia. Despite the illness, he taught at the University of Queensland school of medicine and lectured in Australia and overseas on tropical child health.
He leaves a widow, Mary Harper Biddulph, a daughter, a son and three grandchildren. The Courier Mail, Brisbane, 12 February 1998
Theresa BIRD (11 September 1997)
Theresa passed away in Leamington Nursing Home where she had been since June 1994.
After a visit to her brother Edmund and sister Kathleen in New Guinea, Theresa worked in Canberra and Brisbane before returning to Port Moresby to the Administrator's office at the end of 1945. As Edmund and Kathleen had been long-time residents of Madang, she transferred to the District Commissioner's office there.
In 1945, Theresa married Bob Bird, CBA manager, whose next posting was Wyong, NSW. Some five years later the Birds returned to PNG, to Murnass Plantation, where they lived until 1976. Therese was a lover of music and won special prizes for elocution, including the Shakespearean Gold Medal. She was involved in Station 9PA, Madang community concerts and plays. She was also a very keen gardener who imported orchids from around the world.
Therese's husband, Bob, died in 1994. Garamut Newsletter
Marjorie MURPHY (20 October 1997)
Marjorie passed away as the result of an accidental fire. She was hospitalised in Brisbane but unfortunately succumbed as a result of her injuries. Lynne Downie paid tribute at her funeral: "I first met Marjorie in Kerema PNG in 1961. While fulfilling all the normal duties expected of a District Commissioner's wife, Marjorie also made a special effort to help young, adventurous and single personnel, like myself, settle into a new, often strange, and always challenging environment. … Marjorie was tolerant of all people regardless of their ethnic, social or religious background. … She showed respect for others and gained their respect in return."
Marjorie is survived by daughter Dale, son Kerry and his wife Trish, and three grandchildren. Garamut Newsletter
Charles Thomas WALMSLEY (9 November 1997, aged 77)
Charles Walmsley was a storeman with Public Health. No further details available.
M J (Jo) SHOPPEC (October 1997, aged 99)
Jo passed away only a few months before her 100th birthday. She first went to PNG as a nurse pre-war and married her late husband Lionel, who was engaged in gold mining at Edie Creek until the outbreak of war when he was called up for the RAAF. Lionel had been a pilot in WWI and after capture in Singapore in 1942, he spent time in Changi POW Camp. At the conclusion of the war, Jo and Lionel returned to Wau where, in addition to gold mining, they were involved in a coffee plantation until they returned to Australia. Garamut Newsletter
Emily JENTSCH (4 November 1997, aged approximately 95)
Emily was born in Tasmania in 1902 and died in hospital in Canberra after a short illness. She went to Edie Creek, PNG, with her husband Bert in 1938. She was in Townsville during the war and returned to Wau in 1946. There she took part in the Hospital Auxiliary, the Ladies RSL group, the Anglican Church Council and the Golf Club. Emily returned to Australia in 1960 and settled in Canberra. She is survived by her two daughters, grandchildren and great-grandchildren. Garamut Newsletter
Evelyn TAPLIN (8 December 1997)
Eve is the widow of Jim Taplin. Eve and Jim lived in Rabaul in the 50s and later. They were in shipping. Eve was a committee member in the original year the club was founded. She is survived by her sons Jim and Hugh. Garamut Newsletter
Douglas Gordon (Jock) CALDWELL (15 February 1998, aged 80)
Douglas Caldwell was born in Scotland and migrated to Australia after the war. He joined the Public Service of the Territory of Papua New Guinea in the early 50s and worked for over 20 years with the Department of Posts and Telegraphs in the Telephone Division. His service took him to various centres including Lae and Port Moresby. On retirement he returned to Scotland and settled near Aberdeen where he established a large garden not far from the River Dee. Many of his friends from PNG days visited him there. He never married. Peter and Mandy Marvell
Richard Douglas LOWE (25 August 1997)
Richard Lowe arrived in the Territory in 1934 on a contract to complete the power line from Bulolo to Wau, fell in love with the country and returned to work for BGD. He married Nance Beck in 1940.
At the outbreak of war Dick joined the PNGVR and walked with a group from Wau to Port Moresby, and then joined the Australian Army. After the war Dick and Nance returned to Lae. He retired in 1968.
Dick is survived by his wife Nance, sons Rodney and Reid and their families. Garamut Newsletter
Kathleen DOBSON (5 November 1997)
Member, Kathleen Dobson, was the wife of the Late Eric Robert Dobson. She was in Lae from 1946 to 1963. Her husband was with Forestry Department. No further details available.
Winifred BALFOUR-OGILVY (23 September 1997)
Member, Winifred Balfour-Ogilvy, was the wife of the Late Douglas Dunbar Balfour-Ogilvy. She left PNG in 1974 after 14 years there. No further details available.
Jean Kathleen JACKSON (14 February 1998)
Member, Jean Kathleen Jackson was the wife of the Late Michael Frederick Carew Jackson. No further details available.
Dorothy THOMAS (24 February 1998)
Dorothy Thomas was the wife of the Late John Richards Thomas. No further details available.