Vale December 1997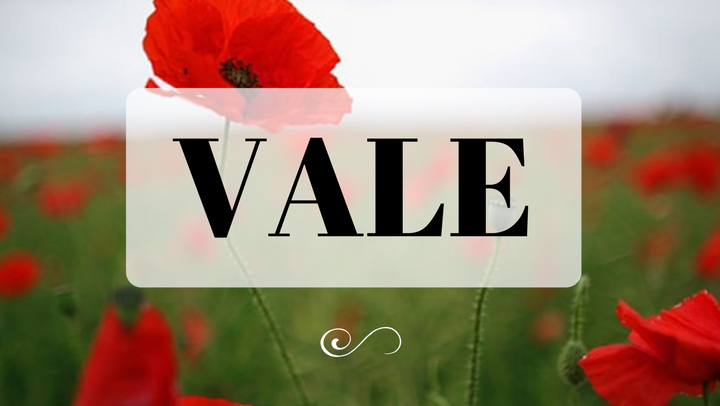 BEADEL, Doug(9 July 1997) | CLARINGBOULD, Roy Laidman(13 August 1997) | CUMMINGS, Carmel (28 September 1997) | DRAKE, Phyllis May(September 1997) | EWEN, Joan(August 1997) | FOULGER, John(21 August 1997) | IDSTEIN, Nancy Alice(19 October 1997) | JARRY, John Ethyn(10 May 1997) | KIRBY, Gregory, CP (23 July 1997) | McKAY, Laurie(9 June 1997) | MILLIGAN, John S (12 September 1997) | NOTT, Mary(30 June 1997) | PARLE, Jean(August 1977) | PARRISH, Anada Margaret (Candy)(8 October 1997) | PLOECKL, Helen(24 October 1997) | ROGERS, James S(Sept/Oct 1997) | SELF, Ron(15 April 1997) | WILLEY, Fr Ignatius(early 1997)
---
John S MILLIGAN (12 September 1997, aged 88)
John Milligan was formerly a Patrol Officer at Aitape.
When the Japanese were about to land in Wewak a number of Chinese asked three experienced officers of the Australia New Guinea Administration Unit to lead them to free territory. John Milligan was one of the three; the leader was Captain C D Bates and the other was Captain T G Aitchison. A large number of locals also joined the group. They left Wewak as the Japanese were occupying the town; they were pursued for days but managed to outwit their pursuers. After an incredible 6-week journey of several hundred miles over terrible terrain the party arrived in Port Moresby on 23 February 1943. With carriers, the group probably numbered around 300. Although all members of the party suffered malaria and had to be carried for part of the journey, they arrived without a single casualty.
John died in his sleep. Above information provided by Roma Bates – no further details available
Joan EWEN (August 1997)
Those of you who were in Rabaul in the 30s may remember June Ewen and will feel sad to hear that she passed away in London in mid-August, after a long illness. She was very keen on theatre and amateur dramatics and this interest she kept up till recently, attending and even taking part in fortnightly play readings.
June and her brother 'Chum' lived with their parents Daisy and Jim Ewen at Timbur near Kokopo, Jim being manager of BP's branch at Timbur. At outbreak of war, Chum joined the RAF, was shot down returning from a raid over Germany and is buried in France. June joined the RAAF and at conclusion of hostilities went to Port Moresby together with other wantoks to help the re-establishment of civil administration. A few years later she went to England and although she settled in London, her interest in PNG never flagged and she enjoyed visits from many wantoks and showing them the London she knew very well.
And so, another link is broken with those happy days of our youth in PNG. Roma Bates 'For the B4's of the '30s in Rabaul'
Jean PARLE (August 1977, aged 88)
Member Jean Parle went to PNG as a schoolteacher in 1947. She taught both expatriate and Papua New Guinean children at different times until her retirement in the early 60s. Her postings included Sogeri, Lae, Madang and Goroka, and Rabaul on several occasions. The latter years were at Tavui government upper and post primary school for girls from the islands region. She would be remembered now by many of those women with respect. She was a keen golfer and member of Roman Catholic community activities She died suddenly of pneumonia.
Jean is survived by her sister Kath and a very large extended family. Pam Quartermaine
Fr Gregory KIRBY, CP (23 July 1997)
Father Gregory Kirby, CP, was amongst the pioneer Passionists in New Guinea. Australian Passionists went to Lae in 1955 and took over from the Divine Word Missionaries responsibility for Catholic pastoral activity in Lae, Bulolo and Wau. Subsequently, as Religious Superior of the Passionists, Father Kirby led them when they transferred to Vanimo in 1961. He served in the West Sepik mainly at Vanimo until 1977 when he returned to Australia.
In his homily, Father Jeff (formerly Cletus) Foale, another former Passionist missionary in PNG, said of Father Greg's days in Lae, "He was loved in that town and had a great influence for good."
Fr Ignatius WILLEY (early 1997)
Another member of the pioneer Passionists died earlier this year. He was Father Ignatius Willey. He had worked at Gumbi in the Madang Province and Ossima and Baro in the West Sepik from 1955 till 1984. Father Ignatius was the author of the history of the Passionist Mission in PNG, PNG Passionists, published in 1996. John M Howard
Anada Margaret (Candy) PARRISH (8 October 1997, aged 71)
The following is taken from the eulogy given by son Craig.
Anada Margaret Parrish was born in Bangalow on the far north coast of NSW. She was known by her own family and childhood friends as Nae or Nada, and afterwards as Candy, a nickname she acquired early in her working life.
When Mum was only seven she lost her mother who herself was only 28 at the time. With her brother and sisters she was brought up by her father's parents on their farm near Bangalow. At school she was an outstanding student and excelled in dancing and singing. She also developed a great love for horses, particularly dressage. Her first love, though, was music of all kinds, but particularly jazz, and from music she gained great comfort when she was sad or hurt.
In her late teens she obtained employment in the Department of Taxation in Sydney and within time became the youngest assessor in the department. During this period her son, Wayne, was born and she suffered many heartaches and difficult battles in her endeavours to keep him, for a long time working two jobs to be able to do this.
Early in 1951 Mum met the man who became her future husband and my father, Doug Parrish, whilst he was on leave in Sydney just prior to returning to PNG, where he was an Assistant District Officer. After just four days of knowing each other, they decided to get married. She went to Finschhafen in early March 1951 and stayed with the Police Master, Frank Payne and his wife, for two weeks prior to being married in the Catholic Church in Lae by Father Bill Bacchus. The Reception was held in Flo Stewart's temporary hotel in Lae, an old army building.
Mum, in addition to being Dad's loving wife, became his greatest support, advisor and best friend in his career from then on and, as she often said, it was a marriage made in heaven. At Finschhafen, twins Christopher and myself were born. Mum taught Wayne by correspondence. At the end of their term at Finschhafen, Dad was sent to do a two year course at the Australian School of Pacific Administration at Mosman. During this period Mum was very busy looking after three young children, whilst Dad was studying and working at night to make ends meet: an ADO's salary then did not cover the cost of renting and of feeding a family in Sydney. After ASOPA, Dad was posted to Madang, where we all spent some of the happiest six years we can remember. Chris and I attended pre-school in Madang and, for a time, Mum helped the pre­school teacher because she loved children. The pre-school teacher left after a year or so and all the parents asked Mum to take over the pre-school, which she did for the last four years we were in Madang. She was very highly regarded by all the parents and loved by the children. Even outside the pre-school, it was amazing to see Mum, at a function at the Madang Golf Club, take over thirty or more screaming children and within five minutes have them all seated around her, silent and completely captivated. Mum also took up golf whilst in Madang, something which she enjoyed a lot throughout her life.
In 1962 Dad was asked to join the newly created Department of Labour in Port Moresby and we all moved there. A little later, on leave in Australia, we suffered a terrible experience whilst travelling down the Pacific Highway from Bangalow to Sydney. We were resting in our station wagon at the side of the highway, when a man shot Dad and hurt Mum in a way that would horrify all you people here. Dad is only alive today because of Mum's bravery and sheer tenacity in getting him to hospital with great difficulty. Dad was so badly hurt he could not be flown, but had to be driven by ambulance from the hospital at Taree to the Royal North Shore Hospital where doctors removed the bullet. Mum nursed Dad back to health and looked after us in the most trying circumstances.
Mum and Dad had decided to build us a home in Sydney at that time and the home was being built whilst all this trauma was happening. We also all had to go to court, travelling up to Taree each time, which was not a very pleasant experience, but Mum was a tower of strength through it all. We moved into the new house for a short time and we were all completely devastated when Christopher was knocked over by a car on our way to school and died the next day. The following day, a person whom Mum also loved dearly, Dad's mother, passed away with the shock of it all, so Mum suffered a double tragedy in a period of just two days. It was a very unhappy family who returned to Port Moresby.
Mum was then asked to establish the first pre-school for Papuan children at Hohola. She did this with very little assistance from the Government, which provided only an empty building. She established and furnished it with the assistance of the Papuan parents, such as carpenters and other tradesmen. The pre-school was most successful and became the demonstration school for Papuans and New Guineans being trained as pre-school teachers. Later, Dad asked Mum to leave the pre-school because the work became too much for her. She was then for many years Staff Clerk in the Police Department. There she became well known and highly regarded by police, both expatriate and local, throughout PNG.
Dad retired as Secretary for Labour in the PNG Public Service and joined the Bechtel Corporation, with the understanding that he and Mum would be based in Sydney closer to family. However, this did not happen, and after a period in the United States, then Melbourne, then Indonesia, they returned to Sydney to live. Mum had twelve moves in four years! After a period in a unit at Cremorne, Mum and Dad moved to East Lindfield where they spent many happy years. Mum continued with her golf and she and Dad learnt to play bridge, which they both enjoyed.
Whilst at Lindfield, Wayne passed away after a long illness, and you can imagine how Mum felt losing a second son. She never really got over this tragedy even though from then on she put on a very brave front, During this period Mum worked for a number of years on the Caring Sub-Committee of the Retired Officers' Association of PNG and also for her local church visiting sick and elderly parishioners. Eventually Mum and Dad moved into the unit at Pymble where they have lived for the past 4 1/2 years. Mum had not suffered any serious illness prior to her death, but died in her sleep from a massive heart attack. Yesterday was the anniversary of Christopher's death and that probably did not help because she suffered terribly on these occasions.
Roma Bates, a long-time family friend, wrote: "… Behind the beauty and charm was a very practical lass. Candy was the epitome of compassion and understanding of human nature—ever ready to give a helping hand. Somehow, Candy sensed a need immediately and would quietly set about relieving. We have lost a lovely friend and shall miss her terribly.
"I would like to convey our heartfelt thanks to His Grace, Archbishop Brian Barnes, for coming from Port Moresby at such short notice to conduct this service…. Thank you, your Grace."
Apart from her husband Doug and son Craig, Candy is survived by her daughter-in-law Diane and grandson Dean.
Dr James S ROGERS (Sept/Oct 1997, aged 76)
Dr Rogers' profession was ophthalmology. He undertook a large amount of voluntary work in PNG and the islands of the South-West Pacific, having seen widespread trachoma and other eye diseases in PNG villages during the war. He set up rough clinics at sites along the Fly River. His fame spread and patients began coming with all sorts of tropical diseases. He continued his work in the islands and later with Aboriginal people in the Australian outback. The Sydney Morning Herald, 7 October 1997
Ron SELF (15 April 1997, aged 65)
Ron died in Canberra Hospital after a very brief illness. He first went to PNG in 1956 when he joined Burns Philp and was posted to Samarai. From 1960 to 1965 he was in Madang. During that time he married Della, and their son Michael was born, Following his transfer to Daru, Ron became manager of the Burns Philp depot there. He and his family then returned to Samarai for four years before returning to Queanbeyan, NSW, in 1974. Ron and Della's only child, Michael, was killed in an accident in 1980. Garamut Newsletter
John Ethyn JARRY (10 May 1997, aged 69)
John died suddenly at Port Moresby. He went to PNG in 1955 and, after fourteen years in DCA, did a real estate course and later bought Washington Real Estate from Lance Washington. John's ashes were scattered on the sea after a brief service attended by his staunch friends from the Papua Club. Many will remember his kindness and dry sense of humour. John will be sadly missed by his beloved wife Marge, whom he married in 1958. Garamut Newsletter
Mary NOTT (30 June 1997, aged 72)
Mary enlisted in the Navy and served two years during which time she was awarded the Royal Humane Society's Bronze Medal for diving into the Port River to save a 13-year-old from drowning.
Mary later worked in PNG as secretary to the Director of Education. There she met Fred Nott, and they married in 1953. Later that year Fred was appointed as Station Engineer, Madang with QANTAS. The family enjoyed a pleasant 3 1/2 years there, during which time their son, David, was born. There were further moves to Moresby, Sydney, Manila and Dubbo during which time their two other children, John and Pamela, were born. The family returned to PNG in 1964, spending time at Rabaul, Port Moresby and Lae, and finally leaving in 1971.
Following Fred's early retirement, they settled in Mudgeeraba, Qld. Mary suffered from Scleroderma. For many years it was considered controllable but since 1990 she had many periods in hospital and her heart finally gave up the battle. Garamut Newsletter
Doug BEADEL (9 July 1997, aged 74)
In 1941, at the age of 18, Doug joined the RAAF as a radio technician. He married in 1944 and had two daughters who both have their own families now.
In 1947 he went to PNG with the newly formed DCA and was based in Port Moresby until he retired in 1978. During those 31 years he travelled all over PNG, wherever DCA were installing radio equipment necessary to open up air travel to remote parts of the country. He was awarded the British Empire Medal in 1968 for his work. His two great loves were golf and fishing, and after he married Maureen in 1973, they enjoyed these pastimes together.
In 1978 Doug and Maureen left PNG and settled on the Sunshine Coast. In the last year or so, Doug's health had not been 100% and he passed away suddenly. Doug is survived by his wife Maureen, two daughters and two grandchildren. Garamut Newsletter
Roy Laidman CLARINGBOULD (13 August 1997, aged 75)
Roy started work in the Department of the Navy Secretariat in Melbourne. During his 14 years there, he pursued his studies and graduated in Arts and Commerce from Melbourne University. After further study in London, he and his wife Joan moved to Nigeria in 1954 where Roy held senior positions in the Western Region Development Corporation based in lbadan. There he gained experience in industrial development. Their elder children, Michael and Sue, were born in Nigeria.
Roy was recruited to the PNG Administration to the newly established Department of Trade and Industry in 1962 as Chief of Division of Industrial Development, a position he held right through until self-government in 1973. Roy and Joan's third child, Jenny, was born in Moresby.
Roy worked hard to encourage manufacturing industries in the Territory, especially those which could economically replace imports. He also encouraged small local industries, including the potters of Madang District, and wool weaving in several Highlands villages with the co­operation of the Australian Wool Board. He brought particular enthusiasm to the task of promoting a PNG tourist industry for which there was practically no infrastructure when he started.
After leaving PNG, Roy maintained his strong interest in tourism and was Queensland Manager for Australian National Travel Association from 1974 to 1983, where he actively lobbied governments on behalf of the industry. During that time and since, he was also able to cultivate his interest in the arts, history and music. He also renewed his academic interests, including graduating in Education from Queensland University.
For the past several years Roy used his considerable skills at languages, especially Russian, French and German, in a voluntary capacity in the map section of the Queensland State Library, assisting people doing research into family history, by translating placenames on old German maps into the modern equivalents. A man of diverse interests, to the last he shared with his wife an interest in weaving: visitors to their home were always shown some of their latest work. Roy is survived by his wife Joan, a son, two daughters and grandchildren. Neville Thomson
John FOULGER (21 August 1997, aged 64)
John Foulger, born and raised in Queensland, went to New Guinea in 1956 employed as a fitter by Comworks in Lae, moving to Vacuum Oil (Mobiloil) in 1957, working in Lae and Madang. He married nursing sister Betty Pascoe in Madang in 1963, moving to Port Moresby, Kavieng and Wewak. The Foulgers transferred to Cairns in 1969, then Weipa in 1971 and Bundaberg in 1985. John retired from Mobiloil in 1989.
John is survived by his wife Betty and daughters Helen and Elizabeth (Libby). Frank Smith
Carmel CUMMINGS (28 September 1997, aged 79)
Carmel Cummings was an Accounting Machinist with Finance. No further details available.
Nancy Alice IDSTEIN (19 October 1997)
Nancy Idstein was the wife of the late Vincent Joseph Idstein. No further details available.
Laurie McKAY (9 June 1997)
Laurie passed away peacefully at the Lismore Hospital surrounded by her family. Before returning to take up residence in Sydney, Laurie and Robin McKay lived at Aropa Plantation on Bougainville where they established a beautiful home and were known for their great hospitality and keen interest in the RSL and many community developments. They left there in 1964.
The McKays' home in Alstonville, NSW, became a popular port of call for many former PNG residents; their warm hospitality became well known to the people around Alstonville also.
Laurie is survived by her husband Robin, daughters Jan, Serena and Deborah and grandchildren. Merle Wall
Phyllis May DRAKE (September 1997)
Phyllis Drake is survived by her husband Jack William, children and grandchildren. No further details available.
Helen PLOECKL (24 October 1997, aged 60)
Helen and husband Wally arrived in PNG in 1962 as school teachers, posted first to Marshall Lagoon, then to Hawain River (Sepik District) and then to Goroka where they spent 10 years. Helen taught at the Goroka Primary 'A' School where she will be remembered for her dedication and bright and cheerful disposition.
In 1977 the Ploeckls transferred to Port Moresby where Helen taught at Ela Beach Primary 'A' School. They left PNG in early 1979 and ultimately settled in Caloundra, Qld. Helen passed away following a two-year battle with cancer. She is survived by husband Wally and daughters Kerrie and Andrea. Will Muskens