Vale September 1997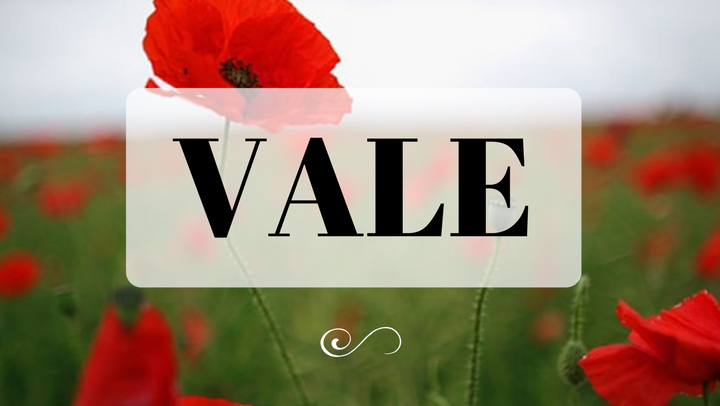 ALSOP, Frank Robert(22 June 1997) | ANTILL, Harold Egan (Dan(18 July 1997) | BALDWIN (née Grahamslaw), Mary(13 August 1997) | BREMEN, Eileen Florence(4 August 1997) | DARK, Helen May (7 June 1997) | DISLEY, Evie Maud(14 August 1997) | FORD, Olive Amy(7 June 1997) | HEALY, Paul (27 June 1997) | HOGAN, John(July 1997) | HULL, John Edward(27 June 1997) | MASON, Noelle Evelyn(15 August 1997) | RICHARDSON, Roy(early 1997) | ROBBEMOND, Maarten W(5 June 1997) | SEFTON, Colin James(12 July 1997) | SOWERBY, Elizabeth(27 July 1997) | SPOTTISWOODE, Edna Mary(1 July 1997) | VANDERIET, Eugenie (Gene)(30 June 1997) | WATKINS, Nancy Beryl (Sue)(19 June 1997) | WIGLEY, Elaine Ida(24 July 1997) | WONG, Timothy Shui Yan(5 June 1997)
John HOGAN (July 1997, aged 64)
John was Madang's dentist in the early 60s. This was his first position after graduating. He later transferred to Port Moresby and eventually went into private practice there. John died of cancer. Thelma Burston
Elizabeth SOWERBY (27 July 1997, aged 93)
Elizabeth grew up in the Clarence River district of NSW. As a young girl she decided on a career of nursing and began her lifetime of service in outback Queensland. Her great love was theatre work, in which she developed considerable skill, working under numerous eminent surgeons. On the outbreak of war she enlisted and was sent to Darwin. When a large army hospital was set up in the Adelaide River area, Elizabeth was appointed Theatre Sister. Here she cared for patients suffering severe burns as a result of the Japanese bombings.
In the late 40s Elizabeth applied for nursing duties in PNG; she served for a short time in Port Moresby and then was posted to Madang Hospital as Matron. The hospital was an old war-torn building from German times, with very little equipment. Undaunted, Elizabeth marshalled the local staff into keeping the hospital clean and in good order and trained young Papua New Guinean men to be theatre and nursing assistants and orderlies. Elizabeth was a tower of strength to the newly-fledged doctors who came to the hospital every year for work experience. Likewise she gave support to young brides arriving from Australia, and was always ready to help them in maternal and infant welfare matters. She was also concerned for the well-being of local women in the villages, and persuaded the authorities in Port Moresby to provide a Mobile Baby Clinic. Thus she was able to make regular visits to the villagers, and won their respect: this carried on to the Infant Welfare Sisters who took over this service.
In 1953 Elizabeth married Roy Sowerby of Madang Slipways, who joined the staff of the Madang Technical School and taught the local students carpentry. Their life together was a happy and rewarding one and they shared a commitment to supporting community interests. Elizabeth continued her work in infant and maternal welfare, and later as theatre sister in the new hospital. After Roy's sudden death in 1970, Elizabeth continued her community activities, especially the Country Women's Association (of which she was made a Life Member) and the Horticultural Society. She was a keen gardener and an enthusiastic orchid grower. Before she left Madang she donated her orchid collection to the township, and helped with the setting up of the Orchid Garden on Coast Watchers Avenue, named in her honour. The Garden is a haunt for garden enthusiasts and an asset to Madang.
In the early 70s, Elizabeth retired to Burleigh Heads, Qld, where she lived happily until the age of 90: she then moved into a retirement home. Long-time friend Roma Bates concluded "Her exemplary life of service to the community has been an inspiration to everyone". Roma Bates
Eugenie (Gene) VANDERIET (30 June 1997)
Gene arrived in PNG in 1951, and worked first as a secretary for Steamships, then as a clerk in the Department of Finance. She retired in 1975 as Loans Officer in the Housing Commission and local representative for War Service Loans. Gene is survived by her husband, Jan. Jan Vanderiet
Noelle Evelyn MASON (15 August 1997, aged 85)
Noelle Mason of Killara, NSW, formerly of Inus Plantation, Bougainville, died in Sydney on 15 August. No further details available.
Nancy Beryl (Sue) WATKINS (19 June 1997, aged 89)
Sue Watkins was the widow of Alwyn Edward (Bud) Watkins, erstwhile Patrol Officer and Magistrate in Papua between 1929 and 1948, who died in 1988.
Sue was born in Port Pirie, SA, in 1907 and moved to Newcastle, NSW, with her family shortly after the Great War. There she completed her education and began work in the family's shoe business. She married Bud in 1934 and went with him to live in Papua. They resided at Rigo, Samarai, Abau and Buna before settling in Port Moresby in 1940. After the war Sue joined Bud in Port Moresby until his tour of duty was complete.
Sue is survived by her son, daughter-in-law, grandchildren and great-grandchildren. Provided by Sue's son Peter
Harold Egan (Dan) ANTILL (18 July 1997, aged 83)
Dan was born in Orange NSW, the son of a stock and station agent. He was a splendid athlete, excelling in several sports, particularly cricket. He began his working life as a jackeroo on family properties, then in 1936, aged 22, he was accepted by Burns Philp as a trainee overseer for their copra plantations. Over the years he managed plantations in Wewak, Witu Island, New Ireland and New Britain.
After serving in the 1st Australian Armoured Division, Dan was given command of a landing barge taking part in the landings along the coasts of New Guinea and New Britain. After the war he returned to New Guinea and, in 1947 in Rabaul, he married June Parkes.
In 1950 Dan resigned from Burns Philp to become Manager of Gire Gire plantation on the Gazelle Peninsula of East New Britain. In 1960 he built his own home with the help of the local people (he had no training whatsoever in that field) and began developing his plantation, 'Ulapapup' in the Kokopo District.
Dan served on the committee of the Planters' Association for many years and was President for a time. He was also a President of the Kokopo Club. In 1980 Dan retired after 44 years in PNG. He and June settled in Cremorne, NSW, where they lived for eight years before moving to Berkeley Vale. Dan is survived by his wife, two daughters, and grandchildren. Condensed from the eulogy given by Dan's old friend, Brian Wright
Paul HEALY (27 June 1997, aged 68)
Paul went to New Guinea as a Cadet Patrol Officer in 1952 and married Audrey Goodall, a nursing sister with the Health Department, at Goroka in 1955. At the end of 1956 he resigned from the Administration and remained in the Eastern Highlands as a plantation manager until 1962. Paul was an excellent sportsman and for several years represented New Guinea against Papua in Rugby League.
Paul returned to Canberra and joined the CSIRO PNG resource survey programme where he was responsible for technical and logistic support for a field survey party of five scientists and 20 support staff The purpose was to map and describe the natural resources of the whole country, which at that time were only known piecemeal.
For many years, until his retirement from CSIRO in 1987, Paul spent four months each year with survey teams in numerous parts of PNG and became well known, particularly to outstation people. Back in Canberra Paul did the compilation work for the CSIRO resource map series on the vegetation, forests, soils and land use of PNG.
Paul died in Canberra. Some 400 mourners crowded St Patrick's Church, Braddon, ACT, for his funeral. Paul is survived by his wife Audrey and daughter Anne. Harry West
Eileen Florence BREMEN (4 August 1997)
Eileen Bremen of Carina, Qld, formerly of Port Moresby, was the wife of the late Ernest James Bremen. No further details available.
Maarten W ROBBEMOND (5 June 1997, aged 78)
Maarten Robbemond was born at Salatiga in Indonesia in 1919 and educated at Deventer Agricultural College in Holland. After graduating he returned to what was then the Dutch East Indies. In November 1939 he enlisted in the Dutch Army there. In March 1942 the country was overrun by the Japanese and he was captured, becoming a prisoner of war. Later he was transported to Japan where he was incarcerated until the end of the war. After the war he returned to Indonesia and became a tea plantation manager in Sumatra.
He married Wilhelmina in 1950. In 1958 the couple migrated to Australia. Soon after, Maarten went to PNG to manage a coffee plantation in the Western Highlands. In 1963 he was recruited by the Department of Agriculture, Stock and Fisheries as a Rural Development Officer and was posted to Minj where he spent most of the time, plus a posting to Kainantu. During that time he was involved in the establishment of local villager coffee gardens.
In 1973 Maarten left PNG and became a Quarantine Officer with the Queensland Department of Primary Industry, with duty at Brisbane Airport or inspecting ships at the port. He and his wife Willie retired to Mudgeeraba in the Gold Coast hinterland in 1974. Maarten took out Australian citizenship in 1963 and was proud to be an Australian. He travelled all over the country making friends everywhere. He will be remembered as an excellent didiman, competent manager and friend to all.
Maarten is survived by his wife, children and grandchildren. Doug Franklin
Colin James SEFTON (12 July 1997, aged 77)
Speaking at Colin Sefton's funeral, his brother-in-law, Phil Oakley, noted that the level of sports coaching in Col's boyhood was much less intense than now. Young athletes had to make their own way. Col indeed was a gifted athlete. Late on a Saturday in 1938, running in the old Sydney Sports Ground, he broke 10 seconds for the 100 yards, probably the first schoolboy in Australia to do so. By the end of 1939 after a Rugby Union season with Eastern Suburbs, Col played on the wing for New South Wales against Queensland. Col's physical qualities did not end with running and Rugby, and memories flow back to explosive first round knockouts in boxing, and winning the school shot putt with no training that we knew of and not much technique. And then there was the time when, a late arrival at a rifle shooting camp, he was handed a .303 and told to establish his claim to be there—Col promptly shot a 'possible'.
As an artillery lieutenant, Col served in PNG and the islands. His unit, the 14th Field Regiment, in a feat of gun handling which has not yet really had the praise it deserves, brought fire on the Japanese in the Imith Ridge area. Was this fire critical? Certainly the Japanese advanced no further towards Port Moresby! Sure, there is evidence that General Horii was indeed ordered to break off and return to Buna but is it not likely that emergence of field artillery fire helped produce that order? To the locals of Port Moresby there was no doubt on the matter: Col did it! "Taubada Colin came with his guns and drove the Japan man back." (Remember that Col was Port Moresby born and Koitaki raised and had grown up with a generation of young Papuans.)
War's end upturned the social and economic organisation of PNG. No wild-eyed reformer, Col Sefton was not a die-hard 'old' planter, either. He seemed to see himself as something of a link with the 'plantation' past; his meticulous deference to the older group at the Papua Club—from one so naturally forceful—stands out in one's memory.
Ways had changed, however, and Cal came to Sydney and did many things: sold insurance, worked for a smallgoods firm, owned a country pub, and, for years, drove a taxi. Of course there were ups and downs in this part of Col's life, some perhaps that could/should have been avoided. However he could hardly have avoided the worst 'down': that of being struck in a pedestrian crossing and suffering a shattered knee. Col Sefton unable to run, or even to swerve a little! For a third of his life this accident threw a shadow on this vital man's personality, a shadow not to be lifted until a splendid knee replacement operation in the last year of his life.
In Col's two marriages he fathered five daughters. Not a sprinter among them, they have recently been described as 'stylish, creative and energetic'. Possessing guardians with such qualities, Col's name—and those of the girls' mothers—will be safe. Condensed from a longer obituary written by Bill Marr
Mary BALDWIN (née Grahamslaw) (13 August 1997, aged 94)
Mary was born in Townsville in 1902 and arrived in Port Moresby in 1910 with her mother Annie, brother Tom and sister Margaret, to join their father Jimmie who, after unsuccessfully trying to find gold at Sudest, had established a plumbing/tinsmith business there. She, along with brother Tom and sisters Margaret, Anne May and Ivy, went to the Moresby primary school. Other contemporaries included the Champion (Ivan, Claude and Allan) and Hides (Viv, Jack and Bruce) boys. She began work at 14 and after a couple of years she joined Burns Philp where she remained until she married Archie Baldwin, then Store Manager at British New Guinea Development Company, in 1927.
The couple had four children, Ken (d 1996), John (d 1987) and Dallas (d 1989) and Derry, all of whom were born in Moresby and spent their early working lives in PNG postwar. Mary spent the war years in Brisbane, returning in early 1946 to join Arch who had remained behind to serve in ANGAU. After a period spent in the field at the Australasian Petroleum Company's oil rig site at Kariava (upper Vailala river), where Archie was Native Labour Superintendent, she returned to Port Moresby in 1948 and took up full time work in the Registry of the Customs Department (later Trade and Industry), where she remained until retirement to Caloundra in 1973.
Mary was highly regarded for her clerical capacities and much respected for the graciousness of her ways. She engendered the trust of the local Papuans who often affectionately addressed her as Sinana, the Motu word for mother. Her anecdotal knowledge of people and places in Papua, particularly in the early times, was perhaps unrivalled.
Mary is survived by her sister, Margaret Leydin of Peak Hill, son Derry (Canberra), daughters-in-law, grandchildren and great grandchildren. Derek Baldwin
Frank Robert ALSOP (22 June 1997, aged 76)
Frank Alsop retired in September 1974 as a Chief Finance Officer with Posts and Telegraphs. No further details available.
John Edward HULL (27 June 1997, aged 74)
John Hull of Margate, Qld, formerly of Rabaul, retired on 28 May 1970 as a Line Inspector with Posts and Telegraphs. John is survived by his wife Olive, children and grandchildren. No further details available.
Edna Mary SPOTTISWOODE (1 July 1997)
Edna Spottiswoode of Morisset, NSW, was the wife of the late William Stirling Spottiswoode. No further details available.
Helen May DARK (7 June 1997)
Helen Dark, formerly of Port Moresby, is survived by her husband, children and grandchildren. No further details available.
Olive Amy FORD (7 June 1997, aged 82)
Olive Ford of Gympie, Qld, formerly of Lae, was the widow of the late Keith Ford. She is survived by children, grandchildren and great-grandchildren. No further details available.
Timothy Shui Yan WONG (5 June 1997)
Timothy Wong was formerly of Rabaul and Port Moresby. He is survived by a daughter and son. No further details available.
Roy RICHARDSON (early 1997)
Roy Richardson was with BP Plantations, Rabaul, for many years. Roy is survived by his wife. No further details available.
Evie Maud DISLEY (14 August 1997)
Evie Disley was the wife of the late Robert (Pat) Disley. No further details available.
Elaine Ida WIGLEY (24 July 1997, aged 76)
Elaine was in PNG from 1956 to 1973. No further details available.