Vale March 1993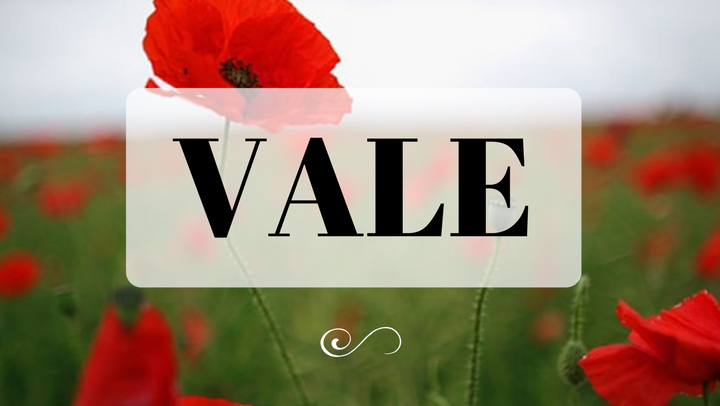 ADAMS, Kit | BAKER, Jean | CLARK, Stanley Clifton | GLEESON, Roger Timothy | HASLER, Maria Ilona | HASLUCK, Sir Paul, KG, GCMG, GCVO, KStJ | MALCOLM, Alexander Lionel | McLAUGHLAN, Ethel Maud | MITCHELL, James Ronald | PINI, John Joseph (Jack) | RUITER, Father Ivo | SHANLEY, Alexander | SKINNER, Marie | SKINNER, Richard Ian, MC |
Richard Ian SKINNER, MC (4 February 1993, aged 78)
Born in Delungra, NSW, Ian grew up in Grafton and was one of the region's outstanding athletes and footballers. He trained as a patrol officer and in 1937 went to the Territory of New Guinea.
He returned to Australia in 1940 and enlisted in the Australian Army, serving in the Middle East with the 2/4 Light Anti-Aircraft Regiment, 9th Division AIF. He fought at El Alamein and achieved the rank of Major. Returning to Australia in 1943, he transferred to the Australian Coast Watching Service, operated behind Japanese lines in New Britain for almost a year and was awarded the Military Cross for outstanding bravery.
During his post-war career in PNG, Ian served in Talasea, Wewak, Lae, Madang, Mendi and Port Moresby. In 1955, he was appointed District Commissioner and served in that capacity in the Western and Southern Highlands. In 1965 Ian was appointed Director of Civil Defence and Emergency Services for PNG, the office he held until he retired in 1971 to Grafton, Australia.
He eventually found his way to the Gold Coast and became very involved in Bowls. He joined the Southport Club in 1972 and was President of the Club in 1979/80. From 1980 to 1989 he was Southport's Publicity Officer and was made a Life Member of the Club in 1987. He was also Gold Coast-Tweed District publicity officer for many years.
Ian had the reputation of knowing everything there was to know about Bowls on the Gold Coast. If anyone had a query about the sport it was just a matter of giving Ian a ring and he would almost always come up with an answer.
He was survived by his wife Marie (who died some 6 days later), sons David and Peter, daughter Julie-Marie and five grandchildren.
Marie SKINNER (10 February, 1993 aged 78)
Marie was. in every sense of the word, remarkable. She exuded great love, warmth, and sense of humour and within her family and friends there will be few who have not at some time received that love and warmth, and shared the fun and good humour.
Known to her school friends as Pledge (an abbreviation of her family surname, Pledger) Marie was later dubbed Little M by her family, a loving jibe at her height of about 5 feet. While small in stature, Marie was anything but small in the way she approached life.
A brilliant student who was in the top of her State's high school leaving class, and an outstanding hockey and basketball player, Marie could have explored almost any career she chose. What she chose was the love of her life, Ian. Their life together was great love story: one of romance, adventure, hard times and wonderful times. And it was punctuated by long separations: the years Ian was in New Guinea before the war, the war years, and at various times after the war when Ian continued his career in PNG.
But Marie made the most of things and did everything within her power to be with Ian. A wonderful example was early in their marriage. She said goodbye to Ian, about two days after their wedding on 20 September 1937, when he headed off to New Guinea as a patrol officer. About two years later, annoyed at this long separation, she arrived by boat unannounced in Madang, determined not to be apart any longer.
War broke out in Europe the day she arrived in Madang and all civilians were ordered to board the M.V. Bulolo for Australia. Marie refused, paid a native to paddle her in a canoe to an island in the harbour, and hid until the Bulolo disappeared over the horizon. She then faced the ire of the District Officer, who had no choice but to send word to Ian, who was eight days' walk away in the bush, that his bride awaited him in Madang. Ian walked in to Madang in three days, a record that will never be eclipsed!
In so many ways Marie won a permanent place in the hearts of those she met. Her compassion for the natives of New Guinea and the respect she had for them were exemplary. And yet, while she endured the privations and loneliness of being a white woman in a primitive country to be with the man she loved, her heart was always in Australia, with her parents, her siblings, family, and friends, and later with her children at boarding school in Australia.
It was a feeling probably shared by many of her woman friends in New Guinea who, like Marie, made a valuable contribution to that country without the recognition they so fully deserved. The bonds of friendship, forged among all those great people who shared that pioneering era, were never broken.
Throughout her life Marie took a keen interest in politics, voicing strong opinions based on a clear understanding of the issues. While Ian did not always agree with those opinions, he certainly respected them. Marie also liked to have the occasional bet on horses, play bingo and cheer for our Aussie sportsmen and women as they strived for international honours.
Marie was a devoted wife, mother, and grandmother. She loved life and people from all walks of life regardless of race or creed. Although plagued with illness for many years she courageously battled on, rarely complaining and always showing concern for others.
Above all things she loved her family and hated saying goodbye to any of them. She and Ian dreaded life without the other. Perhaps this is why they left less than a week apart, to be together for eternity.
Survived by sons David and Peter, daughter Julie-Marie and five grandchildren.
Roger Timothy GLEESON (2 January 1993, aged 51)
Roger passed away peacefully at Royal Darwin Hospital after a two-month battle with cancer. He grew up in Victoria on the family property and, after completing his education at St Joseph's College, Geelong, he joined the Victorian Land Department.
He was recruited as a Cadet Patrol Officer in PNG in January 1963 and served in the Southern Highlands, the Western Highlands and Bougainville Districts. In 1975, Roger and his family relocated in NSW with the National Parks, primarily prosecuting offenders of wild bird protection legislation. In 1981 the family again relocated, this time to the Northern Territory when Roger was appointed as the Senior Ranger at Uluru (Ayers Rock).
In 1985 they again relocated to Darwin with the Conservation Commission of the Northern Territory. Roger was responsible for a number of firsts in Darwin; he established the crocodile management that is still used; he prepared a submission to the NT Cabinet to establish two new National Parks, the Gregory and Litchfield. Both of these are now major tourist attractions in the NT and regarded by many Territorians to be even better Parks than Kakadu.
Roger was still an active sportsman, particularly with the volleyball association in the NT. He was an official for the inaugural Arafura Sports Festival, a mini-Olympics type event that attracted some 26 teams from nations throughout Asia and the Pacific to compete in Darwin. Roger is survived by his wife Robyn, his daughters Niki, Carla, and Devine, all residing in Darwin.
Ethel Maud McLAUGHLAN (28 December 1992, aged 91)
Ethel was born in Croyden, Nth Qld, and went to Port Moresby in September 1926 to marry Dave at the Ela Congregational Church. She had two children, David and Jean, both born in Port Moresby.
When war broke out she was evacuated with the other women and children in December 1941, spending Christmas on the boat. Dave stayed and joined ANGAU. Ethel and Jean returned to Moresby in 1946 to live on Laws Road, young David came later after serving in Japan with the Occupation Forces. Dave Snr worked for Government Stores in Moresby until his retirement.
Ethel was a founding member of the CWA, involved with the church and other community projects. One night a week was "fun" night at the McLaughlans (as at other homes) when the children were home on holidays from boarding school.
Dave and Ethel retired to Mermaid Beach in 1958 where both were foundation members of the Mermaid Beach Bowls Club. Ethel was a foundation member of the Mermaid Beach QCWA and president of the Uniting Church Women's Fellowship for 21 years. Dave died in 1978. Ethel is survived by children, David and Jean, and two grandchildren.
Maria Ilona HASLER (24 October 1992, aged 79)
Maria was born in Hungary on 26 February 1913 and her life was almost exactly centred in the 20th century, a century of great change for the world, and 80 years of great change for Maria. During her life she moved from a fairly rural Hungary, to a still fairly rural Australia, and then to a primitive Papua New Guinea. And on that journey Maria lived in six countries: Hungary, Austria, Germany, Italy, Papua New Guinea and Australia.
She spent more than half her life in Australia and she and her deceased husband, Charles, were glad to have migrated to Australia, they were honoured to become its citizens and, after both had survived two world wars in Europe, they were glad to commit their children, and grandchildren, to an Australian future.
They were also "Boat People" in a way and met the difficulties that that involves. But whatever Maria thought about the Labor Party afterwards, she was always grateful for Arthur Calwell's invitation to post-war Reffos to come to Australia.
One of Maria's great assets and an asset to her family as a whole, was that she spoke the language of every country she lived in before she arrived in the country. That talent for languages certainly made adaptation to all the change much easier and helped her to make friends everywhere she went.
Maria was one of the last generation of western women for whom tertiary education and training for formal or paid employment was commonly thought a luxury or a matter of personal choice. She had talents none-the­less. She turned her language skills to good use in Austria in 1945 by getting a job as a translator with the French, who only a short while before had been the "enemy". Later on she turned her knowledge of English literature to a stint with the PNG library system. Somewhat later still, she became very much involved with the Hungarian Women's Association in Sydney, being foundation president, a position she held for many years. The Knightly Order of Vitez decorated her with "The Cross of Merit", thereby expressing the appreciation of the whole Hungarian community for the excellent work she had performed. She is survived by son Henry, daughter Christine and five grand­children.
Stanley Clifton CLARK (1 December 1992)
Stan went to PNG pre-war and was for many years Manager of Koranga Gold Mining Co. at Wau until his retirement to Port Macquarie and later Sydney. Survived by widow Margery Phyllis (Phyl) and daughter Shirley. No further details available.
Alexander Lionel MALCOLM (15 October 1992, aged 87)
Alec went to PNG in the early 30s and spent a very large part of his life there, including the war years with the NGVR. He was well known in Salamaua, Lae and Wau where he was involved in gold mining and a coffee plantation. He lived on the Gold Coast for many years and is survived by his son Douglas. No further details available.
Jean BAKER (8 November 1992)
With her husband Kevin, Jean spent time at Wewak, Salamaua, Lae and Wau. Post-war years were spent at Lae where Kevin was Chief Clerk in the District Office until returning to Australia in 1951. No further details available.
John Joseph (Jack) PINI (17 November 1992, aged 72)
Jack Pini went to Rabaul in 1953 with the Commonwealth Department of Works. He served Comworks for 20 years in administrative positions. When that Department was replaced he transferred to Civil Aviation for five years. Most of his long service was in Port Moresby. He retired in 1978.
Jack was closely involved in sport and sports administration. He was affectionately and justly known as Papa Bilong Sport. He recognised that organised and friendly sporting competition was the way to bring people together. It did not matter what sport it was—swimming, football, athletics or whatever—Jack was always ready to give a hand.
He returned to PNG as a sports adviser many times during his retirement at Dulong near Nambour on the Queensland Sunshine Coast. His most recent occasion was when he was one of the VIP invitees to the 9th South Pacific Games held in 1991. He presented medals in the swimming events.
Jack is survived by his wife Bette and six children, Janice, Kevin, Anne, David, Paul, Helen and their families.
Alexander SHANLEY (8 March 1993, aged approx. 80)
Alex was a Senior Inspector for Secondary Schools. He is survived by his wife Adelaide and daughter Hillary. No further details available.
James Ronald MITCHELL (19 September, 1992, aged 73)
James Mitchell was born on 4 August 1919 at Hartlepool, England. He migrated to Australia in August 1926, and with his family lived in country areas including Childers and Beerburrum. He joined the Naval Reserve in 1935 and when war broke out, the Navy in 1939. Served in all theatres of war including Mediterranean and Pacific on frigates and destroyers, two being the Norman and the Gladstone.
Demobilised in 1946, Jack went to PNG, working on Manus Island, then to Madang where he was associated with Bernie Porter, Ron & Brian Albert, Titch Woodland and Ted Buchanan. He joined Public Works in Madang and was later in Lae, Popondetta and Rabaul. He left PNG in 1974 and lived at Red Hill until his death.
Kit ADAMS (1990, aged approx. 45)
Kit Adams joined DASF as a Cadet in 1961. he became a good Didiman, serving in Bougainville, Northern Province (Tuff and Pati) and Goroka. He left PNG about 1975 and after several positions in Australia returned to PNG in 1990 in private enterprise. He suffered a fatal heart attack at Lae Golf Club and was buried at Lae. No further details available.
Father Ivo RUITER (1992)
A Divine Word Missionary, Father Ruiter was ordained in America in 1950 and qualified soon after as a pilot, coming to Australia a year later to do a conversion course to Australian regulations and several other short courses to assist him in servicing planes. While in Sydney he was stationed in the Parishes of Berala and Georges Hall.
He was appointed to the Diocese of Wewak in 1952 under the Flying Bishop Leo Arkfeld SVD. Father Ivo, an active and skilful pilot, in 30 years flying, made more than 6,000 landings in all parts of New Guinea in rugged and primitive conditions and he serviced remote missions. There were many near misses, but Father Ruiter had no serious accidents. A skilled engineer, his abilities were often used by other aircraft operators.
He was Parish Priest of Wewak and Vicar General of the Diocese. Ill-health grounded him early in the 1980s, but he continued his missioning until he was forced to retire to America in 1988. Soon after his return he became stricken with Alzheimers' Disease and passed away.
Sir Paul HASLUCK, KG, GCMG, GCVO, KStJ (1 April 1905 – 9 January 1993)
The following obituary was printed in the March 1993 Una Voce at page 29. It was compiled by Editor Doug Parrish with the assistance of an article by Robert Reid in The West Australian 11 January 1993 and the quotations were provided by Harry Jackman.
Paul Meernaa Caedwalla Hasluck was born in Fremantle on 1 April 1905. He was educated at Perth Modern School and the University of WA, where he studied journalism and gained the degrees of Bachelor of Arts and Master of Arts.
Sir Paul joined the West Australian's reporting staff in 1922 and eventually became a senior sub-editor and drama critic. He was twice winner of the prestigious Lovekin prize for journalism and travelled thousands of kilometres through WA's North to write influential articles on Aborigines.
In 1930 he became a UWA part-time lecturer in Australian history and the next year was granted a year's leave of absence from The West Australian to be a full-time history lecturer. In March 1941 he was released from The West Australian at the request of the Department of External Affairs and moved to Canberra. He later travelled to Canada, the USA, New Zealand and Britain for the Federal Government.
He was appointed to head the Australian mission to the United Nations in New York in 1946 and later represented Australia on the UN Security Council. After a policy disagreement with External Affairs Minister H.V. Evatt, he resigned from the department in June 1947 and returned to UWA as a reader in history. Two years later, he won for the Federal Liberal Party the Perth seat of Curtin, which he held until 1969.
In May 1951 under Prime Minister Robert Menzies, he was appointed Minister for Territories. He held the post for 12 years. The following are some quotes about him with respect to his term as Minister for Territories:
"He [Hasluck] did not hold the proselytising faith of some of his colleagues in private enterprise. On more than one occasion he stated that the development of the resources of the country should not necessarily be dependent upon their ability to pass the test that a money-lender would apply." (Dr Robert Porter, in his PhD thesis, 1990)

"In some ways he [Hasluck] was a hard task master always expecting perfection, and with a singleness of purpose in pursuing government policies. He was fair in all his dealings and his integrity was beyond reproach. For his friendship and help over the period when I served under him I shall always be deeply grateful." (Sir Donald Cleland, a former Administrator of Papua New Guinea)

"… it is quite frightening to think of the directions that PNG could have taken had the Territories portfolio fallen into the hands of almost any of the possible contenders for the position in 1951, save Paul Hasluck or one or two others." (James P. Sinclair, a former District Commissioner in PNG)

"I think it is one of the miracles of modern politics that in a Cabinet with the kind of political philosophy to which most of the members of this Government are addicted, we have a man [Hasluck] with such humanitarian out­look and tendencies in charge of such a great humanitarian work as the admin­istration of our Territories." (Gordon Bryant, Opposition Member of Federal Parliament, 1959)
During the period I was in the Department of Labour in PNG, I met Paul Hasluck on a number of occasions, both in PNG and in Canberra. When in Canberra he insisted that I call on him if he was in town. When I did he would always arrange for me to brief the then Leader of the Opposition, Arthur Calwell, on labour matters in PNG, but he never once suggested what I should or should not discuss with Calwell. As a result of these discussions I believe that, behind the scenes, the Labor Party endorsed most of Hasluck's policies. One day when lunching with him at Parliament House, I asked him, that considering the long hours he worked and his extensive travelling, what did he do for relaxation? He replied that when in Canberra or at home he tried to keep his weekends free, except when the most pressing Government business determined otherwise, and his greatest relaxation was to go horse riding. Whilst riding, he said, he was able to put work and politics right out of his mind and think of more pleasant things. This, I think, was part of the other side of him, the poet and historian.
In December 1963 he became Minister for Defence and by mid-1964, on the retirement of Sir Garfield Barwick to the High Court, became External Affairs Minister and set his mark on the development of Australian international relations by stepping closer to Asia.
When Prime Minister Harold Holt disappeared while swimming off Portsea in Victoria in 1967, Mr Hasluck was a candidate to replace him, eventually losing narrowly to then Victorian senator John Gorton. The late Sir Paul Hasluck was subsequently often called "the best Prime Minister we never had".
The same year he travelled to many countries to extend Australia's involvement in international affairs outside the main areas of Britain, the US and Japan. As External Affairs Minister, he said: "Looking after external affairs is like sailing a boat: you have to take into account the movements of wind and water. One lesson I keep telling my officials in the external affairs department is the need for flexibility."
In 1968, The West Australian said of Mr Hasluck:
"If the public image of Mr Hasluck is somewhat colourless and slightly tinged with austerity, this is largely because he is a man who is completely without flamboyance, who shuns pomp and ceremony and personal publicity, as he shuns ministerial cars and VIP aircraft."
In 1969 he accepted the position of Governor-General, which he held until 1974, when Prime Minister Gough Whitlam appointed Sir John Kerr. He was knighted in 1969 and made a Knight of the Garter 10 years later. After retirement he devoted himself to writing, including four books of poetry, a limited number of public addresses, often to small community groups grateful for the recognition. He also commented on current affairs in academic publications, wrote book reviews and wrote his autobiography and other books. He published his fourth book of poetry only two years ago.
Sir Paul Hasluck was also a very humane and caring person, beside his sometimes stern exterior, as my wife and I can testify because he went out of his way to help us when we suffered from a most unfortunate experience whilst on leave in Australia. He is survived by his wife, Dame Alexandra Hasluck, an author and historian whom he married in 1932, his second son Nicholas and four grand­children.