Vale December 1992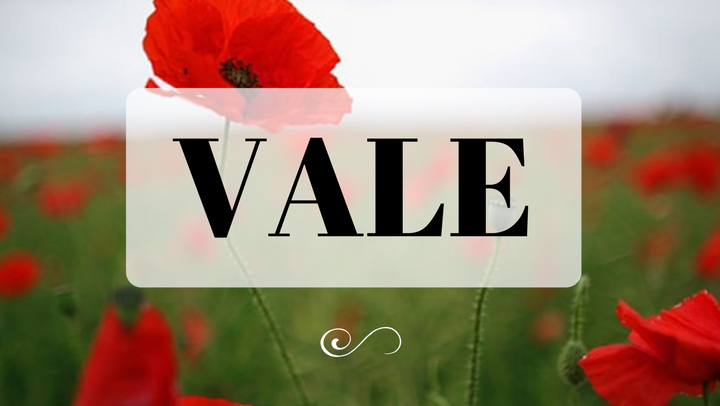 BECKETT, Leah Victoria (Gran) | CLIFTON-BASSETT, Desmond | COTTLE, Joyce Melva | DUNBAR-REID, Jack | GRIFFITH, Alma Bristol | GRIFFITH, Ivor Lindsay | HANLON, Isobel Ada | HENDRY, Albert Raymond (Bert) | PAYNE, William (Bill) | SMITH, Gordon |
Gordon SMITH (8 August 1992, aged 64)
Gordon was born at Yaedon in the county of York, UK, in 1928. He was always interested in the land and on leaving school studied during 1947-48 for the Northhampton Institute of Agriculture Certificate. He came to Australia as an assisted migrant (£10 POM) in July 1949. His intention was to earn enough money in Australia to be able to return and buy a farm in Surrey, UK. His choice to remain in Australia was our gain.
He went to Pineroo in SA, where he worked as a fruit picker and as a jackeroo using his UK farming knowledge. He went to PNG about 1950, became a Cadet Patrol Officer and served throughout the country. He was in Bougainville in the early 1950s and Finschhafen in the late 1950s. He lived at Wau, Mumeng and Lae (Morobe District), in the Gulf District and in the Southern Highlands. At the height of his career in the field service he served, in 1968, as the acting District Commissioner of the Morobe District.
He married his first wife Ione in PNG and there his sons Chris and Tony were born. In the early 1970s Gordon decided to look to the future and studied successfully for his degree in Economics with the Australian National University. He then transferred to the National Investment and Development Authority in Port Moresby where he provided major input into the Investment and Development policies of the fledgling nation of Papua New Guinea. He travelled widely in this job.
Gordon met his second wife Zelda in PNG and they returned together to Australia in 1978, with Zelda's children, Diana, Stephen and Penny, to commence fruit farming at Brooklet. The family settled quietly into the local community where people quickly learnt to appreciate Gordon for his quiet humour and depth of knowledge. His life at Brooklet was far different to that of the district administrator in Papua New Guinea. Now Gordon the farmer from the UK re-emerged.
As a person, Gordon had many sides. He was a philosopher, a lover of music, of art and good food. He turned his mind to the law and to computers. He loved a lively discussion of politics, and so search for creative solutions to problems great or small. His brain and his wit was quick to the end. He was active in fruit growing at Brooklet till his death.
Gordon is survived by his widow, Zelda, children, Chris, Tony and Catherine and stepchildren, Diana, Stephen and Penny. The foregoing is an edited version of the eulogy delivered by Dan Duggan at the service held for Gordon at the Anglican Church, Bangalow, NSW, on 11 August 1992
Ivor Lindsay GRIFFITH (9 September 1992, aged 80) and Alma Bristol GRIFFITH (25 September 1992)
Joined the Department of Lands, Surveys and Mines in New Guinea on 18 May 1937 and spent many years in PNG as a Lands Officer, retiring on 28 February 1967. He was survived by his widow, Alma Bristol Griffith, who passed away on 25 September 1992. No further details available.
Joyce Melva COTTLE (25 September 1992, aged 70)
Widow of Alan Thomas Cottle who was a Patrol Officer in PNG from 12 October 1951 to 4 November 1960. No further details available.
Desmond CLIFTON-BASSETT (27 September 1992, aged 70)
Des was born in England and came to Australia when he was 10. He went into the army in 1941, aged 19, and was later sent to PNG. In early 1944 he joined the Australian New Guinea Administrative Unit (ANGAU). He attended the first School of Civil Affairs at Duntroon in January 1945 and on successful completion was posted to Goroka, and then as OIC Bena Bena Patrol Post.
He joined the Civil Administration in 1946 and in July 1948 was selected to open Telefolmin Patrol Post, the first major new station since the resumption of civil administration. Unfortunately, after three months there he contracted scrub typhus, a life-threatening disease in those days. In terrible weather, Bobby Gibbes risked his life to fly him out.
In 1952/53 Des attended the Australian School of Pacific Administration at Middle Head, Mosman, where he met his future wife, Marie. His first married posting was to Samarai for two years, and later to Port Moresby for a year. In 1958 he was posted to Mendi as Acting District Commissioner. After two years there, he spent periods as Acting DC in Samarai, Popondetta, Sohano and Madang.
After completing his Arts Degree in Australia in 1964, he was re-posted to Madang as permanent DC, and remained there until shortly before Independence. Des took part in many town activities: he was a member of Rotary, he was Founding President of the Madang Musical Society, and was an active member of the Madang Amateur Theatrical Society, to name a few. He loved his work: it was challenging, varied, and always interesting, so it was with some sadness that he found himself "retired" at the age of 52, just prior to Independence (Australian DCs were replaced by local officers in the lead-up to Independence).
For a number of years Des worked for Dennis Buchanan, owner of 'Talair', which enabled him to visit PNG at least twice a year. In his spare time he enjoyed his recordings of classical music, and tended his cattleya orchids. Des is survived by his wife, Marie, his daughters, Helen and Jane, and five grandchildren. Marie Clifton-Bassett
Isobel Ada HANLON (1 October 1992, aged 89)
Ms Hanlon was with the Department of Health in PNG for a number of years both before and after the war. She served as Matron, at different times, of both the Wau and Bulolo Hospitals before the war and during the war served in Australia with the Australian Army Nursing Service. Matron Hanlon returned to PNG immediately after the war and was Matron at the Rabaul Hospital until she retired to Australia on 22 September 1963. No further details available.
William (Bill) PAYNE (31 October 1992, aged 58)
Worked for a number of years as an Agricultural Officer with DASF in PNG serving at Raba Raba, Lufa, Koroseigu and Beim. Went to Northern Territory and served for a while with the Department of Agriculture and then on various projects there. No further details available.
Albert Raymond (Bert) HENDRY (24 October 1992, aged 67)
Bert was born in Sydney on 20 February 1925 and he worked with the then Postmaster General's Department as a cable jointer before joining the Department of Posts & Telegraphs in Port Moresby in 1956. Bert and his wife, Shirley, their daughters Lynn, Anne & Christine (twins) and Narelle, spent 10 years in Lae, which included construction of Kerema and Daru radio stations. Later on Bert was involved with the construction of the telephone link which mountain hopped across PNG. He also worked on the Seacom cable into Madang and the later cable from Bootless Bay to Cairns. During this time, Bert was a dedicated member of Rotary, Masonic Lodge, various bowling clubs and the PNGVR.
In January 1982, Bert and Shirley returned to Australia to live in their house in Terrigal, NSW, which they had built years before. Bert continued his interest in Rotary and Lodge, but his main love was vintage cars, which he restored and drove, enjoying many rallies, including six weeks in the outback last year. When he died there were two mobile vintage cars (one owned by Shirley) and three in various stages of development.
Bert died in Sydney Royal North Shore Hospital of cancer which he had kept at bay, with stubborn determination, for twelve years. At his request there was no actual funeral service but a memorial service was held at Scots Kirk, Terrigal on Wednesday 28 October. His daughters, with various members of their families, had spent some time with Bert before his death and then joined Shirley afterwards in Terrigal.
Leah Victoria (Gran) BECKETT (15 July 1992, aged 91)
Gran Beckett was born Leah Victoria Streatfield on 22 January 1901 (the day Queen Victoria died) in her words "the sickly child" or fifth of seven children. This "sickly child" was to prove not only most durable but to be a great asset to the communities in which she lived.
Leah lived life on her own terms: as a girl she acquired a sound academic and religious education and then as a young woman set out on a life aimed at helping others. She campleted her nursing training and joined the Australian Inland Mission and became one of the first females to grace northern Australia in short skirts and short hair. Leah had the responsibility for nursing and baking the bread at Hall's Creek; succeeding at the first but having to call on the assistance of a young miner "Ginge" Beckett for the latter.
Appreciating her good fortune, she fell in love with "Ginge" and married him in Sydney. After a whirlwind three day honeymoon at Meadlow Bath, Ginge headed for Rabaul and when they had saved a second fare Leah followed.
In Rabaul she interspersed nursing with giving birth to two daughters, Nancy and Suzanne. Having survived the volcanic eruption in Rabaul in 1937 it was decided she should return to Australia with the girls in the face of the Japanese invasion. Sadly she was to lose her husband Ginge shortly after when he was captured by the Japanese and died on the POW ship Montevideo Maru which was sunk on its way to Japan.
With typical determination Leah battled on and established a home at Roseville, NSW, in which to raise her children. It was not long before she returned to nursing. Over the next two or three decades she saw her daughters married and managed to spend time with them both as they raised their families.
Gran finally settled in Mystery Bay twelve years ago where she was able to indulge her passion for gardening and despite her advancing years resisted all attempts from family and friends to move to where they could keep a better eye on her. With the help of her wonderful friends and neighbours at Mystery Bay she was able to complete her life in the way she lived it: on her terms.
Jack DUNBAR-REID (June 1992)
(The following is reproduced from the December 1992 Una Voce, page 15)
Jack was born on 5 October 1913 at Annandale, a suburb of Sydney, but later lived at another Sydney suburb, Canterbury, where he first met his wife, then Jean Slater.
His father went to WWI and died of wounds received in action. His mother passed away in 1930 whilst Jack, then 17, was attending Wagga Agricultural College in southern NSW. After College Jack worked in the Young district in NSW, shearing and contract pruning.
In the meantime, Jean has been taken to Tokua Plantation, near Kokopo in New Britain, by her mother who was to nurse a sick friend, the then owner of Tokua Plantation, Vic Pennyfather. Jack contacts Jean and says that it is time for them to get married and the event takes place at Campsie, NSW, in January 1933. Jack and Jean moved to Young but later Jean's mother convinced them both to go to New Guinea.
Jack started his career in PNG as a Plantation Manager on Nambung Plantation on the Bainings coast for Tilly Ross. He and Jean moved from Nambung and joined Oscar Rohndahl's organisation to manage Makurapau Plantation before Jack became the General Manager of the Rohndahl's organisation of thirteen plantations and associated business activities based at Kabakaul outside Kokopo, where Don was born. Kabakaul was then the major trading station and the overseas wharf for all the produce shipped from the Gazelle Peninsula.
In 1938 Jack took up an Agricultural Lease on the Mavalu River at Open Bay, and hacked Korondindi Plantation out of the jungle. He logged walnut and other timbers for Jack Chipper, grew food, smoked fish, rolled cigars and became involved in similar ventures to stay afloat until the coconuts could start bearing. Have times really changed? Their only communication and supply facility was a sailing schooner which called every 6 months. The NW coast couldn't be considered the most hospitable of tropical environments. Life there in the pre-war days would have been full and hard.
Now with two young boys, Don and Dick, Jack and Jean weren't notified of the start of World War II until quite late and it wasn't until January 1942 that they were able to get as far as Rabaul. This was, of course, after Pearl Harbour and the Japanese move into Malaya, and the last aircraft had already left Rabaul full to the racks with evacuees. Most of the civilian population had fled, and the Reids had to endure 6 weeks of Japanese bombing before the M. V. Malaita arrived to take the last of the civilians off. There was only room for women and children, the wounded, and Japanese internees, which seems inexplicable with the benefit of hindsight, and considering the staggering numbers of passengers which were squeezed on ships in other parts of the world in similar circumstances. It must also be remembered that Jap internees apparently had priority over Australian citizens.
Jack and others walked out of Rabaul through the North Coast with the aid of Coast Watchers, and he was eventually picked up by flying boat and taken to Sydney via Port Moresby and Brisbane. The Malaita meanwhile survived aerial attack from the Japs, despite being obviously not a warship, and arrived in Sydney via Buka and the Solomons. Jean met Jack at Sydney's Central station in the same clothes she had worn when they had said goodbye on Rabaul wharf.
Jack tried to join the Army in Sydney but was refused on the grounds that he had malarial parasites in his system, but after considerable argument it was agreed that all the Australians going to New Guinea would inevitably contract malaria anyway, so Jack was allowed to join ANGAU and was sent to Port Moresby. His experience included the Owen Stanley Trail, and then to New Britain. He was by this time a member of the Australian Intelligence Bureau with the rank of Captain, and seconded to the US Command. With Charlie Blake he led the US First Marine Division ashore at Cape Gloucester and up the South Coast of New Britain to Jacquinot Bay, where he was when the surrender was announced, being mentioned in despatches in the meantime.
Immediately after the war, Jack and Jean returned to Rabaul and Harry Woolcott, Peter Woolcott's father, offered Jack a share-farming agreement on Kabanga Plantation in the Kokopo Sub-District in New Britain. Jack and Jean resurrected Kabanga from the ashes of the war and started planting cocoa in the late 50s, assisted by his new Cadet Manager, son Don, recently returned from boarding school. The plantation flourished with cocoa reaching record levels of £500 per ton, equivalent today to K8000. Jack diversified with a large vegetable farm, supplying his own store in Rabaul and benefiting the whole community by forcing the heady market prices down.
Two more children, Ian and Dawn, followed and life began to achieve a new fullness. Boating, cricket, baseball, horse breeding and racing at Vulcan, a little poker now and then, a variety of cars including an impressive Humber, and a very united community, free of crime. Jack was also a very active member of the Masonic Lodge.
Jack had purchased Kabanga outright in 1956, and a few years later purchased 250 acres in the Warangoi where Don carved Clifton out of the bush, along with a whole bunch of other pioneers in that area often referred to as "swampies". Dick had returned from School and took over as the new Kabanga Cadet.
Later, Jack and Jean moved to Australia while the "post-war children", Ian and Dawn, went to school in Sydney. Four years in Australia, however, were enough to convince Jack and Jean that New Guinea was where they really belonged and they returned to build a new home in Kokopo.
While Dick ran Kabanga and Don Clifton, Jack established a renowned orchid garden in Kokopo and Jean a home that always had an open door and a hearty meal for anyone. Jack joined the Bali Plantation group as Managing Director and guided that organisation through a period of consolidation. He was a founding member of the Kokopo Golf Club and it was his negotiations that secured the land from Plantation Holdings.
There are many other community and civic duties Jack became involved in: the Planters Association, New Britain Game Fishing Club, Orchid Society, Show Society, New Guinea Club, Kokopo Sports Club and the Anglican Church to mention a few.
Jack had also become a partner in Koi-Koi Plantation on the east coast of Bougainville as a result of his involvement in Teperoi Timbers and by the early 70s was the majority shareholder. He continued to develop the property until the recent problems in that area. His beloved Jean died while they were on a cruise in the East in 1980, and Jack returned with her ashes to their Kokopo home.
With respect to Jack's Masonic career, this had commenced with his initiation at Lodge Horrice Thompson in 1946 before he returned to New Guinea. He became an active member of Lodge Rabaul 4468 E.C. and helped organise the building of the new Temple in Mango Avenue. Prior to its completion meetings were held in members' homes, and subsequently in a tar-paper building on the Mango Avenue site. After Gus Bailes, Jack was the second 4468 member to be honoured with an O.G.R.
In August 1991 Jack moved to his daughter Dawn's home at Hervey Bay, Qld, but his health was not the best and he passed away in June 1992.