Vale June 1993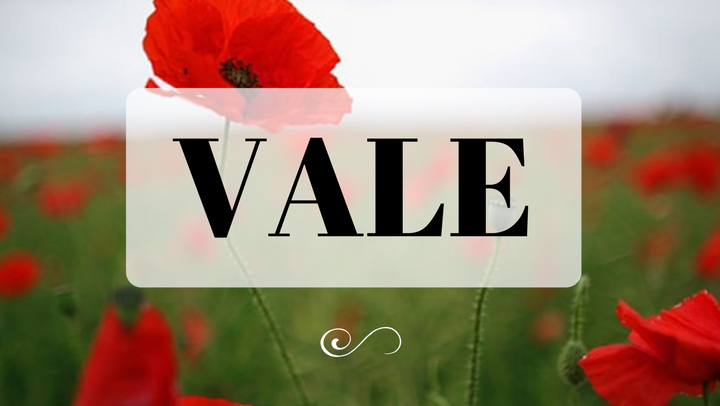 AUMULLER, Pam | CRAGGS, Eric Mervyn | DUNCAN, James Quinn (Jim) | ERI, Sir Vincent Serei, GCMG, KStJ | FARAGO, Kathleen | FRUGTNIET, Adrian Geoffrey | GRIFFIN, Barry Francis | HALVORSEN, Kathleen Mary | HART, Myrtle Ena (Pat) | HERRIOTT, Wilma Elsie May (Wim) | KEOGH, James Bryant | LAWRIE, Wallace David | MAORI KIKI, Sir Albert, KBE | TRACY, Keith |
Barry Francis GRIFFIN (22 February 1993, aged 65)
Barry was born in Glebe, NSW, in 1927. His schooling at De La Salle, Marrickville, was described in the 1944 Green and Gold Year Book as a "brilliant college career". Captain and Dux of his school, he received almost every academic and sporting honour handed out.
He spent one year in Naval Training before starting Languages at Sydney University. Tempted by some friends he travelled to Papua New Guinea in 1950 where, having fallen in love with the place, he spent the next twenty-six years of his life. His satisfying work as a Patrol Officer was captured in print and on film by David Attenborough and in print by Gavin Souter. He spent ten years in the Western District, Madang, Aiome and the Jimi Valley. Tabibuga was his own creation and his glamour spot. In the 50s he supervised the building of the Jimi Airstrip. Barry also has the distinction of belonging to that exclusive club of people who have survived an air crash in Papua New Guinea.
Marrying in 1959, the next term was spent as Assistant District Officer in Mount Hagen. In 1962 he was seconded to Port Moresby as Project Officer in the Administrator's Department. From there he held various other positions until he became Secretary of the Police Department where he worked with five different Police Commissioners. When Pius Kerepia took over as Police Commissioner Barry became Executive Officer of the Planning and Co-ordination Unit of the Papua New Guinea Police Force.
Throughout his working life Barry had the honourable reputation for being meticulously thorough, talented and dedicated to his work, with little tolerance for mediocrity. He became quite ill in 1976 and so 1977 saw him pack up and leave PNG to join his family, who had left PNG in 1974 for schooling reasons.
With progressive breathlessness and the inability to continue working Barry learned to accept fully his illness and its consequences. He then devoted his time and effort completely to his family. Over the last few years he was a semi-invalid and, even though he was house bound and very ill, he loved life and fought death till the very end.
Barry is survived by his widow Joan, son Ben, daughters Frances and Cassandra and grandchild Benjamin.
Kathleen FARAGO (24 December 1993)
Kathleen escaped from Hungary in 1956, when the country's borders were briefly left open. In Vienna she was recruited to head the radiotherapy unit at Taurama General Hospital in Port Moresby. During her service in PNG, Kathleen not only treated the patients referred to her, but carried out surveys in many districts on the incidence of cancer in village communities. She was widely known for her professional skill and compassion by her patients, colleagues and all who came into contact with her.
After leaving PNG she spent some years at the Royal Newcastle Hospital and overseas. Her last post was at the Alice Springs General Hospital. On her retirement she lived in Sydney, doing locums and other professional work. She died after a brief illness which she bore with great courage. She is survived by her sisters Antonia, Barbara and Claire, and mourned by her many friends.
James Quinn (Jim) DUNCAN (27 April 1993, aged 72)
Born in Sydney in 1922, Jim arrived in Madang, TPNG in 1946, employed by W.R. Carpenter as an engineer. His wife, Margaret, joined him when accommodation became available on Kerosene Island in Madang Harbour.
In 1949 Jim established and became Manager of Madang Marine Workshops. Son Michael was born in 1950 (sadly killed in an accident in Rabaul later) and daughter Joanne in 1953. In 1962 Jim branched out on his own forming J.Q. & M.E. Duncan Refrigeration and Air Conditioning which flourished until he decided to leave the Territory in 1968.
Jim was enormously interested in every aspect of community life, being deeply involved in the Masonic Lodge, Rotary, Chamber of Commerce, school affairs, the Bowling Club and for some years the town's auctioneer. He was highly respected by all, regardless of race or creed, and staunchly loyal to all he called "friend".
Jim joined ACTROL in Sydney, involved with the Administration and Consultant side of the business until, owing to impaired health, he retired to Paradise Point on the Gold Coast in 1983. He is survived by his wife Margaret, daughter Joanne and grandsons Joshua and Matthew.
Keith TRACY (14 April 1993, aged 67)
Keith commenced his career in the wartime Royal Australian Navy. He served in the Corvettes HMAS Toowoomba and Geelong. He was a survivor of HMAS Geelong when that ship was sunk after a collision with the US tanker York off the North coast of New Guinea on the night of 18 October 1944. Owing to wartime submarine security neither ship was showing normal navigation lights.
From 1950 to 1969 Keith was with Department of Forests at Konedobu, serving under Jim Macadam, Bill Suttie, Don McIntosh and Kevin White. After his return to Australia he lived at Balmoral, Brisbane before moving recently to Banora Point, NSW. He was an active member of the RAN Corvettes Association.
His daughter Kim from the USA and son Mitch were at his cremation service. By Keith's wishes his ashes will be scattered at sea off the coast of Queensland from a RAN ship.
Sir Albert MAORI KIKI, KBE (14 March 1993, aged 60)
Sir Albert Maori Kiki, KBE, was the first Deputy Prime Minister and Minister for Foreign Affairs and Trade at Independence in 1975.
With Sir Michael Somare, Sir Ebia Olewale, Sir Cecil Abel, Sir Joseph Nombri and the late Mr Oala Oala Rarua etc. Sir Albert started the famous "Bully Beef Club" which eventually emerged as the first political party in Papua New Guinea: the Pangu Pati. He was instrumental in the first Union Movement as he believed strongly in the rights of workers, and unions in PNG are now a force to be reckoned with.
After retiring from politics, Sir Albert became a successful businessman heading Credit Corporation (PNG) Ltd. Last year he opened up a branch in Suva, Fiji: Credit Corporation Fiji Ltd, where 51% share is owned by the Fijians.
Sir Albert can best be remembered for his decisiveness, straight shooting, and above all humility and humour. He is survived by his wife, Lady Elizabeth Kiki and four children.
Pam AUMULLER (3 June 1993, aged 65)
Daughter of George Aumuller, who was with Burns Philp in Samarai pre-war. George returned to PNG after the war to establish Burns Philp in Port Moresby. No further details available.
Eric Mervyn CRAGGS (7 March 1993, aged 91)
Dr Craggs was a Medical Officer in the PNG Department of Health from August 1952 to November 1958. No further details available.
Wallace David LAWRIE (20 March 1993, aged 76)
Wal was with the PNG Department of Lands, Surveys and Mines and is survived by his widow, Nellie. No further details available.
Kathleen Mary HALVORSEN (12 December 1992, aged 85)
Widow of Louis Henry Halvorsen who was a Foreman Storeman with PNG Department of the Treasury. No further details available.
Adrian Geoffrey FRUGTNIET (20 May 1993)
Was OIC DCA in Madang in 60s and is survived by wife, Noelene, and children, Pam, Andrew and Geoffrey. No further details available.
James Bryant KEOGH (4 May 1993, aged 76)
Jim went to PNG during WW II at age 25 and, as a remnant of ANGAU, was taken over by the Provisional Administration. He subsequently worked with the PNG Department of Health, Supreme Court, South Pacific Post, Land Titles Commission and Department of Lands.
He served in several office-bearing roles with the Moresby Amateur Dramatic Players, and later the PNG Co-opted Division of the Australian Arts Council. Later, he was President of PNG SPCA (Society for the Prevention of Cruelty to Animals). This body, plus other supporters from PNG and outside (including Africa), were instrumental in persuading MHAs to vote against the 1965 Bird of Paradise Bill which, if passed, would have removed the then-existing prohibitions on buying, selling and exporting birds of paradise.
Jim moved to Far North Queensland at age 50, there dabbling in concrete construction, police work, social security and education. He finally retired in 1983. He is survived by his widow Ann.
Wilma Elsie May (Wim) HERRIOTT (4 May 1993, aged 71)
Wim worked for a number of years in the Government Stores at Madang and is survived by daughter, Margo. No further details available.
Myrtle Ena (Pat) HART (9 April 1993, aged 84)
An ex-resident of PNG, she is survived by daughter Isobel. No further details available.
Sir Vincent Serei ERI, GCMG, KStJ (25 May 1993 aged 56)
Sir Vincent was born in the Gulf Province and was educated at St Patricks School, Yule Island, after which he trained as a Co-operatives clerk with the Dept of District Services & Native Affairs. He then attended Sogeri Secondary School and completed teacher training at Sogeri.
He taught at Sogeri Secondary School for two years, then studied for the Queensland Junior Certificate for a year. He later held posts of Deputy Headmaster at Ihu Primary School for a year and Coronation High School, Kerema, for a year. Next, he attended a three month political education course and also undertook field training to be a Schools Inspector in Port Moresby.
In 1963 Vincent was selected to meet Her Majesty the Queen in Canberra and later undertook in-service studies at Port Moresby Teachers' College, where he became a Lecturer in 1966. He was the first president of the PNG Teachers' Association and led a delegation to the Asian Trades Union Congress. Later he attended the UNESCO conference in Teheran as part of the Australian delegation. In 1967 Sir Vincent entered the University of PNG and graduated with Bachelor of Arts in 1971, after which he returned to the Dept of Education as Superintendent of Primary Education and was Acing Director of Education for a period of six months. In 1973-74 he was appointed Head of the Dept of Information and Extension Services, during which period the National Broadcasting Commission was established.
In 1974 he was appointed PNG Consul in Sydney and upon Independence he became the first Consul-General. In 1976 he was appointed High Commissioner in Canberra and in 1979, he returned to PNG as Head of Transport and Civil Aviation, later leading the PNG delegates to the World Conference of Maritime Nations in London. In 1980 he was appointed Secretary for Dept of Defence and was awarded the CMG (Companion of St Michael & St George). In 1982 he joined Harrisons & Crossfield (PNG) Ltd, and in 1984 was appointed Employers' Representative to the National Provident Fund Board, and Chairman of the Finance Committee of the University of PNG, a position held until his election to the post of Governor-General in 1990.
During the next six years Sir Vincent served on a World Bank team to report on Upper Secondary Education in PNG; he became President of the People's Action Party, and he served on a committee set up by the Minister for Education, Hon. Aruru Matiabe, which produced a report known as the Kenehe Report. He resigned from the Office of Governor-General in 1991.