Vale December 1996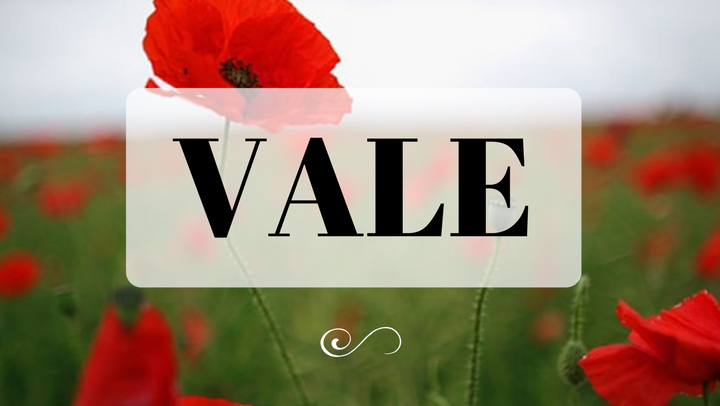 BEARD, Enid Vivienne | BUTLER, Debra Ann | CATTANACH, Robert Gordon | FORD, R J (Ron) | GRIGG, Andrew Edward | MORRIS, Lewis Arthur (Len) | MOXON, Geoffrey Gordon (Geoff) | RYAN, Gwendoline Mary | STEWART, Eric James | SYMES, William (Bill) David | TONG, Timothy Kam Sing | WESTON, Bert | WOODMAN, Constance Margaret |
Enid Vivienne BEARD (28 September 1996, aged 77)
Enid passed away at her home after three months of gradual heart failure and, during this period, suffered considerable discomfort and pain. Her cremation was attended by many PNG friends.
Enid was destined for the Hospitality Industry from early womanhood, and in the mid-sixties, along with Ted, proceeded to PNG and took up managership, firstly at the Hotel Cecil in Lae. Years later, Enid's happy, smiling face could be seen at the Huon Gulf Motel, Lae and for the last two years at the Gateway in Moresby, finishing up just a few months prior to Independence. She contributed greatly with her training of local staff in the various hotel/motel sections, particularly in catering and administration.
Enid is survived by husband Ted. [The foregoing was written by Enid's husband, Ted. Ted is Treasurer of the Gold Coast Papua New Guinea Club.]
R J (Ron) FORD (9 May 1966, aged approx 69)
Ron arrived in PNG in 1958 after training as a motor mechanic. He joined the Department of Agriculture, Stock & Fisheries in the late 60s as an agricultural mechanic based at the Kila Kila workshop; he later transferred to Goroka as a Technical Officer, and later to Lae. His last position was with the Development Engineering Section of the Department of Primary Industry, based at Kila Kila. He left PNG in 1981 and settled in Coolangatta Qld in his old family home which he began renovating; however illness forced him to abandon his plans. Ron mixed very little with people, but loved dogs and always had one for company; his other love was his car. Joe Nitsche visited him every year while travelling to Queensland, and helped him maintain his links with PNG. Ron is survived by a sister who lives in New Zealand. Arch Dickson of Kapunda, SA, and Joe Nitsche
Lewis Arthur (Len) MORRIS (5 September 1996, aged 88)
Len Morris had a distinguished career in oil exploration in both Territories between 1938 and 1968. He arrived in Madang in 1938 to take up a position with Island Exploration which soon after became aligned with the Australian Petroleum Company (APC) based in Konedobu. Len served in ANGAU under Brigadier Donald Cleland. He became Managing Director of APC and was the Company's senior Territory based representative from 1958 to 1968. He died in Warrnambool following a heart attack.
Len is survived by his two daughters, Gwyneth (Gwen) Burnet and Megan Morris, three grandsons and one granddaughter. Ian Burnet (Len's son-in-law)
Bert WESTON (14 October 1996, aged 95)
Bert Weston, who left the family farm to dig for gold in Papua New Guinea, and stayed there to distinguish himself as an engineer, soldier and aviator, died in Sydney on 14 October, aged 95.
Soon after arriving in what was then a remote part of the Territory of New Guinea, Weston emerged safely from a night attack on his camp by local warriors, feared as cannibals. He escaped by crawling along a dry riverbed. Later he survived an even more dangerous encounter with Japanese forces when his aircraft was the only one of three to return from reconnaissance operations during the Milne Bay campaign.
At various times Weston raced motorcycles, beginning with a 500 cc Triumph. He won his last race at the old Maroubra track on a 1000 cc Indian of 1923 vintage. Bert Ernest Weston was a direct descendant of another fanner and soldier, George Johnston, who commanded the NSW Corps and deposed Governor Bligh in the "rebellion" of 1808.
Weston was born on 23 February 1901, in Albion Park, NSW, where his family had received a grant of land from Governor Macquarie. He attended the local school, about which he wrote entertainingly in the Herald more than 90 years later, and Wollongong High School.
Weston was supervising the building of airfields, lighthouses and various public utilities in New Guinea and on Nauru when World War II began. He was commissioned in the Royal Australian Engineers, and was often called upon to advise military officers in Papua and New Guinea about the terrain over which operations were to be conducted.
After the war Weston pursued a career as a civil engineer in Sydney, working on some major projects. He also found time to write extensively on local historical themes and issues in letters to the Herald. Even after he retired from business in his late 80s he continued writing. Earlier this year his short history, The Albion Park Saga, 1900-27, was published by the Albion Park Museum.
After a fall on a wharf near his Milsons Point home in July, his health deteriorated. He died in his sleep in Greenwich Hospital on 14 October, cuddling his Burmese cat, Puss.
Weston's wife, Constance, predeceased him. He is survived by his daughter, Shay Martin, and a sister, Thelma Stewart.
Bert Weston's last letter to the Herald from 23 September 1994: "The unfortunate town of Rabaul surely suffers enough [from volcanic eruptions] without having its name being given so many pronunciations by TV and radio newsreaders. In my many years residence in New Guinea, we always knew it as raBAL not raBAWL, raBOOL, or raBOWL (to rhyme with OWL). Also one newsreader spoke of 'cocker poo'. We always knew it as the district of Kokopo (cock a po)."
[Obituary and Bert Weston's last letter are reprinted from the Sydney Morning Herald dated 18 October 1996, with thanks.]
In the issue of the Herald dated 21 October 1996 in the "Postscript" column, Letters Editor Geraldine Walsh recalled a letter from Bert stating that over the years editors had published about 50 of his letters. Bert continued, "I hasten to add that ….I was an engineer and a very amateur scribe with my typing limited to the one finger 'hunt and peck' system. At present I have set my sights on the century." The item concludes, 'Sadly, Mr Weston, a treasured correspondent, didn't reach his goal. Vale Bert E. Weston, 1901-96 – Jana, Melissa, Antony and Geraldine.
Geraldine Walsh
William (Bill) David SYMES, MB BS, FRACMA, DTM&H, DPH (18 September 1996, aged 68)
Bill Symes was born in Adelaide on 4 April 1928 and graduated in medicine from the University of Adelaide in 1952. He went first to Norfolk Island, then to TPNG in 1954 and was posted soon after to Goroka. Bill met Wynne (Kit) Beck during his term on Norfolk Island and they were married at Goroka in 1955. Early in his career, he showed his thoroughness in clinical medicine and an interest in public health and health education.
Bill studied Tropical Medicine in Sydney in 1956 and returned to Goroka as the Regional Medical Officer during the consolidation period of the Highland health services. In 1958 he moved to Port Moresby with responsibility for the Papuan Region and from time to time was seconded as Assistant Director. His clinical interest continued with care of obstetrics at the St Therese Maternity Hospital at Badili. In 1962 he studied Public Health in London and in due course was promoted to Assistant Director of Medical Services. In 1968 he became one of the Founding Fellows of the Australian College of Medical Administrators.
Bill was involved in community work, particularly with St John's Ambulance, where he ran many first aid courses. He was awarded the 0 St J medal in the Queen's Birthday List in 1966. He was also a radio personality as Doctor of the Air, and a guest speaker on the ABC gardening session – his topic was 'Growing Tomatoes in the Tropics'.
In 1970, Bill became Director of Public Health and oversaw the final stages of the nationalisation process of the Department and the appointment of Dr Reuben Taureka the first National Director. He returned to Adelaide in 1973 and for some years held a senior position in the Public Health Section of the Health Commission of SA and after retirement continued for five years as Chairman of the Waste Management Committee.
Bill was at all times and in all ways a competent physician, sincere and thorough in his activities and a major contributor to the development of the health services of Papua New Guinea.
He retired in 1985 and in 1989 Kit and Bill moved to Queensland to be nearer their children and grandchildren. Bill died after a long fight with colon cancer. Bill is survived by his wife Kit, and daughters Lynda, Diane and Marie. Dr Roy Scragg, supplemented in a few places with additional information supplied by Bill's daughter Diane.
Timothy Kam Sing TONG (11 September 1996, aged 52)
Timothy Tong of Kavieng, formerly of Rabaul, died suddenly at Kavieng Hospital. He is survived by his wife Pauline, and children Gene Michael, Anthony, Ferris and Sharlene. No further details available
Robert Gordon CATTANACH (13 August 1996, aged 79)
Robert served in the 9th Division in the Middle East and PNG during World War II. His first posting to the PNG administration was as a tractor operator at the Keravat Government Sawmill in the later 1940s. In 1955 he was posted to Bulolo as a Senior Technical Officer where he was responsible for all the road construction and maintenance work in the extensive reforestation areas of Bulolo and Wau. He retired from Bulolo and 1972 and settled in Jacobs Well, south of Brisbane, where he enjoyed fishing and golf. His wife predeceased him. Don McIntosh
Gwendoline Mary RYAN (31 October 1996, aged 86)
Gwen was born in Port Moresby and lived there most of her life, except for the wartime period. She was the daughter of Horace and Helena Hides, who settled in Port Moresby in the early 1900s. One of her brothers was Jack Hides, the famous Papuan explorer. Before the war Gwen worked in the Government Secretary's Department. During her married life she lived in Samarai, Rabaul, Port Moresby and Lae. She left PNG in December 1973. Her husband, who was with Burns Philp, predeceased her. Gwen is survived by a son and two daughters and numerous grandchildren.
Andrew Edward GRIGG (17 September 1996, aged 81)
Andrew Grigg was employed in the Public Works Department in PNG. He retired in June 1971. No further details available.
Constance Margaret WOODMAN (21 September 1996)
Mrs Woodman was the wife of the late Harold Eustace Woodman. No further details available.
Geoffrey Gordon (Geoff) MOXON (21 August 1996)
Geoff Moxon of Salisbury, formerly of PNG is survived by his wife Elma. No further details available.
Eric James STEWART (18 October 1996)
Eric Stewart, late of Bribie Island Qld and previously of PNG, is survived by his wife Fiona and children Michelle and Raymond. No further details available
Debra Ann BUTLER (September 1996)
Debra Butler of Caloundra, formerly Rabaul PNG, is survived by her husband Noel, and children Jacob, Tahlia, Glen and Diane.