Vale September 1996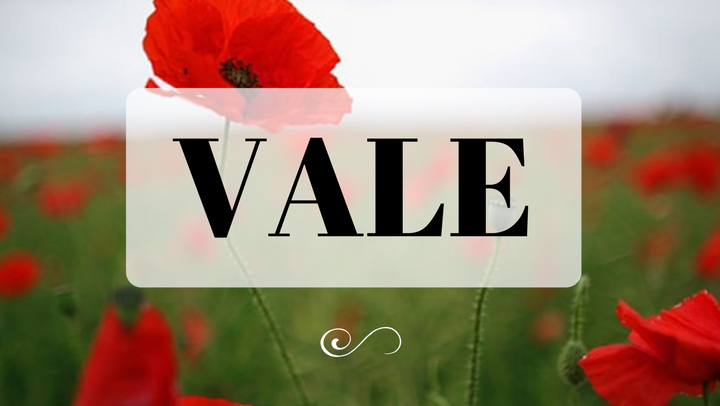 AULT, Thelma | BONIWELL, Bruce Allison | CAMERON, Olive (Ollie) | CANISIUS (CUENIN), Sister Mary | COOL, Henri | DAY, Christopher Gordon | DIMOND, Peter | FROST, Gordon Henry | HENDERSON, Lal | HENDERSON, Robert James | HICKS, Edwin George, OBE | LUSSICK, Walter Andrew, OBE | NELSON, Harold Montague | SMITH, William Artois | STEWART, William (Bill) Donald, BEM | TSCHUCHNIGG, Heliodor Von, MBE | WIGGINS, Anne Jacqueline |
Edwin George HICKS, OBE (17 May 1996, aged 73)
Ed was educated at Melbourne High School and then at Melbourne Teachers' College where he passed with distinction; however his teaching career was cut short by the war. In 1941, at the age of 19, he enlisted and was sent to a searchlight unit at Port Moresby. The lights were 210 million candle power and could illuminate a plane at 30,000 feet. Many of the operators suffered from scarring of the retina and it is possible that Ed's eye problems really began then. One night his sergeant ordered him to switch off his search light as bombers were coming directly over him but at the same time anti­aircraft gunners who were bracketing the Jap bombers were asking him to continue so Ed, like Nelson putting his telescope to his blind eye, kept his light on resulting in a court martial. Fortunately he received only a reprimand for disobeying a lawful order.
The defending officer at the trial was impressed by Ed's courage and determination and knowing Ed wanted to get away from Moresby, arranged for him to be transferred as a patrol officer to the newly formed Australian New Guinea Administrative Unit (ANGAU). This was a pivotal point in Ed's career as it set him on the course he was to follow until his retirement. Ed was sent to the hills behind Sogeri above Moresby where he did a training course within sound of the Japanese mortars and woodpeckers. Then to Rigo where, with some US officers, he went looking for a track across the mountains which could be used to outflank the Japanese route from Buna. After serving in other areas and with rapid promotion to sergeant and then lieutenant, Ed saw war's end in Milne Bay.
At the end of 1945 ANGAU was replaced by the civil administration. Ed joined the new government and began his climb from Patrol Officer to District Commissioner. During the earlier part of his career he attended the Diploma course at the Australian School of Pacific Administration (1952-53) and the course at the Australian Staff College at Mt Eliza (1961). These served to round out his knowledge of colonial development and its attendant problems and extend his knowledge of management.
In 1965 he became Deputy District Commissioner at Wewak and, a few months later, District Commissioner of the Sepik, a position he held for eight years. Ed was particularly proud of his role in the total upgrading of the memorial marking the surrender of the Japanese in the Sepik by General Adachi and the arrangements for the international commemoration ceremonies in 1980, and also the assistance he gave the official Japanese War Graves Commission to find their 176,000 war dead and build a memorial. Apart from this official body, many individuals came to search for relatives and Ed was unfailing in his efforts to help them. This was at a time when the Japanese were not very popular in PNG. Ed had a great deal to do with the social life of the district and in this respect, and in so many other ways, Shirley proved to be a wonderful partner for him.
On his retirement Ed and Shirley went to Springwood. For a time Ed taught at Wentworth Falls Grammar School, he was in Legacy, on the committee of Springwood Art Centre, on the RSL committee, and he worked with Joy Ballard making stained glass windows to raise money for a church in Fiji: a task which gave him a touch of lead poisoning. In his late sixties Ed developed a passion for word processing and desktop publishing. He believed he could contribute to his community not as an organisation man but by going out and helping people on his own. He was a wonderful neighbour and friend to all those in his area.
There were many sides to Ed's personality—he had a great command of the English language, he wrote with a script-like hand, he told a great yarn embellished by his special chuckle and the gleam in his eyes, he had a huge hug which came from the heart, and his scones were better than Flo's.
Taken from the eulogy delivered by Freddie Kaad at the Service of Remembrance
At the funeral service Mr Kila Karo, Consul General for Papua New Guinea, delivered a message from Sir Michael Somare with whom Ed had enjoyed a long-standing friendship. This message included the following:
'I have personally held the late Edward Hicks and his wife Shirley with great respect … for moral support given to me and my wife Veronica. To us, the Somare family, and the Sepik people he was a person of high integrity who cared for the people of Papua New Guinea. His encouragement, commitment and personal support towards our developmental efforts will always be remembered by us. Ted, as many of us knew him, always found time to chat and even discussed and shared in some of my political visions for my country. Ted always treated all politicians of Sepik province with great respect. In recognition of his positive contributions to my people in East Sepik and Papua New Guinea I recommended to my Government consideration of an appropriate award. The late Ted Hicks was awarded the Most Excellent Order of the British Empire (OBE) in 1983. Ted, we shall always remember and hold you in great esteem. May your soul rest in peace and God bless you.'
Bruce Allison BONIWELL (10 July 1996, aged 63)
Bruce was born on 29 March 1933, and obtained a Bachelor Ag Science (Melb) 1957, which took him to PNG in 1958, first to Rabaul to the Tolai Cocoa Project, but then soon to other areas as Co-ordinating Officer in the FAO Survey, to Goroka, first as District, then as Regional Agricultural Officer, to Chief Agriculture Education & Training Officer at Konedobu, then Principal of Vudal Agricultural College, East New Britain, from where he departed PNG in 1975.
Bruce then became the Foundation Principal of the Burdekin Agricultural College, Claredale, North Queensland until 1984. In 1985 Bruce moved his family to Perth, where he was involved in various fields such as the Agriculture Protection Board, in the eradication of noogoora burr, donkey and starling control, the Australian Quarantine Inspection Service of Western Australia. He also took an active part in the Biennial Conference of Principals of Australian Agricultural Colleges. In 1987 he had a short assignment in Thailand in the mountain areas north of Chiang Mai.
Bruce was a good friend to many, always available with a kind ear in sadness or laughter, a very kind, generous, honest good-humoured person, a loss to his didi men friends and others. Bruce is survived by his wife Penny and his children Patrick, Richard, Sara and Stephen. Well known Nan Primrose, ex Goroka, was his mother in law. We lost a great friend, husband and father. Written by Joe Nitsche from a curriculum vitae supplied by his widow
Thelma AULT (30 June 1996)
Wife of the late Alister Ault. No further details available.
Olive (Ollie) CAMERON (late July 1994, aged 84)
Ollie was born in Victoria. She lived in Madang for many years working for Steamships Trading Co. Her husband Stan, who worked for BPs, died in the 70s and a couple of years afterwards Ollie went to live in Cannon Hill, Brisbane, to be near her only son. Unfortunately her son and his family moved away soon afterwards. She had no close friends living nearby, and when she became ill she was helped greatly by Ken and Mildred Lee (Steamships, Madang). Ollie died of emphysema. Hilda Watson, formerly Hilda Ferguson of Madang
Walter Andrew LUSSICK, OBE (14 June 1996, aged 72)
Wally Lussick was born in Western Samoa in 1923, but moved to PNG with his parents in 1924. He spent his entire life in PNG apart from his education in Australia and service overseas as a pilot with the RAAF during WWII. After the war he returned to New Ireland and, with his father, began re-establishing the family copra and cocoa plantations. He helped secure government funds for construction of airfields on some of the small islands of New Ireland and, with his partner, brought the first small aircraft to the area in 1950. In addition to his business interests, Wally was very active in the Planters Association, the Agricultural Show Society, the RSL and the Lions Club.
Wally was deeply involved in the political development of the country. He was elected to the second House of Assembly in 1968 as Regional Member for Manus and New Ireland. Michael Somare was elected at the same time, together with other Pangu Party members. Wally was not happy with the timetable for PNG independence and organised opposition to early independence. He served on numerous Parliamentary Committees, one of which, when he was Chairman, chose the PNG flag from scores of entries. He also investigated the future needs of PNG's airlines which led to the formation of the present two level system. He and other leading expatriates lost their seats in 1972. Michael Somare recognised his contribution with an OBE in the special Independence Honours List in 1975.
After independence Wally was private secretary and advisor to both Mathias Toliman and Tei Abal in their roles in opposition. He left the political arena in 1984, but continued to support the government of the day in many ways and also served on several government boards, committees and working groups. He was President of the Port Moresby Chamber of Commerce from 1987 to 1992. He died following a stroke and heart attack. Information obtained from articles by Ruth Waram, Post-Courier, 17 June 1996, James Griffin, The Australian, 3 July 1996, Fred Lussick and Doug Franklin
Lal HENDERSON (7 July 1996, aged 86)
Lal came from Newcastle, NSW. She joined the Air Force in 1942 and served till the end of the war. She and husband Jim went to Madang in 1949 where Lal worked for TAA and travelled the world with the airline. She was very good to newcomers to the town, especially those who were young and lonely. Lal and Jim retired to the Gold Coast in 1972. Her husband predeceased her. Roma Bates and Margaret Duncan
William (Bill) Donald STEWART, BEM (22 February 1996, aged 70)
A brief notice appeared in the March issue. Bill Stewart's wife, Joy, has since supplied the following:
Bill was accepted from the WA Fire Brigade to attend ASOPA and arrived in PNG in 1957. He served in Rabaul starting up and training the fire brigade. In 1960 he was transferred to Boroko Fire Station where he was in charge until 1966. During his stay in Moresby he was presented with the BEM as a member of the PNGVR for saving a fellow soldier's life at Brown River. Bill passed away after a brave fight with cancer. He is survived by his wife Joy, two sons Don and Kim and daughter Kris.
Harold Montague NELSON (31 July 1996, aged 77)
Harold Nelson went to PNG in 1946 as a Medical Assistant with the Dept of Public Health. He became a Health Extension Officer and Instructor. He served in Goilala (1946), Maprik (1948), Lurni (1953), Kavieng (1956), Sohano (1959), Wewak (1962), Mt Hagen (1966), Kainantu (1969), Goroka (1971), and retired in 1974. He is survived by his wife Delia, daughter Teresa and sons Kieran and Damian. No further details available.
Anne Jacqueline WIGGINS (13 April 1996)
Anne was born in Wau in 1940 and spent all her early life there. After completing her education at Stuartholme, Brisbane, she joined the Education Department in PNG and was very involved in the education of pre-school teachers in Rabaul where she started the first Kindergarten of the Air. Later, in Port Moresby, she was in charge of pre-school teaching throughout the Territory.
After returning to Australia she was involved in teaching and education of the refugee and migrant community and also taught English as a second language at various schools in Brisbane. She continued to show a brave and cheerful resolve during her long illness and her concern for others was to the fore right until the end. Anne is survived by her husband Rex and sons Mark and Simon. Reprinted from the May 1996 issue of Garamut
Heliodor Von TSCHUCHNIGG, MBE (1 August 1996, aged 68)
Helli Tschuchnigg was one of the best known and respected pilots in Papua New Guinea in the period from the 50s to the 80s. For those whose work required them to fly in light aircraft in the Highlands especially, or anywhere in PNG, it was reassuring to fly with Helli at the controls and to know that he became responsible for training. He was widely known by the airline community and especially Qantas, Gibbes Sepik Airways, Territory Airlines, Douglas Airways, Talair, Air Melanesia and Air Vanuatu. He didn't hesitate to speak his mind when it was necessary and it did not matter who you were. His life as a pilot was exceptional and an example to many young pilots, some of whom were Qantas cadets early on, based in Mendi, Mt Hagen and Goroka, who had to do 1000 hours in Cessna 206s or similar aircraft under his overall supervision. Helli is survived by his wife Jacqui and children Helly Junior and Elvina. Doug Franklin
Robert James HENDERSON (15 June 1996, aged 50)
Robert Henderson, of PNG formerly of Aspley QLD, was accidentally killed in Lae. His wife predeceased him. He is survived by his son Ronald. No further details available.
Peter DIMOND (6 August 1996, aged 81)
Peter Dimond was the director of the epic film New Guinea Patrol. Those connected with the film became a close-knit group and are saddened by the loss of one of the group. The following is taken from the eulogy given by John Leake, the film's cameraman.
Peter Dimond studied motion picture production all his life, he was devoted to it. He held important executive positions in both State and Federal Government film making organisations. As a young man, he served in the AIF as a member of the Military Intelligence Section, spending considerable time in New Guinea. Peter was the director of New Guinea Patrol, a 35mm colour film produced in 1957 for the Department of Foreign Affairs for a presentation to the United Nations Assembly to show Australia's contribution to, and the lack of sophistication of, the New Guinea people. This was the first-ever film to be screened on the floor of the United Nations Assembly. It was an outstanding success and allowed Australia to continue its supervisory capacity of New Guinea. It was later screened as a feature film in world cinemas and won many awards.
During a lifetime in the film industry Peter worked in many capacities: he was a cinematographer, a writer, a director and a film producer. He was an early member of the Australian Film Producers' Association and a member of the Society of Australian Cinema Pioneers. Peter is survived by his wife Glenys.
Christopher Gordon DAY (19 August 1996, aged 67)
Chris was born in 1929 in Shanghai, China, where his father worked. Following internment by the Japanese during the occupation of Shanghai, and the sudden tragic death of his father shortly after their release, the family came to Australia and settled south of Brisbane, Qld. Chris joined Dept of District Services & Native Affairs in 1950 and served in the Sepik, Morobe, Western, Western Highlands, Southern Highlands, Northern and West New Britain Districts. In 1957 at Mt Hagen Chris married Education Officer Gwen Diggs of Gilgandra, NSW. They raised a family of two sons and two daughters.
In 1974 the Days left PNG and settled in Southport, Qld. During 1980-81 Chris and Gwen worked at Papunya Aboriginal Settlement, Central Australia. About this time Chris's health began to deteriorate and he experienced a long period of poor health. Among his fine personal qualities Chris will be remembered for his unique wit and sense of humour which never deserted him even during the worst episodes of his illness.
Chris is survived by his wife Gwen and children Alexandra, Peter, Michael and Margaret and their families.Graham Hardy
Gordon Henry FROST (15 August 1996, aged 72)
Gordon Frost, a Co-op officer, served from May 1950 to May 1965. He was single at retirement. No further details available.
Henri COOL (2 July 1996, aged 80)
Henri Cool worked in PNG from March 1970 to June 1972 as a Public Works Clerk class 5. No further details available.
Sister Mary CANISIUS (CUENIN) (25 June 1996, aged 91)
Pioneer missionary sister of Our Lady of the Sacred Heart and aged 91 years, Sister Canisius died peacefully at Boroko in retirement after serving at Yule Island and Port Moresby since arriving in Papua in 1928. Over a lifetime of sixty-eight years, Sister Canisius became well known and loved by many families who lived in Moresby and the Papuan region. May she Rest in Peace. Reprinted from the August 1996 issue of Garamut
William Artois SMITH (1908-1992)
(A Biography by Wally Doe [Wandering Wally])
Born in Toowoomba, Qld, Bill and his two sisters and one brother spent their younger years growing up with the Aboriginals as well as a few other white children in what was described as an idyllic life on Stradbroke Island, Qld.
His father, a marine engineer, was in charge of the machinery connected with an aged persons' infirmary on the island, as well as any marine engines needing attention.
At the age of 14 Bill had to make the decision as to what he was going to do, and with his love of the sea and boats he expressed the desire to become a builder of boats. In those lovely days before the motor car all a young lad wanted was a boat. And so it was that at the tender age of 14 years he was apprenticed to J H Whereat at Bulimba, and served his time as a boat builder.
Then the depression hit when Bill was 21 and he lost his job. But his father at the time was very busy installing pumping stations for the Water Board at Gympie and Mareeba and Bill assisted his father until that job was finished and once again he was on the labour market.
In 1929 he heard of a position for a boat builder at Samarai, and he made his first move to PNG, doing boat repair work at Samarai and Port Moresby.
In 1931 he applied for a position as a boat builder with the Bulolo Company in the Bulolo Valley, and was accepted, but he would have to find his own way over.
He heard of a pilot, Lionel Shopee, found him and got a ride over the mountains to Buloto, complete in a borrowed leather coat and helmet. In fairness to the reader not familiar with the planes of that period, they were often described as being built of rag and wood. Two seaters, one for the pilot, one for the passenger, both in the open, with a limited ceiling preventing them flying very high, compelling the pilot to thread his way through the mountains and valleys, constantly praying that the clouds would stay away until he had completed his journey. Flying then was always a thrill, and never for the faint hearted.
Bill's years from then on were to be exciting for him as they were for everyone who joined the people mining gold. He developed his skills and acquired new skills as like every one else he had to make and improvise whatever was required as the markets were too far away to purchase anything. So, like other tradesmen, he found that he had to build relatively small boats to carry a very heavy load from the land to the dredges. One Dredge Bucket Bush and Pin weighed, I think, half a long ton. Amongst his many feats he was involved in building bridges, bodies for utility trucks, houses, furniture, and at one stage he was even very much involved in building a kit plane. Only to find that the Department of Civil Aviation would not allow it to fly!
Over the years I saw a lot of Bill's work: as well as boats he was a cabinet maker beyond compare. I think it was about 1937, Lord and Lady Gowrie paid a visit to Bulolo for the opening of No 5 (?) Dredge. Bill was commissioned by the Company to design and build a jewellery box, inlaid with Bulolo gold for Lady Gowrie to commemorate the opening of the Dredge. He received a personal letter of thanks from Lady Gowrie for the magnificent workmanship. His wife Amy still has that letter.
Like many of the men who braved the wilds of New Guinea in those early days, Bill was no exception—excitement and adventure was like candy to a child. Early in 1937 Bill built a sturdy canoe with one object in view, to shoot the rapids in the wild Bulolo River from Bulolo to Bulwa, some 12 miles down stream. Bill and his friend Dave Dixon did this wild water journey and got their feet wet a few times on the way. Unfortunately he did not make a record of the time, or the number of times they were tipped out of their canoe, but it was the first time white men had attempted the hair raising journey, and I never heard of it ever being done again since.
On his 1935 leave he decided to pay a visit to England and see some some of his parents' family who were still alive. Bill sailed from Brisbane on the old Moreton Bay, and his wife Amy and her mother also joined the ship in Melbourne. They met, they fell in love, they married on his next leave in 1937, and Bill stayed in Victoria and raised a family. They were married for 54 years, when in March 1992 Bill passed away, aged 84 years.
And so another 'Before' moves on.