Vale March 1997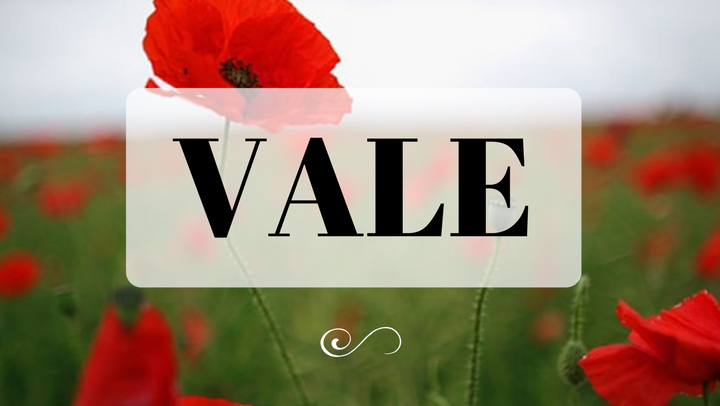 ANDREWS, Russell Harrison (1 January 1997) | BALDWIN, Kenneth Hector (21 November 1996) | BEIER, Malcolm Arthur (Mal) (November 1996) BENTINCK-PITT, Jean (5 November 1996) | CORBETT, Edna (25 December 1996) | CURTIS, Roland James (26 October 1996) | DELAND, Annie (12 February 1997) | EDGAR, William John (Bill) (January 1997) | ELLIS, Freda Jane(29 January 1997) | FOLEY, Christopher Michael(20 December 1996) | GIBBINS, Ian David(27 January 1997) | GOULD, Stanley Fyfe(December 1996) | HEAPY, Bill(14 September 1996) | HIRD, Arthur F J(28 August 1996) | ITZSTEIN, Ivy(17 February 1997) | LAMACRAFT, Kenneth Ronald (19 November 1996) | LEYER, Eileen(October 1996) | LUKIN, John Wyndham(9 January 1997) | McALISTER, E M (Lynne)(30 December 1996) | McGUIGAN, Lorna(21 January 1997) | McILWRAITH, Noel (12 January 1997) | MILLIST, George(10 December 1996) | NORMAN, John(16 November 1996) | ROBICHAU, Margaret (9 November 1996) | SAMUELS, Jean(January 1997) | SCHNEIDER, Frances(December 1996) | STEVENSON, Thomas (Tommy) (1 August 1996) | STEWART, Colin Ernest(21 December 1996) | WILLIAMS, Darcy | (14 November 1996) |
E M (Lynne) McALISTER (30 December 1996)
Lynne McAlister was a Nursing Sister and Matron of the Health Department. During her service in PNG she had been posted to many of the District Hospitals, later becoming Matron at Lae and Nonga. One of her early postings was to Wewak early in 1953, a wartime building on the hill. This was shortly after the aeroplane crash of the late Dr McInerney, which was a very unhappy time for all the residents, during which Lynne's professionalism gave much support.
Lynne was very interested in improving the health of the indigenous women, and to this end the local people, as well as others, helped to build a small Maternal and Child Health building on the flat near the native hospital. This contained a labour ward and two other small wards for indigenous mothers.
During the farewell service in the Chapel of Mt Olivet, Brisbane, Sue Davies, who was one of the babies Lynne had delivered in Wewak, gave the eulogy to the congregation which included relatives and several former Wewakians. Reg Collins
Kenneth Hector BALDWIN (21 November 1996, aged 68)
Ken Baldwin was born in Port Moresby in 1928, the eldest son of Mary and Archie Baldwin. Following evacuation to Australia in December 1941, Ken spent the war years in Brisbane returning to Moresby in 1946 to work firstly with Government Stores and then the Australasian Petroleum Exploration Company (APC) at Kariava as Field Assistant. He returned to Brisbane in 1948 to study dentistry at Queensland University.
After graduation Ken joined the Department of Health and was Dental Officer for the Papua Region for three years. This involved travel through most of the Papuan Districts. In 1958 he married Viive after he had entered private dental practice in Rabaul where he practised for about seven years. After a stint of some six years in Armidale, NSW, Ken and family made their final move to Caloundra in the early seventies.
Ken was an above-average sportsman, participating in cricket, tennis, middle and long distance running and football. Severe emphysema and asthma caused Ken to leave his profession which he loved and to which he brought great humanity in 1991. He laboured manfully against the odds since that time.
Ken is survived by his wife Viive, mother Mary, daughter Riina, sons Derek, Ken and Charles and brother Derek. Derek Baldwin (Ken's brother)
Thomas (Tommy) STEVENSON (1 August 1996)
Tommy Stevenson passed away at the Nambour Nursing Home after a long illness. He will be remembered by his friends from his many years in PNG. He worked for Burns Philp Ltd from 1956 to 1982 at Port Moresby, Lae, Madang and Rabaul. He had been living at Tewantin following his return to Australia. Garamut Newsletter
Kenneth Ronald LAMACRAFT (19 November 1996, aged 84)
Ken Lamacraft died suddenly on the Gold Coast, Qld. Ken was born in England and went to various schools in England and Jamaica. The family then settled in South Australia where Ken attended Adelaide Teachers' College and later took a Diploma of Fine Arts and studied engineering. During his early career he was in primary education, then in secondary technical, later transferring to art, becoming Principal of the South Australian School of Arts and Crafts.
Ken's primary degree in Arts was at the University of Adelaide, and his degree in Education at the University of Melbourne followed by a Masters degree in Education at the University of Sydney. Later he took his Doctorate in Education at the University of South Africa, Pretoria. During WWII he served in the Royal Australian Air Force.
In 1957 Ken took up an appointment as Chief of the Division of Technical Education in Papua New Guinea in order to set up and develop a system of vocational education for that country, including a correspondence school for technical subjects. During his time in PNG he was particularly involved with the development of small residential technical schools, as well as increasing the capacity of the three main technical schools at Port Moresby (Idubada), Lae and Rabaul, which involved much travelling throughout the mainland and islands.
Ken was also Chief Scout Commissioner for PNG, and started reconstruction of the PNG scout organisation along modern lines. One of his activities under its aegis was the inauguration, with three others, of the Annual Port Moresby Choral Festival.
On his return to Australia in 1966, he was for a time lecturer in Newcastle for the University of Sydney, and then lecturer at Sydney Teachers' College. Later he was Senior Consultant in Staff Training, etc., with an interstate management consultancy, before establishing his own company in this area of expertise, which he continued to operate until his death. Although he officially 'retired' in 1977, he continued as part-time lecturer in Business and Administrative Studies, Consultant for Schools Commission, NSW, etc. The Lamacrafts migrated to the Gold Coast in 1984.
Ken published many articles, reports and courses on education, on Papua New Guinea, on Japan, and on other subjects, as well as three textbooks and one descriptive book (joint author). He was an active member of various organisations, and held a number of offices including President of the World Education Fellowship (Australia) 1983-85, and Member of Council of the Australia/Japanese Society, NSW.
While in the Air Force during the war, Ken became interested in the Japanese language and later in education in Japan. Eventually this led to over 20 visits to Japan, accompanied by wife Jeanne, living with the people in various areas, attending conferences and studying educational methods. He became fluent in reading and writing Japanese, with some facility in speaking the language. Ken enjoyed painting in both water colours and oils. He was active in sports, playing hockey and competition tennis in earlier years, golf; and later lawn bowls. Ken was a knowledgeable and accomplished person, with abilities and skills in many fields. Ken is survived by his wife Jeanne. Dorothy Shaw
Russell Harrison ANDREWS (1 January 1997, aged 74)
Mr Andrews was employed in Posts and Telegraphs. He retired in 1971. No further details available.
Arthur F J HIRD (28 August 1996)
Arthur passed away after a long illness. He and his wife Mona lived in Port Moresby and Rabaul during the mid 60s. Arthur was permanent army and was attached to the PNGVR. Besides his army service, Arthur will be remembered by many as a rugby referee. In retirement he lived with Mona on Bribie Island. Garamut Newsletter
Bill HEAPY (14 September 1996)
Bill was well known as a Shell fitter in Port Moresby and Madang/Highlands area. He married Dot and was transferred to Wewak as manager of the Shell Depot. He and Dot returned to Port Moresby where Bill worked as refueller on Jackson's Airstrip. He then resided in Brisbane and in retirement he moved to Bargara, Qld. Bill died of a heart attack. Garamut Newsletter
John NORMAN (16 November 1996, aged 54)
Remembered in education for his time as maths subject master at Kwikila High School, deputy head at Goroka High School, headmaster at Wabag High School and Secondary Inspector in the Western Highlands during the years 1975 to 1988.
Remembered as captain of the Goroka Golf Club in the late seventies and an active member of the Mount Hagen Golf Club in the eighties.
Remembered by all who knew him as a romantic Welshman, lover of music and fine foods, fond of ladies and alcohol, and always ready to tell a joke or an entertaining anecdote.
Twice married and twice divorced, he sadly took his own life at Miami on the Gold Coast on 16 November 1996. He never quite found a niche for himself after he resigned from education and left Papua New Guinea, the happy golden years of his life. Pam Norman
Jean SAMUELS (January 1997)
Jean Samuels, an early post-war resident of Lae, passed away recently following a stroke. Jean commenced work at the Regional Health Office at Lae in the sixties as secretary to the Regional Health Officers, Dr Jameson, Dr F Tuza and Dr L Malcolm. After leaving PNG she retired to Slacks Creek and married Mr Geb Hill, a family friend. During the last few years they retired to Clairview, near Mackay. A much liked lady by those who have worked with her. Reg Collins
George MILLIST (10 December 1996, aged 68)
Following 12 years in the Navy, with Japan and Korean War activity and extensive survey duties, including first ship to survey Rabaul Harbour post war, George left the Navy in 1956 and joined the Bureau of Mineral Resources, Canberra, as a Cartographer (map-maker).
He arrived in Port Moresby in 1969 to set up the Mapping Section of the Geological Survey (under the auspices of monocled 'Sandy' Renwick). He was a keen golfer at the Boroko Club. In 1973 he met Fay Reeves (Customs Dept, Trade & Industry 1961-65, then Treasury/Finance) and following PNG Independence they came to Cairns, married in 1976, owned Stratford Newsagency for seven years and semi-retired to a small acreage at Malanda on the Atherton Tablelands in 1982.
George died suddenly of a heart attack. He is survived by his wife, Fay, and his daughter Lynnel Seal and family in Canberra. Fay Millist
Eileen LEYER (October 1996, aged 91)
The Leyers, Eileen and Tom, were married in the Burnett area of Queensland in 1926, then moved to Thursday Island, and later Port Moresby. After evacuation, Eileen spent the war years in Brisbane until the family, united again, moved to Alexishafen, then Madang. Tom Leyer had a slipway beside the Briggs and McLean woodworking business and son Bevan worked on various plantations and for the Department of Native Labour.
Eileen was very well known as the voice of Madang in RTC, where she worked with Dulcie Donald, Sheila Hansen and John Lee, during the 1950s and 60s.
In 1964 the family—Tom, Eileen, Bevan and Elizabeth (Beth) with three young daughters—settled in Kilkivan near Gympie, Qld. Tom passed away in 1978, but Eileen stayed on as a spare hand on the farm. It was a delight to see that dignified handsome woman, with the cultured voice, tending 'her' pigs or helping with cattle work.
In latter years with failing eyesight and other health problems, she moved to Noosa to live with her widowed brother, and from there entered a nursing home in Gympie, where her family were able to visit regularly. Eileen's one great love in life was her family. She is survived by her son Bevan and his wife, three granddaughters and eight great-grandchildren. Elizabeth Leyer (Eileen's daughter-in-law)
Ivy ITZSTEIN (17 February 1997, aged 67)
Ivy Itzstein went to PNG in 1953 to join her husband, Des, who was with Posts & Telegraphs. The family lived in Madang, Lae, Rabaul and Port Moresby. Ivy ran child­minding centres in Lae and Rabaul and later worked in Posts and Telegraphs. In Port Moresby she worked in the Philatelic Bureau and the Boroko RSL
She and Des left in 1974 to retire in Perth. Ivy is survived by her husband Des, and children Carol, Des, Lynette and Barry and their families. Lynette (Ivy's daughter)
Lorna McGUIGAN (21 January 1997)
Mrs McGuigan was the wife of the Late James Henry McGuigan. No further details available.
William John (Bill) EDGAR (January 1997)
Bill Edgar, late of Redcliffe, Qld, formerly Papua New Guinea is survived by his wife, son, grandchildren and great-grandchildren. No further details available.
Darcy WILLIAMS (14 November 1996)
Darcy passed away peacefully at Nedlands, WA. Darcy spent many years in PNG and worked in Wau, Bulolo, Lae, Goroka and Madang. He was very involved in most sporting activities, notably golf and football and was a champion billiards and snooker player. He was also very interested in horse racing. He was a jockey in his young days and rode the famous Peter Pan in his training on the track.
Darcy is survived by his daughter and her family. Garamut Newsletter
Christopher Michael FOLEY (20 December 1996, aged 45)
Chris was the eldest son of Michael and Pamela Foley. He was born at Kokopo, and spent his early years in New Britain outstations and the Highlands. He was the youngest of the initial 10 pupils at the primary school established by Ancie Schindler in 1955 at Aiyura in the Kainantu Sub-District. Following secondary education at boarding school in Sydney, he returned to PNG and joined Territory Airlines (later 'Talair') for the first of several periods with that airline over the next few years in positions of Traffic Officer, Port Superintendent, Branch Manager and Area Manager, in Mount Hagen and Minj. During this time Chris and his sisters Kerry and Kate were active on the Highlands social scene, including being involved with the Speedway Club and the Clean-Up Hagen Campaign.
Later he spent a period in Australia with the Department of Minerals and Energy, working in the Simpson Desert, and then an interesting year delivering luxury yachts around the South East Asia/South Pacific area, before joining Qantas Airways in 1992 where he was still a staff member at the time of his death.
Following several months in hospital last year Chris received a liver transplant which in itself was considered successful, but the complications which subsequently arose proved too much after an already long fight with illness.
Chris is survived by his sisters Kate and Mary, his brother Peter, and his mother. The Foley family
Ian David GIBBINS (27 January 1997, aged 60
)
Former Patrol Officer Ian Gibbins began his working life as a technician in the Pathology Department, Newcastle Hospital. He was very proud of the fact that he was a direct descendant of a First Fleeter, Frederick Merideth, a crew member of HMS Sirius.
In 1957 Ian joined DDA as a cadet patrol officer and was posted to Kairuku, Central District, for two terms. He established a patrol post at Bereina on the edge of Mekeo country in 1960-61. His third term was spent at Balimo in the Western District.
Ian left PNG to join Unilever, working in Sydney and Canberra before moving to the UK in 1968 to be in Unilever's Public Relations Dept. Two years later he established his own public relations company in Bristol. At the time of his death he was a consultant with J Rothschild Assurance.
In 1992 Ian became a Freeman of the City of London. For many years he was greatly involved in the Australia-Britain Society and in organising commemoration ceremonies of ANZAC Day, particularly for the 75th year. He was an enthusiastic cricketer and hosted events for members of the Australian Test team during their tours. He attended our 1994 Christmas luncheon and was delighted he was able to yarn with many folk he knew.
Ian is survived by his wife Anna and adult children Victoria and Alexander. Ken Brown
Jean BENTINCK-PITT (5 November 1996, aged 84)
Jean Bentinck-Pitt died in her sleep in her Melbourne unit. Her late husband, Reg Bentinck-Pitt, will be remembered as the magistrate in Port Moresby and Madang. Jean is survived by two sons Lawrence and Ray Jennings. Garamut Newsletter
Freda Jane ELLIS (29 January 1997, aged 82)
Freda Ellis's daughter, Lynne Schupp, sadly wishes to inform everyone that Freda passed away on 29 January 1997 in Perth, WA. Freda moved from Buderim in Queensland to Perth in 1993 to be near her family and had a long battle with Alzheimer's Disease.
Freda will be warmly remembered by all her many friends from PNG days. Freda was the wife of the late Tom Ellis and spent over 30 years in PNG from the mid '30s to the late '60s. She will be sadly missed by her family and friends.
Freda arrived in Rabaul in the mid 30s for a holiday. Being a competent secretary she was soon employed by the Administration and moved into the single women's quarters opposite the New Guinea Club, named by Club members "The Virgins' Retreat". Freda married Tom Ellis who was employed as a liklik doctor at Rapindik Native Hospital. She and Tom spent some time gold mining on the Sepik then moved to Wau where Freda worked for District Officer Vertigan. Alter wartime evacuation she returned to PNG, and in the '50s Tom and Freda were posted to Madang. Roma Bates, a long-time friend, said Freda was a most understanding and compassionate woman and that "from people's needs through to town organisations, she made time for it all."
In Madang Freda worked at the District Office. As well as typing, she carried out various jobs such as organising air and sea charters for Administration field staff and managing the two cemeteries. She also ran the library. In her spare time Freda was behind every organisation that started up in Madang (and there were many) as secretary, treasurer or committee member. Everyone knew that if they wanted something done or needed advice, Freda was always ready to help. She had a great talent with flowers and was often called upon for wedding bouquets and other floral tributes. She left Madang in the '60s to care for her ailing mother in Melbourne and ran a florist's shop there for many years before joining her husband Tom in Noosa.
She and Toni eventually retired to Buderim. Freda is survived by a daughter and two sons. Lynne Schupp (née Ellis) and Roma Bates
Colin Ernest STEWART (21 December 1996, aged 71)
Colin Stewart was with Posts and Telegraphs in PNG. He retired in 1968. No further details available.
Roland James CURTIS (26 October 1996, aged 79)
Ron was born in Bangalore, South India, and educated by the French Mission. He was an outstanding student; however these were depression years and Ron, to his delight, was accepted from a large number of applicants into Police Training School in Nasik, Central India, where he graduated as a Police Officer. The war came and he was seconded to the British Foreign Service in Bahrein where he was involved in counter espionage in the oil fields.
In 1949, seeking a more stable life for his family, he migrated to Perth. He endured many hardships while becoming accustomed to farm work in the bush, and emerged a well respected and able member of the local farming community. In 1952 Ron was accepted into the Royal Papua New Guinea Constabulary. His postings included Port Moresby, Rabaul, Buka, Kerevat, Kokopo, Kavieng, Samarai and Lae. In 1960 he was seconded to the Australian Government and posted to Christmas Island in the Indian Ocean. Ron retired from the Police Force in 1972 and settled in Brisbane. Ron was an excellent all round sportsman and loved his tennis and cricket.
He is survived by his wife Phyl, three daughters and grandchildren. From the eulogy delivered by his son-in-law, Peter Maddern
Margaret ROBICHAU (9 November 1996, aged 98)
Margaret Robichau, affectionately known to her many friends as Mrs Robi, passed away peacefully at Caloola Nursing Home, Wagga Wagga. She went to New Guinea in 1954 to visit daughter Betty Crowley (now of Junee, NSW). Robi stayed on and worked in Lae until returning to Australia in 1971. She is survived by a daughter, a son, grandchildren and great-grandchildren. Garamut Newsletter
Noel McILWRAITH (12 January 1997, aged 69)
Noel died in Brisbane. He spent many years in PNG working as an aircraft engineer for Qantas in the 1950s and then TAA in the 60s. Later he joined Air Niugini and was transferred to Port Moresby where he remained until his retirement in the mid 1980s. On his return to Australia he lived on the Gold Coast. He is survived by his sister and her family. Garamut Newsletter
Annie DELAND (12 February 1997)
Mrs Deland was the wife of the late Dr Charles Mervyn Deland. No further details available.
John Wyndham LUKIN (9 January 1997)
John Lukin, late of Palm Beach, Qld, formerly of Sogeri, PNG, is survived by his wife, children and grandchildren. No further details available.
Stanley Fyfe GOULD (December 1996)
Stan Gould of Browns Plains, Qld, formerly of Madang, PNG, is survived by his wife, children, grandchildren and great-grandchildren. No further details available.
Frances SCHNEIDER (December 1996)
Frances Schneider of Tanah Merah, Qld, formerly of Rabaul, PNG, is survived by her husband, children and grandchildren. No further details available.
Malcolm Arthur (Mal) BEIER (November 1996, aged 49)
Mal Beier of Westlake, Qld, formerly of Port Moresby, is survived by his wife and family. No further details available.
Edna CORBETT (25 December 1996, aged 82)
Edna went to PNG as a nursing sister in the WAAF in 1944-45. There she met her future husband Les (of Colyer Watson, Rabaul). They married in early 1946 and lived in Rabaul until retirement to Brisbane in 1974. Edna moved to Melbourne to a retirement village two years ago. She is survived by two sons and six grandchildren. Information kindly provided by her son