William Manning Edwards, CMG, MBE, MID: Phil Ainsworth
Edwards, William Manning CMG MBE MID, Colonel, NGX455: the story of an Australian Private soldier who stormed Gallipoli on 25 April 1915 and became the CO of NGVR, 1 NGIB & PIR during WW2
Bill Edwards was born in Enmore, Sydney on 27 February 1896. His father was WI Edwards who resided at 115 Enmore Road, Enmore. Bill was 18 years and 7 months when he enlisted on 25 September 1914. He was described as being dark complexioned with blue grey eyes and brown hair. He weighed 66 kg and was 1.625 m tall. For the previous six months he was a Military Science Student at Sydney University. He was attested and posted to D Company, 13 Battalion, 1 AIF with Regimental Number 381. The 13th was formed in NSW and raised just 6 weeks after the commencement of the war. It was part of 4th Brigade under the command of Colonel Monash. Edwards was promoted to Corporal on 1 October 1914 and embarked for overseas in Melbourne on 22 December 1914 on the Ulysses.
The 13th took part in the landing at Gallipoli arriving late on 25 April 1915. For the first four months it undertook defensive operations establishing the ANZAC beachhead. The breakout was attempted on 8 August. Corporal Edwards was made Acting Sergeant on 3 May 1915 after the Platoon Sergeant was wounded. On 11 May 1915 Edwards was wounded and was transferred to a hospital ship. He was discharged from hospital and arrived in Weymouth Depot, in the UK, on 14 September 1915. Weymouth was the Depot for the ANZAC Gallipoli casualties sent to UK hospitals for treatment and for discharge as convalescents.
Edwards was discharged from the AIF on 6 October 1915 when he applied for a commission in the 11th East Surrey Regiment of the Imperial Army. He was appointed 2nd Lieutenant on 25 December 1915 after attending an Officer Training Course at Pembroke College in the University of Cambridge, commencing on 11 October 1915.
The East Surrey Regiment has a long and distinguished history. During WW1, it comprised 18 battalions of which 1 to 4 were Regular Army battalions with the remainder being part of the Territorial Force. The 11th was formed in Devonport on 1 November 1914 as a service battalion. It moved to Dartmouth on 10 April 1915 and became a reserve battalion. It moved to Colchester in mid-1915 and was converted into 21 Training Reserve Battalion of 5 Reserve Brigade on 1 September 1916. A letter of 16 July 1916 to Lieutenant WM Edwards addressed to 12th Service Battalion, British Armies, France is on his file. He left the British Army in 1919 as a Lieutenant. His 1 year and 12 days service with 1 AIF qualified him for the 1914/15 Star, British War Medal and the Victory Medal.
In September 1922 Edwards was sent an Army letter addressed to him in the Public Health Department at Rabaul. His records show an address for Edwards at 5 September 1934 on the New Guinea goldfields at Edie Creek on Kaindi Mountain south of Wau.
In April 1941, the NGVR was deployed in Rabaul (Battalion Headquarters), the New Guinea (NG) Goldfields and the NG Coast. The NG Goldfields comprised the Bn 2/ic located in Wau with a Rifle Company and a Machine Gun (MG) Company, and in nearby Bulolo there was an Australian Army Medical Corp Detachment. The NG Coast was made up of a Rifle Company HQ with a MG Platoon in Lae, while Salamaua and Madang each had a Rifle Platoon.
Bill enlisted in the Militia at Nadzab on 14 August 1941 giving his NOK as Jessie Clydesdale Edwards, 2 Natal Avenue, Edithvale, Melbourne. There were two children and his given occupations were planter and labour superintendent. He had a plantation a few kilometres west of Lae on the Nadzab Road, perhaps a soldier settlement lot? His Regimental Number was NG2000 and he was brought on strength as either a Sergeant or Lieutenant. He was promoted a Temporary Major on 15 September 1941 at the time he assumed command of NGVR when its Headquarters were transferred to the NG mainland in Bulolo after the deployment of Lark Force to Rabaul lessened the significance of NGVR there. Edwards was also Adjutant and he and his 2/ic, Major E W Jeynes, also a WW1 veteran, "encouraged the detachments to develop independent units, preparing escape routes, observation points and stores dumps in their own regions. Although most were not mobilised until 21 January 1942, they continued to give their best without pay".
Lae, Bulolo and Salamaua were bombed at midday on 21 January. The Administrator handed over civilian administration to NGVR and Edwards set up NGVR Headquarters on his plantation west of Lae. The civil population was moved by late afternoon to an emergency camp about 6 km west and plans were made for all unfit males to be evacuated, a group east along the coast to Papua by boat, some through Salamaua to Wau and others including the Chinese civilians escorted from Nadzab to Bulwa and by truck to Wau. Bill Edwards whose nickname was "Mudguts, …. had to be taken seriously as a commander of considerable intelligence".
After the Japanese landed in Lae and Salamaua on 8 March, NGVR's dispositions were 4 officers and 70 other ranks (ORs) in the Salamaua area, 5 officers and 80 ORs in the Lae/Markham area, 2 officers and 100 ORs in the Wau/Bulolo/Bulwa area and another 30 ORs in the Madang/Ramu area, a total of 291 of which only 100 were fit and trained. Estimated Japanese numbers in the Lae/Markham were 1,800 and 300 in Salamaua. "NGVR had to keep in touch with the enemy and dominate the patrol areas without threatening the Japanese enough to provoke them to reinforce and attack in overwhelming strength beyond the limit of the road to Nadzab or beyond Mubo from Salamaua."  NGVR were the "Keepers of the gate".
NGVR was reinforced in late May and early June when Major Keen's larger 2/5 Independent Company was flown into Wau. Although Edwards retained command of NGVR, he handed over to Lt Col Fleay, when Kanga Force was established soon after. NGVR was an exhausted unit by September, although some troops remained in place until early 1943 when NGVR was officially disbanded.
In late 1943, it was decided to form 1 New Guinea Infantry Battalion (NGIB) with Major WM Edwards as its founding commander. Capt BG Dawson, formerly of the 2/22 Bn, was the Adjutant. Edward's initial work was to recruit his soldiers, with the first recruits arriving in camp on 20 March 1944. Edwards returned to Camp Diddy, which was situated near Nadzab, in September and was promoted Lieutenant Colonel. 1 NGIB continued its training until late October when the rifle companies were posted to their operational areas. The companies would operate distantly from their headquarters in different theatres of the war under the command of various Australian Brigades and Battalions. The companies were deployed as follows: 31 October, B Company to Jacquinot Bay, South Coast New Britain; 19 November, A Company to Bougainville and from 3 June 1945 to Jacquinot Bay; November, C Company to Madang; and 10 December, D Company to Open Bay, New Britain.
In November 1944, Lt Col Edwards was promoted to Colonel to command the newly formed Pacific Island Regiment, which comprised 1 PIB and 1 NGIB and 2 NGIV, with 3 NGIB to follow in August 1945. As the battalions had specific and increasing recruiting, training and supply needs and were active over a number of widely spread operational areas, the requirement for a regimental headquarters became a matter of urgency. PIR Headquarters was the old 1 NGIB site at Camp Diddy near Nadzab until 10 September 1945 when it moved to the Bumbu River, Lae. On 10 October 1945, at the age of 49 years, Col Edwards retired from the command and was succeeded by Col. HT Allan. Edwards ceased full time duty on 7 March 1946 and transferred to the Reserve of Officers on 2 December 1946.
Other than that he made an application on 22 May 1963, from an unknown address, for benefits under the Repatriation Act for WW1 as Number 318, 13th Bn, nothing further, unfortunately, is known about his post war life.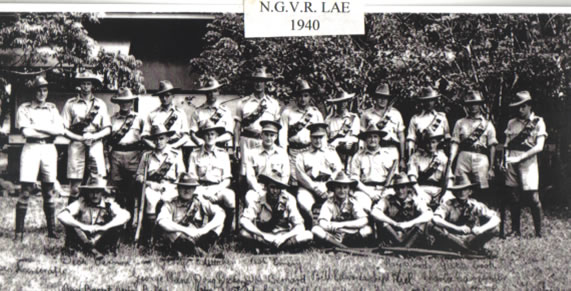 NGVR, Lae 1940: the CO, Major Bill Edwards, is fourth from left in centre row
Sources:
NGVR 1939-1943, A History by Ian Downs, 1999, ISBN 1 875150 03 X
Green Shadows, A War History of the PIB, 1,2, & 3 NGIB by G M Byrnes, 1989.
Service records of WM Edwards from NAA
Google re: 11th East Surrey Battalion; 13th Battalion and Weymouth Depot.