Narara family makes PNG aviation history: Malum Nalu
When the wheels of the Etihad Airways Airbus A330 Flight 055 lifted off the ground in Abu Dhabi bound for Brussels on 30 March 2013, another milestone in Papua New Guinea aviation history was made.
At the controls of Flight 055 was Captain Granger Narara, of Dobu Island, Milne Bay,  and his co-pilot was none other than his oldest son, Nigel Narara.
This is the first time that a PNG father and son team was in control of an international airliner and a great achievement for PNG aviation and the Narara family.
Granger's younger brother, Captain Tico Narara, is the first Papua New Guinean in command of the Airbus A380, the biggest commercial airliner in the world, for Emirates Airlines.
Nigel first went to Dubai in the United Arab Emirates as a seven-year-old child in 1991, when his father left Air Niugini to work with Emirates Airlines as an A310 captain. Nigel completed all his primary and secondary education in the UAE and went on to Embry Riddle Aeronautical College in Prescott, Arizona, USA in 2001 to do a degree in aeronautical science, until the events of Sept 11, 2001 put an end to those dreams. He then transferred to the Royal Queensland Aero Club at Archerfield in Brisbane in 2003 where he completed his commercial pilot's license and instrument rating. He started his flying career with Airlines PNG, where he worked from 2004 to 2006, flying the Twin Otter based in Port Moresby and Kairik. In 2007, Nigel was able to secure a job as a cadet first officer with Air Arabia, a low cost airline based in the UAE, flying the Airbus A320 on a regional network, until August 2012 when he was employed by Etihad as a first officer on the Airbus A330.
"This is the highlight of my 36 year flying career, being able to fly with my son", Narara said.
"An achievement like this is a great way to tell the world that PNG can and does produce some of the best aviators in the world, something that we as a nation can all be proud of. This success is also being replicated in many other top notch professions, notably in the international oil and mining sector where the number of PNG professionals around the planet is increasing. We can be very proud that as a small nation we are able to produce pilots, engineers, oil and gas operators and many other professionals that can stand up and be counted amongst the best in the world."
Nigel said: "I have always wanted to fly with Dad; he wasn't as hard a captain as I thought he would be."
His mother, Regie, said: "Nigel was destined to be a pilot since he was a baby and has always dreamt of flying with his father, so this is a dream come true."
Nigel's two-year-old son Kingston, the next generation of Narara flyers, was also there to greet his dad and bubu (grandfather).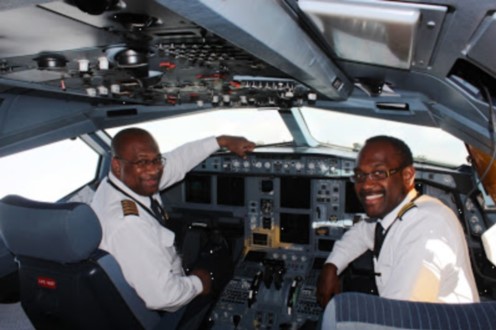 Proud moment: Captain Granger Narara and his co-pilot, oldest son Nigel Narara, inside the Etihad Airways Airbus A330 cockpit before flying from Abu Dhabi to Brussels on 30 March. Picture courtesy of Granger Narara