Vale September 2001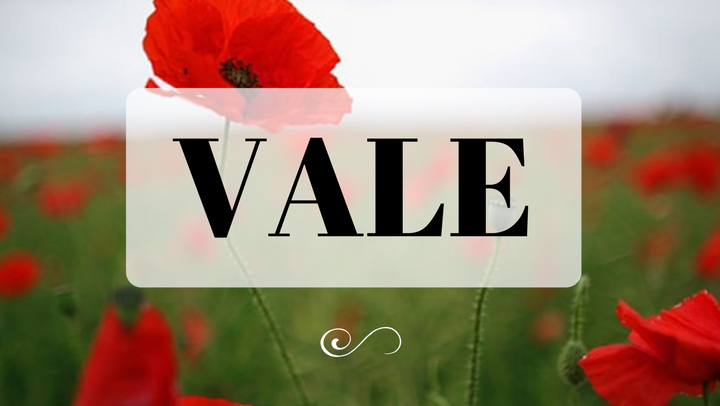 BALENZUELA, Robert(25 June 2001) | BOND, Barry Harcourt(3 May 2001) | CORBY, Arthur Hatton (3 July 2001) | CRAINEAN, John V(17 April 2001) | CURTIS, Henry (Harry)(4 July 2001) | DACHS, Neville N(24 January 2001) | DUNN, George(16 June 2001) | FARKAS, Paul(4 December 2000) | FOWKE, Penelope Joan (Penny)(June 2001) | GRANT, Henry (Harry) V(18 April 2001) | GREY, Bryan(May 2001) | HANSON, John W(circa August 2001) | HOLMES, Jonathan (Jon) Bentley(12 July 2001) | KRAUSE, Julie(8 May 2001) | McKENZIE, Norman John(4 October 2001) | PRIOR, Ron(7 March 2001) | SANDERSON, Betty(17 July 2001) | STONE, Kenneth Charles(25 April 2001) | THISTLETHWAITE, Margaret Mary(22 May 2001)
Margaret Mary THISTLETHWAITE (22 May 2001)
Margaret was the wife of the late Ian Thistlethwaite, who served with the Administration, mainly in the highlands. She is survived by children Paul, Leanne and Janine, and grandchildren.
Ron PRIOR (7 March 2001, aged 82)
Ron Prior was in PNG from 1947 to 1991. He served with the Departments of Education, Forests and Works in New Britain, Milne Bay and Port Moresby. He was a 'hands on' man: this was demonstrated when he built his own home, boat and marina called Tahira, at Bootless Bay in Papua. In that capacity he met people from many fields of work and formed many friendships. The University of PNG purchased Matupore, an island in Bootless Bay, and Ron assisted with some of their projects there. He had an excellent rapport with the academics and students, as well as the esteem and respect of his Papuan neighbours and other residents.
Ron is survived by sons Ron and Jake from his first marriage and by son Geoff and daughters Rhonda and Loam from his second marriage. From Garamut
Julie KRAUSE (8 May 2001, aged 82)
Mainstay of the Rabaul telephone exchange for two decades, Julie lost her sight in later years and was cared for at Brisbane by her sons Teddie and Gus, and daughter Dianne. Julie was a member of the Bucker family from Vunapope and partner of the late George Kassi who worked at the District Office, Rabaul, war excluded, 1927-1967. Jim Toner
John W. HANSON (August 2001, aged 88)
John Hanson died recently in Costa Rica where he had been living in solitary retirement for more than ten years. He worked as a teacher educator in Nigeria, about which experience he published useful material, and in Michigan. He was the Professor of Education at UPNG 1976-77 advising both secondary and primary teachers colleges in an insightful and mild manner.
Barry Harcourt BOND (3 May 2001, aged 76)
After serving in the AT and the American Merchant Navy, Barry returned to New Guinea in 1946 and worked as a plantation inspector for Colyer Watson in Rabaul. He joined the administration in 1956 as a co-operative officer with the Department of Trade and Industry. He served in Port Moresby, Misima and Samarai, and was transferred to Kundiawa to develop the Kundiawa Coffee Society.
He and Jean were married in Rabaul in 1952, and their four children were born at the old Namanula Hospital. Barry was medically retired in 1970 and they made their home at Southport, Qld. Barry gave many years' service as a voluntary worker for the National Party, and for at least 15 years he has been a senior radio operator for the Volunteer Coast Guard.
He is survived by Jean, four children and 12 grandchildren.
Paul FARKAS, OFM Cap (4 December 2000, aged approx. 77)
Father Paul was ordained a Priest in 1951. He worked in Pittsburg for four years and in 1955 was selected to be one of six missionaries to open a new mission in Papua. He spent 26 years in Tari in the Southern Highlands and then 15 years teaching in the minor seminary on the north coast. At the end of June 1996 he suffered from heart problems which ended his days in PNG. In his book Papuan Tales, he remarked of his journey home to Pittsburg: Now instead of dreams and apprehensions over the unknown, he had many marvellous memories and a heart filled with gratitude for the opportunity to be a missionary in PNG.
Those who knew Father Paul may also know Sisters Mel Hoffman, and Lorraine and Ruthann Boylan. The three Sisters have retired from their work in PNG and are returning to the States.
Father Paul's nephew Jim Correll has a wonderful PNG web page to honour him. You will enjoy the photos and tales on www.icubed.com/~fr.paul | . Anne Vans-Colina (née O'Regan), ex St Joseph's High School, Tari
Betty SANDERSON (25 April 2001, aged 84)
Betty was the widow of Clive Sanderson, owner and manager of Madang Air Services
Kenneth Charles John STONE (25 April 2001, aged 84)
Born in Brisbane, Ken Stone was a product of the Marconi School of Wireless which produced operators of extremely high talent. His first posting was to Darwin in the late 30s from where he was appointed to Rabaul about two years before the outbreak of war in the Pacific. Ken played a key role in the rescue of soldiers and civilians in New Britain during WWII.
Back in Australia, Ken resumed duties with the AWA Coastal Radio Service with postings to Townsville between many recurring bouts of malaria. He was later appointed manager of the coastal radio station at La Perouse until his retirement in 1981 and was, for a period, Acting General Manager of the Services.
Ken married Lillian Dixon in 1943 and has two daughters. Lillian survives Ken but sadly is in extremely poor health and has spent several years in nursing home care. 'Bill' Harry
Neville N. DACHS (24 January 2001, aged approx. 71)
Neville Dachs was a teacher in Queensland before going to PNG in the 50s where he taught at Lae and Manus. After completing a course in Special Education at the University of Qld, he served as District Inspector in the Gulf District. After further study he became District Inspector at Lae. Neville was involved in the Scouting Movement in both Australia and PNG and was Area Commissioner in the Morobe District for some years. On his return to Australia Neville taught in Queensland before being appointed personal assistant to the Director of Special Education in NSW. He was very active in various Rotary Clubs, and was several times President of his Club in Sydney. Neville is survived by his wife Helen, and children Ian, Barbara and Michael and their families. From Garamut
Penelope Joan (Penny) FOWKE (June 2001)
Penny was the wife of kiap John Fowke. No further details available.
George DUNN (16 June 2001, aged 71)
George entered Sydney University as a medical student in 1947 while studying at the Conservatorium. The next year he won a scholarship to study violin in Paris but parental opposition saw this opportunity lapse. He went to New Guinea in 1949 as a 19-year-old and worked in Port Moresby with Australian Petroleum Company. He joined the Customs Dept in 1951, and subsequently transferred to Rabaul. In the early 1960s he transferred to Public Health as a medical assistant. He maintained a lively interest in German literature and entered the University of New England to study in depth. Lack of funds curtailed this and he joined the RSL Building Society in Sydney, returning to Rabaul in the mid 60s to work with the Tolai Cocoa Project. He had the skills and patience to communicate with growers and teach them book keeping and office procedures. His contribution to the Project was invaluable and he made many firm friendships with the local people.
In the late 60s George joined the Labour Department in Konedobu as an industrial organisations officer where his integrity and proven ability to work with locals were invaluable. In the rapidly changing society of the 60s and 70s he taught workers the role and function of trade unions and assisted in their establishment, and became involved in ancillary projects including workers clubs. His frequent travel through Papua New Guinea strengthened his already wide knowledge of locals and allowed him to consolidate the efforts of other Dept of Labour officers. The memories of his time in PNG were the cornerstone of his retirement.
George was a kind, tolerant man with an astonishing diversity of skills. His knowledge of music was encyclopaedic and he shared this generously. An accomplished linguist, he was at home in many languages. A modest man who loved and cared for many people, George had the rare quality of being genuinely welcome in whose-ever house he visited. We miss him. John Herbert and Peter Cahill
John CRAINEAN (17 April 2001, aged 87)
John Crainean and his wife Maria went to Port Moresby in 1949 with their five children. John worked in sawmills as a wood machinist/foreman. Later the family moved to Wau where John worked for New Guinea Goldfields (5 years), to Lae (6 years), Mendi (9 years) and Port Moresby. They 'retired' to the family farm in 1973. John's wife predeceased him.
Henry (Harry) GRANT (18 April 2001, aged 79)
Harry was educated at the Church of England Grammar School, Brisbane. During WWII he served in the Army in Bougainville and New Guinea in the Engineers Unit. He first visited Rabaul with the Australian forces after the Japanese surrender. In 1955 he joined the Education Department (Technical Division) and taught at Malaguna Technical College until 1962 when he was transferred to Lae. There, one of his main extra-curricular duties was as careers adviser, an activity he enjoyed. In 1963 he married Joyce Lightbody. On retirement in 1976 he enjoyed voluntary work and golf, and he and Joyce travelled widely. In early 2000 they visited many areas of the Antarctic including McMurdo Base and Scott's but on the Ross Sea. Harry died suddenly as result of a stroke. His wife Joyce survives him. Joyce Grant
Arthur Hatton CORBY (3 July 2001, aged 84)
Arthur Corby died at Greenslopes Hospital Brisbane. Arthur had a close wartime association with Bobby Gibbes as an aircraft engineer. Early postwar he worked with Gibbes Sepik Airways before establishing Wahgi Plantation at Banz, Western Highlands District. In 1958 he went to Popondetta to plant cocoa and returned to Australia in 1976. From Arthur's son Steve
Robert BALENZUELA (25 June 2001, aged 65)
Just about everyone who lived in and around Goroka from 1964 to 1993 would have either personally known Bob Balenzuela, or at least known of him. 'Balo', as he was affectionately known by everyone, was also known as 'Daulo Bob' in recognition of the many years he spent overseeing the maintenance and upgrading of the Highlands Highway across the Daulo Pass between Asaro and Watabung from 1965 to 1973, working for Dept of Works.
Born in Collaroy, NSW, Bob first came to Goroka with his wife Janice in 1964, to work for his father-in-law Eric Gane at the local brickworks. In the ensuing 29 years Bob became a local identity, a big man with a larrikin glint in his eye, typically larger than life, as befitted the culture of PNG expatriate society in that era.
In 1973 Bob was recruited by the Goroka Council to improve the rural road network which was fundamental to the economic and social welfare of the village people. Bob devoted his enormous physical energies to getting the work done, and with great success. He remained in that position until 1985. Then he became Manager of New Guinea Motors until 1987, and then Property Manager for Talair.
In 1989 Bob was appointed a member of the Eastern Highlands Capital Authority and assisted greatly in restoring urban services for Goroka which had fallen into disrepair. In 1991 he was recruited by the Eastern Highlands Provincial Govt as Provincial Works Manager where again he worked tirelessly with the people, finally calling it quits in 1993 when the money ran out!
Bob was a champion lawn bowler, representing PNG in both South Pacific and Commonwealth Games. He returned to a reluctant retirement in Brisbane in 1993 where he was able to enjoy the companionship of his wife Janice (long time employee of Dennis Buchanan at Talair and Flightwest) and his children Roslyn, Beverly and Robert. Will Muskens
Jonathan (Jon) Bentley HOLMES (12 July 2001, aged 61)
Jon died unexpectedly of a heart attack and never fulfilled his wish to return to PNG. He spent 10 years in the Territory, commencing as a cadet patrol officer at Kainantu in 1958, then as patrol officer in charge of Lufa Patrol Post. Then he served briefly at Goroka Sub-District Office and then as OIC Chuave Sub-District. It was at this time that his patrol was attacked, and all his possessions lost when his house was burnt down, though he did manage to salvage his trumpet! He certainly encountered some fascinating events, and had an abiding love for the Highlands and its people.
In September 1960 Jon was posted to District Office, Port Moresby and met Frances Meade who worked for the South Pacific Post. A short time later he reluctantly resigned from Dept of Native Affairs as he could never get an answer on the two comas he sustained due to Camoquin poisoning. This disappointment followed him all his life.
Jon then spent a brief period in the Western District, then returned to Moresby and rejoined the Public Service as a temporary officer working at Taxation, and Stores and Supply. He married Frances in 1961. Jon had his own dance band, the AC's, who regularly played venues such as the Badili Club, the RSL and Aviat Club. He ran several successful annual variety concerts, The Sound Festival to assist Red Cross, and even had the Police Band playing jazz! During this time he co-founded the Papuan Cultural Association.
After working for the Public Curator in Daru, Jon and Frances and their two sons returned to Australia in 1967. In Melbourne their third son was born and the couple commenced an entertainment agency which operated for 22 years.
Jon is survived by his wife Frances, sons Sean, Patrick and Jason, and grandchildren. From Jon's wife, Frances
Henry (Harry) CURTIS (4 July 2001, aged 88)
Harry was born in England and trained as a radiographer with the RAMC; before WWII he served in Shanghai and Hong Kong. He was one of the evacuees from Dunkirk where he lost hearing in one ear when a shell exploded next to him.
After leaving the army he worked in Tanganyika (now Tanzania) and the Gold Coast (now Ghana) before emigrating to Australia with his family in 1959. In 1961 he moved to TPNG where he worked in the X-ray department of Moresby General Hospital until 1970 when he and his wife returned to Australia, first to Mackay, then Melbourne where they remained.
Harry is survived by his wife Penny (ex Steamies and P & T), son David, daughter Anne (ex Treasury), grandchildren and great-grandchildren. From Harry's daughter Ann (Young)
Norman John McKENZIE (4 October 2001)
Norman retired from PNG in the late 1970s. No further details available
Bryan GREY (May 2001)
Bryan Grey led Air Niugini for three years from 1976 to 1979 when the new airline was still establishing its own identity in PNG. He was responsible for expanding Air Niugini's international and domestic services.
His contribution to aviation in PNG began in the 60s as Company Secretary and later Assistant General Manager of Ansett Airlines based in Lae. His time at Ansett coincided with the massive airlifts between Madang and the Highlands in the days prior to the opening of The Highlands Highway as an all-weather road. In 1973 he joined Territory Airlines as General Manager and concentrated on the tourist business of Talco Territory.
His expansion plans for Air Niugini were often the subject of controversy but he was always ready to explain himself, either publicly through the media or privately over a beer at the nearest club. In every airline he served he mixed easily with staff.
Moving back to Australia after his term with Air Niugini, he headed East-West Airlines, taking the relatively small NSW regional airline into some direct and interesting conflicts with Australia's two major airlines. Later, via Compass Airlines, he attempted to break the long­standing hold of these two airlines on the lucrative trunk route services. Both attempts to establish a third major airline failed, but his efforts will be long remembered by many Australians.
On his departure from PNG, the Post-Courier said, "Since he took over the helm three years ago the airline has grown from a marginal profit earner into an efficient money-maker. As he leaves Papua New Guinea Mr Grey has the satisfaction he has put the Air Niugini Bird of Paradise on the map…" From an obituary by Jim Eames