Vale June 2001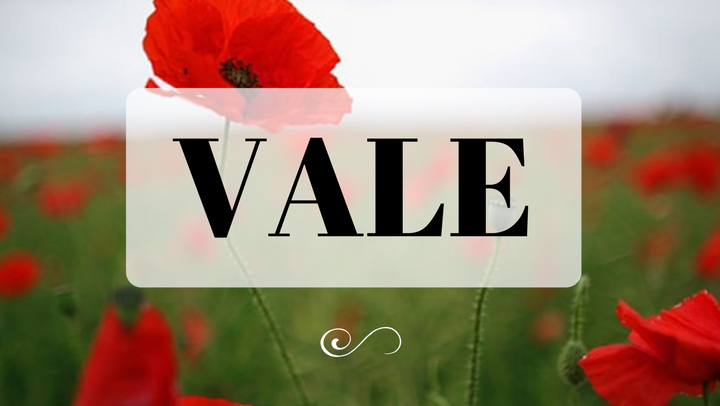 BANNISTER, Tim(16 December 2000) | COUNSEL, Virgil Baden (Bert)(19 February 2001) | DESAILLY, Bernice Marie(1 March 2001) | DETMERS, Gerry(9 March 2001) | EDWARDS, Yvonne Yolanda(10 May 2001) | FISCHER, Kitty(7 May 2001) | KENNY, Madge, MBE(10 November 2000) | KUDRYCZ, Boleslaw (Bob)( 12 April 2000) | LAM, Thomas Hung(31 March 2001) | POWELL, Alven(17 March 2001) | RAPSON, Alan Morris(early 2001) | REYNOLDS, John Peter(12 May 2001) | THECKSTON, Ruby Beatrice(6 April 2001) | VANDERIET, Jan(22 March 2001) | WESTON, Thomas McClelland(9 January 2001) | WILLIAMS, Henry Leslie (Les), MC(24 March 2001)
Jan VANDERIET (22 March 2001, aged 80)
Jan joined the Department of Agriculture in 1955 as a Registrar. In 1958 he was appointed Organisation and Methods Officer with the Public Service Commissioner. From December 1972 until he left in 1975 his duties concentrated on staff training and development. Apart from his job, in the late '50s he conducted classes for mixed-race teenagers who at that time were not catered for, and assisted as interpreter and translator when there was an influx of West Irian refugees. Along with Bert Byworth, he revived the Hiri and Dugong dances which had not been performed for about 40 years, and was involved in providing a basic course in music reading, composition, etc., for Papua New Guineans interested in promoting local musical through string bands. Believing that English was the key to advancement, he taught oral English to disadvantaged groups as a part solution, and supported debating clubs.
In 1975 Jan joined the Dept of Administrative Services in Brisbane as registrar of Commonwealth properties, staying till 1980. During this time, and continuing on until 1990, Jan worked for radio station 4MBS-FM as recordist and producer/announcer of classical concerts and operas. Jan was a regular blood donor: the Red Cross gave him an award for making over 100 donations of blood. He survived his wife Genie by three years. He is survived by his sons Edward and Bill, their wives, and grandchildren. Bill Vanderiet, and ROAPNG records
Yvonne Yolanda EDWARDS (10 May 2001, aged 78)
(This late obituary was received from David Keating and is not contained in the printed Journal)
Yvonne Edwards was born 30 June 1923 in Rangoon, Burma (now Yangon, Myanmar). She emigrated to Australia with her husband Bert (White) Edwards following WWII and settled briefly in Western Australia before moving with her family of five children to Asaro in the Eastern Highlands.
On moving to the town of Goroka in 1963, Yvonne took a job as a bookkeeper/clerk at Goroka Motors. She later took a position with the Department of Posts and Telegraphs. When her husband was transferred to Port Moresby in 1966, she worked as a clerk in the Accounts section of the Education Department in Konedobu.
She left PNG with her husband in 1972 and settled in Cleveland. In 1975 they owned and operated a small café in the town centre for 18 months. In 1995 they moved to Runaway Bay on the Gold Coast and shortly afterwards Yvonne went into fulltime care suffering Alzheimer's Disease.
She passed away on May 10th, 2001, aged 77 years. Yvonne's ashes are interred together with those of her husband, at Allambe Memorial Park, Nerang, on the Gold Coast, Queensland.
Yvonne Edwards is survived by her five children, Paula, Laura, Jocelyn, Jonathan and Yolande: her ten grandchildren and twelve great-grandchildren.
Kitty FISCHER (7 May 2001, aged 73)
Kitty Fischer was born in Slovakia. She and her sister were sent to Auschwitz concentration camp where they managed to survive with the help of another internee who happened to be gay. After the war she studied sociology and in 1948 she came to Australia where she met and married her husband Kurt. They had a son, Paul. In 1965 she went to New Guinea as a business advisory officer helping to develop the country's textile industry, and stayed there until 1972. In later years she was involved in human rights activities and, remembering the help given her in Auschwitz, fought for gay and lesbian rights in Australia. She is survived by Paul.
Ruby Beatrice THECKSTON (6 April 2001, aged 99)
Ruby was the wife of Joseph Henry Theckston (deceased), who was with the Department of Police. She was in PNG from 1937 to 1962 and lived in Lae, Rabaul, Wewak, Bougainville, Wau and Port Moresby. ROAPNG records
Thomas McClelland WESTON (9 January 2001, aged 81)
Tom Weston went to PNG in 1947. He held various positions in Posts and Telegraphs and later worked in the Office of the Economic Adviser (later National Planning Office). He retired in 1978 but returned for two years in 1982-84 as a Senior Project Officer in the Dept of Finance.
Tom helped start the first baseball team in PNG, and was one of the first expatriates to introduce the game to Papua New Guineans. He then turned his interest to birds and was a founding member of the Bird Society in Port Moresby. This interest took Tom and his wife Inez to many countries in the world. After his retirement in 1978 he and Inez travelled around North America for nearly 18 months in a VW Campervan before returning to Australia. They moved to Canada just before Tom's last term of service in 1982, after which they continued travelling and birding throughout North America. Tom was a member of the Victoria (BC) Natural History Society and founding member of the British Columbia Field Ornithologists' Society.
Over the years Tom maintained his staunch support for PNG and after retirement he continued to follow the progress of many of the people he had known while serving there. He is survived by his wife Inez, sons Don and Neil, and two grandchildren. Neil Weston
Henry Leslie (Les) WILLIAMS, MC (24 March 2001, aged 84)
Les Williams was born in Melbourne in 1916. He had a distinguished school record and also developed as an exceptional athlete who represented Victoria in both tennis and athletics. Before deciding to accept a cadetship in New Guinea, Les seriously considered a career as a professional footballer in the Victorian Football League (now the AFL). He was appointed a Cadet Patrol Officer in the Department of District Services and Native Affairs in what was then the Mandated Territory of New Guinea on 31 October 1938. His first District was Madang.
Like many other officers, his career was interrupted by World War II. He enlisted in the ALF and was in the newly formed Armoured Division when he was transferred to the Inter Allied Services Department (ISD) for special duty in New Guinea and then to the Allied Intelligence Bureau (AIB) for Coastwatching inside Japanese occupied territory. Les had a distinguished war record culminating in the recapture of New Britain when Coastwatchers emerged from hiding to direct a New Guinean uprising against the Japanese during the final assault on Rabaul by the A1F in August 1945. Les was awarded the Military Cross for a "high disregard for personal danger .. in a dangerous undertaking".
After the war, Les returned to Papua New Guinea and served as a District Officer and District Commissioner in several districts.
Les and Margo retired to Sydney in 1971 and Les was the secretary of the Retired Officers Association of PNG for many years. He became our patron on the death of Bill Seale in 1992.
Friends and companions of Les Williams will remember him as a man devoted to his family with an authentic religious experience and a `duty of compassion' that was a real part of his daily life. Les is survived by his wife Margo (Margarette) and children Garry, Susan, Jennifer and Patricia. A son Peter predeceased him. Ian Downs
On the website of the Australian War Memorial there is a very interesting collection of sound recordings and transcripts of Les Williams' experiences in WWII, and can be accessed HERE
Tim BANNISTER (16 December 2000, aged 57)
Tim Bannister was a member of the Dept of Agriculture, Stock & Fisheries. A Didiman, he went to PNG aged about 21, and served from 1964 to 1983 at Henganofi, Hagen and Moresby. In his early years he was part of a team pioneering the tea industry in the Highlands. In the '70s Tim was one of those selected to form the inaugural staff of the new Highlands Agricultural Training Institute close to Mt Hagen, later to become the Highlands Agricultural College. By this time the Bannisters were an important element in the community, Ellen at the Hagen High School, and Tim quite senior in the district hierarchy. The family moved to DASF Headquarters (the Training Section), Konedobu, some years before they returned to Australia. Tim is survived by his wife Ellen and sons Sean and David. David Bannister and ROAPNG records
John Peter REYNOLDS (12 May 2001, aged 76)
John was a former lecturer in "Government" and principal of ASOPA, later the International Training Institute, at Mosman.
Madge KENNY, MBE (10 November 2000)
In 1943 a tall, slim 23-year old sergeant in the British Army WATS swapped her khaki battle dress for a probationer nurse's uniform at London's Hammersmith Hospital. Did she then have any idea that in a few short years time she would be the only European nurse responsible for the care of many thousands of families in one of the least developed countries on the other side of the world? Whatever the answer to that question, in 1947 Madge bade farewell to England for a nursing position at Rotorua, New Zealand, and the following year joined the surgical unit at Melbourne Hospital headed by the renowned surgeon, "Weary" Dunlop, not long returned from his years in Japanese prisoner-of-war camps.
In 1949, equipped with her army background and her nursing experience in world-class teaching hospitals, she took up a post at the TPNG Public Health Department's Port Moresby Hospital. This was the beginning of some twenty-five years' dedicated service to the people of PNG. Within months she was sent to Misima to assist European Medical Assistant (EMA) Jim Kenny in coping with the 1950 polio epidemic. The same year Madge married Jim and shortly after that the couple moved to Abau, Jim as OiC and Madge looking after the clinical activities. While at Abau, son Michael was born, and accompanied his parents throughout their postings until old enough to be sent to school in Australia.
The fifties saw the Kennys move from Abau to Losuia, then on to Sohano and in 1961 to Saidor, where Madge had a particular responsibility for establishing the infant welfare service. In the early sixties there were postings to Mount Hagen Hospital, Yangoru and Maprik. In 1965 Madge was posted to the New Ireland District where, during the next ten years, she was to be in charge of the maternal and child health service based in Kavieng and to become, as EMA in Namatanai, the first and only woman to be appointed in charge of a sub-district health service.
Sadly, with the coming of independence in 1975, Madge left PNG. The award of the MBE was a splendid, yet all-too-inadequate recognition of her immeasurable contribution to the provision of health care to so many of the country's people, and to the training of both indigenous and expatriate health personnel.
Returning to Australia, Madge pursued a distinguished career in nursing and health service management as matron of Caville House and then Montefiore Homes in Sydney, and later on the staff of the Baulkham Hills Baby Health Centre. Retiring in 1980, Madge continued to live in Sydney, and died peacefully while visiting Michael at Bogancar, northern NSW.
Those of us who had the pleasure and privilege of working with Madge in PNG will never forget her quiet and calm authority, her resourcefulness, her clinical acumen and procedural skills (far surpassing those of some of the raw young doctors with whom she so generously shared her experience), her insistence that things be done the right way (shades no doubt of her army training and her years at the Hammersmith Hospital Nurse Training School), and yet her eagerness to be involved in trials of new methods of preventing and treating diseases, her tremendous energy and capacity for work: she was one of the very few women, perhaps the only one, who patrolled 'kiap-style' with patrol boxes, Tilley lamps, and tobacco sticks for a line of carriers. Above all, we remember her unfailing concern for her patients, her ability to gain their confidence and trust, to support and comfort them, to be, as she was so widely recognised, truly 'Mama bilong ol'. John Dewdney
Bernice Marie DESAILLY (1 March 2001, aged 69)
Bernice was teaching school in Victoria when she married Neil Desailly of the Dept of District Services and went to live with him, first in the Southern Highlands at Koroba and Tari (1961-1964) and then for seven years at Kundiawa where Neil was appointed as Resident Magistrate (1966). For much of her time at Kundiawa Bernice taught at the Primary A School. In 1971 the Desaillys moved to Port Moresby where they remained until they left PNG in 1975. From then until her death they lived on the NSW Central Coast (Gosford area). Bernice was very involved in the local Art and Craft Centre where her main interests were pottery and painting. For a time she did voluntary work at a school for the hearing impaired in Sydney.
Bernice is survived by her husband Neil, daughter Peta, and three grandchildren. Neil Desailly
Alven POWELL (17 March 2001)
Alven Powell died at his home in Glendalough WA. He worked for Burns Philp in Port Moresby for some years and will be remembered for his contribution to The Arts Theatre. No further details available. Ray Watson
Gerry DETMERS (9 March 2001, aged 74)
Gerry was born in Holland and trained in tropical agriculture. After working in Indonesia and Tanzania, he and wife Anne migrated to Australia in 1964. They soon moved to PNG where Gerry worked on plantations at Kudjip and Minjingina in the Western Highlands. He joined Dept of Agriculture Stock and Fisheries in 1969 and worked as an Agricultural Extension Officer in the Chimbu and Eastern Highlands. He and Anne left PNG in 1978 and operated several newsagencies around Brisbane until he retired in 1987. For Gerry, retirement meant working from dawn till dusk developing a macadamia nut plantation at Blackbutt. It was at a productive stage when ill health intervened. He died after a short illness. He is survived by Anne, sons Herman and Maarten, daughters-in-law Dawn and Cheryl, and eight grandchildren. Godfrey Grubb
Boleslaw (Bob) KUDRYCZ (12 April 2000, aged approx. 79)
Bob was born in Poland and during WWII was a fighter pilot for England, flying Hurricanes. Postwar, he became one of the New Australians who built the Snowy. In 1953 he moved to PNG as a rotmasta with Comworks until recruited into the Native Labour office at Rabaul in 1960. Harry West (then a District Officer) thought Bob could do better than supervise road gangs and was vindicated when he was assigned to deal with the complexities of Workers Compensation at Konedobu HQ. Before going finish in 1980 Bob was in charge of the Labour Department in New Ireland. He retired in 1981. In Sydney Bob always marched on Anzac Day with the Polish Eagles and even after moving to Beenleigh, Qld, travelled down for that reunion. Bob had two children and one grandson from his first marriage. In 1984 he married Sol, a Nursing Sister (now retired) who survives him. Sol Kudrycz and Jim Toner
Alan Morris RAPSON (early 2001, aged approx. 89)
Morris Rapson was educated in New Zealand. His first major job was as Research Scientist on the vessel Discoverer 2, studying ocean currents, work which proved vital for submarine operations in WWII. After the war he married Alison and not long afterwards the family moved to Sydney where he worked for the CSIRO Oceanographic Research Unit. In 1952 he was appointed head of the Department of Fisheries at Konedobu. Later Alison, and by now three children, joined him there.
The job in PNG was a tourist's dream—visits to the Highlands, to lakes perched on the side of mountains 4,000 metres above sea level, to Bikini Atoll to study the effects of the atom bomb tests, to the Fly River to check for deer possibly suffering from foot and mouth disease, to the Solomon Islands, to Indonesia, to Japan—the list is almost endless! Morris became an accomplished writer, completing a diary of every trip, writing official reports and presenting papers to scientific meetings.
He was able to retire in 1971 at the age of 59. On retirement he moved to Airlie Beach where he spent the next 30 years and continued to write, travel, photograph and stir. He joined local clubs, and became passionate about the environment, especially foreshore development about which he often wrote to the media. Morris was a lifetime tourist, and a hoarder of books and memorabilia from all over the world. There isn't a continent he didn't set foot on, very few countries he didn't visit, and no one that he didn't try to understand. His mind was quick and alert until his death. He will be sadly missed by his family and friends. Morris's wife Alison predeceased him. He is survived by a daughter and two sons, and grandchildren. Fred Kleckham
Thomas Hung LAM (31 March 2001, aged 79)
Thomas was born in PNG in 1921 and left in 1973 He was a clerk in Treasury Department at Rabaul.
Virgil Baden (Bert) COUNSEL (19 February 2001, aged 70)
Bert Counsel spent his entire adult working life in PNG. He began his career as a Cadet Patrol Officer in 1948. He later established a business network in the Gulf Province and in 1968 won the Gulf & Western seat in the House of Assembly. He soon earned a reputation as a battler for his area and for Papua overall. He had business interests embracing trade stores, sawmilling, shipping and other ventures. He co-founded the company Trans-PNG and his sons Julian and Brendon worked with him from their Boroko base.
Bert was granted citizenship after Independence. He and his late wife Ganiga had nine children. The funeral was held in St Joseph's Church, Boroko. Garamut Newsletter
Bert Counsel went to PNG at around 18 years of age and spent the rest of his life there. He began as a cadet patrol officer in 1948, then went into business. In the mid-50s he settled at Ihu in the western part of the Gulf Province where his business interests included a trade store, sawmill, shipping and other ventures. In 1968 he won the Gulf and Western seat in the House of Assembly. He spoke out for his constituents and the Papua region generally and felt that the region was overlooked in the rush for development as Independence approached. He and his wife Ganiga had nine children: Ganiga died in 1989. He was one of the first to be granted citizenship after Independence. His funeral took place at Boroko, Port Moresby. Post-Courier, 20 February 2001