Vale March 2001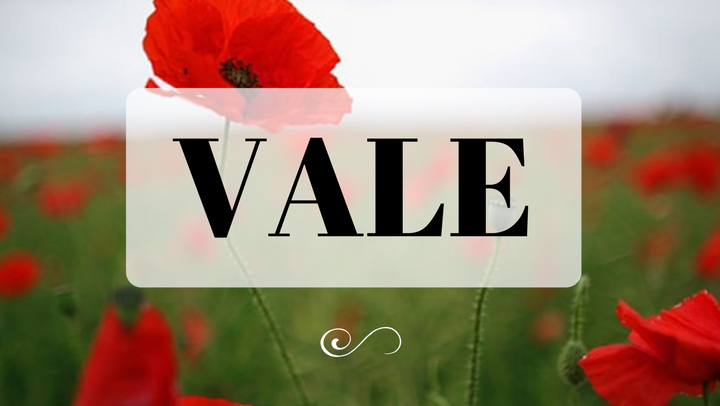 ASHCROFT-SMITH, John Gerrard(8 January 2001) | BARMES, David Edward(13 January 2001) | BELL, Leslie William Gordon (Les), OBE(11 December 2000) | BOOTH, Valmai(13 January 2001) | BRODBY, Herbert (Bert) Walter(20 January 2001) | CORLIS, Maxwell Francis(25 October 2000) | COX, Phyllis Elizabeth(26 November 2000) | CRELLIN, Val(16 November 2000) | EDWARDS, Alexander (Alec) Henry(30 December 2000) | ENGLAND, Margaret (Meg)(28 October 2000) | GOUGH, Muriel Rose(19 December 2000) | GREY, Michael R(19 February 2001) | HULBERT, Harry Stuart(11 December 2000) | KIENZLE, Ailsa Mary(22 January 2001) | KRIEWALDT, Ernest Emil (Ernie)(10 January 2001) | KROLL, Ulrich Max(April 1998) | MATHEWS, Adrian(2000) | McVINNEY, Father Paul S.V.D.(30 June 2000) | NISBET, Merle(10 September 2000) | NISBET, Norman Edward (1 January 2001) | SARCOZY, Geza(29 September 2000) | WRIGHT, Max(13 July 2000) | YOUNG, Francis Robert(13 May 1999)
Michael R. GREY (19 February 2001, aged 57)
Mike joined the Department of Native Affairs in 1960 and served his cadetship at Kundiawa before going to Melbourne University where he graduated with an Economics degree. On return to PNG he transferred to the Co-operatives Registry and was last stationed at Maprik before moving to a headquarters post. While attending a short course at the East-West Centre, Honolulu, he met his future wife and they married in Moresby in 1971. Before leaving PNG in 1979 he had become Assistant Director, Development Projects, in the Finance Department.
Mike became an Islands specialist in finance and development economics, spending several years in Tonga and Indonesia before moving to Sydney to work for EPIC. The attraction of island life proved too strong for Mike and Lee, so they were soon off to Vanuatu where Mike advised the Departments of Agriculture and Finance before returning to Sydney to work for ACPAC (now called AusAID) in 1993. Subsequently Mike made many visits to all parts of PNG as well as Samoa and Kiribati assessing prospective projects requiring financial support. Far too young, Mike was stricken with a brain tumour but while still mobile in December he welcomed wantoks visiting from Perth and Darwin: Pat Dwyer whom he had known for 40 years since both were kiaps in the Chimbu, and Jim Toner, 34 years. He had been Best Man at the Moresby weddings of both. Michael leaves behind Lee and two talented sons, David and Nicholas. Jim Toner
Val CRELLIN (16 November 2000)
Val was the wife of kiap Bill Crellin, best remembered for his work among the Tari people of the Southern Highlands. Later the couple moved to Milne Bay and then to Moresby, finally leaving for Sydney in 1968. Prior to her marriage Val was a senior journalist; she worked in Canberra for some time and in London was a correspondent for the Packer organisation. Bill predeceased her. Val is survived by her son Anthony.
Alexander (Alec) Henry EDWARDS (30 December 2000, on his 77th birthday)
Alec Edwards spent 20 years in PNG. Initially he was an accountant in banking and then he joined the administration where he served in Treasury and then in the Public Service Commission. He retired in 1975 with the coming of Independence. During their retirement at Surfers Paradise, Alec and his wife Pat took leading roles in many organisations. Pat predeceased him. Relatives from Perth and Adelaide attended the funeral service along with the many friends he made during his retirement in Queensland. Vin Smith
Valmai BOOTH (13 January 2001)
Valmai and her husband Harvey went to PNG in 1951. They lived in Mt Hagen for some years, then in Wewak, before settling in Port Moresby. Val had two daughters Diane and Cheryl, born in the Territory. She worked for some time in the Department of Forests and Department of Agriculture, Stock and Fisheries. They returned to Queensland in 1974 and eventually retired to Bundaberg where Valmai passed away after a long fight with diabetes and kidney failure. She is sadly missed by her husband and daughters. Harvey Booth
Maxwell Francis CORLIS (25 October 2000, aged 73)
In 1943 Max became a cadet in the Queensland Police Force. He became a Constable in 1947 and served in Cairns, a tough posting where he dealt with itinerant workers in the surrounding canefields. In late 1949 he joined the Royal Papua and New Guinea Constabulary and was posted to Port Moresby Police Station where he found that many colleagues from Cairns Police Station had preceded him. They included Arthur Rackemann, Jack Woodmansey, Mick Gallen, Vern McNeil and Jim Dutton. While in Moresby he married Dallas Baldwin, and their son John was born.
Max also served at Police Headquarters, Konedobu, as well as Bulolo Police Station. He was OIC of the Police detachment sent to Popondetta after the eruption of Mt Lamington in 1951. After relieving postings as OIC Bomana and Lae gaols, Max transferred from Police to the newly created Department of Corrective Institutions and moved to Rabaul where he ran the gaol before establishing a new Corrective institution at Keravat. Promoted to Superintendent in 1961, he returned to Bomana Corrective Institution as OIC, then served with Treasury and finally with Transport, Works & Supply before 'going finish' in 1976. Max attained representative status in Rugby League and basketball, but Rugby League was his lifelong interest. He joined the Papua New Guinea Volunteer Rifles when it was formed in early 1951.
On returning to Australia Max was Security Manager for Big W at Gladstone and later at Kawana Waters. After he and Dallas divorced, Max married Betty Tidswell and moved to Peregian Beach. Upon Betty's death Max moved to a retirement village in 1999 and joined in their community with gusto. He is survived by his son John, his daughter-in-law Gaynor and grandchildren Erin and lemma, his brother Ross and brother-in-law Derry Baldwin. John Corlis
Phyllis Elizabeth COX (26 November 2000, aged 84)
Phyl was the wife of Harry Cox (deceased), long-time medical assistant who was later in the Teaching Commission, then in the Department of the Chief Minister and Development. Phyl was in the Air Force during WWII. She attended two CWA World Conferences and in 1973 was awarded Life Membership of World CWA. She left PNG in October 1973. Phyl is survived by her son Henry, daughter-in-law Christine, and grandchildren Kamron and Raymond.
Ailsa Mary KIENZLE (22 January 2001)
Ailsa was the wife of Wallace Kienzle, a prospector before WWII. With his brother, Bert, Wallace developed their rubber and cattle property and goldfield at Kokoda.
Leslie William Gordon (Les) BELL, OBE (11 December 2000, aged 96)
Les passed away suddenly about a month short of his 97th birthday. Bertha, his wife, passed away some years previously yet he was never lonely. He retained his active interest in everything, particularly things technical, until just prior to his passing.
Les went to New Guinea in the 20s, followed in due course by his three brothers and his parents. Principally with plantations on New Ireland, and an engineering works in Kavieng, he moved widely around New Guinea in the pre-war days. He was involved in coastal sea transport using a variety of auxiliary sail powered vessels, and in trade stores, supported by Bertha.
WWII saw him in New Guinea with the RAAF establishing radar including behind Japanese lines. He received an OBE for this work. Two of his brothers and his father were killed in New Guinea during the war. He contracted scrub typhus, yet after recovery was re-posted to New Guinea and served north and westwards to Borneo. After the war the couple returned to New Guinea but moved to Queensland in 1951 where they bought land near Les's only surviving brother, at a then little known place called Jubilee Pocket, now known simply as Jubilee, a suburb of Airlie Beach. Here he set up a small sawmill mainly for tomato case timber, grew small crops, ran cattle, and continued his passionate relationship with amateur radio, call-sign VK4LZ. Les is survived by his nephew John. John Bell
Harry Stuart HULBERT (11 December 2000, aged 71)
After service with the Lancashire Fusiliers, Stuart Hulbert joined the Colonial Police Service serving for 8 years in the Uganda Police. In January 1964 he joined the RPNGC and served a short while before going to the Special Branch of the Constabulary where he remained at various postings until resigning in 1971. He then joined the PNG Security Intelligence Organisation until 1976. He then migrated to North Queensland, where he became variously a farmer, an antique dealer and lastly an estate agent. He is survived by a son in the UK (first marriage); at Rabaul he was married to Lucille Kuster (daughter of artist Annie Kuster and her husband Gus) for some years, and is survived by his partner of many years, Maralyn. M.R. Hayes
Paul McVINNEY, SVD (30 June 2000)
Father McVinney, who served more than 30 years in PNG, passed away in Techny, Illinois. In retirement he was writing up aspects of the work of the Divine Word Mission in PNG when in March 2000 he had a severe stroke which left him with complete paralysis on the right side of his body. December 3 would have been the fiftieth anniversary of his ordination.
Father Mac was an enthusiastic educator who, for a number of years, was the head of Catholic Education in PNG. In the 1960s, as PNG developed the policy of Universal Primary Education, Father McVinney laboured to ensure that Catholic schools and teacher training colleges kept abreast of new developments. Those who knew him valued him not only as an astute and indefatigable educator but as a warm and genial raconteur and friend.
He had a 'larger than life' personality and will be sadly missed by those who served with him in those formative years of education in PNG. Frank Johnson and Bob Calvert
Geza SARCOZY (29 September 2000, aged 71)
Dr Sarcozy passed away in the RPA Hospital in Sydney. He was Professor of Obstetrics and Gynaecology at the University of PNG for many years. John Schofield
Max WRIGHT (13 July 2000, aged 70)
Max joined the Public Works Department in 1949 and soon became a well-known and well-liked figure on the road from Edie Creek through Wau, Bulolo, Mumeng, Labu and on to Lae. In 1954 he moved to Rabaul and spent some time logging for J L Chipper. In 1957 he moved to the north coast of New Britain logging at Bialla. Later he also became the popular host of the hotel at Hoskins and the tavern at Kimbe. The family returned to Bundaberg in 1983 and Max took up a farm at Kilcoy. He retired in 1997 to Deception Bay. He is survived by his wife Shirley, three children and two grandchildren. Garamut Newsletter
Merle NISBET (10 September 2000)
Norman Edward NISBET (1 January 2001, aged 84)
Merle and Norm were married in Perth in 1945. Following the birth of their only child, Leigh, in 1946, they moved to Kalgoorlie before Norm took up a position with the Administration in Rabaul in 1948. Merle became a dental nurse with the Department of Health whilst in Rabaul. In 1956 the family moved to Moresby where Norm was employed by the Customs Department. They retired from PNG in 1970 and settled at Banora Point (South Tweed Heads) where they were active in the local community. Merle and Norm are survived by their son Leigh and a granddaughter. Garamut Newsletter
Adrian MATHEWS (2000)
Adrian Mathews was in the Health Department in the 405 and 50s, always serving on the Papuan side, and was Senior Medical Assistant at the new Port Moresby General Hospital. His wife predeceased him. Bert Speer
David Edward BARMES (13 January 2001, aged 69)
David Barmes grew up Maryborough, Qld. He attended Nudgee College, then obtained a degree in dentistry at the University of Queensland. He married Rosemary in 1955 and the couple moved to PNG where he became Chief of Dental Services, a post he held from 1955 to 1967. During these years their five children were born. In 1962 David was awarded a higher doctorate by the University of Queensland for his work trying to find the causes of dental caries.
David believed that the world could be a better place and his life-work was to do whatever he could to secure this. In 1967 he was invited to join the Oral Health Unit at the World Health Organisation in Geneva. Here he was able to give full expression to his vision for his work. He started as an epidemiologist in 1967, became Sub-Unit Head in 1971 and Chief in 1974. In 1994 he was appointed Director of Non-communicable Diseases, and finally from 1996 until his death he worked as Special Expert for International Health in Washington at the National Institute of Dental and Craniofacial Research. David's many honours include honorary doctorates from the University of Lund in Sweden and the University of Alberta in Edmonton, Canada; Membership of l'Academie Francaise des Sciences and an honorary fellowship of the Academy of Dentistry International, Singapore.
He is survived by his wife Rosemary, children Cathy, Janie, Mark, David and Lizzie and seven grandchildren.
Ernest Emil (Ernie) KRIEWALDT (10 January 2001, aged 75)
Ernie went to Port Moresby after serving in the RAAF in WWII and worked in the Customs Department. He saw how much profit the Government was making on goods coming into the country, so decided to open his own store 'Kriewaldts'. He got the Peugeot franchise because a man coveted his so a trade was made and his business was started. It was a tremendous success because he was sensible enough not to charge high prices for his goods, cars or spare parts. He left PNG in 1962 to open Renault/Peugeot Aust. in Adelaide. Things didn't work out so he went back to the Territory and renewed his business interests. He had general stores, the Mobil and Peugeot franchises, engineering workshops, a service station in Boroko, real estate and a restaurant, 'La Palette'. After his youngest son, Moresby, died after a tonsil operation, Ernie went to live in England but returned to Brisbane in 1994. His first wife predeceased him. He is survived by his second wife Patricia, four children, eight grandchildren and three great-grandchildren. Brett Kriewaldt
Ulrich Max KROLL (April 1998, aged 69)
After serving in the Kenya Police from 1953-62 (including the period of the Mau Mau), Max joined the RPNGC in March 1963 and served in Rabaul until April 1965. He then decided to return to the Republic of South Africa and take up farming. He died at Natal, R.S.A., leaving his wife June and daughter Diana. M.R. Hayes
Margaret (Meg) ENGLAND (28 October 2000, aged 82)
Meg grew up in the Sydney area and in 1945 married Peter England. The couple went to Wewak at the end of WWII and about six years later moved to Angoram on the Sepik River. There they opened the famous "England's Hotel". Every guest at England's was made to feel welcome. If food supplies were short Meg would send boys out to shoot wild ducks, or sometimes a wild pig. Peter baked bread for the hotel every morning. When Meg was due to give birth to Sue she flew into Wewak by Cessna, had the baby and was back a few days later to continue running the hotel. She managed to play golf on an improvised course in Angoram and often would go rifle shooting with Peter. She also supervised her daughter Shan's correspondence lessons for four years.
Meg and Peter retired to Sydney in 1966. Unfortunately Peter died a year later from an old war injury. Meg then built a new life for herself. She sold the family home, bought a unit in Lane Cove and went on an overseas trip. A person who was always a loyal and supportive friend was her cousin Heather Seale. Together they were 'regulars' at the weekly ROAPNG luncheons at Spit Junction, and were always on hand to help with the Una Voce mail-out. Meg participated in her local church and in legacy functions. She loved people and was always there to listen or lend a hand. Her family was always first and foremost in her life. She died suddenly in Sydney and is survived by her daughters Shan and Susan and their families. Shan and Susan
John Gerrard ASHCROFT-SMITH (8 January 2001, aged 77)
'Smithy', as he was always known during his 18 years in Port Moresby, was born in Adelaide. He grew up in Melbourne and always regarded that city as his home. After serving in the AIF and the RAAF, he worked for a short time in Melbourne before going to Port Moresby. There he worked in the Department of Customs and the Office of the Statistician. He met his future wife Kay in Port Moresby and they married in 1951.
In Melbourne Smithy began what was to become a lifelong commitment to ex-service associations and clubs as a founding member of the very successful Caulfield Central Ex-Services Club. He was Secretary of the local RSL for a number of years and will also be remembered for his contribution to the Konedobu Club, The Pacific Service Club and the PNG Automobile Association. He returned to Australia in 1966 with his wife and two children and made his home in Willoughby. He joined Tucker & Co. as customs and shipping manager where he remained until his retirement in 1988. In Sydney he resumed his interests in helping his ex-service comrades. He joined the Anzac Memorial Club and the RAAF Association & Club, and was elected president of the Air Force Club in 1979 and held this position until his death. He is survived by his wife, Kay, children Veronica and Michael, and six grandchildren. Kay Ashcroft-Smith
Muriel Rose GOUGH (19 December 2000, aged 104)
Muriel spent most of her childhood in Maryborough, Qld. She excelled in music and in 1915 achieved her A.T.C.L. in violin from Trinity College, London. She played violin for silent movies and carried her love of music throughout her life, teaching violin, piano and theory.
In 1926 Muriel married Thomas Gough and accompanied him to Port Moresby in 1929.They were allocated a roomy bungalow in Musgrave Street which in a very short time became known as the Port Moresby Police Station. The 'Police Station' was a room in the side of their house which had two signs in front: one reading 'Private' at the front door and one reading 'Police' above a side gate. Their only child, Rita, was born in 1930. Muriel became a member of The Glee Club, a group of gifted men and women who provided the town with a night of entertainment every two or three months. Muriel taught singing to the local schoolchildren in her own home twice a week, and some came after school for piano lessons. According to Rita, their home was like Central Station, people coming and going to see either her father or her mother. Muriel provided a 'home away from home' for many.
During WWII Muriel and Rita spent five years in Australia as Tom was transferred to Commonwealth Police for the duration. Muriel and her daughter returned to Port Moresby postwar to rejoin Tom, who had returned late 1945. They arrived on New Years Day 1946 to a very war-torn army town where new challenges faced her. Muriel's new home was in Winter Street which ran up past the old lower Court House towards Paga Hill. In the early postwar years Muriel helped the Sisters of the Sacred Heart to start a maternity hospital at Koki Mission by collecting money each week after church. With the proceeds she provided all the bed linen and quilts for the 17 or so beds.
Tom was forced to retire early with health problems and Muriel and family very reluctantly 'went finish' in November 1950. Tom had Parkinsons disease and Muriel looked after him at home for nearly 20 years. He died in 1975 and Muriel went to live with her daughter until her stroke at the age of 96. She then was a resident of St Mary's Hostel for over eight and a half years. She is survived by her daughter and two grandchildren. Rita O'Neil [Gough]
Francis Robert YOUNG (13 May 1999, aged 84)
Francis Young arrived Moresby in August 1940 to work as a shipping clerk at Samarai for Burns Philp Ltd, but soon transferred to the Papua Customs Department. By mid-1941, with war looming and with significant problems caused by drunken wharf labourers, ships' crew and the like, it was apparent to the sole Moresby police officer, Tom Gough, that he would need assistance. Francis Young was recommended for appointment as 'he was good with his hands', and was appointed by the Government Secretary, H.W. Champion, to be a Temporary European Constable of the Royal Papuan Constabulary on 1 August 1941, where he remained until 17 February 1942 when he joined the Papuan Administrative Unit after civil administration ceased. Postwar, he was reappointed to the RPC in March 1946 and served in Moresby and Madang until October 1948 when he joined the Dept of Civil Aviation, being transferred with DCA to Australia in 1953. He is survived by his wife Una, two children and grandchildren. Max Hayes
Herbert (Bert) Walter BRODBY (20 January 2001, aged 74)
Bert was born in England. His family migrated to Australia in 1927 and settled in Queensland. In 1943, at age 17 and being too young to enlist in the AIF, Bert joined the Merchant Navy and sailed the world. Post WWII, he returned to Cairns and joined DCA in 1952 and had postings, among others, to Rabaul and Port Moresby. He was involved with establishing the Aviat Club in Port Moresby and was a founding member of the Port Moresby Yacht Club. He was also actively involved in the Masonic Lodge. He married Betty Bardon in 1959 and they lived in Port Moresby until Bert was transferred to Brisbane in 1971. He left DCA some years after returning to Brisbane and joined the Department of Veterans' Affairs where he remained until retirement.
His retirement interests included Probus, golf, Neighbourhood Watch, gardening and furthering his interest in Masonry. Bert is survived by his wife Betty, son Stephen and daughter-in-law Donna. Taken from a eulogy given by Stephen Brodby