Vale December 2001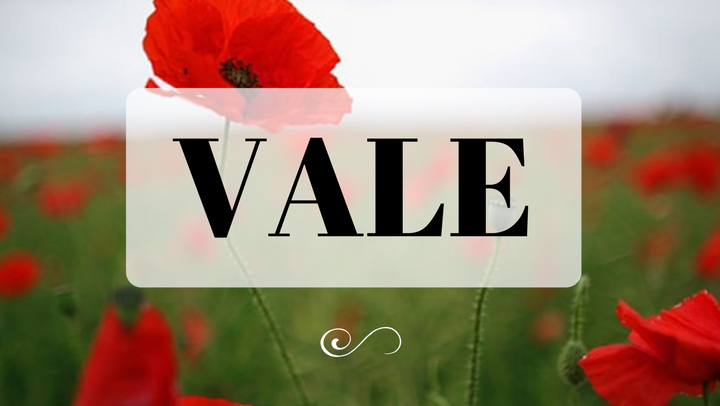 BUCHANAN, Sir Ranald (Dennis)(29 August 2001) | CHAPE, Brian(25 June 2001) | CLEGG, Eric Chiswell(11 September 2001) | COLLINS, Wilkie Desmond (Bill)(8 October 2001) | GRAHAM, Hildred Anne(14 September 2001) | HOLDSWORTH, David Keith(7 August 2001) | JOHNSTON, William James (Bill)(12 September 2001) | KNEEBONE, Horace James(23 June 2001) | McCARTHY, Jean Letitia(7 October 2001) | PIKE, Violet Gladys(2 September 2001) | NEWTON, Gerald(13 April 2001) | SAVAGE , Hazel May(13 July 2001) | STRINGER, Rodney(12 June 2001) | WEGENER, Ian Jack(2 November 1999)
Hazel May SAVAGE (13 July 2001, aged 91)
Hazel Savage was well known to many older New Guinea hands, having spent time in Salamaua with W.R. Carpenter Ltd until evacuated in 1941. She worked for Carpenters in Sydney for the remainder of the war, returning to Port Moresby with the Australian New Guinea Production Control Board in March 1946. Later in 1946 she was transferred to the Rabaul office of the PCB, returning to the Carpenter fold by joining Mandated Airlines in Lae in 1948.
In early 1950 Hazel travelled overseas and worked for the World Health Organisation in Geneva for about three years, then the United Nations Korean Relief and Rehabilitation Agency in New York and Korea for a year, returning to Australia in 1955. She then lived at Burwood, Cremome Point, and for the last 21 years in a self-care unit at Willandra Retirement Village in Marsfield.
Until recent years Hazel was a regular attendee at New Guinea Club functions in Sydney, and kept in touch with a wide circle of ex-New Guinea friends. She had a cheerful, warm and friendly personality, and was always ready to extend help and support to anyone who needed it. She will be missed by many. D. S. Herborn
Wilkie Desmond (Bill) COLLINS (8 October 2001, aged 83)
Before the war Bill had a small carrying business in Sydney's south; he then went into the trucking business. He was only 20 years old and a driver with 2/10 Field Ambulance in Rabaul when the Japanese invaded. He was among those rounded up by the Japanese at Tol and was shot three times at close range. Amazingly he was not killed and the third shot severed the bonds on his wrists that were tied behind his back—he lay still for a long time after the Japanese left. He was among the last group to be brought out by Frank Holland as part of J.K. McCarthy's escape plan and was in hospital for almost two years recovering from his wounds.
After the war he went back to driving trucks: he was nicknamed 'Whizzer Bill' as he could pick up more bricks than anyone. In 1961 the old injuries to his hands prevented him from carrying on with brick-carting. He then obtained employment with the Australian Gas Company beginning as a meter reader and later becoming an inspector. He had a retentive memory: he scarcely had need of a street directory, he remembered Sydney so well. Bill's great interest was history, and he was well informed on a wide range of topics. In 1979 he had to retire from the Gas Company (as TPI), but mentally was as alert as ever. He spent his latter years at Culburra Beach on the south coast of NSW where he played lawn bowls and was a keen beach fisherman.
Bill is survived by five children from his first marriage – Desma, Eric, Michael, Sandra and Bruce, two step-children from his second marriage, and grandchildren. From Ian Downs' The New Guinea Volunteer Rifles 1939-1943 (1999) and Michael Collins
Sir Ranald (Dennis) BUCHANAN (29 August 2001, aged 68)
Dennis was the second youngest member of a large family. He went to PNG in 1949 to work for Bobby Gibbes as a traffic officer at Gibbet Sepik Airways. This was the beginning of a love affair with aeroplanes which were then opening up the country. Dennis went on to establish Territory Airlines (TALAIR) which became one of the largest privately owned airlines in the world. He was Managing Director of Talair from 1958 to 1994.
Following are excerpts from the eulogy given by Ron Dempsey:
"On the outside Dennis seemed to those who did not know him to be a bit rough and rugged, not much of a one for the formalities, but he was a man with a wonderfully kind heart. There are hundreds of stories about how Dennis was the first one to offer us assistance and support during times of personal hardships. He was always prepared to give a person a go. Anyone looking in from the outside would never have known that Dennis was the boss. He didn't look like the boss.
"Dennis created an enormous transport and communications network in a fantastically rugged land, eliminating the barriers of terrain and distance. This dedication was acknowledged when a knighthood was bestowed on him by the Government of PNG on 16 July 1991 in recognition of his contribution to the aviation industry.
"It was a thinly disguised secret that in so many cases in his life Dennis led from the front and governments followed. He was a real trail blazer. But his political nous was always finely tuned. He was one of the great negotiators of his time and placed a great value on his network of business and political friends and allies. Dennis engendered an amazing loyalty among his staff He seemed to attract people from all walks of life and allowed them the autonomy to get the job done.
"But, at the same time his management style was truly, truly unique. There are some famous stories about the way Dennis went about things. If he was unhappy with you, you got the message. One of the best stories I ever heard was how he marched into the hangar in Goroka one morning totally pissed off about something and shouted to the amazed engineering staff that they were all sacked. He turned on his heel and went back to his office. Later in the day he was completely amazed to find that there was only one person working in the hangar "Where the bloody hell is everybody", he asked. "Well Masta, yu sakim olgeta, na ofi stap long hotel na spak pinis ." In other words, you sacked them all and they are down at the pub pissed. And the next morning, of course, they were all back at work.
"But Dennis' greatest gift was his intuition. This is what underpinned all of his wonderful attributes and if we look to analyse what it was about him that had such appeal, we find it in his instinctive feel for what was right. The standard by which Dennis lived and imparted to others was "If you think it's right, do it!" and justify your actions later, which Dennis had to do on many occasions to Civil Aviation and the bureaucracy that accompanied it.
"Dennis' marriage to Della in 1956 was the start of the Buchanan clan, all of whom have inherited Della's good looks (thank heavens) and her warmth and charm, and the quick and sometimes cheeky wit of Dennis, who was a great family man who adored and admired his offspring – and justifiably so."
Dennis is survived by his wife Della, children Paula, John, Guy, Yolanda, Syvaun, Ursula, Carolyn, Fred and Brisbane, and grandchildren. Ron Dempsey
Rodney STRINGER (12 June 2001, aged 62)
Rod was born at Hayes, Middlesex, England. He was a cadet in the Royal Navy Reserve before taking up service with the Blue Star Line. He arrived in PNG in 1968, holding the position of Harbour Master in Port Moresby, Samarai and Madang before becoming Superintendent of Marine in 1972. After leaving PNG the family moved to Cairns where Rod was ship's captain on vessels along the east coast of Australia. In 1978 the family settled in Atherton on the Tablelands outside Cairns where Rod conducted retail and real estate agent business until his passing. He was a keen lawn bowler and his fellow players formed a guard of honour at his very moving funeral service. Rod is survived by his wife, Netta, and sons Damien and Dorian. Fay Millist
Brian CHAPE (25 June 2001, aged 70)
After some time as a fanner, Brian joined the Queensland Police Force in 1960 and there heard about opportunities in PNG. He joined the RPNGC in 1962, serving at Rabaul, Mendi, Minj, Mt Hagen, Kundiawa and Popondetta. His service was terminated in the nationalisation process in 1974, with the rank of Inspector (1st Class). Shortly after returning to Australia, and driving to a farm he was purchasing, he was involved in a motor accident which killed Betty, his wife of 24 years, and he was himself seriously injured. He then devoted his time to farming in the Murgon and Monte areas of Qld.
Ten years after his wife's death he married Betsy Greenhalgh. Brian was a champion golfer and won two New Britain Opens, as well as numerous other club and zone awards. In late 1999 the family settled in Tasmania but because of his ill-health they returned to Monte to be among friends and family.
Brian is survived by Catherine Anne, Christopher and Rupert from his first marriage, and Betsy and her children Cathy, Richard, Robert and Jason. M.R. Hayes and the Chape family
Gerald NEWTON (13 April 2001, aged 88)
Gerald served in the RAAF for three years including two years in Port Moresby, Goodenough Island and Milne Bay. After the war he spent a year with the Commonwealth Reconstruction Training Scheme (CRIS) in Queensland before going to PNG. From 1947-49 he was with the Dept of Postwar Reconstruction TPNG (based in Moresby), then from 1949-72 was with the PNG Administration. An early position was that of executive officer of the Vocational Training Advisory Committee: this committee laid the foundations for apprenticeship training. He was Administrative Officer of the Department of Public Works from 1959 to 1971. In 1971, in his role as Executive Officer Training, Gerry compiled a history of the PWD dating back to the early 1900s which will be sent to Dr Peter Cahill for the archives.
Gerry volunteered his services to the Red Cross, the RSL, the Papua Turf Club and fund­raising for the Olympic Pool. He was on the committee of the RSL in Moresby for many years and Senior Vice President from 1968. He assisted in co-ordinating ANZAC Day services, pilgrimages to Bomana War Cemetery from North Queensland, and several visits by WWII battalions to Moresby, Kokoda and Lae. On retirement he took a keen interest in gardening until health problems curtailed his activities. Gerry is survived by his wife Mary. Mary Newton
Violet Gladys PIKE (2 September 2001, aged 65)
Vio and husband Stan were married for 64 years, she from 16 and Stan from 18 years of age. Stan wrote that Vio was a loving and caring wife, mother and grandmother and the couple made many friends, In New Britain where was Stan was with the Malaguna Technical College from 1963 to 1973, Vio worked for Max Wright, Mat Foley and Mac McGie, all of whom praised her office and bookkeeping skills. During the last seven months of her life she bore the three illnesses and loss of sight with characteristic dignity. Vio is survived by husband Stan and 2 sons and a daughter and 6 grandchildren.
Horace James KNEEBONE (23 June 2001, aged 65)
Horace joined the RAAF at the age of 18 and spent six years in that service. In 1960 he joined the Victoria Police. In August 1967 he joined the Royal Papua New Guinea Constabulary, serving at Port Moresby, Rabaul, Wewak and other stations. He was promoted to Superintendent in mid-1976 and left PNG the following year when his contract with the National Government expired. Returning to Australia, he worked as a journalist for the Sydney Morning Herald, then operated a toy and gift shop in Sydney before joining the Federal Police during which time he served at Melbourne, Darwin and Brisbane. Returning to Darwin after resigning from the Federal Police, he became Registrar of the Liquor Licencing Commission and subsequently remained in the NT Public Service. He retired about four years ago.
He is survived by his first wife Barbara and children Carol, William and Timothy and by his second wife Anita whom he married in 1976, and son Warwick. M.R. Hayes and Anita Kneebone
Ian Jack WEGENER (2 November 1999, aged 57)
Ian died of a heart attack whilst playing squash at Kimbe W.N.B.P. Ian spent 33 years in the South Australia Police. He was one of the 35 secondees from Australian police forces to RPNGC between 1971 and 1974, and served in the CIB at Lae. On resignation from tyhe South Australian Police in December 1992, he joined the AusAID project and was attached to RPNGC as an adviser for 2 years, after which he joined Securimax, a security organisation. He spent some time with this firm at Lihir, and had moved to Kimbe to set up a security firm there. He is survived by his first wife Kay, children Scott and Catherine, and partner Deborah Thiel. Max Hayes
William James (Bill) JOHNSTON (12 September 2001, aged 76)
Bill's first job was at the Australian Gas Light Company where, at age 16, he met his future wife Nancy. At 18 he was called up for war service as a Morse key operator and at the mandatory age of 19 he enlisted in the AIF and was present in Timor for the handing-over ceremony of the Japanese surrender. Bill then volunteered and was accepted for service in the Australian New Guinea Administrative Unit as a patrol officer. He and Nancy were married in early 1946. After a brief period in Port Moresby, Bill was posted to Misima Island where Nancy joined him. Their next posting was to Woodlark Island where they lived in total isolation from the outside world. There was no wireless communication and their 'lifeline', a government trawler, called every three or four months with food and mail.
After leave, Bill and Nancy were again posted to Papua, to Sehulea and then Esa'Ala on Normanby Island. Then, after attending the second tong course at the Australian School of Pacific Administration in Sydney, Bill and Nancy, now with babies Alan and Christine, were posted to Kikori in the Gulf of Papua. It was here Bill did several well-documented exploratory patrols through the limestone mountains in the Southern Highlands of Papua. His second son Gary was born during his stay at Kikori and, tragically, his beloved daughter Christine died. Christine's death was the reason for his transfer to Malang. It was there that their daughter Margaret was born.
Bill was then posted to Bogia where their third son Christopher was born. Subsequent postings were to Manus Island and Popondetta. In latter years Bill served as Deputy District Commissioner and acting District Commissioner. In 1970 he transferred to headquarters in Moresby having been promoted to the position of Director of Civil Defence and Emergency Services. In 1972 Bill was selected as Chairman of the Co-ordinating Committee handling famine relief in the Southern and Western Highlands. Bill's last job in PNG was as Director of Civil Defence and Emergency Services. Here he was at hand to assist in cases of cyclones, earthquakes, cargo cults, famine, search and rescue of planes and ships, missing people, and so on.
Bill was a devoted father who always had time for his children. As time went on, in addition to his official duties, Bill became involved with civic activities and held executive positions in various organisations. By late 1975, with the children finishing their education, Bill decided to tender his resignation so that he could provide a home for them in Sydney. Bill was then 51 and, believing he was too young for retirement, he successfully went into business for a few years and retired at 65. From 1991, chemotherapy kept him in and out of remission when cancer was diagnosed. It took three years for the doctors and specialists to diagnose the rare brain disease Progressive Supranuclear Palsy in June 2000.
During his long career Bill's personal file was credited with endorsements from such people as Sir Donald Cleland and the Director of Education congratulating him on his achievements. Eleven years after leaving PNG, the National University in Port Moresby advised him that his name was listed for inclusion in the Papua New Guinea Dictionary of Contemporary Biography.
Bill is survived by his wife Nancy, children Alan, Gary, Margaret and Chris, and 13 grandchildren. Nancy Johnston
Eric Chiswell CLEGG (11 September 2001, aged 78)
Eric served prewar and postwar in the Essex Constabulary and in India in the Royal Army Ordnance Corps. In 1951 he joined London's Metropolitan Police and served for about 15 years after which he came to Australia. He joined the Royal Papua New Guinea Constabulary in 1967 after meeting 'Mike' Thomas when they were briefly together at the Australian Police College at Manly. He established the first driving school at the Bomana Police College and held this position for some years. He also saw service in the Highlands and Kieta. For many years he was a representative of the International Police Association. He was retrenched in the nationalisation process on 5 May 1976 with the rank of Inspector (2nd Class).
He is survived by his wife Helga and daughter Tina. M.R. Hayes
David Keith HOLDSWORTH (7 August 2001, aged 66)
David Holdsworth was the second member of staff appointed to the Chemistry Department, University of PNG (1967). He had had experience in teaching organic chemistry at secondary and tertiary level in England. He had also spent five years as a NATO Research Scholar in Chemistry at the University of the West Indies. He was intellectually honest and showed an infectious enthusiasm for his subject. Both he and his wife Ann took a sincere interest in the social and cultural life of the local people both within and outside the university.
David was a member of the Secondary Science Syllabus Committee of the Dept of Education. He wrote several texts on organic chemistry for the university students and was a respected developer of the use of pocket calculators in the teaching of chemistry principles.
He was a keen photographer and published several attractive booklets on PNG. He also made contributions to the archaeology and anthropology of the Pacific. His main research interest was in the medicinal plants of SE Asia and the Pacific, an interest he carried after retirement.
After leaving PNG, David served in various parts of the world, then he and Ann retired to Norwich, England, where from time to time they led overseas tours. David was awarded a PNG Independence Medal in 1977 for services to the university. He has been a consultant to WHO, a Fellow of the Royal Society of Chemistry, London, and a Fellow of the Royal Society of Arts, London. His wife Ann survives him. Don Drover
Jean Letitia McCARTHY (7 October 2001, aged 87)
Jean was the eldest of four daughters and grew up surrounded by a loving extended family. At 20 she met Keith McCarthy, a patrol officer on leave from New Guinea. Within three weeks she became engaged, and marriage soon followed. She arrived in Rabaul just before the 1937 eruption and was evacuated to Talasea, leaving Keith on duty in Rabaul.
With the threat of a Japanese invasion, Jean was evacuated while Keith remained as the senior government official ultimately responsible for the evacuation of the remaining army and civilian personnel. Keith was a coast watcher during the war and the couple were not reunited until 1946, apart from Keith's occasional leave in Australia. Keith's wartime service left him in a debilitated condition and Jean nursed him back to health. They returned to New Guinea and Keith progressed up the ranks in the Administration, spending considerable time in Rabaul, Jean's favourite place. Like many PNG wives, she was classified as carrying out 'home duties', but she was hostess to numerous dignitaries and entertained with flair.
In 1959 Jean and Keith purchased Malutu (named after Keith's first post in New Guinea) in Mt Eliza, Victoria, and in 1972 they returned to Australia permanently, following Keith's period as Director of District Administration. Life at Malutu was pleasurable, with house guests, family functions, golf, solo, Mahjong and travel. Keith died in 1976 at 71 years and Jean was devastated, but got on with life. Apart from involvement with family and friends, Jean attended many charity functions and travelled extensively. She was very generous to the Anti-Cancer Council through the Jean McCarthy Bequest, and supported Peninsular Animal Aid and the RSPCA.
Jean never had children, but Margie Fenbury, as a little girl, lived with Jean and Keith for periods of time in Port Moresby after the passing of her own mother and while her father, David Fenbury, carried out his official duties in PNG.
Jean's nephew wrote, "She embraced David, Rosie and I as her family when Mum died in 1977 at 54 years, Dad having died in 1974 … she opened her heart to us, loved, inspired, advised and supported us as our mother and 'Auntie Jean' led a wonderful and fulfilling life…" Rod Blackburn (Jean's nephew)
Hildred Anne GRAHAM (14 September 2001, aged 77)
Hildred and her late husband, Don Graham, went to PNG in 1966. Don worked in the Department of Agriculture, Stock and Fisheries on cattle projects in the Highlands, Sogeri and Moitaka. He passed away in April 2000 and soon after Hildred was diagnosed with cancer. She spent her last 12 months in the Atherton Hospital but was visited regularly by friends from PNG and from Malanda where the family settled in 1975. Hildred had a great sense of humour right to the end and enjoyed reminiscing about PNG with Fay Millist (Reeves). Hildred is survived by three sons, Duncan, Dirk and Douglas. Fay Millist