Vale March 2002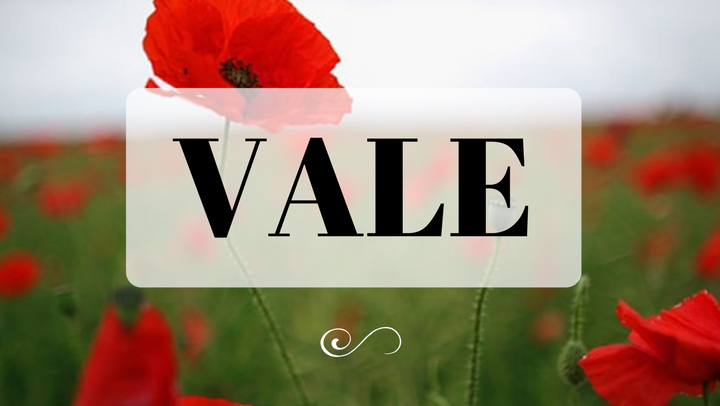 ALCORN, Noela B(June 2001) | BULL, Barbara Anne(14 July 2001) | CHOULAI, Wendi Roberta(10 November 2001) | CLARK, Nancy(8 October 2001) | CLARK, Norman(27 December 2001) | ELDRIDGE, Ralph Trevelyan(19 November 2001) | EMANUEL, Agnes Ellen(29 November 2001) | FISHER, Peter Wallace(9 January 2002) | GEARY, Elizabeth Cain(21 August 2001) | HIGHAM, Benny(21 January 2002) | HOUGHTON, David Henry(26 October 2001) | LAMACRAFT, Jeanne Gladstone(12 November 2001) | LANE, Alfred Richard (Cherry)(4 August 2000) | NOMCHONG, Patricia Clare(29 October 2001) | SIMPSON, Alfred Moxon(11 November 2001) | SMEETON, Marjorie (Badi) Beatrice Mary(14 December 2001) | SMITH, Helen Pearl(10 September 2001) | SOMMERFELD, Noel Edward(12 December 2001) | SPENCER, Terry(15 February 2002) | SPINKS, Iris(7 October 2001) | STEVEN, David(7 December 2001) | TOMLIN, Kevin Ingleby(2 June 2001) | TUZA, Anna(11 August 2001) | WESTMORE, Bernard(8 December 2001)
Wendi Roberta CHOULAI (10 November 2001, aged 47)
Wendi Choulai was the daughter of Mary English, of the Solien clan of Papua, and Bruno Choulai, a carpenter of Chinese and New Ireland descent. Bruno owned a trade store and with the help of his close friend Sir John Guise moved his family to Port Moresby. There he became a successful businessman and decided to send 8-year-old Wendi to Australia for an education. At the age of 18 she returned to Port Moresby and worked in her father's business, eventually becoming managing director of Choulai & Company. There she met David Tenenbaum who was to become her lifelong partner. Their son Aaron was born in 1982.
Wendi enrolled in a tertiary design course at the National Art School and was the first female graduate in textile design in PNG. She started PNG Textiles which enabled herself and other design graduates to produce work commercially and to exhibit. Wendi represented PNG at the Commonwealth Arts Festival in Edinburgh. In 1989 Wendi and Aaron moved to Australia, followed soon after by David, and she continued to design as a freelancer for Australian textile manufacturers. She undertook a Master of Arts in textile design at the Royal Melbourne Institute of Technology, and the art world began to notice her. She presented papers to a number of prestigious gatherings including the National Gallery, Canberra and the Museum of Victoria. She was invited to exhibit at the Asia Pacific Triennial at the Queensland Art Gallery in 1996. Her partner David Tenenbaum wrote. 'Wendi has left behind a substantial body of work and in the fullness of time her artistic contribution to Papuan women in particular, and contemporary indigenous art in general, will be realised.
Wendy is survived by her partner David Tenenbaum and son Aaron Choulai Tenenbaum. From an obituary by David Tenenbaum in the Melbourne Age 12 November 2001.
Bernard WESTMORE (8 December 2001, aged 91)
Bernard died at Caloundra Private Hospital after a long illness. During WWII he was captured in Singapore and later worked on the infamous Burma Railway. As a result his health suffered and he took early retirement (he was classified as TP1 by Veterans' Affairs).
Bernard worked for the Department of Education in Port Moresby for 18 years, retiring in 1966. He then became a projects officer at the University of PNG for a year. He married his wife Jean (who also worked for Education) in Port Moresby. Their two sons were born there (both are now medical specialists in Sydney with their own practices). In 1993 Jean arranged for the family's former house boy, Efi G'nuu, to visit Australia. This was Efi's second visit to Australia with the Westmores. Efi stayed at the homes of both sons whom he had babysat many years before.
Bernard is survived by Jean, sons Bruce and Ian and three grandchildren. Jean Westmore
Alfred Moxon SIMPSON (11 November 2001, aged 90)
With PNG independence approaching, Moxon Simpson was appointed in 1971 by the then Minister for Territories, Andrew Peacock, MIAR, to enquire into the superannuation benefits of permanent public servants in PNG. Simpson travelled throughout the Territory meeting with Public Service Association members and others and eventually reported to Peacock on his findings. The Whitlam Government came to office in December 1972 and, to its credit, accepted the recommendations of the Simpson Report, i.e. that the Australian Government should take over from the PNG Superannuation Board the responsibility of paying superannuation pensions. Permanent public servants were greatly relieved at this decision.
Moxon Simpson, a member of a long-established South Australian industrial family, had a long career in Adelaide as an industrial and business leader. He became a director and later chairman of the family company; one of the company's best-known products was the Simpson washing machine. He married Elizabeth Robson Cleland, daughter of another of Adelaide's early families (Elizabeth is a relative of Sir Donald Cleland). Elizabeth survives him, as does their son Antony and two grandchildren. Geoffrey Gray
Nancy CLARK (8 October 2001, aged 82) Norman CLARK (27 December 2001, aged 81)
Nancy spent her early years with her parents in Uganda. She was educated in England and trained as a nurse at the London Hospital. She was a nursing sister during WWII and saw active service in the Middle East and India until independence there, and also volunteered on the outbreak of the Korean war. On the way to Japan in 1953 she met a soldier who was to become her future husband. After working for a time in England she flew to East Africa, and she and Norman were married in Kenya.
Norman grew up in England, did Reserve training in 1938 and was called up in 1939. At war's end he was offered a permanent commission but declined: a decision he regretted. He later rejoined the army and saw service in the Korean war. After a short stint with the British Army on the Rhine he applied for and was accepted into the Kings African Rifles. He was diverted to the Kenya Regiment and saw service against the Mau Mau. He left the army in 1958, when he and Nancy were married. He did a veterinary course and later was accepted on contract in PNG in 1962, working for the Department of Primary Industry. He and Nancy remained in PNG until 1983 when they retired to Ravenshoe, Qld. Norman's main interests were books, butterflies and birds: he was very knowledgeable on all three. Iain Holder
Anna TUZA (11 August 2001, aged approx. 79)
Anna, or Ani as she was known to friends, was born in Western Hungary. Her father was a teacher at the local high school and she grew up in a stimulating environment. Near the end of WWII, with Russian armies approaching, Ani married Frank (Fefe) Tuza, a young doctor who was called up for service. When his unit was ordered to move westward the newly married couple had to go too. At war's end they found themselves in southern Germany, living in camps and other makeshift overcrowded accommodation. Their daughter Anna was born during this difficult period.
Australian immigration teams in Germany encouraged the Tuza family to migrate to Australia. On arrival it transpired that Hungarian medical qualifications were not recognised in Australia, so Fefe accepted a position in the Territory's postwar medical service. The family first went to Buin on Bougainville, and it was there that their second child Jutti was born. Life of the Tuza family in Buin is described by Anna Phillips in her book As the Catalina flies. Further postings were to Sohano, Daru, Lae, Goroka and Port Moresby. Ani, an avid reader, subscribed to a variety of journals and periodicals to keep abreast of world events. Although she herself was still learning English she successfully supervised correspondence lessons for her daughters. Ani was a born homemaker and, whether on outstations or after retirement in Sydney, her home was the centre of her activities. Her husband Fefe predeceased her.
She is survived by daughters Anna and Jutti, their husbands Johathan and Paul, and three grandchildren. Anna and Jutti
Kevin Ingleby TOMLIN (2 June 2001, aged 68)
Kevin grew up at Ryde and Parkes, NSW, then in 1953 went to Bougainville to work for the Dept of Agriculture, Stock & Fisheries, having gained a Diploma in Agriculture from Wagga. He married Janet Helyar in 1957 and they had four sons. Apart from 6 years on Bougainville, Kevin worked in the Milne Bay area (6 yrs), Port Moresby (5 yrs) and Goroka (5 1/2 yrs) and held the positions of Field Officer, Rural Development Officer (RDO) and District and Regional RDO.
Kevin and family left PNG in 1975 to live at Bateau Bay NSW and then Wamberal NSW. After running a private business for a while, then working as a Coordinator for Adult Education, the call of the wild got the better of Kevin. He completed further study at Hawkesbury and secured work as a private consultant agronomist in China, the Philippines, Malaysia and Papua. He retired to Stuarts Reach NSW and then Tanilba Bay NSW. He loved PNG, where he found `a life's work, fascinating people and friends, and happiness for which I am eternally grateful.'
Kevin is survived by Janet and his sons Aaron, Nicholas, Laurie and Ross and their families. Kevin's son, Aaron
Barbara Anne BULL (14 July 2001, aged 70)
Barbara was educated in Sydney and became a kindergarten teacher. After teaching for two years in Sydney, she was appointed as teacher in charge of a pre-school kindergarten in Lae. While there, she married John in 1958. Joan and John shared a love of travel and toured extensively in England and Europe, and later Hong Kong and Japan. Their two sons were born in Lae and in 1968 the family moved to Port Moresby. In 1973 they returned to Australia.
Barbara continued her career within the education system, eventually becoming director of the Blacktown Pre-School. Upon retirement the couple went to Wingham NSW where Barbara was able to devote more time to her beloved needlework. She transformed the simplest materials into glorious quilts which gladdened the hearts of those to whom she often gave them. Barbara's health became more worrying so the couple moved to Pine Needles Estate near Gosford. Here Barbara continued to involve herself in her needlework and, although increasingly incapacitated by emphysema, to involve herself in the lives of her boys and their families. Barbara had a great capacity to enjoy life and turn every event into a memorable occasion.
She is survived by her husband John, sons Michael and Andrew, their wives and five granddaughters. John Bull
Iris SPINKS (7 October 2001, aged 93 or 94)
Iris Spinks was the widow of the New Guinea Goldfields surveyor Kenneth Spinks, who accompanied the Leahy brothers and Jim Taylor on their Wahgi expedition of 1933. Her fiancé Ken went to New Guinea in 1930 to work for New Guinea Goldfields (NGG) at Wau. After the expedition Ken returned to Sydney to marry Iris and to complete his final Surveyors Board examinations. They returned to Wau in early 1934 and lived at Edie Creek where Ken was engaged in routine mine surveying work for NGG. In early 1936 Ken joined the Department of Lands Surveys Mines and Forests under Chief Surveyor C.W.G. (Bill) Fox at Wau. Ken carried out some of the first surveys at Lae and Iris accompanied him.
Ken resigned in early 1939 and went to Malaya where he carried out work on the Thai-Malay border. Ken went straight from New Guinea to Malaya but Iris returned to Sydney and supervised the building of the house in Eastwood where she was to spend the rest of her life from the 50s on. She then joined Ken in Malaya. When the Japanese overran Malaya Iris was evacuated, but Ken, by then in a British Army survey unit, was captured by the Japanese and sent to the Burma railway where he died. The couple had no children, and Iris never remarried.
F. Pratt of Mendi, PNG, who wrote this notice, said he had been doing research in Sydney for Jim Sinclair's latest book Mastamak, and only found out that Iris was alive and well after the book had gone to print. He visited her and found her to be very bright and alert, still living on her own and looking after herself. He promised to take her a copy of Mastamak when it came out but she passed away peacefully over breakfast on the morning he was to visit her. F. Pratt
Terry SPENCER (15 February 2002)
Dr Spencer died at Tenterfield NSW. No further details available.
Benny HIGHAM (21 January 2002, aged 80)
During service in WWII Benny met her first husband, a RAAF pilot who was subsequently killed. After the war she married Bill Higham, a RAAF navigator, and around 1950 they went to Bulolo to work for Bulolo Gold Dredging for some years before moving to Port Moresby around the mid '50s. She quickly found work with the Royal Papua New Guinea Constabulary and together with Erin Moroney ran the traffic office at the Port Moresby Police Station in Musgrave Street for many years. Later she worked for Steamships Trading Co. Some years ago she and her husband moved to Forster NSW. Bill died around three years ago. There are no survivors. E.J. Herbert and M.R. Hayes
Patricia Clare NOMCHONG (29 October 2001, aged 76)
Patricia Nomchong was the last overseas matron in charge of Nonga hospital (Rabaul) from 1969-1975. During this time she established the first baby creche at a government hospital, to enable married women nurses to return to work. From Ellen Kettle's book That They Might Live
Elizabeth Cain GEARY (21 August 2001, aged 78)
Elizabeth Geary was the widow of David James Geary, who was Mechanical Equipment Inspector with the Department of Agriculture. The family were in PNG from 1952-59 and lived in Port Moresby, Bereina, Wewak and Rabaul. They had two children. From ROAPNG records
Noel Edward SOMMERFELD (12 December 2001, aged 72)
Noel, after the sudden death of his wife, June, married Pat Edgar (née Thick) in 1971. Pat is the only daughter of Jack and Joyce Thick (deceased), well known business residents of PNG. Between them, Noel and Pat had five children and 11 grandchildren. Noel was a hard working, multi-talented person who excelled in all that he attempted. Much loved and sadly missed by all who knew him. Allan R. Neilsen
Helen Pearl SMITH (10 September 2001, aged 78)
Helen was the wife of Ernest Yarwood Smith (deceased). She and Ern were together in Rabaul for 13 years before the family was transferred to Wewak where they remained until Independence. Helen was in PNG from 1947 to 1974: she was a typist/clerk with DDA for 13 years. The couple had four children, Susan, Ross, David and Andrew. ROAPNG records
Noela B ALCORN (June 2001, aged 66)
Noela was the wife of Neil McKay Alcorn (deceased). She was in PNG from 1961 to 1974 at Rabaul, Kandrian, Talasea, Buka, Kavieng and Lae. She was a secondary school teacher, and a senior tutor at the University of Technology, Lae. The couple had three children: Neil, Meredith and Ross. ROAPNG records
David Henry HOUGHTON (26 October 2001, aged 81)
David was in PNG from 1952 to 1975. He was a training engineer with Public Works, based in Port Moresby, but he travelled extensively throughout PNG. His wife Lorraine predeceased him. No further details available. ROAPNG records
Jeanne Gladstone LAMACRAFT (12 November 2001, aged 83)
Jeanne was the wife of Ken Lamacraft, Chief of the Division of Technical Education in PNG from 1957-67. She was an Education Officer, teaching at secondary and technical schools in and around Port Moresby. For a time she was secretary to the Director of Health, Dr Scragg. At one stage she was on secondment to the South Pacific Commission. After she and Ken returned to Australia, Jeanne accompanied her husband on over 20 visits to Japan where they lived with people in various areas while Ken attended conferences and studied educational methods, The couple moved to the Gold Coast in 1984. ROAPNG records
Ellen Agnes EMANUEL (29 November 2001, aged 83)
Ellen Emanuel was the wife of Errol John (Jack) Emanuel, District Commissioner of East New Britain District, who was killed by villagers in August 1971. No further details available .
David STEVEN (7 December 2001, aged 75)
David went to PNG as a cadet patrol officer in 1949 and served in the Western, Madang, New Britain and Sepik Districts until independence. He is survived by Mary and their children Ruth and Bill.
Ralph Trevelyan ELDRIDGE, OBE (19 November 2001, aged 84)
Brigadier Eldridge's army career spanned 35 years from his entry to Duntroon in 1937 to his retirement in 1972. In 1960 he was promoted to Colonel and served as Army Area Commander of PNG for nearly three years. He was then posted to London as Deputy Chief of the Joint Services Staff. In 1968 he was promoted to Brigadier and in 1969 was posted to PNG as Commander of PNG's Defence Forces. On his retirement in 1972, the Post Courier of 14 April 1972 stated, "His measured approach to the delicate problem of securing the defence of Papua New Guinea utilising the soldiers in the making has been a contribution of some significance. With his impending retirement the Army's loss is also Papua New Guinea's." He is survived by his wife Betty, two daughters and a son. Bill McGrath and M.R. Hayes
Alfred Richard (Cherry) LANE (4 August 2000, aged 85)
Early in his working life Cherry worked as a medical assistant with the navy and later with the Dept of Health in PNG. He loved the Highlands and settled near Goroka to grow coffee. His wife-to-be, Lorna, joined him there. The family moved to Melbourne when his two children reached high school age, but his happiest days were in Goroka. The Melbourne Age, 16 September 2000
Marjorie (Badi) Beatrice Mary SMEETON, née Abel (14 December 2001, aged 92)
Badi Smeeton was the youngest child of Charles and Beatrice Abel of Kwato. No further details available.