Vale September 1995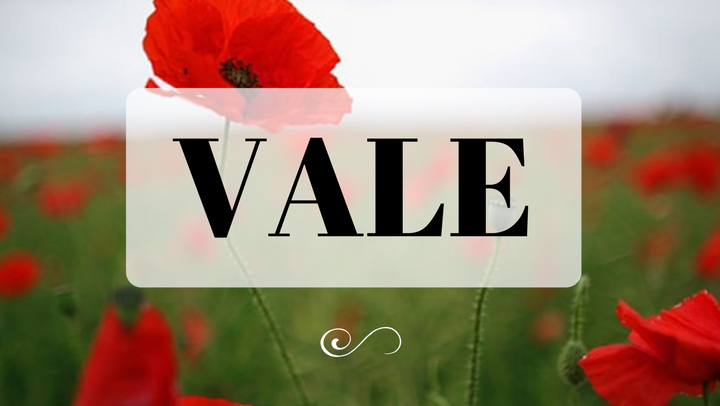 BARTLETT, Yvonne Gabrielle | BEST, John George | BRIDGLAND (neé PERCIVAL), Daphne Levina | COTTRELL-DORMER, Kathleen Agnes | EVANS, John Henry | FELL, Norman William | GLASSY, George Argyle (Dick) | HUON de NAVRANCOURT, Jean Henri | JAMES, Marjorie Noelle | KING, Allan Llewellyn Banks (Alby) | PRICE, Thelma | SCHINDLER, Ancie | SCOPE, Philomine Katterina | THOMAS, Doris | TOBAINING, Vin | TUZA, Francis | TYLER, Stephen John |
Allan Llewellyn Banks (Alby) KING (29 June 1995, aged 84)
Alby died at Newcastle from injuries suffered when run down by a motor cycle. He was born at Warialda, NSW, on 31 July 1911 and, after some years of service in the Commonwealth Banking Company of Sydney Ltd, he joined the Commonwealth Public Service and took up an appointment in the New Guinea Administration at Rabaul in 1938.
In January 1940 he volunteered for service in the AIF and after initial training sailed for England in the Queen Mary. On board ship his athletic prowess came to the fore in winning the AIF sprint championship. Later that year he was posted to Greece where, on Easter Saturday 1941, his unit was overrun by Nazi advancing forces and he was taken prisoner. Alby later escaped from his captors and remained free for 19 days before being recaptured. Thereafter, he was subjected to harsh treatment for the remaining four years of the war. On repatriation to Australia he returned to New Guinea and served in Rabaul and Lae until his final posting to Treasury Headquarters in Port Moresby. In 1968, with failing eyesight, he took early retirement to Newcastle and resided there until he died. Alby was pre-deceased by his wife Gwen in 1959 and is survived by his sister, Nancy, his daughter Lindy, her husband Theo Burmog and their two children, Sarah and Peter.
Alby was a fine all-round sportsman, a gifted cricketer, and an "A" Grade golfer, playing in numerous inter-territory championships. His failing eyesight greatly restricted his activities in his retirement years, yet he worked devotedly for members of his strata body corporate and the Ex-Prisoners of War Association who will sadly miss his services. Nevertheless they, with Alby's legion of friends drawn from acquaintances at war, work and play, will have fond memories and be grateful for the honour, privilege and pleasure of being known to one of such a warm, loving and friendly nature. We all mourn his passing and feel deeply for Lindy, Theo, Sarah and Peter and his sister Nancy in their loss. Jack O'Shea
As an Addendum, the following are extracts from a letter from Terry Turner:
"My first meeting with Alby was in the old Treasury building in Konedobu in 1950. I was going to my first posting as District Office clerk at Kerema, and I spent a week with him learning the intricacies of the outstation cash-book. His advice and patience served me in good stead for many years to come. On my transfer to Treasury in 1956 I got to know him better. He had been left to bring up his only daughter, Lindy, after the tragic death of his wife, and this he did in an exemplary way. At the outbreak of war he was one of the first New Guinea Contingent to join the AIF. I think his Army number was NGX7. He served in the UK and in the 2/1 Anti-Tank Regiment in Greece where he was captured, and was a POW in Germany, incidentally in the same Stalag as the late Gerry McLaughlin until war's end. Alby returned to PNG Treasury after the war and held various senior positions in the Department. He was a great sportsman, playing competition cricket in his early days and tennis until ill-health in the form of deteriorating eyesight forced his retirement from Treasury in 1969. We were looking forward to seeing him at a PNG Treasury Officers' Reunion at Katoomba in mid-September. The reunion will not be quite the same without him. Vale Alby."
Daphne Levina BRIDGLAND (neé PERCIVAL) (6 July 1995, aged 69)
Daphne was born in Clayfield on 13 November 1925. She was one of the first 8 students enrolled at Clayfield College, later going on to Eagle Junction State School. During the war she held a secretarial position at HMAS Moreton Naval Base. She dreamed of a singing career, but her father did not encourage this. However on her own initiative she wrote to Marjorie Lawrence for advice and was granted an audition. This had a positive outcome and Daphne was much encouraged by Marjorie Lawrence, who felt she had great potential. She studied in Melbourne at the Australian Conservatorium of Music, and was offered the opportunity to understudy leading roles in several operas.
Plans of a singing career were changed when she met and married Leon Bridgland, and went with him to New Guinea, living first at Sogeri and later in New Britain. She loved to entertain, was always interested and ready to participate in local affairs, and was active through the CWA in supporting movements to facilitate a change in the status of indigenous women. She developed a deep and abiding friendship with the Tolai people, who knew they could depend on her for help when needed. Wherever she lived she created a secure and loving environment for her family, took great pride in their accomplishments, and maintained a close and happy relationship with all her own family. Her love of music and her singing continued to give pleasure to all who knew her. Daphne is survived by her daughters Robyn, Ann and Rosemary.
John George BEST (20 June 1995, aged 73)
John was born in Hobart, Tasmania, on 9 September 1922. His family moved to Richmond, NSW, and John was educated at Sydney Technical High School. He went from school into the army as a signalman. He then went to Sydney University and became a Geologist. His work in this field took him to New Guinea where he met and married the voice of Rabaul, Pamela Ann Palfreyman. Two children, Tony and Kathy were born while they lived in New Guinea. They moved to Canberra for a short while, where Nick, their third child was born. The family returned to New Guinea and lived in Port Moresby.
On completing his work with the government John and the family moved to Sydney and John worked in private enterprise. His passion for Geology took him all over Australia and South East Asia. John and Pam divorced in 1980. (Pam died in 1992 suffering from Multiple Sclerosis.)
When John retired he moved to Kurrajong in the Blue Mountains. He continued to work in his field assisting the local community in areas relating to geological assessment. He moved back to Tasmania to research his family background on the Best side and to also pursue his passion involving volcanic activity in North West Tasmania.
He died of a heart attack in Burnie, Tasmania. His remains are in a crypt along with his forebears, that go back to the second fleet, in Richmond Cemetery. During John's later years many of his friends and acquaintances would have been perturbed by his often strange behaviour. However, many of them would not have known that in John's midlife years he was diagnosed with Manic Depression. This altered the course of his life. His marriage broke up and in time his illness caused the loss of family and friends. He is now at peace and is survived by his children Tony, Kathy and Nicholas and five grandchildren.
Francis TUZA (21 June 1995, aged 80)
Dr Frank Tuza, or Fefe has he was called by his friends, went to PNG in 1950. He was a member of the group of European medical practitioners who were recruited by Dr John Gunther (later Sir John) to staff the post­war medical service of PNG. After introductory courses at ASOPA at Mosman and at Port Moresby the doctors were posted to different hospitals and outstations. Fefe was posted to Buin in the far south of Bougainville.
We learn much of the life of the Tuza family at Buin—and probably of many other families in a similar position in different parts of post-war PNG—from the book by Fefe's daughter Anna, As the Catalina Flies. She describes very vividly the life of the Tuza family at such an outpost as Buin, as seen through the eyes of a very observant girl between the ages of 5 to 10. Her father is the active practical man, who finds solutions to problems encountered in his professional and everyday life, including a polio epidemic introduced by visitors from the Solomons, and conducting the anti-yaws campaign, using penicillin, one of the outstanding medical successes of these years. The almost magical attraction of places such as Buin on people from another continent is reflected in Anna's recollections, written some 40 years later and in her sister Juti, born at Buin, who still feels that she somehow "belongs" there.
After Buin, other postings followed: Sohano, Daru, Port Moresby, Goroka, Lae. Everywhere Fefe was respected for his medical skill and knowledge and for his friendly, humorous, easy-going manner. His last position was at PHD head office as Assistant Director (Preventive Medicine). Following his retirement from PNG, the family moved to Sydney, where Fefe took up a position with the NSW Dept of Health. He had a long, eventful and active life. Unfortunately his last year or so had to be spent in nursing homes due to his deteriorating health.
He is survived by his wife Anna, his partner for 50 years, daughters Anna and Juti, sons-in-law Jonathan and Paul, grandchildren Ben, Nicola and Karin. Gabriel Keleny in consultation with Anna Tuza
Stephen John TYLER (12 June 1995, aged 41)
Stephen was born in Port Moresby on 20 August 1953 and killed on the Myocum-Byron Bay road in Northern NSW on 12 June 1995. The son of Stan (ex PWD Port Moresby, Goroka, Mt Hagen & Madang) and Olive Tyler, he had his third birthday in Goroka, did 6 years primary school at Mt Hagen, then 6 years at St John's College, Woodlawn (near Lismore NSW), before going to Teachers College, Armidale, for 3 years. Later on he attended a one-year course in the care of handicapped children at Westmead NSW and then taught handicapped children at Kingswood Special School, then at Leonora and Katoomba before being transferred to East Murwillumbah where he continued his work with the handicapped. He later acquired a BA in Education. Stephen attended the Wahgi Valley Reunion at Nerang about two years ago where he met a lot of old friends from Mt Hagen days. He is survived by his wife Cheryl, children Patrick and Jacqueline, and brother Jim and family. Stan Tyler (father)
Marjorie Noelle JAMES (17 June 1995, aged 72)
Marjorie was born to adventurous loving parents at Port Headland, WA, on 23 December 1923. Her father, Bert Heath, was a pioneer aviator in World War I and also one of the aviation pioneers in New Guinea.
Marjorie moved to New Guinea with her parents and brother Ronald when she was 8 years old. Later, she was educated at school in Adelaide and joined the AWAS during World War II for 2 years. In 1948 Marjorie went to stay with brother Ronald in Canada, returning to Lae in 1951, where she met and married Neville, who went to PNG with Bulolo Gold Dredging Company in 1951 and later joined the PNG Administration.
The early years of their marriage were busy with postings at Lae, Madang, Rabaul and then Port Moresby where Marjorie worked at Moresby Hospital doing clerical duties. Their three children Vicki, Brian and Linda were all born in Lae. Marjorie left the Territory in 1972 to ready a home on the Gold Coast for Neville when he retired. Ronald is still living in Canada and sister Shirley has made her home on the Gold Coast.
Marjorie loved company as her many friends know, and their door was always open to all her friends. She worked on the committee of the Gold Coast New Guinea Club for a number of years and she will be sadly missed. Marjorie is survived by her husband Neville and children Vicki, Brian and Linda. Wally Sidebottom
John Henry EVANS (25 April 1995, aged 69)
John was born in England and went to PNG some time after the war. He worked for Hastings Deering in Rabaul, Lae and Port Moresby. He married Judy O'Callaghan (Sister in Moresby and Rabaul) at Easter 1959 in Rabaul. John and Judy left PNG in the 70s and settled in Sydney where John worked with the Main Roads Dept until his retirement. He is survived by his wife Judy. No further details available.
George Argyle (Dick) GLASSY (3 August 1995, aged 69)
Dick went to PNG in 1955 flying a Lockheed Hudson out of Madang for Adastra Aerial Surveys. He joined Mandated Airlines in 1956 flying DC3s and became Chief Pilot. In 1965 Dick moved to Mt Hagen as Manager of the Ansett-MAL Light Aircraft Division, returning to Lae as Chief Pilot in 1967.
In 1973 Dick joined Air Niugini as Chief Pilot and remained with them until 1985 when he retired and moved to New Zealand. In 1989 he came to Australia and settled in Cleveland in Queensland. He became seriously ill in mid-July and passed away 3 August.
Dick is survived by his widow Betty, daughters Shona and Margaret and sons Ken and Peter.
Norman William FELL (15 June 1955, aged 87)
Norman was a Headmaster with the PNG Department of Education from 31 March 1949 until retirement on 9 April 1963. He is survived by his widow Jean. No further details available.
Philomine Katterina SCOPE (27 June 1995, aged 86)
Widow of Henry Wesley Scope, an Engineer with the PNG Electricity Commission from 5 December 1959 to 4 April 1962. No further details available.
Ancie SCHINDLER (4 May 1995, aged 80)
Ancie's was the first marriage after the war, probably for the Mandated Territory, certainly for Lae, when on 30 May 1946 she married Aub Schindler, who was in charge of the Highlands Experiment Station, DASF, Aiyura, Eastern Highlands. There she spent 27 years of joys and sorrows (1946-1973), mostly joys in the eternal springtime of Kainantu Sub-District. Raleigh Farlow, D.O. Lae, officiated at the wedding and the Matron of Honour was Nancy O'Brien of Mililat Plantation, Madang. Peter Swanson was the Best Man. The breakfast was enjoyed on board the old MV Montoro on which Ancie had travelled to PNG with Taffy Jones, Bill and Kath Cahill and their parents, Ted Fulton, Nancy and Ned O'Brien, Reg Boyan, Doris Booth, Norm Wilde, Jim Leahy with whom Aub worked at Aiyura, and many other TPNG identities. Her honeymoon was spent at Malahang (top storey of Peter Swanson's) in quarantine for eleven days (measles on the Montoro).
Ancie brought up to PNG her Chow Chow Eddie (a bitch) who had 40 pups at Aiyura, mostly sired by Jack Fox's cattle dog. The other sires were the male back crosses to the chow dam. Years followed of wifeing, mothering, entertaining, gardening, home-craft and dog breeding. In 1953 Ancie took up her old profession of school teaching when she started a small Primary School for the European and local children on the station and environs. This was later changed to the Aiyura Primary School by the Department of Education. A school was built near the airstrip in 1955. At one stage for 18 months Ancie and Joan Kerwin taught sixty children in six classes in one room undivided by any sort of partition. Joan was from the Summer School of Linguistics which later supplied other teachers for the school. At Aiyura, Ancie formed lifelong friendships with Jean Carne, Flora Nitsche, Betty Bell, Marjorie Purnell, Yvonne van Merck, Jan Booij, Pat Tudor, Mary Wommersly, Rose Hughes and many ADO's wives among whom was Val Connolly.
Ancie bought a black Volkswagen in which she travelled over the Highlands to Okapa and Mt Hagen and many times to Goroka.
In 1960 Ancie and all the family, now including three children (5 to 11 years) made a seven month trip to the UK and France to show her children to relatives there. In 1962 Aub left the Administration and with Ancie took over a coffee plantation at Karanka, 27 miles from Kainantu over native tracks and roads. Ancie started a school for the local native children on the boundary of the plantation. At the beginning of 1964 she returned to Kainantu and took over the Kainantu Primary 'A' school. By 1967 she had included among her pupils advanced native and part native children and when over seventy pupils had been enrolled, a head teacher was appointed. Ancie being a 'Temporary Female Teacher" had to become an Assistant Teacher. Of these head teachers, Keith and Wendy Fisher became lifelong friends of Ancie. She was a great raconteur one of her tales is of a girl who chalked a four letter word on the school wall and had to scrub it out – her parents were worried about it and asked Ancie what word it was, "W.A.L.L." said Ancie and drove off. Such was her mischievous humour.
By this time she owned a Mercedes Benz and it too travelled over the Highlands and to Lae on improving roads. Her neighbours in Kainantu were Marie Fraser, Goldhardts, Ann Vierling, Gilmore, Muriel Larner, Barry Holloway, van Leewins and other well-known identities. Her dogs had become a well known cattle dog/chow chow strain, which had spread over the Highlands. One of these pups had joined a Qantas pilot team and had clocked up hours of flying in all types of aircraft.
In 1973 Aub leased out Karanka Plantation and with Ancie, having well and truly influenced the future of the Kainantu Sub-District, left TPNG to return to Australia. Here Ancie caravanned across Australia and in 1980 she travelled to British Colombia to visit relatives. Her children: Peter became a Doctor of Medicine with a practice in Toowoomba, Ivan a Veterinary Surgeon with a practice in Rosewood, Qld, and Gillian studied child care and is married to a journalist and lives in Brisbane. Late in the 1980s Ancie became a well-liked member of the Brisbane Womens' Club and West Toowong Bowling Club. On 4 April, Ancie was able to celebrate her 80th birthday with 50 of her very good friends from childhood days to recent times at the Kenmore Tavern.
Ancie loved life. Her ashes are buried in the memorial grounds of the Mt Thomson Crematorium. She is with us all in her three children and eleven grandchildren, who remember her with love and respect. Aub Schindler
Yvonne Gabrielle BARTLETT (2 March 1995, aged 71)
My mum and dad first went to New Guinea in 1948 and their first port of call was Bougainville, where my father took up a position with the Treasury Department. Mum always loved the beauty of New Guinea and in those days they used to leave their doors open at night without fear of being harmed.
Mum and dad were later transferred quite a few times around New Guinea because of dad's work up there. They were in New Guinea for 24 years. Mum always loved to travel so she did what came naturally to her. Mum loved people and now when I think about her I remember how popular she was, always having people around her, they seemed to flock to her like bees to the honey. I thought and still do that she was a very beautiful woman, dad was very protective of her but most of all very proud.
We were all very pleased to have been reared in a place like New Guinea and to this day we are very grateful to both mum and dad for the experience. In 1974 my father, Ralph Earnest Bartlett, was medically boarded out of Lae where mum and dad had resided along with their four children for some 10 years. My parents then retired to Brisbane in late 1974 and after a 15-year battle with illness my father passed away in 1988. My mother never complained, working well into the night to ensure his comfort and well-being. I returned from NSW for the funeral and took my mum back to Sydney with me where she resided with me for 5 years until our return to Brisbane in 1993. My mum had been diagnosed with terminal lung cancer in late 1990, but like always mum refused to give in to her illness and always remained positive and never thought about it. Mum was given 6 months to live in 1990 but through will and determination she out-lived all the doctor's diagnoses.
My mum always lived for her children and was a devoted mother to them all, unselfish, giving continually and never thought of herself. Mum worked tirelessly for all of us and when her illness took its toll she still wanted to do all the things she had been doing but could not any longer.
Mum passed away on 2 March 1995 in the Wesley Private Hospital. She went peacefully with all her children by her side. Mum will never be forgotten for all the beautiful and wonderful things she brought into our lives, she was not only a wonderful mother but a best friend, confidante and she loved us all unconditionally no matter what we did.
Mum will be missed terribly by her children Clinton, Grant, Prudence and Jacqueline and her nine grandchildren." Details provided by daughter, Prudence
Doris THOMAS (9 August 1995, aged 92)
Doris was formerly of "Rainau" Plantation, Kokopo, New Britain and was the widow of Theo (Mick) Thomas, who died on 8 October 1992. Doris first went to New Guinea 12 November 1937 on the MV Montoro. She married Mick shortly after stepping off the boat, and he was the only person she knew that day in the Church of St. George the Martyr in Rabaul, where her two bridesmaids were Joan Rowe and June Ewen. Her mother-in-law, Mrs Grace Thomas, was in Australia at the time, but her father-in-law, William (Bill) Thomas was there, and was most supportive of her until his death in Namanula Hospital, Rabaul, on 10 September 1948.
After a still-born son, Doris had a daughter, Rosslyn, born 13 June 1940 in the same hospital. The three Thomas females were on the MV Macdhui when she sailed from Rabaul Harbour in December 1941, before the Japs landed. They returned in 1946 on the Neptuna and went back to Bita Paka, where Mick had been operating a trading store before the war. (He was parachuted into Timor as part of the Z Special Force during the war. Afterwards he was involved in getting plantations operating again.)
They built another house on the site of the old one. Soon Mick was able to purchase "Rainau" Plantation, which had belonged to Mrs Schmidt (one of Queen Emma's sisters). The plantation had been badly damaged during the war, and had to be cleaned up and replanted. A house was built, which was just a Quonset hut with a verandah attached to the front and back. Once he got the plantation going, Mick started to research the growing of cocoa, and after a trip to Samoa in the early fifties, became the first man to grow cocoa in the Gazelle Peninsula. During the subsequent years, "Rainau" became quite a focal point for visitors and other planters who wanted to join him in cocoa production, so Doris was kept busy with the hospitality involving the provision of many lunches, morning and afternoon teas. Later Mick became President of the Planters' Association for a term and Doris was always very supportive of him during this period.
They left New Guinea during 1974 and bought a completely undeveloped property at Nowendoc, near Walcha in N.S.W. When this had been cleared, they set up a Brahmin cattle stud, and also bred quarter horses. (Mick had also bred cattle and horses in New Guinea.) After about ten years they retired to Forster, on the North Coast of NSW, where they lived until Mick died. Doris then went to Sydney to live and moved to a nursing home in March of this year because of her extreme frailty. She is survived by her daughter, Rosslyn, who provided these details.
Kathleen Agnes COTTRELL-DORMER (27 April 1995, aged 82)
Kay was the widow of William Cottrell-Dormer who died in 1986, having spent many years with the PNG Department of Agriculture, Stock and Fisheries at Port Moresby, Mekeo and Samarai. No further details available.
Jean Henri HUON de NAVRANCOURT (27 July 1995, aged 78)
Born in the south of France, he trained and worked as a journalist before the outbreak of the second world war. He joined the French underground resistance and fought against the Nazis during the war, for which he was subsequently decorated with the Legion d'Honneur.
Following the war, he sailed to South America where he worked as a teacher prior to travelling to Papua New Guinea. For 20 years he worked as a public health officer in isolated and difficult conditions. In 1972 he moved to Atherton in Queensland where he was involved in many voluntary community services, including the establishment of the first Alliance Francaise of Far North Queensland.
For his work towards community ethnic services, he received the Migrant Service Award in 1985. He was frequently outspoken on matters that concerned him and most recently wrote numerous letters to the media denouncing the French nuclear tests.
He is survived by his wife Helen, his four daughters and seven grand­children.
Thelma PRICE (13 May 1995, aged 88)
Widow of Alexander Vivian Gordon Price, Specialist Medical Officer with the Public Health Department in PNG from 5 March 1934 to 5 February 1963, she passed away on 17 April 1978. No further details available.
Vin TOBAINING (2 April 1995, aged 80+)
One of Papua New Guinea's founders and a great supporter of Local Government in the country passed away last weekend at his home village in East New Britain.
In a message of tribute to the late Tolai leader, National Parliament Speaker and Kokopo MP, Mr Rabbie Namaliu, described the late Vin ToBaining, more than 80 years of age, as a man of distinction and a strong advocate for greater participation by nationals in politics and government long before self-government and independence.
The late Vin ToBaining was a member of the former Legislative Council for New Britain from 1961 to 1963, during which he was also a member for the standing committee on regulations and orders and of the standing committee on public works. In 1961, the late ToBaining was chosen as a member of the Australian delegation to the United Nations General Assembly. Mr Namaliu said, in his struggle to win local-level governments, Vin ToBaining was elected as president of the Vunamami Local Government Council – the second to be established in Papua New Guinea – in 1951, and subsequently of the Gazelle Local Government Council, again long before independence. He was instrumental in the formation of the Tolai Cocoa Project in the fifties.
He also took part in the discussions on the establishment of the East New Britain Provincial Government. Dr Namaliu said Vin ToBaining was widely respected as a traditional leader, and as an elected leader at local government and higher levels. His counsel was valued by many of our leaders including Sir Michael Somare and the late Sir Iambakey Okuk.
Dr Namaliu said the late leader was a founding member of the Pangu Pati. "Vin ToBaining enjoyed tremendous respect among the people of East New Britain, and he was highly regarded by government leaders since independence, as well as by the former Australian Administration. The people of East New Britain and Papua New Guinea have lost one of our most distinguished leaders and citizens," he added. PNG Post-Courier, 5 April 1995.
Vin ToBaining's profileon Wikipedia can read HERE