Vale June 1995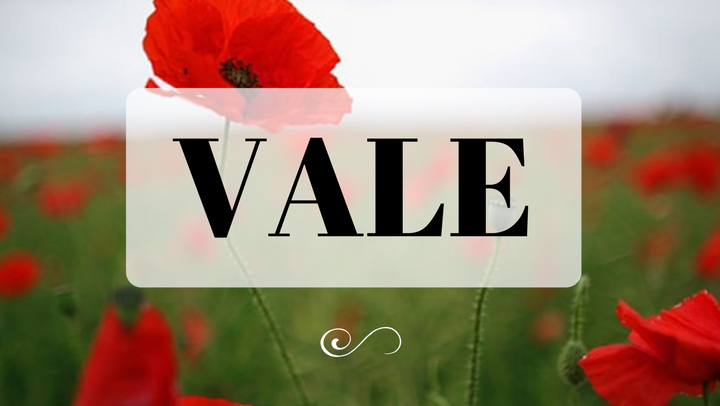 ADAIR, Ken | ASHTON, Desmond Norman | BLACKLEY, Marie | CARLAW, Raymond W. | JACOBSEN, James Henry | JAMIESON, Teresa Ann | MILES, Edgar (Ted) Cameron | PRESTON-WHITE, John | SEXTON, Robert Elliot (Bob) | SMART, Walter Percival | SMITH, Sydney Stephen | TOPHAM, Leslie James | TREMBATH, John Manson |
Robert Elliot (Bob) SEXTON (10 April 1995, aged 65)
Bob was a serving Police officer in PNG in the fifties and sixties, working in Rabaul and Mt Hagen. He resigned in 1965, returning to Australia where he joined ASIO. In 1978 he left ASIO to pursue private business interests. He was a popular and well liked policeman respected both by the general public and his brother officers. In recent years he underwent major surgery and suffered poor health. He worked until a few weeks prior to his death.
Edgar (Ted) Cameron MILES (2 May 1995, aged 68)
Ted was born in Brisbane on 6 June 1926, and attended Yeronga and Junction Park State Schools before going to the Industrial High School. After leaving school he worked for British Empire Films in 1941 and in 1942 was apprenticed to Evans Deakin & Co as a structural engineer for five years. This was during the war years and Ted worked on many US Navy ships and submarines doing repair work.
His ambition was to be in Ballistics and the first day out of his apprenticeship training he joined the Qld Police Force in December 1947. He was attached to Roma Street and had various duties with foot patrol in Queens Street, bicycle beat at Spring Hill, despatch duties on a Harley Davidson, and traffic duty before being sent to Sherwood suburban station. He later transferred to the Water Police and there he obtained his marine Motor Engineers certificate.
Ted finally achieved one of his ambitions when he was transferred to the Photographic section of the CIE and was photographer in crime scenes and preparation of documents and scale plans for the lower courts as well as the District and Supreme Courts throughout the State.
In 1961 he resigned from the Qld Police and joined the PNG Constabulary. He was Police Photographer and later went to Sydney to do an extensive course in Ballistics. He was then Inspector in charge of the newly established Scientific & Ballistic Section at Headquarters in Port Moresby. His work took him all over the Territory, and he was commended by Sir Alan Mann on some occasions for the work which he had done. Ted also lectured and trained officers at Bomana Police College. He attended many Scientific conferences in Australia and received the Queen's Police Medal for long and exemplary service.
In 1971 Ted returned to Brisbane for leave and a medical check-up and as a result of heart problems was advised not to return to Police duties, so he retired after 25 years continuous service to both Qld and PNG Police. He resided at the Gold and North coasts of Brisbane and in 1982, after being told he had ten years to live, was given a by-pass operation. He was always grateful for his extended time of 13 years.
Ted has been a member of the Darling Downs Branch of the Qld Retired Police Assoc., and also Branch Secretary/Treasurer for some years, a position he enjoyed whilst living in Toowoomba for the past five years. He died in St Vincents Hospital, Toowoomba, and was buried with a Police Guard of Honour and Police Flag and Cap. He is survived by his widow Val and daughters Janelle Bapty (Cairns) and Robyn Prebble (Toowoomba), sons-in-law Greg and Jeff and six grandchildren.
James Henry JACOBSEN (16 December 1994, aged 65)
Lae business tycoon and founder of PNG's biggest bakery group, Jim Jacobsen died of a massive heart attack on 16 December 1994 at age 65. Known as the Big White Poppa of Lae, Jim was a legend in his own lifetime.
Apart from running "Suambu", his own plantation, he was the founding father of the Morobe District Planters and Farmers Association from which evolved the Morobe Agriculture and Show Society. Other achievements in his successful business life include being the chairman of Taraka Bakery, Managing Director of the Morobe Bakery Group of Companies, Director of Westpac Bank PNG, Director of Zurich Pacific Insurance, Director of the Australia-West Pacific Line, Director of Rice (Trukai) Industries, President of the Institute of National Affairs, Vice-President of the PNG Employers Federation, Chairman of Salvation Army Morobe Province Advisory Committee, member of the Steering Committee on Food Processing and Preservation Unit at the University of Technology in Lae, Foundation Member of the Agriculture Technologists of Australia, Fellow of the Australian Institute of Company Directors, life Vice-President of the Morobe Agricultural Society, founding member and life member of the Lae Golf Club, life member of the Lae Game Fishing Club and a life member of the Papua New Guinea Amateur Turf Club.
Since leaving College in 1947, Jim has always been keen on all old boys' activities and attended all his year's reunions. Jim is survived by his wife Glen, son Robert and daughters Julie, Suzy and Cathy and 9 grandchildren. Extract from the Hawkesbury Agricultural College Journal, March 1995, provided by Francis Xavier Ryan.
Leslie James TOPHAM (3 May 1995, aged 81)
Dr Topham was appointed Opthalmic Surgeon to Papua New Guinea regions in August 1957 and served in that capacity in Rabaul, Lae, and Port Moresby. He left PNG in March 1965, returning to Australia whereupon he was appointed Consultant Opthalmologist to the Townsville General Hospital, Townsville, North Queensland, and established his private practice there.
Upon retirement in May 1982 he was made Honorary Consultant Opthalmologist to the Townsville General Hospital, which apppointment he retained until his death. He is survived by his widow, Marjorie, of Dunnington, York in the UK.
Marie BLACKLEY (1 May 1995)
Marie and her late husband "Snow" went to the Wau Bulolo area before the war. After the war they were at a coffee plantation near Goroka. She is survived by two sons, Richard and Douglas and many grandchildren. No further details available.
Ken ADAIR (4 June 1995, aged 71)
Ken was with the PNG Public Health Department and when he retired I believe he was Chief Accountant with the Department. He was the husband of Gwen, father and father-in-law of Terry and Leonie, Peter and Merridy, Heather and Lindsay. No further details available.
Raymond W. CARLAW (13 March 1995, aged 71)
Ray went to PNG in 1948 as a Medical Assistant with the Public Health Department and served in New Hanover, Kavieng, Finschhafen, Rabaul and Port Moresby. During this period he became Health Education Officer and in 1964 became a Chief of Division in the Department of Information and Extension Services. During this period he also completed studies which enabled him to go to Berkeley University in the US to study for his PhD, which he obtained in 1968. He then resigned from PNG and subsequently carried out a number of aid projects in Nepal, Indonesia, PNG and elsewhere. He became the Professor of Health Education at the University of Minnesota but has resided at Washougal WA USA where he was when he died.
Following provided by Terry White, an ex-Kiap who served with Ray in the Finschhafen Sub-District:
"I have no doubt that many members deeply regret the sad passing of a number of people over recent years who contributed so much to Papua New Guinea and bringing it over the threshold to Independence. Personally, it was so sad to learn of passing of a man I had the privilege and the pleasure of working with when I first met him at Finschhafen in the mid 1950s, Ray Carlaw. As a medical assistant of the Health Department this "dokta's" efforts to overcome health problems in the sub-district were far from 'lik-lik'(small). This fine hard-working man was no desk-bound officer either. He frequently patrolled the rugged Huon Peninsula region to help indigenous people overcome medical problems, to select locals for Medical Orderly training and to establish village Aid Posts. Following a serious outbreak of infantile diarrhoea in the Kotte area he fought hard to have a fully trained doctor posted to Finschhafen. With the support of the late Sir John Gunther he succeeded.
"Ray's advice regarding overall development within the sub-district was considerably sound and helpful as was his community support, for whites and blacks alike. He and his wonderful wife Flo were strong supporters of the expanding Boy Scouts and Girl Guides movements. Their combined efforts at improving race relations were also substantial.
" Following studies at London University, Ray Carlaw served in Rabaul and in Port Moresby. He became a dedicated specialist in health education and, following further studies at Berkeley University in California, this much admired man's knowledgeable contribution continued for many years in Nepal, Burma and Indonesia. As a consultant to the Asia Development Bank he undertook further health surveys in PNG in 1992/93.
"PNG would benefit considerably with continuing support from people with the capacity, dedication and calibre of the late Professor Raymond Carlaw. Farewell to a brilliant man whose prime aim throughout his working life was to contribute to the welfare and the happiness of others in developing countries."
Ray is survived by his widow, Florence, daughter, Florence and sons, Kenneth and Malcolm.
Walter Percival SMART (30 April 1995, aged 80)
Percy joined the PNG Administration on 4 March 1949 and when he retired on 13 May 1969 he was Clerk of the House of Assembly. No further details available.
Teresa Ann JAMIESON (6 May 1995)
Widow of the late Kenneth John Jamieson, a Senior Technical Officer with the PNG Public Health Department. No further details available.
Sydney Stephen SMITH (12 April 1995, aged 79)
Syd Smith was born at Cooktown, North Queensland, on 7 March 1916. His father, Sydney Smith, was a long time member of the old Papuan Administration, eventually rising to the position of Treasurer.
Syd was educated at St Joseph's College, Nudgee. He joined the Papuan Administration as a clerk in 1935, serving in the Treasury, Customs, Postal and Public Works Departments until the outbreak of the Pacific War. He several times applied for transfer into the Magisterial Branch (where the Resident Magistrates, Assistant RMs and Patrol Officers were located) but there were very few vacancies, for Papua was a desperately poor country with a tiny public service. From 1942 to 1945 Syd served in ANGAU at Buna, Kokoda, Milne Bay and Oro Bay, reaching the rank of Captain.
After the war Syd rejoined the PNG Administration, as an ADO in the then Department of District Services and Native Affairs, being at last able to do the field work that he had always wanted to do. He carried out notable patrols in the Western District, some of them accompanied by Des Clancy, then a Patrol Officer. In 1947-48 he was ADO Goilala, and it was while he was in that wild mountainous region that he was chosen to go in and re-open the old Lake Kutubu station, in 1949. Des Clancy was again his companion, together with the late Ron Neville, P.O.
The Southern Highlands was then almost completely uncontrolled and Patrols from Lake Kutubu located the site of Mendi, headquarters of Southern Highlands Province, and also the site of Tari. Every patrol that went out encountered tribes not before contacted. Syd Smith was an outstanding patrol leader; the work he did in those early post-war years has never been adequately recognised.
In 1952 Syd attended the Long Course at ASOPA, and it was while at the School that he met his wife Ann, sister of those well known kiaps, the late Dudley and John Young-Whitforde. After his marriage Syd served for a long time in the Sepik District before being appointed Native Lands Commissioner in 1956. He spent most of the rest of his career in the New Britain District.
He was a mild, unassuming man, never one to talk of the remarkable patrolling he had done in his younger days. He was a close friend of the late Ivan Champion, Bill Adamson and Alan Timperley, all of course famous for the work they did in the field in Papua. He knew Sir Hubert Murray, and Jack Hides. A link, indeed, with the brave old days.
Some months before he died, Syd commenced to write his memoirs, mainly for the benefit of his family who were understandably curious to know more of his early life. Since I seem to be the literary kiap and Syd was a personal friend, he sent me his stuff for advice and comment. Fate allowed him only sufficient time to complete an account of that part of his life spent in the Goilala. He wrote vividly and well, and it is sad that he was not able to complete his memoirs, for I am sure they would have made a book to be treasured.
All who knew Syd will mourn his passing, and will feel deeply for Ann and her family in their loss. Farewell, Syd: it was a pleasure and a privilege to have known you. Syd is survived by his widow, Ann, sons Ian and Greg, daughter Ailsa and son-in-law Les. Jim Sinclair
John Manson TREMBATH (28 May 1995, aged 81)
John joined the PNG Administration on 1 July 1947 and retired on 6 March 1970. Survived by widow Beverley Alma. No further details available.
Desmond Norman ASHTON (16 February 1995, aged 78)
Des was born in October 1916, at Auckland, New Zealand, he was educated at Whangarei High School. He went to work for Dalgety & Co in 1932, and stayed with them until 1938. As a boy Des was a dedicated yachtsman, and this love of the sea remained with him to the end of his days. He left Dalgety's to go adventuring in the South Seas on board a yacht, Land's End. The yacht hit a reef near Sudest Island in the Louisiade Archipelago, on a dark and stormy night in 1939 and was a total loss. Des and his shipmates escaped without harm and made their way to Samarai. In his memoirs Des wrote: "I was enraptured by what I had seen of Papua and come hell or high water, that was where I was going to stay."
And stay he did. He got a job with Bob Bunting as master of his 75 ft auxiliary ketch, Lady Jean, and continued sailing the waters of Papua until the Pacific War began. Des joined the Royal Australian Navy in 1940 as an ordinary seaman and rose to the rank of Chief Petty Officer. I have always been amused at the thought of Des going to war as an "ordinary" seaman. Ordinary was not the word I would have used to describe him.
He married his late wife, Jeannie, in April 1944. Daughter Lynn was born in 1946 and Beni in 1950. He was a loving father and husband, and fond grandfather of Leanne, Debbie, Tamlyn, Nicola and Ashleigh. After leaving the Navy, Des joined the Department of District Services and Native Affairs, in the PNG Administration, as a Patrol Officer. He subsequently served in a number of different stations in the Northern District, Western Highlands and Horobe Districts. Jeannie and the girls were his constant support. He was promoted in turn to the positions of Assistant District Officer and District Officer before becoming Acting Dsitrict Commissioner Morobe District in the 1960s. He was then transferred to Bougainville. He finished his career as District Commissioner, Manus District, just before Independence.
I first met Des and Jeannie 40 years ago, when we were attending the Australian School of Pacific Administration in Sydney. While at the school Des had his little racing yacht Lahara built, and he had considerable success in events like the Sydney-Hobart and Sydney-Montagu Island ocean races. He was a very fussy shipmaster. Guests on his yacht were expected to take off their shoes, lest they mar the perfection of his deck. After the school, Des sailed Lahara back to PNG and subsequently used her as a patrol vessel in New Britain.
Lahara was the first of a number of yachts and motor craft that Des put into service whilst he was in PNG, and after retiring to Australia. I went fishing with Des on a number of occasions in his various small craft. I don't remember that we caught many fish, but we were good companions and I am glad that I had those times with him. Des was my very good friend. We served together in Morobe District for some six years. I won't say that we never had a cross word, but our disagreements never lasted.
Des Ashton was a two-fisted he-man, a tough field officer, a good patrol officer and a very effective District Commissioner. His outstanding quality was, I believe, his willingness to come to generally sound decisions, and stick to them. He never shilly-shallied around. He did not suffer fools gladly and he stepped on a number of toes during his time in PNG. We all have to go some day and at least Des went quickly, without a long illness, which would have been hard for a man of his character to bear. He was a straight shooter and a man of his word. That is not a bad epitaph.
John PRESTON-WHITE (24 May 1995, aged 80)
John died in Perth after a long fight with cancer. He joined the then Mandated Territory of New Guinea on 8 January 1938 as a Cadet Patrol Officer and served in various Districts in both Papua and New Guinea before and after WWII. John saw war service in PNG, the Pacific and with ANGAU and rose to the rank of Captain. He is survived by his widow, Mary. No further details available.