Vale March 1996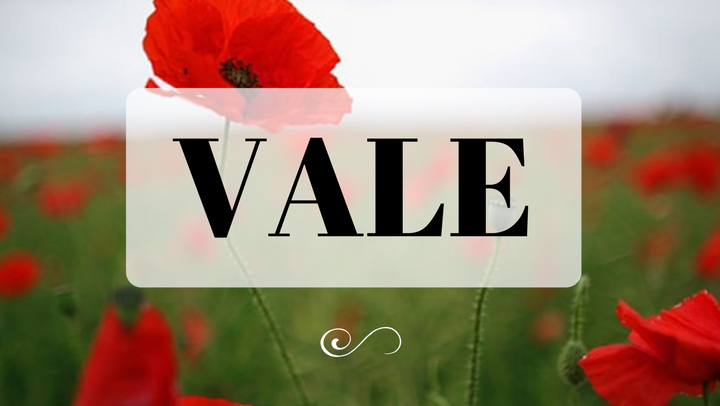 BAILEY, P.F. (Bill) | BEADEL, Yvonne Dorothy | BIRCH, Hugh Milton (Smoky), DFC | CECILIA (BUCHANAN), Sister Mary, OLSH | CLARK, Nel | l COLE, Kenneth Stewart | COLE, Tom, OAM | CRAIG, H.W. (Herb) | DENEHY, Maxwell Joseph (Max) | DYER, Eric John | EARL, Everard James (Jim) | GANGLOFF, Bernard Henry | HAMMOND, Rosalind Teresa | JAMES, Neville Patrick Douglas | JOHNSON, Loscelles Barry (Johnno) | KING, Claude | LAPPIN, Jan | MALONEY, Hilda | McGOWAN, Leila | MILLAR, Andree Norma, OBE | MUNRO, Roseanne | SNEDDON, Thelma Eileen | STEWART, William John Albert | TAIT, Lesley Lucy | TWEEDY, Sister Kath, MBE | WHITE, Raymond Francis | WREN, Eric David |
Raymond Francis WHITE (1 January 1996, aged 76)
Ray was born in Melbourne on 16 January 1919. He was the oldest of three children born to Frank and Ellen White who was the sister of the late Australian Prime Minister John Curtin. Ray was always proud of his Uncle Jack.
Ray was educated at Christian Brothers primary school and in his last year he was awarded the Diocesan Scholarship for his secondary education at St Kevin's College. At 15 Ray matriculated, and on his 16th birthday he joined the Melbourne Tax Office. Shortly after, he began studying accountancy at night school and qualified as an accountant at the age of 19.
Like so many of his generation, Ray's youth was hijacked first by the great depression and then by the Second World War, which interrupted his study for an Economics Degree at the University of Melbourne. Ray volunteered and joined the 2/1 Australian Field Regiment in June of 1942 and after serving in Papua New Guinea was discharged on 17 December 1945. On his return to Melbourne Ray rejoined the Tax Department and 3 years later successfully applied for the position of Assistant Comptroller of the Malayan Inland Revenue Department. During the five months prior to his departure Ray met and married Celia and they arrived in Singapore in May 1948. From Singapore they moved to Kuala Lumpur and from there to Penang, where Ray opened the first Taxation Branch Office in 1949. The following year, 1950, his daughter Christine was born. In 1953 the family transferred to Kuala Lumpur where Ray was to act as the Comptroller of Inland Revenue. That was the same year that his son Geoffrey was born. In 1956 Ray was appointed as the Comptroller and became the youngest Departmental Head in Malaya.
Following Malaya's Federation he resigned in 1961 and after a brief time in Perth was asked to go to Papua New Guinea as the Assistant Collector of Taxes and three months later he was appointed as the Chief Collector of Taxes. Ray remained in that position until his retirement to the Gold Coast in 1975.
Ray was blessed with and embraced a very full life which, as well as his family life, included membership of several social clubs and an active participation in sport. In his younger years Cricket and Rugby Union, and throughout his retirement, Bowls. Ray was always an avid and vocal follower of other sports, particularly his much loved football team Carlton, who would never have been as successful without his advice which was often shouted at the TV screen during live broadcasts. Mind you, the rest of us always felt sorry for Carlton, as no other team seemed to have as much bad luck in drawing such incompetent umpires as they had for their matches. In summer, Ray would tutor the entire Channel 9 Packer commentary team in the correct method and interpretation of the Australian Cricket Council's rules of the game. The family now hopes that Ray has managed to tune in the Cricket with the "real" commentary from the ABC!
As father and husband, Ray was always kind, thoughtful and generous to a fault. He never intruded, but when asked for advice gave it willingly, and it was always practical, substantial and of quality. It wasn't only his family who benefited from his generosity and wisdom. When his son Geoffrey returned to work in Papua New Guinea many years after Ray's departure, he gradually discovered, through conversation with some of Ray's old associates, the depth of appreciation and respect Ray was still held in by so many of his old friends. Geoff said the words that were most repeated in those conversations were Integrity, Honesty and Substance.
For Ray, perhaps the one honour he couldn't ignore was when the current Chief Collector of Taxes in Papua Hew Guinea invited him back to PNG in October 1993 for the official opening of the new and first permanent office of the PNG Tax Office. This was indeed a sincere recognition of his pioneering work in the financial administration of Papua New Guinea which Ray certainly appreciated.
Despite the generational hijacking already mentioned, Ray managed to retain his sense of fun, love of good company and numerous liquid celebrations, a fact for which Fourex, Carlton, SP and Anchor will be eternally grateful! In recent days there have, of course been many conversations with old friends, relatives and relative ring-in's. The one memory all have mentioned has been the "hugs" that Ray so generously gave and received. According to all these people and his family, there was something about Ray which was just undeniably 'Huggable". He will indeed be sadly missed.
Ray is survived by his wife Celia, his children Christine and Gregory, son-in-law Rob Hayes, daughter-in-law Penny and grandchildren Leila, Jessica, Rahima, Richard, Patrick and Harvey. Eulogy delivered by Sir Leslie Froggart, kindly supplied by Royce Webb
Kenneth Stewart COLE (12 July 1995, aged 72)
Ken was born in 1923, left school at 15 as was normal at that time, and began work as a junior laboratory technician at Fremantle Hospital. In 1942 Ken enlisted in the Australian Army and, because of his hospital training he was drafted into the Medical Corps. He served in North Queensland, New Guinea and throughout the islands of the Pacific.
Following discharge from the Army in 1947, he went back to Fremantle Hospital for a short time and decided to go to the University of Western Australia. He passed his Leaving Certificate in one year and gained University entrance. At that time, less than 5% of students ever gained university entry. Ken began to read Science in 1949 and was influenced by an agricultural student to change to Agriculture in 1950.
During his university days, Ken played hockey, rugby and football with the Faculty team. He was a popular student with a keen analytical mind and sense of humour. After graduation Ken joined the WA Department of Agriculture in the Irrigation Branch at Waroona. About 1955 he went to Papua New Guinea as an Agricultural Officer. Whilst there he married Betty Home, a nurse at Samarai.
Some six years later the Coles returned to Western Australia and were sent to Kununurra, where Ken worked on developing irrigation systems for cotton and other crops. After some time Ken transferred South to Harvey and then to Perth, as one of only two authorities on large scale irrigation schemes. He was made Irrigation Officer for the State before his early retirement at the age of 63.
In a eulogy to Ken, his friend David Johnston, the one who persuaded him to do Agriculture, quoted from the Masonic ritual: "To steer the barque of life over the seas of passion without quitting the helm of rectitude, is the highest degree of perfection to which human nature can attain." Those words sum up the way Ken Cole lived his life.
Ken is survived by wife Betty, three children and four grandchildren. [Extract from the eulogy by David Johnston, 18 July 1995. Both Ken Cole and David Johnston were students of Don Drover at the University of W.A.]
Thelma Eileen SNEDDON (17 February 1996, aged 79)
Widow of John Gillespie Sneddon who was a Clerk with PNG Department of District Administration from 1946 to 1969. No further details available.
Tom COLE, OAM (9 December 1995, aged 89)
The real life "Crocodile Dundee" was famous as a Northern Territory crocodile hunter between the wars and in PNG after World War II. Tom rode the ranges of the Northern Territory, Queensland and Western Australia at a gallop after wild buffalo, was stockman, drover, horse-breaker, station owner and linesman on the Overland Telegraph, and then spent 30 years in PNG as a crocodile shooter and Highlands planter.
He arrived in PNG in 1950, becoming the first professional crocodile shooter, for years operating in the Purari Delta. He trained local teams to work independently, and developed it into a substantial business, at one time being the only buyer and exporter of crocodile skins in PNG. In 1955 he was allocated 150 acres of land at Banz, established Sigri plantation in 1956 and settled down to coffee planting. He was a well known and colourful member of the postwar expatriate community.
Tom recorded his very active life in five books, the first, Hell West and Crooked becoming a classic, with more than 100,000 copies in various editions. He published two collections of true Australian outback yarns, Spears and Smoke Signals and Crocodiles and Other Characters, and a selection from his letters and his station diaries, Riding the Wildman Plains. His book about his years in PNG, The Last Paradise, has gone into two editions. It was a measure of Tom's drive that all his books appeared after he turned 80, because until then he was far too busy living his adventurous life to sit down and write about it.
Although it's as a writer that thousands of readers knew him, Tom didn't think of himself as an author. He took up the pen not for a new career but because he felt that history needed to be recorded. For his writing he was awarded the Medal of the Order of Australia (OAM) in 1993 for services to community history.
Tom had never been on a horse before he arrived in Australia from Sussex in 1923, alone, aged 17, but he took to outback life immediately. Eldest of eight children, he hadn't got on with his father, and with his mother's help left home to try his luck. Two weeks after he left, his father asked at breakfast, "Where's Tom?", and when told that he had gone to Australia, never mentioned his name again. "As things turned out, I should be grateful to him", Tom said many years later.
From 1923 to 1943 his working life was associated with legendary Australian cattle stations such as Wave Hill, Victoria River Downs, Brunette Downs. He spent his 21st birthday camped at an outback waterhole, mustering, but never let on it was his birthday. At 26 he cut his own track from Darwin for the horse-drawn dray in which he took stores to his grazing lease between the West and South Alligator rivers, a week away. There was not a metre of bitumen road in all of the Territory including Darwin. Today the Kakadu Holiday Village overlooks the site of his old homestead.
His wife died a number of years ago and he is survived by his daughters Mai Katona, Kathryn (Mrs Laurie Oakes, Canberra), and Gabrielle (Mrs Michael Smith, Sydney). On 16 February there was a Memorial Service for Tom at the Darwin Botanic Gardens and a tree planted with a plaque in his memory. Stuart Inder
Sister Mary CECILIA (BUCHANAN), OLSH (17 August 1995)
Sister Cecilia died at Boroko, Port Moresby. She had worked with the Mission in PHG since 1938, in several areas of the Yule Island (and Kairuku) Diocese as well as Milne Bay and Port Moresby. She became well known and loved by many families and children over the last 40 years.
A delightful and happy lady, Sister Cecilia now lies buried at her beloved Catholic Mission at Yule Island after a full Requiem Mass at St Joseph's Church, Boroko, attended by a large gathering of mourners.
Eric David WREN (25 November 1995, aged 76)
Born at Strathfield, NSW, in 1919, as a young man at university when war broke out in 1939, David followed in the footsteps of his father, Eric Wren, and enlisted with the Army in the 2/4th Battalion, which saw hard service including Libya, Greece, Crete and New Guinea. Even in that outstanding battalion, none was more battle hardened nor as young when promoted to Captain than David Wren. The 2/4th unit history White Over Green, published in 1963, makes it clear that 'Jenny' Wren was as popular as he was brave.
From the reports of his Commanding Officer Lieutenant-Colonel (later Major-General) Ivan Dougherty, David Wren was a good man in a tight spot, from rearguard actions in Greece where at one stage Dougherty ordered "Lieutenant Wren's platoon to hold on …. to protect the withdrawal of the rest of the battalion as far as possible", to his appointment as company commander in the heat of battle at Heraklion on Crete in May 1941. This same strength of spirit prevailed in his part in the later Aitape-Wewek campaign and beyond, throughout David's life.
On hearing of David's passing, Major General Sir Ivan Dougherty paid him tribute as a "first class top flight officer who always had things under control". In the sentiments of his good friend Harry Jackman, if there is a parade ground in heaven for brave soldiers, David must surely be in the front rank as marker for his mates in the 2/4th.
David joined the PNG Administration in March 1946 as a Patrol Officer, with service including Misima, Milne Bay, Rabaul, Morehead and a brief period at Daru acting as District Commissioner. He married Beverley Hancock in 1962 and they had two daughters, Kathleen (1966) and Elizabeth (1970). Even in difficult times during these years, David was respected by all as a man of strong principles and dedication to the task. Harry Jackman echoes that respect for David in writing "He is one of the most decent blokes in has been my good fortune to meet during my thirty-odd years in the islands."
Upon retiring from Papua New Guinea in 1974, David lived in Canberra and Queanbeyan where, in his inimitable and sometimes enigmatic style, he quickly became involved with the local community. Among his many interests, he was considered the 'conscience of the National Party, believing it important to keep 'politicians on their toes'. In mourning his passing, The Queanbeyan Age wrote: "David will be remembered with affection and respect as a community and political activist, concerned by the erosion of civil liberties, government intrusion in the lives of private citizens, and a great worker for a fair go for everyone."
In declining health over recent years, where his war service had clearly left its mark, David lost a leg through illness in 1993 but continued to always look forward and to put concern for the plight of others before himself. As ever, he believed in fighting the good fight to the very end. David had been in Ballina to be near his family, especially his grandchildren, and died peacefully in Ballina Hospital after an illness of several weeks with complications resulting from respiratory problems.
From our time working together in Papua New Guinea, our friendship with David continued and grew when he moved to Canberra in the 1970s. David was a truly remarkable man, of deep intelligence and unmatchable wit. He made a great impact on our lives and the lives of all who knew him well. Together with Beverley, his brother Ian and all his family and friends, we shall miss him dearly. Farewell dear friend!
Paul and Brenda Jones, December 1995. Obituary written by Paul Jones of Curtin ACT which appeared in the Queanbeyan Age 20 December 1995 under the Headline "David Wren, a man who cared"
Andree Norma MILLAR, OBE (5 December 1995, aged 82)
Andree Millar was a household name in Papua New Guinea. She was widely known throughout the country as a doer in almost every field for over 32 years. It was said in her valedictory that she had amazing life experiences in many countries. She had a forthright personality and her opinions, not always expressed with tact, were sincere. Her dry wit was almost wicked at times until you knew her well. Then you realised that her sense of humour was unique. She had an encyclopaedic knowledge of orchids. It was in this field that she was awarded her OBE. When talking about PNG, she had story after story to tell. To listen to her was an enriching experience. To some she might have seemed roughish but underneath was a tenderness and wish to be of assistance no matter what was the problem. This was especially so in her work helping with the task to pass on her practical skills and knowledge to the people of PNG.
Sir Michael Somare, MP, had sent a fax. In it he said to Andree's family "On behalf of the people of the East Sepik Province I would like to offer our sincere condolences in your loss. She was the one who started the National Capital District Botanical Gardens. PNG was her second home. Her heart and love will remain in PNG for ever."
Another fax had come from the staff of the NCD Botanical Gardens. "The Staff and Management of the National Capital District Botanical Gardens send their condolences. We called her Mum. Her work on horticulture and orchids established a name for PNG worldwide."
Once when hiking in the Highlands region she came across a village where a Lutheran pastor was holding a service. He was reading from Psalm 103 verses 15-18. "The days of man are but as grass: for he flourisheth as a flower of the field. For as soon as the wind goeth over it, it is gone: and the place therof shall know it no more. But the merciful goodness of the Lord endureth for ever and ever upon them that fear him : and his righteousness upon children's children. Even upon such as keep his covenant and faithfully obey his commandments." Andree said she was captivated and transfixed upon hearing these words. She related them to her beloved orchids realising the fleeting­ness of these beautiful flowers. They bloom in all their glory and then fade and die. They are like people.
In her last days the ravages of cancer made it hard for her to continue the literary work she wanted to complete. It frustrated her. Her son Roger said she was like a person at the coal face; in the operating theatre or in the garden. She got things done. Her grandson Jordan had phoned her from Tokyo a few days before her passing. He said she sounded her usual self. She was a tower of strength to the end.
Among those present were Dr Russ Stephenson, formerly Dean of the Faculty of Agriculture UPNG, Dr John Jamieson, formerly RHO Lae, Albert Wright, Health Dept Lae, Heather Saville (Syd was in Port Moresby), Pam Brooks and Doug Franklin. A Memorial Service was held in Port Moresby attended by Sir Michael Somare. Doug Franklin
H.W. (Herb) CRAIG (September 1995, aged 75)
Herb was a well known and respected business man and entrepreneur whose building on the Wharf at Port Moresby, 'Craigs On The Waterfront', was often visited by residents looking for good fish, prawns and marine products. Herb was a true son of Papua having been born at Samarai, Milne Bay. His parents were pioneer residents in that most beautiful island headquarters.
Always a man keen on community works, Herb was a Charter Member of the Lions Club in Moresby and became the first PNG member to become District Governor for Lions Club in 201H, Northern Australia.
Loscelles Barry (Johnno) JOHNSON (10 December 1995, aged 69)
He was born in Arthington, England, and spent his childhood in Perth, WA, before returning to England to serve with the British Army in Italy during World War II. On discharge he returned to Australia and in 1952 took up a position with Dogowan Plantation in the difficult reconstruction period after the war.
In 1956 he joined a yacht and departed for USA where he remained and married Edna Watt, originally from near Pittsburgh, Penn. In 1960 he returned to PNG to work for Kulili Estates till his retirement in 1982. During his working days he was well known and popular through the Madang and Highland areas.
While at Kulili Edna, who was a very competent secretary, trained several local girls to a high standard, one of whom, Egness Meng Milibur, is the present office manager for Kulili Estates.
While Edna was visiting relatives and friends in the US, Johnno visited for Christmas to Karkar and was spending the weekend with his godson Derek Middleton at Wadau Plantation for his 30th birthday. On Sunday morning December 10 while swimming and snorkling it would appear Johnno suffered a massive heart seizure and died instantly in the water. He was buried at Kulili Plantation on Thursday 14th beside the original WM Middleton and other friends.
Some 500 local Karkar people and older plantation workers attended a moving ceremony to pay their last respects together with the local expat community.
Lesley Lucy TAIT (28 September 1995)
Lesley, was born in Bundaberg and, as her father was a station-master, she grew up in many northern and outback rail centres before being married to Lionel in 1926. She served in the Navigation & Lighthouse Service both before and during the war.
Afterwards, she and her husband went to Port Moresby where Lionel worked for Burns Philp. Lesley joined the Dept of Civil Aviation and she travelled extensively around PNG both in her job and in her enjoyment of golf. They were living in Madang when Lionel died in 1966. After returning to Queensland for a brief period, she then returned to Madang and to her old job. She retired to live with her family in Manly, Qld, in 1971 after 27 years in PNG. She is survived by her son Peter, daughter-in-law Judy and grandson Paul.
Everard James (Jim) EARL (28 August 1995)
Jim and Betty Earl with daughter Lesley went to PNG in November 1955 to work on a plantation on New Ireland, 'Belik", where they stayed for 2 years before moving to Madang in 1958 where they lived for 4 years whilst Jim worked for Colyer Watson. Betty taught at the primary school and Lesley attended same. In 1962 they moved to Rabaul to work for New Guinea Company, and Betty taught at Court Street School. Lesley went south to boarding school for 5 years.
1967 saw a move to Port Moresby where Jim worked for Carpenters and Betty at Ela Beach School. Betty died in 1972 and Jim stayed in Moresby till 1980 when he retired to Strathpine, Qld, where he lived till 1992 when his health forced him to sell up in Queensland and move to Bowning, NSW, with Lesley and Brett into a flat on their house. It was there he stayed till his passing. At his funeral a moving Last Post was played by his grandson Adam, and both Adam and grand-daughter Tina were Pall Bearers. Lesley Farquahson (nee Earl)
P.F. "Bill" BAILEY (10 November 1995, aged 83)
The death occurred at Port Macquarie, NSW, of P.F. "Bill" Bailey. His wife Olive predeceased him. Bill was a long time employee of W.R. Carpenter & Co., Ltd. in New Guinea pre- and post-war, a contemporary of the late Charles Blake and Bert Perriman.
In 1940 he enlisted in the A.I.F. with army No. NGX144, and joined the 2/19 Inf. Battalion, to be followed into that unit by his mates John Arnold (Jack) Crockett and Colin Brien. All were captured during the 1942 Singapore Campaign. They survived the war. Bill Bailey and Jack Crockett were back working in New Guinea in 1946: Jack with District Services as District Clerk, Bill as Merchandise Manager with Carpenters at Rabaul. Colin Brien arrived in 1948 as Carpenters Accountant, later to be Company Secretary, and then Branch Manager at different Territory postings.
Jack Crockett (a first world war veteran) died on the Gold Coast in 1980, aged 81 years. Colin Brien lives on the Isle of Capri, keeping busy with his garden, daily walks, family history research, and periodic overseas holidays. In 1995 he was visiting London. On the morning of 15 August he placed a wreath on the Whitehall Cenotaph, in memory of his fallen comrades. That day was exactly 50 years after he had been released from Changi Gaol, P.O.W. Camp.
Nell CLARK (November 1995, aged 94)
Nell died in Albury and will be remembered by the Madang community where she was the Shipping, Stores & Customs 'boss lady' for the Catholic Mission at Sek (Alexishafen), Madang during the years 1949-1976. She also will be remembered by the plantation community for her great skills and passion for the card game of Pinochle which she played constantly and of which she became the uncrowned Queen.
Eric John DYER (October 1995)
Eric passed away after a short battle with cancer. Born in India and educated at boarding school in England, Eric and his brothers came to Australia in 1925 and spent some years working on various properties. In 1941 Eric enlisted in the Australian Army and saw service in PNG. As a sergeant in the Coastwatchers, he escorted his troops behind enemy lines.
Soon after the war Eric worked with Burns Philp and was posted back to PNG to be involved with copra and cocoa production. He gained promotion to Plantation Inspector and his work took him to New Ireland, New Britain and into the Highlands. These years in PNG 1947-70 were of great significance in Eric's life and he always remembered his experiences there with fondness and enthusiasm.
On the return to Australia, Eric and his family settled in Townsville where he continued working until his retirement in 1974. In the years since then, Eric was involved in Lions, Probus, Wildlife and Conservation Society, golf and other community projects. Helen, Eric's wife, passed away in 1992 and he is survived by his son Dana and daughter Susan.
Claude KING (September 1995)
Passed away after being in poor health for many years. Born in Toowoomba in 1923, Claude was with the Occupation Forces as a Signaller in Japan. He later spent many years with N.G. Company, Madang, running a General Store & Newsagency. Jean Birt, Vicki Rutland and Isabel Pert attended his funeral at Howard. As Isabel said, Claude was one of nature's true gentlemen.
Jan LAPPIN (19 August 1995)
Jan died following a stroke at the Greenslopes Hospital in Brisbane. She was the wife of the late Jim Lappin, previously of the PNG Department of Posts & Telegraphs in Moresby. She is survived by two sons Jim and John presently in Emerald, as well as her daughter Janice who is in Port Moresby. No further details available.
Hilda MALONEY (8 September 1995, aged 93)
Hilda was Manager of the Administration Paga Girls Hostel in Port Moresby for many years. She had been living at Victoria Point, Qld for some years. No further details available.
Yvonne Dorothy BEADEL (14 September 1995)
Yvonne died in a nursing home at Wellington Point, Qld, following a stroke some months ago. During the war she served with the WAAF in a radar unit between 1942 and 1945. She went to PNG in 1946 and will be fondly remembered by ex-Comworks 4 Mile staff. She established Beadel's Bookshop in Cuthbertson St, Port Moresby, and was well known in Territory golfing circles. Later in Sydney she worked with the NSW Police dealing with Police Boys Club affairs. Her last 9 years were spent in S.E. Qld. No further details available.
Sister Kath TWEEDY, MBE (3 October 1995, aged 63)
Sister Kath died at the Mater hospital in Townsville following a fight with cancer. She obtained her general nursing and midwifery qualifications in Townsville before serving for two years at Palm Island.
She joined the Red Cross Blood Bank Division and went to Port Moresby to develop the existing "on demand" service into a wider donor base capable of supplying all the increasing needs for surgery. Her good humour, and cheerful persistence in achieving her aims, were much appreciated by donors and by PHD staff. After 2 years she went to Rabaul to establish the Blood Bank Unit. She gained the confidence of indigenous donors to the extent that they supplied 90% of the vital needs of the visiting Thoracic Teams.
Returning to be Sister-in-Charge at the Townsville unit in 1969 she had to retire early in 1982 due to ill-health.
Few knew she was awarded the MBE and the Florence Nightingale Medal (Nursing's most prestigious award) and was the Quota Club's Woman of the Year in 1984. Many of us will vouch that she lived for her work and for laughter. She is survived by her sister.
Roseanne MUNRO (29 October 1995)
Roseanne was in Rabaul in the 1970 where her husband Bruce was the production manager for the Shell Oil Co., and their children Neale and Kathryn attended the Court St School They later returned to PNG and served with the Shell Co. in Lae. Later still Bruce returned to become Marketing Manager for the company in Port Moresby from 1987-91.
Roseanne was well known by a wide variety of friends for her social and community works as being a warm friend to all. Greatly missed. No further details available.
William John Albert STEWART (22 December 1995, aged 81)
Was in PNG from 1959 to 1964 as a Store Holder with Treasury and was pre-deceased by his wife in 1992. No further details available.
Leila McGOWAN (8 December 1995, aged 78)
Widow of Thomas Kevin McGowan who was in PNG as a Clerk with the Department of Trade and Industry 1955 to 1973 and died in 1974. No further details available.
Rosalind Teresa HAMMOND (5 January 1996, aged 86)
Widow of George Frederick Hammond who served for some time as a Public Servant in PHG and died in 1994. No further details available.
Maxwell Joseph (Max) DENEHY (10 February 1996, aged 72)
Max went to PNG in November 1946 following service in the Army in PNG during WW II. He served in both Papua and New Guinea, eventually reaching the position of District Commissioner. The people of Central Bougainville still refer to doing it 'Denehy Fashion' when they want something done properly. Max is survived by his wife, son and four grandchildren. No further details available.
Bernard Henry GANGLOFF (17 February 1996, aged 63)
Bernard, who was born at Vunapope near Kokopo in New Britain, managed the Rabaul Picture Theatre for many years. Later he and his wife set up a Guest House called Kanai. He is survived by his wife, Moana. No further details available.
Neville Patrick Douglas JAMES (aged 79)
Originally a teacher with the De La Salle Brothers at Marrickville, a suburb of Sydney, he served in the RAAF in New Guinea during WW II. Returning to PNG early 1948, he worked in gold mining as well as hotel management before joining the PNG Treasury, where he served in Port Moresby, Madang, Lae and Rabaul. He married Marjorie Heath in 1951 and she pre-deceased him last year. Neville is survived by his daughters Vicki and Linda and son Brian.
Hugh Milton (Smoky) BIRCH, DFC (3 January 1996, aged 79)
Hugh was an airline pilot, Qantas executive, and tourism industry representative. He served for some time as a pilot in PNG and led a most interesting life. He is survived by his wife, Margery, and daughter, Annabel. No further details available.