Vale March 1992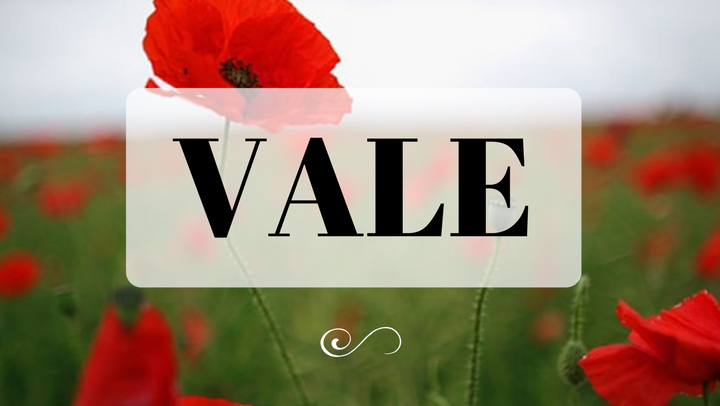 ATHERTON, Eileen Patricia | BLAIKIE (neé Hall), Margaret Irene | BRIGGS, Thomas Joseph Logan | CHANDLER, Vincent | de SILVA, Joyce Fenton | DORE, Hilda | DURKIN, Tom | FLYNN, Peter | ISON, Ethel Jane | LEAHY, Daniel Joseph, OBE | MACARTNEY, John Craig | MORTON, Bertram | MOXHAM, Henry Pope (Harry) | PITT, Anthony David (Tony) | RYAN, Arthur Maurice | SERAFINI, Ernest | SMITH, Holly Eva | WALSH, Ivy Eileen | WATKINS, Donald Edward |
Vincent CHANDLER (31 December 1991, aged 72)
Vin was born in England and at the age of five his family came out to Australia and settled in Victoria Park in Perth where he and his three brothers grew up. In due course Vin entered the Commonwealth Public Service, but when World War II broke out he joined the Army and served in the 2/3rd Anti-Tank Regiment in North Africa, and later in Papua New Guinea and finally Borneo.
After the war, Vin continued working in Perth as a Government auditor until 1949 when he applied for a temporary transfer to Papua New Guinea. This temporary transfer lasted for over nine years during which time Vin travelled extensively throughout the Territory. Although based in Port Moresby his work took him to many remote government stations using whatever mode of transport available, from tiny Cessnas, an old Catalina flying-boat, government launches, cargo boats and even a native canoe where necessary.
It was in Port Moresby that Vin met and married his wife Joe and their son Peter was born there. Vin loved the casual tropical life and his favourite weekend pastime was lying on the beach in the shade of a coconut palm tree after an early morning swim, often followed by lunch and icy cold drinks at the old RSL Club on Ela Beach with Joe and young Peter before a short drive home for a siesta.
The family came back to Perth in 1959 and Vin resumed working in his old office until he retired in 1980. Vin was fortunate that his love of travel and new experiences combined well with his work. Over the next 20 years or so he spent time in Canberra, Darwin, two years in London which included visits to Geneva, another year in Papua in the mid-seventies and a final overseas trip working in Rome, Athens, Geneva and Warsaw.
Vin had a long and successful career and was well liked and respected by his colleagues. He was a quiet and unassuming man, almost shy, until he got to know you. An avid reader he had a wide general knowledge and was particularly interested in history and current world affairs.
Vin was an honest man, a loving and caring husband and father, and will be sadly missed by his family, friends and neighbours. He is survived by his widow Joe, son Peter and three grandchildren.
Hilda DORE (January 1991)
Hilda Dore was educated at the Cardiff Girls' High School and at the London School of Domestic Science. After many years teaching in the UK she retired, coming to PNG in 1967 to join her friend Miss Mary Remington at Daru High School. She had been told Daru was a 'punishment station' from which the residents applied only for transfers, but said she was the first person in PNG history who insisted she would go nowhere else!
Miss Dore remained several years there; was a leader of the Guide Movement; and a keen member of the Tamate Memorial Congregation, now part of the United Church. Between school terms she shared in her students' lives in villages as far west as Kiunga. When she retired she returned to Wales.
John Craig MACARTNEY (19 February 1992, aged 64)
John, who was a surveyor, first came to PNG (the "Territory" in those days) in 1958 to join the Department of Lands, Surveys and Mines. This was after working in the Department of the Interior in Queensland and in private practice in Townsville. His first appointment was District Surveyor at Kieta in Bougainville, where he was the first Staff Surveyor since WW2.
In 1960 he transferred to Port Moresby and worked most parts of Papua. From 1964 onwards he became involved in Survey work on the West Irian Border, representing Australia at conferences in Djakarta and Canberra, with his duties culminating with his appointment as the Papua New Guinea Officer in Charge of the Joint Border Survey Team.
With Mike Kellock he was instrumental in establishing the Survey School which was eventually taken over by the Papua New Guinea University of Technology. John was subsequently appointed Chief Geodetic Surveyor, and later was Assistant Superintendent of Mapping during the formative stages of the Central Mapping Bureau. He was also instrumental in training the late Alan Bale who became the first National Registered Surveyor in PNG.
During all this period John was a most active member of the Association of Surveyors of Papua New Guinea holding all positions on the committee, including the Presidency in 1970-71. He was an outspoken campaigner against things that he believed were detrimental to the profession and his most severe critics could never level at him the charge of insincerity.
John Macartney retired on grounds of ill health on 31 January 1973 and returned to Australia to live. He is survived by his wife Betty and daughter Belinda.
Margaret Irene BLAIKIE (neé Hall) (27 December 1991)
Margaret was born in Sydney and went to PNG in 1951 as a Traffic Officer working for Qantas in Lae. There she met her future husband, Bob Blaikie, and they were married in Brisbane in September 1952. Bob was a Kiap and during their life together in PNG they lived firstly in Bogia, then two years at ASOPA followed by Minj, Mt Hagen, Losuia, Tari, Mendi, Sohano, Hutjena and then six years in Port Moresby where Bob was a District Inspector, then Principal Officer (Lands) and then Assistant Secretary (District Services) at headquarters at Konedobu.
Margaret was always extremely active in local organisations in PNG and also after they left PNG. She was in the CWA for some 22 years becoming Vice-President in Port Moresby about 1971 and then President in 1973. She was also on the Council of the Girl Guides and President of the Boroko P&L.
She quickly became involved in local organisations on the Gold Coast and later on Thursday Island after they came back to Australia. She was Bob's secretary on Thursday Island, gained an interest in lawn bowls and on coming back to the Gold Coast joined the Robina Ladies' Bowling Club where she was its secretary until her death. She took an active interest in politics and also helped newcomers in the intricacies of Mahjong.
Margaret is survived by her husband Bob and her children Ian Robert, Christine Margaret, Jennifer Anne and William Thomas.
Henry Pope (Harry) MOXHAM (5 December 1991, aged 59)
Harry spent some time in PNG in Rabaul and Port Moresby and is survived by his son Charles. No further details available.
Anthony David (Tony) PITT (11 November 1991, aged 54)
For the two years prior to his death, Tony was a member of the Committee of our Association and those of us on the Committee, who had not met him previously, came to know and like him. However, I think the best way we can honour Tony is to quote from some of the bereavement notices placed in the PNG Post-Courier.
'TONY'
For all of us who knew him, worked with him and the hundreds who were trained by him, the news of his passing in Sydney on 11 November 1991 deeply saddens our hearts when we think of the warmth and clear direction he gave us all.

Tony had been in the Department and its predecessors for nearly thirty-three years. He served in five Provinces as a Kiap prior to joining the Headquarters in 1973 to help set up the Department's Localisation Programme. In Tony's own departing letter to the Department on 11 October 1988, he wrote: "I leave with great sadness; I have had a most satisfying career and could have wished for none other. Papua New Guinea and its people have given me much over the years for which I will always be grateful. I hope that my service has contributed to the development of the country and in a small way given back to Papua New Guinea a little of what she has given to me.

I wish you, the Department and Papua New Guinea the very best for what I believe will be a very bright future. Yours sincerely, A.D.PITT."

"May his body lay in rest and our Heavenly Father grant his spirit great peace forever." Fr. John Momis, Kepas I. Watangia Minister for Provincial Affairs Secretary And the staff of The Department of Provincial Affairs.
By the Overseas Staffing Assistance Association (OSAA):
Tony Pitt served this country from 1956-1989. He was a gentle Kiap, a kindly person, an officer and gentleman. He will be sadly missed.
By the ex-kiaps and others who gathered at the Aviat Poolside Members' Bar in Port Moresby to pay their respects to Tony's memory and have drinks "Celebrating His Life in PNG":
Tony will be remembered always for his service to PNG since 1956 as a Kiap, administrator and trainer of field officers in Provincial Affairs. He served with distinction in East New Britain, Buka and Bougainville, the Sepik and Central. He has left behind many colleagues who mourn his death and remember his achievements and friendship with pride.
A number of Tony's friends here in Sydney plus friends from overseas also gathered together after the funeral to "Remember His Life".
Peter FLYNN (16 February 1992, aged 61)
Peter went to PNG in 1951 and originally worked at Itikinumu Plantation. He joined the then Administration in 1958, was OIC Registry in the Department of Native Affairs and later the Department of the Administrator, retiring in 1974. He is survived by his widow, Yvonne Cecil. No further details available.
Bertram MORTON (12 December 1991)
Bert spent 17 years in PNG with the Division of Supply serving in Lae, Samarai, Wewak and Port Moresby. He is survived by his widow, Yvonne, who wrote to us recently from Jersey in the Channel Islands, saying they were very happy years in PNG and they made many good friends and have kept in touch with most of them. No further details available.
Thomas Joseph Logan BRIGGS (17 December 1991)
Tom was born in Warwick, Qld, did his early schooling at the Toowong State School in Brisbane and spent his secondary school years as a boarder at the Southport School. Along with his success in his academic studies he achieved highly at sport. He was a member of the First Fifteen Rugby team and represented the school in GPS athletics as a sprinter.
He then attended Queensland University as a Commerce student, during which time he obtained a pilot's licence at 18 and joined the Citizens Air Force. After the outbreak of WW2 he enrolled in the RAAF in January 1940 at the same time as our distinguished member, Bobby Gibbes. He saw action firstly in the Pacific and then in the Middle East with No. 3 Squadron flying Tomahawks and Klttyhawks. He was shot down just out of Tobruk in February 1942 (the day Singapore fell) and had to do a record low parachute jump to survive.
Having been hit in the right ankle by a 20 mm canon shell, Tom was hospitalised in Tobruk, then Alexandria and later transported by hospital ship to Australia. He finished the war instructing trainee pilots and was demobilised in 1945 as Squadron Leader.
Tom then travelled to PNG to fly commercially for Bobby Gibbes. He met and married Nancy Walker in Wewak, later opening a sawmill in Angoram on the Sepik River. He then moved to Madang and established a timber yard in partnership with Ken MacLean and branched into cabinet making. He was extensively involved with the RSL with 8 years as President of the Madang Branch. In 1968 he was awarded Life Membership of the RSL. He was also a member of Rotary and the Masonic Lodge. He played a significant part in the construction of the Coastwatchers Memorial Lighthouse at Madang.
In 1970 Tom and his wife left PNG and purchased a cabinet making business at Mermaid Beach on the Gold Coast. In 1973 he retired and until his death maintained contact with many expatriate New Guineans now living on and near the Gold Coast. He is survived by his wife Nancy, children Jan, Trish and Ian and seven grandchildren.
Ethel Jane ISON (17 December 1991, aged 74)
Ms Ison was a headmistress in the PNG Department of Education and retired on 28 March 1965. No further details available.
Arthur Maurice RYAN (5 February 1992, aged 92)
Arthur was a Clerk in the Government Secretary's Department and Postmaster in the Department of Treasury, retiring on 8 May 1941. He is survived by his widow, Beryl Margaret, who is in the Fairmont Nursing Home in Bexley, NSW. No further details available.
Eileen Patricia ATHERTON (9 January 1992, aged 75)
Eileen was the widow of Carson Atherton, who was a Works Supervisor with the PNG Public Works Department and retired on 22 August 1973. No further details available.
Donald Edward WATKINS (18 March 1992, aged 80)
Don was Chief Supply Officer with the PNG Department of Social Development and Home Affairs and on retired 19 February 1971. He is survived by his widow Dorothy. No further details available.
Ivy Eileen WALSH (28 February 1992, aged 81)
Widow of Callaghan Baird Walsh, who was a Public Servant in PNG and passed away on 26 September 1957. No further details available.
Joyce Fenton de SILVA (21 February 1992)
Joyce spent 16 years in PNG with her husband Jack, who was an Executive Officer with the Local Government Service in Port Moresby when he retired. Their three children did their schooling in Port Moresby and Jack recently wrote saying that he had many happy memories of their sojourn in PNG. Survived by husband, Bernard Jack, and children Alois, Murray and Denise. No further details available.
Daniel Joseph LEAHY, OBE (25 November 1991)
The following tribute to Dan Leahy by James Sinclair was printed on page 16 of the March 1992 Una Voce. Dan is survived by widow Mancie, sons George, Terry, Bernie, Brian John and Danny, daughters Bernadette and Catherine and 21 grandchildren.
DAN LEAHY: The end of an era in PING history.
The death of Dan Leahy removes from the scene the last survivor of the Australian explorers of the 1920s and 1930s, who penetrated into the then unknown interior of Papua New Guinea and discovered dense populations of virile tribesmen in country that had hitherto been considered arid and empty.
It is an inspiring chapter in PNG history. Many young Papua New Guineans today dismiss the colonial past as something to be forgotten, ashamed of, shoved away out of sight as being somehow demeaning of PNG's status as an independent country. But the past is as vital to the culture and development of a nation as the present. One cannot be separated from the other. You can't ignore history. And it should always be remembered that the explorations of these Australians were only made possible by the work of the national policemen, carriers and medical orderlies who accompanied them.
In every sense, the work was jointly done. Papua New Guineans should be proud of the part their fathers and grandfathers played in the opening of the interior. And now the last of the Australians of that wonderful era has gone. Mick, Paddy, Jim and Dan Leahy, Jim Taylor and John Black, Jack Hides and Jim O'Malley, Charles Karius, Ivan and Claude Champion, Bill Adamson, Michael Dwyer, the Fox twins: they have all departed.
The first great journey of this modern era of PNG discovery was the North West Patrol of 1926-1928, which crossed New Guinea from the Fly to the Sepik. The leader was Assistant Resident Magistrate Charles Karius of Papua's Magisterial Service. His companion was a young patrol officer, Ivan Champion, whose name will always be associated with Papuan exploration. Mick Leahy made his appearance in 1930. With Michael Dwyer, he crossed New Guinea from the Upper Ramu to the Papua coast, looking for gold. In the process, the little party unlocked the front door of the Highlands.
Mick made several prospecting journeys into the Upper Watut country of Morobe Province in 1931-32, accompanied by his brother Paddy. In 1933 there was the great journey with which the name of Mick and Dan Leahy will always be associated: the 1933 Wahgi expedition. This was the journey that Mick and Dan captured for posterity on film, footage which forms the fascinating core of an otherwise seriously flawed film, First Contact, which utterly fails to acknowledge that the expedition was jointly led by Mick Leahy and James L. Taylor, Assistant District Officer of the Mandated Territory Administration. Taylor is not even mentioned in the film, nor is the other white member of the party, the surveyor, Ken Spinks.
The Wahgi expedition proved the existence of the teeming populations of the Central Highlands. There was still a huge area of unexplored country left in Papua, between the headwaters of the Strickland and the Purari Rivers.
In 1935, Sir Hubert Murray, Lieutenant-Governor of Papua, sent a patrol to explore this territory. This was the famous Strickland Purari Patrol, led by Jack Hides, ARM and Jim O'Malley, PO. Hides reported heavy populations of warlike people and was forced to fire on attacking tribesmen in defence of his party. Ivan Champion, now an Assistant Resident Magistrate, was sent in to check Hides' claims and to extend his explorations. His companion was Bill Adamson, PO. This Bamu-Purari Patrol greatly increased the stock of knowledge of the interior. The explorers pushed on to the Papua-Mandated Territory border, to a point a few kilometres from Mount Hagen, where Mick and Dan Leahy were mining for gold.
In 1937, Ivan's brother, Claude, led another patrol to the newly-discovered Lake Kutubu, and far beyond. Claude Champion was accompanied by a patrol officer, George Andersen. A base camp was established on the shores of Lake Kutubu. Ivan Champion and Bill Adamson then returned to Lake Kutubu and established a Police Post, from which base most of the Southern Highlands Province of today was explored in detail.
In 1938 Jim Taylor led what was the longest and biggest exploratory patrol ever mounted in PNG through the country to the west of Mount Hagen: the great Hagen-Sepik Patrol. His companion was Patrol Officer John Black. Although Mick and Dan Leahy played no part in this expedition, they did make numerous journeys into the unknown country surrounding their base.
The Fox twins, tough prospectors, made an extraordinary journey to the west from Mount Hagen, Nobody knows for certain how far they went, but it was a very long way: at least to the Strickland. I count myself privileged to have known the four Leahy brothers (although Paddy was not the easiest bloke to get along with!). The Leahys—in particular Mick—have been accused of being too ready to resort to the use of firearms in tight spots. It is a judgement easily made today. It should be remembered that the Leahys and their dependent Papua New Guinean carriers were but a tiny handful in a sea of tough and vigorous warrior tribesmen.
Events of recent years have indicated that the Highlanders are ever-ready to use deadly force to settle their differences. They were as ready 50 years ago.
Vale Danny: last survivor of a brave era. There are many of us—Australians and Nationals—who will not forget you and your brothers.
Another perspective on the life of Dan Leahy Snr is recorded in the Australian Dictionary of Biography and can be viewed HERE
Holly Eva SMITH (22 January 1992, aged 71)
Widow of Reginald Ernest Smith, who was a Technical Instructor with the PNG Department of Posts & Telegraphs and retired on 15 October 1971. No further details available.
Ernest SERAFINI (8 January 1992)
Many members will remember Ernie who was a very successful businessman in Lae, in particular in soft drink manufacture. Geoff Masters writes: "I recall in 1946, upon arrival at Lae, there was Ernie churning out lolly water on the edge of the strip. Apparently it was an ex-army plant that he had purchased, wasn't the best of liquids but it was welcomed in those days." No further details available.
Tom DURKIN (7 March 1992, aged 78)
Tom was based in Port Moresby from around 1958 to 1979. He and his brother Ted, who lives near Gympie, Qld, undertook government contract work installing sewerage plants in Port Moresby, Popondetta and Lae. No further details available.