Religious hysteria in the Southern Highlands: Fif Favetta
("In my name shall they cast out devils;" – Mark 16:17)
In 1973/74 the Lake Kutubu area was awash with religious fervor and new found evangelism with the Protestant missions in the area emphasizing the need for a deep personal religious experience, a realization of personal sin and man's salvation by faith. From ancestor worship to Christianity is a big step and the church's teachings were not always interpreted correctly by the ordinary villager. The following patrol reports bear this out.
SITUATION REPORT No.1 of TARI PATROL REPORT No.8 of 1973/74
Station: TARI Officer Compiling:  F FAVETTA ADO District: SOUTHERN HIGHLANDS  Subdistrict: TARI
Census Division: BENARIA: LG Council: TARI           F. FAVETTA ADO 2.4.74
On Friday 22 March 1974. word was received at Tari, via the Asian Pacific Christian Mission (APCM) radio, that there had been a killing at Homa in the Benaria census division, two days' hard walking from Tari. There were garbled reports of religious hysteria and that the killing was a sort of sacrificial offering. Two police were dispatched that day to investigate and apprehend the offenders. More distorted reports were received during the next three days. The number of killings were reported as having increased to six or seven and further talk of hysteria, swoonings and visions were received from unofficial and unreliable sources. One such report was heard on Radio Mendi but its source was unknown and, as it turned out, highly inaccurate. On Monday 25 March, a report was received from the police via the Asian Pacific Christian Mission radio saying that difficulty was being experienced in bringing the people concerned in the killing back to Tari because they were constantly swooning or going into trances. Arrangements were made that afternoon for a helicopter to transport myself and the ADC (Noel Wright) to Homa the next day.
On Tuesday 26 March, the ADC and Interpreter Lagari flew to Homa to assess the situation. Contact was made with the Police. They were found to be at Tamide, seven hours' walk away from Homa and progressing well with no further difficulties. The helicopter returned to Tari and flew myself and a policeman to Homa. The situation was back to normal but I was instructed to remain at Homa for a couple of days, investigate fully what had happened and talk to the people concerning the events. The facts were as follows:
Some time early in the month three men from  Homa called Hembere, Munungu and Tamu went to the APCM at Lake Kutubu to collect some materials for a house. Whilst there they came in contact with certain religious ideas and probably heard talk of or witnessed some of the religious fervour that is sweeping the Lake Kutubu area at the present time. On the way back to Homa, Tamu became "possessed with an inner spiritual light" and believed himself to be a chosen emissary of God whose work it was to rid other people of the Satan within them. The other two men were not affected. At church services that night, on Tuesday the 12th, Tamu addressed the congregation and told them of his revelation and mission. Some of the people became so worked up that they became hysterical and swooned. This only strengthened Tamu's claim and more and more became affected as things progressed. Tamu claimed that God had chosen him to rid people of their evils and everyone must follow him. Numerous persons became "possessed" too and were filled with an inner light which they claimed was God's. People were working themselves up into a fever of religious hysteria and began to swoon or go into trances. This continued on and off till about Tuesday 19 March.
During the eight days from the 12th to the 19th, Tamu and his fellow "disciples" set about ridding people of their devils. His chief helper was a man called Walango. Tamu called people to the church and there marked the "evil" ones and passed them on to Walango who did the "exorcising" by prostrating and beating the victims. The majority of people were not affected by this hysteria but were too frightened to do anything but comply with Tamu and Walango's ministrations. On Monday 18th, an old man by the name of Pororo made a statement saying that outsiders should not go to the church at Homa because the people were off their heads. Tamu said this was Satan speaking and told some people to hold him, Pororo, while he and some others beat the old man to rid him of the devil. At this time Pororo managed to escape to his house. The next day, Tuesday 19th, Pororo returned with a deaf and dumb man and challenged Tamu to restore the man's hearing and if he, Tamu, could not do this he should pay compensation to Pororo for having beaten him unjustly. Tamu again said that Pororo was possessed by the devil and again told some of the people to hold him. Kibili and Wabiri threw Pororo to the ground and held him. Tamu jumped on Pororo's stomach, Walango kicked the old man in the head and a woman called Timbaru jumped on his throat. Pororo died as a result of this. Tamu, Walango, Timbaru and the others were so worked up that they did not even realise what they had done. They must have known Pororo was dead but this did not register. Walango, who was Pororo's nephew, told Timbaru that it was her job now to look after the dead man and left to continue with his "exorcising" on other people.
Like the woman Timbaru, most of the people were too worked up to realise what had happened and the others were too frightened to do anything. Pororo's body was not mutilated in any way, but the woman did pull out all the facial and pubic hairs from the body. It is not clear why she did this but considering her state of mind, she must have seen some sort of meaning in it.
Tamu and Walango went on with their sorting and exorcising, beating people and throwing them over a steep embankment when the ritual had finished. The death of Pororo had no effect on them and the two continued throughout the day as though this death never occurred. Others were too frightened or too fullof religious fervour to do anything. Later on in the afternoon two APCM pastors and some other Homa people walked in from Lake Kutubu and saw what was going on. The pastors quickly set about restoring the "possessed" ones to normal by talking to them and telling them this was not God's way. This seemed to work and Tamu and the others quickly snapped out of it. Walango, however, was completely off his head by this stage and had to be knocked down, tied hand and foot and locked in a house. The next day, Wednesday the 20th, Walango had snapped out of it too and when told what he had done was at first unbelieving but when he saw the body of Pororo, realization came. He broke down completely and cried saying that Pororo had been like a father to him and he had never entertained any thoughts of killing him or anybody else. By this time, the pastors had brought the people back to normal but everyone was still dazed and frightened. On Thursday 21st, Pororo was buried and word of what had happened was sent to the APCM at Tamide, seven hours walk away. The news was received at Tari on the morning of the 22nd via the mission radio and two policemen were sent to investigate that day arriving at Homa on the 24th.
The situation at Homa was now back to normal but the people were still a little dazed and frightened by it all. In all only about 15 people out of 130 were affected by this hysteria and most of these took no active part in the goings on. Tamu and Walango were the "instigators" but at this time they were definitely not in full possession of their faculties and it is certain they had no criminal intent. They believed to be possessed by the Holy Spirit and they truly believed at the time that the work they were doing was the will of God. Neither Tamu nor Walango are "big" men in the village nor are they particularly good Christians. If anything, they were rather mixed up and confused about religion and it was probably this fact which made them ultra sensitive and receptive to the goings on at Kutubu. The other people affected are in the same category but apart from feeling weak in the limbs, braking out in cold sweat, getting headaches and swooning they did little else to actively help Tamu and Walango. The rest of the people had none of these experiences but were too frightened and confused to stop the others.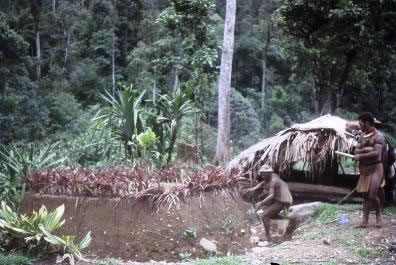 Unlike Kutubu, this religious hysteria at Homa resulted in a death and the people will be wary and less receptive if this happens again in the future. They have been told to report immediately any thing of this sort in future and I feel their present experiences will not readily allow them to be caught again in a similar situation. During my two days stay Homa the people behaved normally and discussed the past events without fear or reticence. The people who had been affected were perfectly normal but somewhat ashamed at the way they had behaved and at the way they had been taken in by this hysteria. Now that the people are calm and have had things explained to them, they see in retrospect what utter fools they had made of themselves and are strongly resolved not be caught like that again. Any such happenings in future are to be reported immediately and stopped as quickly as possible. The people now realize this and will not hesitate to report or oust any man who comes to them with such talk or ideas. This "sickness" is spreading from the Lake Kutubu area and it must be stopped there before it propagates further.
PATROL REPORT No.16 of 1973/74
Station: TARI Officer Compiling:  FAVETTA District: TARI Subdistrict: TARI
Census Division: BENARIA: LG Council: .TARI
F. FAVETTA  ADO  12.6.1974
The object of this patrol was to exhume the body of a murder victim and perform a post mortem examination to establish the cause of death. The burial site was at Homa in the Benaria Census Division, two days' walk from Tari station. A helicopter was utilized to get the patrol in to Homa. Doctor R. Helmer of the Public Health Department accompanied the patrol. No police or interpreter was taken due to the limited uplift capabilities of the helicopter.
The patrol left Tari by helicopter after various delays at 11.30 am on Friday 7 June 1974. On arrival at Homa the people were assembled and the patrol's objective explained. The people were most co-operative. A party was quickly formed and the patrol left for the burial site one hour's walk away from the village. Camp was set up at the site, the body exhumed and the autopsy carried out without any difficulties. The body had been buried for 2½ months but it was in remarkably good condition and the doctor had no difficulties in performing his work. The victim had a broken jaw and both sets of ribs had been severely fractured. Most of the ribs had multiple breaks. The diagnosed cause of death was asphyxiation caused by the collapse of the rib cage and probable lung puncture.
The death was related to the outbreak of religious hysteria at Homa in March of this year (see Tari patrol report No.8 of 1973/74 for details). There was no opportunity previously to carry out a Post Mortem. Crown Law felt a need for extra evidence so instructed that an autopsy be carried out in order that medical evidence be available for the court hearing. Also, extra evidence was collected and further witnesses questioned re the murder and the material forwarded to Crown Law in preparation for the court case. The helicopter having failed to return on 8 June to extract the patrol, it was decided on 9 June to walk from the burial site to Tamide mission station, 7 houyrs away. From there a plane was organized to Tari arriving back on 10 June 1974.