David Montgomery, AM: Toby Rose, AO, and Jack White, OAM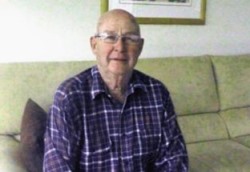 After gaining his Diploma in Agriculture from Hawkesbury Agricultural College in 1955, David was employed by the Department of Agriculture Stock and Fisheries (DASF) from 1956 to 1965. During this time David and Gillian Marks were married and had their first two children born at the Namanula Hospital in Rabaul. David was employed as an Agricultural Officer in Tropical Agriculture. His work was multifaceted and covered cocoa, coffee, coconuts, rice and peanuts in respect to establishment, development, production, processing, transport and marketing. His postings included Goroka and Kundiawa (Eastern Highlands), Finschafen (Morobe District), Aitape and Bainyik Agricultural Station (Sepik District), Kerema (Central District, Papua) and Talasea (West New Britain).
In West New Britain, David had an inaugural role in the land selection for oil palm development, the basis for an economic re-settlement project for PNG citizens. San Remo plantation was purchased by the PNG Administration and became the focal point for the established of the town of Kimbe.
David's interpersonal skills, cultural awareness and empathy reinforced by his example contributed to the resettlement project, based on oil palm production, getting off to a good start.
Armed with this background knowledge and experience in the horticultural industry David and Gillian returned to Australia. They chose to settle at Crookwell in the Southern Tablelands of New South Wales which was close to Gillian's ancestral home. They purchased a farm at Grabben Gullen (near Crookwell) and with fond memories of PNG named it "Kimbe". They still live there.This area had, and still has, a long history of success in the growing of potatoes and cool climate vegetables. David's innovation, skills, drive and, importantly, his credibility as a manager and leader, quickly made him a valued member of the local potato growing community. In the mid 1980s, the local potato industry was in trouble, faced with drought, a downturn in sales, problems of quality control, and the inability of the industry to maintain continuity of supply. These issues were resolved by teamwork. David, other associates and industry representatives formed the (still) very successful Crookwell Potato Association. David went on from this to develop new marketing concepts throughout Australia and overseas. He was a foundation director of the Australian Horticultural Research and Development Corporation and a founding director of Technico Pty Ltd incorporated in Crookwell in 1994. This followed a number of years of scientific research into potato tuber development. Technico is now a global company and has revolutionised the global seed potato market.
Locally, David has been recognised by the Rotary Club of Crookwell on two occasions. In 1990 he received a Vocational Service Award and in 1994 an Enterprise Award, in recognition of an outstanding contribution to the potato growing industry.
Internationally, on 23 August 2006, David received a Citation from the World Potato Congress for his contribution to the potato industry.
David's honour as a Member of the Order of Australia is well deserved and we congratulate him on this recognition. David was invested by the Governor-General Ms Quentin Bryce, AC, on 12 September 2013.