Vale September 2000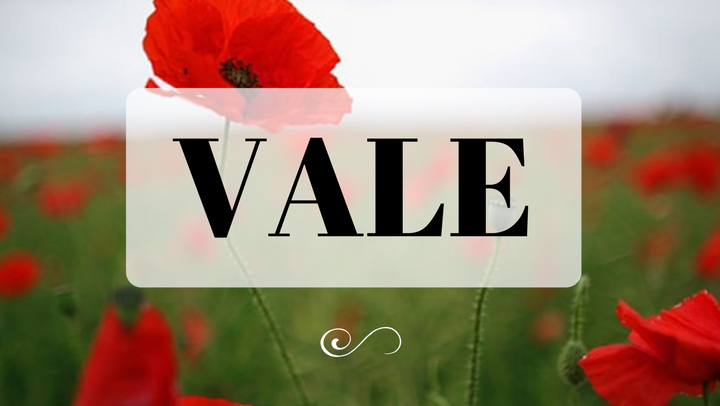 CARR, Thomas George(21 June 1999) | CARROLL (née Perrin), Mary(2 August 2000) | CASSON, John(14 July 2000) | COTTLE, Robert William(14 July 2000) | CRAWLEY, Linda Kathleen(5 May 2000) | CURTIS, Lindsay, AM(8 April 2000) | HALEY, Bishop Albert Naunton(6 June 2000) | HEARNSHAW, Marion(19 June 2000) | HANSON, Lyle Melvyn(19 June 2000) | MacGOWAN, Douglas John(5 June 2000) | MIDDLETON, Alice Victoria(17 July 2000) | NICHOLAS, Gladys(22 July 2000) | POWYS, David C(10 August 2000) | READ, David Docker(21 October 1999) | SEALE, Heather(26 June 2000) | STEVENS, RNB (Reg), DFC & Bar(21 July 2000) | THISTLETHWAITE, Ian Wallis(20 April 2000) | WIGLEY MB, BS, FRCP, Stanley Cuthbert(3 June 2000)
Alice Victoria MIDDLETON (17 July 2000, in her 100th year)
Alice was born in Miram, Armadale, Victoria in February 1901. In 1919 she relocated to Melbourne to assist her elder brother Dudley who was blinded in the last few days of the Great War. She assisted him for some years studying for a law degree which he eventually obtained in spite of his disability. During this period as a result she acquired training in the skills of making artificial glass eyes.
She eventually relocated to Sydney and set up her own business making eyes mainly for the war wounded, and there met her husband William (Max) Middleton who had lost an eye on the Somme in 1917. He had been a long-term resident of PNG being on the staff of the first bank opened in Papua, the Bank of New South Wales at Samarai in 1910.
He had bought Kulili Plantation on Karkar Island in the mid twenties and this is where Alice settled after their marriage in 1928 and where she lived till the approach of the Japanese war. During this period her two sons were born, John in 1930 and Roger in 1936.
In the late twenties and through the thirties life on Karkar was very much a pioneer event, monotony only broken by visits of the BP ship, the Muliama, and the Nord Deutsche Lloyd ship, the Friedaren, to collect copra. The ships often carried interesting passengers and the officers were always entertaining.
Mice returned to Kulili after World War II but Max's health had deteriorated during his army service in PNG and he and Alice spent half the time each year in Australia, travelling always by ship right up until the last passenger service to PNG closed down. This allowed them to keep in touch with their many friends around the country till the mid seventies. Alice's last visit to Karkar was made late in 1993 to attend grandson Derek's wedding; failing health precluded further visits.
'Cyclone' Alice will be remembered by many for her wonderful sense of humour and boundless energy in the many years on Karkar and in New Guinea. She kept her keen wit right up to the end, passing away peacefully of old age but still willing herself to live to the end. Alice is survived by her sons and three grandsons (all resident in PNG) and five great grandchildren. The Middleton family
The Middleton family received the following message from the Prime Minister of Papua New Guinea, Sir Mekere Morauta: "Dear John – Roslyn and I were saddened to learn of the passing of your mother, Mice, last Monday. We extend to you and Anna, to Roger and Rosa, and your families, our sincere sympathies, our thoughts and our best wishes, at this sad time. We look to our merciful God to offer you comfort, and grant you all deep gratitude for the gift of life that your mother enjoyed and lasting peace in your hearts. God bless you!"
Thomas George CARR (21 June 1999)
Tom first went to the Territory in 1951, as a Stockman taking cattle by ship for W R Carpenter, to restock Ulaveo Plantation near Kokopo. A few years later he obtained a position with the Dept of Agriculture, Stock and Fisheries at Port Moresby, at the Papuan Lowlands Livestock Station at the 8-mile. Tom and his wife Margaret (Heape) went South in January 1957 when Tom worked in various parts of rural NSW. Later he purchased a Header and commenced contract harvesting in Queensland and Northwest NSW wherever the ripening wheat, barley or oat crops called. He is survived by his wife Margaret and family. Condensed from Garamut
David Docker READ (21 October 1999, aged 67)
Docker passed away in Cairns after contracting leukaemia. He worked for the Department of Forests throughout PNG from the late 50s to the early 70s. He and his wife Maxine and daughter Erica then moved to Groote Eylandt for some years before settling in Northern Queensland. Docker was running a taxi business in Cooktown when he became ill. He is survived by his daughter Erica, Maxine having predeceased him. Condensed from Garamut
Marion HEARNSHAW (13 June 2000, aged 90)
Mrs Hearnshaw was the widow of Rev. WD Oakes who was a Methodist missionary in New Britain and New Ireland from 1933 until he was lost on the Montevideo Maru in 1942. As Mrs Oakes, she was in New Guinea from 1933 to 1941 when she was evacuated from Kavieng on the Macdhui with her two young sons, George and Parker. George later returned to New Guinea as a kiap in I954, leaving at Independence. George D Oakes
Douglas John MacGOWAN (5 June 2000, aged 66)
Doug was born in Rabaul along with his sister Muriel Larner, and two brothers Ian (deceased) and Kenneth. The family were evacuated from Rabaul in late 1941 on the MacAui. Their father, Public Works architect Bill MacGowan and a member of the NGVR, remained behind to escape later to Moresby under epic circumstances. Postwar, Bill was Deputy Controller of Commonwealth Department of Works until his death in 1953.
Doug finished his secondary education in Queensland postwar and immediately joined the Administration. He commenced with the Post Office and then transferred to Treasury where he served for about the next twenty years. During the sixties he was Senior Treasury Officer in Goroka. Following posting back to Moresby in the early seventies, Doug rejoined the Department of Posts and Telegraphs at senior level and was principal adviser to the Director when he resigned some two years after Independence.
Doug married Doreen Crawley, daughter of Police Bandmaster Inspector Dave and Kath Crawley. They had three daughters Karen and Diane (twins) and Jenny. A fine all-round sportsman from his youth, Doug excelled as an adult at cricket, tennis and golf. He endured with enormous courage his long battle with cardiac and stroke problems. His children and family, sister, Muriel Lamer and brother, Ken, survive him. Derek Baldwin
Heather SEALE (26 June 2000, aged 81)
Heather was born in Sydney in 1918 and travelled to New Guinea with her parents Jos and Esther Holmes. Heather grew up in Rabaul and Kavieng where she met her husband Bill and they were married in Kavieng in 1939. After starting married life in Salamaua, Bill and Heather spent the next 30 years living in Kavieng, Wau, Lae, Goroka, back to Kavieng and Lae. After Bill retired in 1971 Heather and Bill moved to Sydney and watched their grandchildren grow up and kept up many interests including retaining friendships with many NG friends.
Heather struggled with bad health the last few years and sadly died at Mosman on 26 June. She is survived by her son John and daughter Margaret and their families.
(The foregoing was supplied by her daughter, Margaret)
Ian Wallis THISTLETHWAITE (20 April 2000, aged 75)
Ian was born and educated in Sydney. He enlisted in the RAAF in 1943 and trained as a raio operator. He served in Beaufighters seeing action in Papua New Guinea and Borneo. In 1949 Ian applied for a position as patrol officer with the Department of Territories. He was accepted and after training at ASOPA spent the next 12 months in Port Moresby.
In January 1950 Ian, or 'Ian the Thistle' as he became known, was posted to Esa'ala on Normanby Island where he witnessed firsthand the tragic Mount Lamington eruption. Ian's service was mainly in the highlands and his appointments included Coroner, Magistrate, Collector of Public Monies and Native Labour Inspector. He dearly loved PNG and its people, and it was with heavy heart that due to ill health he had to return to Australia late in 1958.
Back in Australia, Ian worked for the Farmers and Graziers Association until retirement. He devoted over 40 years of his life as a volunteer worker with the St Vincent de Paul Society, helping to improve the lives of the disadvantaged. He was a member of the RAAF Beaufort Squadron Association and the Forestville RSL where he played bowls. He was also a keen golfer and fisherman. Ian is survived by his wife Margaret and children Paul, Leanne and Janine. Brian Delaney
Lindsay CURTIS, AM (8 April 2000, aged 71)
Lindsay took over from Wally Watkins as Secretary for Law on the latter's retirement in 1969. He came on secondment from the Commonwealth Attorney-General's Department and brought with him many new ideas, great integrity and a tremendous capacity for hard work. During his two years in PNG he was an official member of the House of Assembly and made significant contributions to the legislative process. On his return to Canberra in 1971 he resumed his career in the Attorney-General's Department from which he retired as Deputy Secretary in 1989. He then became Adjunct Professor of Law at the University of Wollongong, President of the ACT Administrative Appeals Tribunal and Chancellor of the Anglican Diocese of Canberra­Goulburn.
Lindsay died after a short illness and is survived by his wife Ailsa and their children, Christopher, Elizabeth, Helen, Lyndal and Alison. Peter Clay
Stanley Cuthbert WIGLEY MB, BS, FRCP (3 June 2000, aged 83)
Stanley graduated in Pharmacy in 1937 and proceeded to study medicine at Melbourne University graduating in 1944. He gained his experience as a chest physician at the Brompton Hospital, London, and in 1950 obtained his Membership of the Royal Australian College of Physicians. Before coming to PNG in 1957 he had an appointment in thoracic medicine and tuberculosis at the Greenvale Sanatorium Melbourne. lie gained his FRCP London in 1971.
He was appointed as Senior Medical Officer, Tuberculosis, on the advice of Australia's senior TB specialist Sir Harry Wunderly.
He designed and set up a program which in his words was to "procure the reduction of the tuberculosis problem to the position of minor public health importance in the shortest possible time. The aim required that an expensive and comprehensive program should be mounted initially, using biological prophylaxis on a large scale, mass case finding campaigns, and intensive therapy campaigns including chemical prophylaxis".*
To achieve this near impossible objective he devised a comprehensive plan and obtained funding for Tuberculosis Control Units in what were to become the four health regions. This program was successful and over the 36 years Stanley was in Papua New Guinea tuberculosis became one of the lesser health problems. Stanley warned in his history Tuberculosis and New Guinea that political and other forms of instability would shape the extent of tuberculosis in the future. Unfortunately, as he predicted, there is evidence of its resurgence.
Stanley was one of the many Australian specialists and general practitioners who were part of the rapidly expanding health services of the 1960s. He made the health and well-being of the people of Papua New Guinea his main career. With his personal qualities, administrative skills and high intellect, he made a significant contribution to the professional roles he chose. He saw clearly what had to be done and set about doing it. It was my privilege to work with him through his entire PNG career.
After retirement in 1973 he worked in various positions in Sydney hospitals and health services. His thoughts were often on the health problems of PNG and on the risk of political instability undoing the good that his work had done. His wife Elaine died in 1997. Stanley is survived by his children Stephen, Mandy and Lisa and eight grandchildren. Roy F R Scragg
* Burton-Bradley BG (1990) A History of Medicine in Papua New Guinea, Wigley S C pp 167-204 Tuberculosis and New Guinea.
Albert Naunton HALEY (6 June 2000)
Father Haley, as he was then, was the Church of England Minister in Rabaul in the late 50s to early 60s. Pat Hopper
John CASSON (14 July 2000, aged 62)
A barrister and solicitor of the Supreme Court of Victoria, John Casson accepted a legal position in the PNG administration and in 1965 joined the prosecutions branch as crown prosecutor. Later he held positions at the Land Appeals Council and the Supreme Court. He helped complete a constitution for the University of Port Moresby. He left PNG in 1972 to work in the Public Solicitors Office in Melbourne and later the Legal Aid Commission of Victoria. Herald Sun, 1 August 2000
Mary CARROLL (née Perrin) (2 August 2000, aged 58)
Mary went to PNG in 1973 to visit her sister, Sheila Thomas, who at the time worked at ADCOL. Mary loved the place and was fortunate to find a job at the Harbour Master's Office which enabled her to stay. Later she worked at the Bureau of Management Services at Waigani. Mary met her future husband Mick Carroll in Port Moresby. Mick was a career officer in DDA.
Mary and Mick came south in 1978 and settled in Grafton where they successfully ran a Newsagency until retiring in 1996. Mary passed away peacefully at home after a determined battle against lung cancer. She is sadly missed by her husband Mick, children Rob and Dawn, grandchildren Aaron and Jessica and all her family and friends. Mary is remembered for her unfailing optimism and unbounded love and regard for others. (Provided by Mary's brother-in-law, Ivor Thomas)
Robert William COTTLE (14 July 2000, aged 79)
Bob was in the RAAF for five years in the Pacific and at war's end was a W/O tail gunner. After graduating from Gatton Agricultural College, Qld, he joined the Department of Agriculture in the early fifties and served till the late sixties, mainly as a District Agricultural Officer in the Highlands and Madang Districts. He played a significant part in the development of the coffee industry.
In 1961 he married Ida Dobbyns, matron of the Madang Hospital and universally known as 'Dobby'. The Cottles lived for many years in retirement at Clontarf, Queensland. Bob developed his stamp and coin collection extensively and became well known as a collector. Dobby died in 1981. Harry West
David C POWYS (10 August 2000, aged 76)
David arrived at Boram school near Wewak as second-in-charge to Fred Barron in 1952. At the instigation of the legendary Simogun Pita he was sent to Dagua in 1953 to open a government school and remained for three years. With his wife June he shared what was then an isolated posting with Bob and Mary Pulsford of the Department of Agriculture, Stock and Fisheries. David moved on to Moresby and Sogeri and transferred to Trade and Industry in 1963. He returned to Australia in 1965 and after retiring from the Australian Education Council in 1984 was active as a volunteer with the Botanic Gardens and the Print Handicapped Radio Station. He is survived by June and their four children. Harry West
Lyle Melvyn HANSON (19 June 2000, aged 64)
Lyle grew up in Rockhampton, Queensland, and arrived in the Milne Bay District as a 20­year-old cadet patrol officer in 1955. He moved on to New Britain in the early 60s. Most of his 20-year PNG career was in Milne Bay, New Britain and Highland Districts. Lyle was fortunate in his many coastal postings, for his great love was the sea. He used the yacht he sailed from Sydney to facilitate his work, particularly in the Duke of York Islands. For many years he was a familiar and popular figure in Rabaul and Kokopo.
Bill Kelly said at his funeral, "He was hard-working, dependable and knowledgeable, in spite of his predilection for larrikin off-duty pastimes. He was unconventional by the standards of the 60s. His common sense and wit helped him do his job well."
With his beloved Sally, Lyle moved to Yorkey's Knob near Cairns at Independence in 1975 and enjoyed the maritime life until last year's move to Bribie Island, Lyle is survived by Sally. Harry West
Gladys NICHOLAS (22 July 2000, aged 91)
Gladys was engaged to Bill Nicholas who was employed in the Government Printing Office, and went to Moresby in 1935 to be married. For a time she worked for A.P.C. Their daughter Lyn was born in 1937. In 1941 she was employed by Mr Bertie, an old-time resident and local solicitor, who was in charge of the evacuation of women and children to Australia in December that year. In a letter to the Association in 1990 she wrote of events surrounding the evacuation: "Mr Bertie and I were frightfully busy, people were coming in to make their Wills before being evacuated. … The stores reduced the prices of everything almost to the point of giving goods away…" After the war Gladys returned to Moresby with her daughter and rejoined A.P.C. Later she worked for the Lands Department, the Supreme Court, the Registrar General's Department and the Public Curator. Bill was appointed Government Printer in May 1953.
Gladys's main interests in PNG were the Yacht Club where her husband was an active member for 25 years, and the Girl Guides which she was associated with for some years. The couple left Moresby in 1962 and Bill died six years later.
Gladys has written an account of her life in PNG and a history of the Printing Office which included her husband's work as OIC, New Guinea Printing and Press Unit, the unit which produced Guinea Gold for the troops in PNG during the war. Her article was published in Una Voce, September 1993, pp. 17-19.
Gladys is survived by her daughter Marilyn Anne McInnes and grandchildren. Taken from Gladys's letters and the Una Voce article
Linda Kathleen CRAWLEY (5 May 2000, aged 90)
Kathleen Crawley was born in Tasmania and travelled by ship to Rabaul in March 1938 to marry David Crawley (ex British Army) who had joined the New Guinea Police Force in 1935 and later became Police Bandmaster.
Kath, with two very young children, was evacuated from Rabaul on the Macdhui early in 1942 just prior to the Japanese invasion. David made his escape from Rabaul on foot through New Britain, and later returned to serve with ANGAU at Bisiatabu. Kath spent the war years in Sydney and returned to PNG early 1946 to rejoin David who was then stationed at the Sogeri Police Training Depot. In 1947 their third child was born.
Kath was an active member of the Sogeri community. She taught her children by correspondence and at times filled in as teacher at the tiny Sogeri Primary School. Like many Territory women she managed alone for long periods when David was accompanying the band on tours of Australia. In 1957 the Police Training Depot was moved to Kila, Port Moresby, where they lived until 1963 when David retired. After an extensive trip overseas they settled in Toowong, Brisbane. David died suddenly in 1966 at the age of 60.
Kath's warm and generous nature won her a wonderful network of friends and neighbours and she kept busy with various community interests. For many years she regularly met with many of her old PNG friends. She was devoted to her family.
Kath is survived by her son Allen, daughters Doreen and Joan, four grandchildren and five great-grandchildren. Doreen MacGowan
R N B (Reg) STEVENS, DFC & Bar (21 July 2000, aged 82)
Reg attended North Sydney Boys High and at the age of 18 decided to satisfy some wanderlust. He went to Port Moresby where he managed a store for Percy Heinz Ltd which dealt mainly with the indigenous population. Just prior to marriage he joined Government Stores where he was Acting Paymaster. In early 1938 Reg married Nancy Hurd of Chatswood at ELI Protestant Church. Reg became Acting Government Storekeeper. Their first son was born in 1939
At the outbreak of war Reg was keen to join the RAAF, however he was not granted release until 1940 when he was the first PNG resident to join the RAAF. After initial training in Australia he was sent to England where he trained and flew on Spitfires.
In March 1942 Reg was posted to the Middle East and in June 1942 he joined 3 Squadron, one of Australia's most famous fighter squadrons, flying Kittyhawks. Reg received one of the quickest promotions ever, from commission (Pilot Officer) to Squadron Leader in four weeks.
In July 1943 Pilot Officer Reg Stevens was awarded the Distinguished Flying Cross for courage and devotion to duty in the Western Desert. His aircraft had been shot down on several occasions and on others badly damaged in air combat and by enemy ground fire. He was made CO in the same month. In August 1943, now as Squadron Leader, Reg won an immediate Bar to his DFC when, as leader of a Kittyhawk formation, he flew through an intense anti-aircraft barrage and attacked enemy shipping in Milezzo Harbour, Sicily, from a low level.
After being away for almost three years, Reg returned to Australia in 1944 to train pilots. Following discharge from the RAAF in 1945, he returned to Port Moresby with his wife and family. In 1946 he was posted to Higaturu as Native Labour Officer. Postings to Lae and Wau followed. In 1950 he was posted to Samarai as Senior Inspector of Native Labour, a post he retained until returning to Sydney in 1952.
Following a long stint in hospital in 1952, when he was encased in plaster for many months to try and correct a spinal injury received early in the war, he was deemed medically unfit and retired from the PNG administration. He then settled in Newcastle where he worked for Comsteel and later Titan, taking early retirement at age 54 due to war-related injuries.
Reg and Nancy retired to the mid north coast where Reg continued to take leadership roles in the community especially assisting young people in business. In their retirement, Reg and Nan made many trips to PNG and retained old PNG friendships.
Reg is survived by Nancy, his wife of 62 years, their three children, grandchildren and great-grandchildren. Noelene Stevenson (Reg's daughter)