Vale June 2000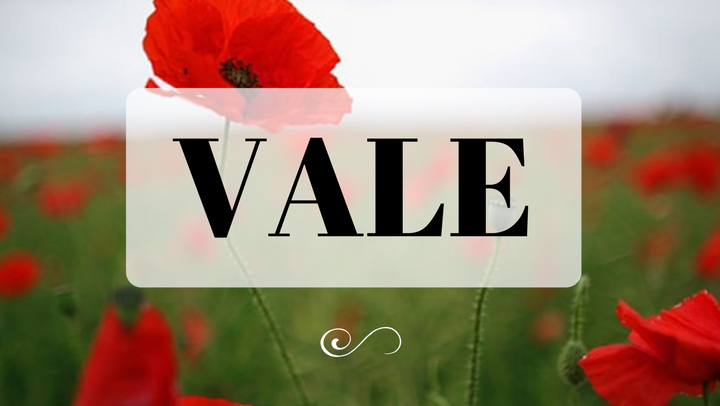 BITMEAD, Ann Veronica(12 April 2000) | FARRELL, John(13 February 2000) | FEETUM, Margaret Sybla(8 February 2000) | FENN, John(11 May 2000) | GLUYAS, Arthur Denis(17 March 1999) | GRAHAM, Donald Stewart(12 April 2000) | KEEGAN, James Patrick(4 March 2000) | MARR, Marjorie Ellen(circa March 2000) | MEADE, William Rowland (Bill)(6 April 2000) | MITCHELL, Greta(20 April 2000) | PROUDFOOT, Leonard(19 April 2000) | RYAN, Francis Xavier(5 March 2000) | TOLIMAN, Stanis(About March 2000) | TUOHY, Ivan Bernard (Austin)(7 May 2000) | WHITE, Terence William(1 March 2000)
Arthur Denis GLUYAS (17 March 1999, aged 96)
Arthur Gluyas joined the New Guinea Police Force in August 1931 after two years' service in the Victoria Police Force. He served at various stations including Manus, Rabaul and Madang, and was one of the last out of Wau when the Japanese invaded New Guinea. He joined the New Guinea Volunteer Rifles in February 1942, then in July that same year he joined the newly formed Royal Papuan Constabulary (RPC) section of ANGAU as a Lieutenant. He served with that section until March 1944. In June 1946 he was appointed to the re-formed RPC and New Guinea Police Force but resigned five months later as no housing was available for his young family. In Australia he joined the Commonwealth Public Service and worked in the Prices Investigation section until retirement. After travel in Australia he settled in Brisbane. He is survived by three daughters and a son. Max Hayes
Francis Xavier RYAN (5 March 2000, aged 75)
Frank Ryan (or F.X. as he was sometimes known) grew up in country NSW. He was studying at Hawkesbury Agricultural College when war intervened. After service overseas he moved to Lae, PNG, where he served as an Agricultural Officer. He was responsible for setting up the first commercial native-owned cocoa plantation in PNG and was involved in setting up rice and coffee growing in Wewak, cocoa growing in New Britain, and rubber and copra production in the Gulf District. His proudest moments were related to his work as an Agricultural Officer. He was held in high regard by the local people and kept in touch with them until recently. He retired at the age of 47 through ill-health. Frank's strengths related mainly to his work: his planning and organisational skills ensured success and his projects were well-received.
Frank held forthright opinions and had no hesitation in expressing them regardless of the consequences. He married three times—to Madge, Greta and Christine—and had a family consisting of Suzanne, Sandra, Erica and Bill (who was tragically killed in a tractor accident last year). Bill's fatal accident was possibly the last straw in Frank's battle with cancer: he had had many extensive operations and had endured much pain From a eulogy compiled with the help of Greta and daughter Erica
John FARRELL (13 February 2000, aged 72)
John Farrell was an Englishman, born in London. He was a Works Supervisor in Port Moresby, Mt Hagen, Kundiawa and Madang and spent his latter years at Terranora, Tweed Heads. His ashes were scattered off Point Danger lighthouse by the local Coastguard, attended by his wife Thelma and sons Raymond and Robert and old PWD friends Jim and Phyllis Birch, Bill Murray, John Corke, Bruce O'Reilly, and Stan and Olive Tyler, plus other friends. Stan Tyler
Marjorie Ellen MARR (circa March 2000, aged approximately 83)
Marjorie was born Marjorie Ellen Synove Thomas in Perth. Her father went to PNG after WWI for OTC and took up land. With her mother and brother Theodore (Mick) she went to PNG when four years old. She returned to Australia when nine for schooling in Geraldton WA and with the Dominican nuns at Moss Vale Southern Highlands. She returned to PNG and married Cohn Marr when she was 21. A family of five followed and many happy years were spent at Vunalama Plantations, Bainings District, in New Britain. A beautiful home with swimming pool was built there and it became a favourite 'drop-in' place for all the Bainings planters and other visitors. Marjorie was a beautiful lady and a wonderful hostess. She is survived by daughters Jennifer, Donella, Geraldine and Colleena and their children. Pat Hopper
Terence William WHITE (1 March 2000, aged 73)
As a young soldier in 1945, Terry White went to Rabaul to supervise repatriation of Japanese POWs. After discharge, he was accepted as a Cadet Patrol Officer and was posted to Manus Island (Lorengau/Patusi) and later to Finschhafen. After attending the Long Course at ASOPA, Terry returned to Finschhafen where one of his tasks was to help establish the Finschhafen Marketing and Development Society, a co-operative owned by the local people, which became the largest of its kind in PNG. His last position as a kiap was as District Officer.
In 1961 Terry was appointed as PNG's adviser to the Australian Mission to the United Nations. His principal duty was to pave the way and buy more time in which to fully prepare PNG for independence. With the support of Ambassador Sir James Plimsoll and later Sir David Hay, the Administration's endeavours in this direction gained support from international authorities.
After four years in New York, Terry returned to Port Moresby as assistant to the Deputy Administrator, Dr John Gunther. This was followed by a position as Senior Liaison Officer to the Administrator of PNG, Sir David Hay. During this time he was confronted with the secessionist movement in Bougainville and the formation of the Tolai Mataungan Association. Terry then undertook graduate and post graduate studies at the University of PNG. His final appointment in PNG, following Independence, was as Assistant Secretary to the Government Liaison Officer in the Department of the Chief Minister, Michael Somare.
On returning to Australia in 1978, Terry was appointed Secretary of Aboriginal Affairs in the Northern Territory. From 1983-88 he headed the Aboriginal Communication Unit, working in the fields of Education and Health. His life as a public servant ended as it began, travelling to remote tribal areas in a continuing effort to improve the lives of indigenous people.
Terry retired to his beloved Tasmania where he completed a book based on his PNG experiences, entitled Taim Bilong Senis (A Time of Change). The book is with the publisher.
Terry is survived by his former wife Yukiko, children Michelle and Lucinda, and his wife Niruk and children Kim and Michael. From an obituary written by Terry's sister, Maureen Kahle
James Patrick KEEGAN (4 March 2000, aged 68)
Jim Keegan first went to PNG in the 60s when attached to the Department of External Territories in Canberra, as part of a team to oversee the formation of the PNG budget and to check that the Australian grant was being spent properly. In 1968 it was decided to create a separate Budget Section within the Dept of Treasury (later Finance), and Jim was seconded and moved to Port Moresby with his young family. Cath became ill (the onset of multiple sclerosis) and returned to Canberra with the children in 1972, and Jim went south in 1973 to care for his wife as her condition worsened (she died in the early 80s). Jim retired early on medical grounds.
Jim had a lifelong interest in aviation. He joined the RAAF Volunteer Reserve and later the RAAF Association, ACT Branch, where he served continuously as their honorary treasurer until 1999. Jim represented the RAAF Association (ACT Division) at the RAAF Memorial on the days of the RSL sponsored Heritage Walks when he would give a short talk on the history of the memorial and answer questions. Jim's other great interest was football: he was involved with the Ainslie Football and Social Club for over 50 years and served in many capacities. He was made a life member of the Club. Jim is survived by his children, Gary, Lynette and Scott. Fay Millist
John FENN (11 May 2000, aged 60)
John Fenn was born in the Port Moresby General Hospital and was the son of the Rev. Edward Fenn and his wife Ida, members of the London Missionary Society. John's parents were stationed at Aird Hill in the Gulf of Papua from 1937 to 1951. On coming to Australia John worked for the SA Police Force and the NSW Fire Brigade. He died at Campbelltown, NSW. John is survived by his mother, his wife Jeanette and three sons. M R Hayes
Donald Stewart GRAHAM (12 April 2000, aged 77)
Don was born in California and was in the American Army during WWII. In 1945 he married Hildred and they had three sons and a daughter. In 1956 the family moved to Australia where Don worked as stud-master on various Queensland properties. The family went to PNG in 1966 and Don worked in the Department of Agriculture Stock & Fisheries on cattle projects at Baiyer River near Mt Hagen, Bisianumu near Sogeri and finally at Moitake, 8-mile. Don was sometimes a judge of ponies at the Port Moresby Show: his assistant on these occasions was Kay Virtue. Don and Hildred returned to Australia in 1974 and a year later settled in Malanda on the Atherton Tablelands. Don worked with the Eacham Council until retiring age. He and Hildred became involved in voluntary work with senior citizens until Don was diagnosed with cancer. Don is survived by his wife Hildred and their three sons. Fay Millist
William Rowland (Bill) MEADE (6 April 2000, aged 78)
Bill and his family—wife Doreen and children Alan and Frances—migrated from the UK in 1951 and settled in Port Moresby in 1957 where Bill was appointed as Manager, Steamships Paint Department. He later progressed in the company to become Manager of Country Orders. Whilst in Port Moresby he and the family established a home on 3 Mile Hill, and Bill became a foundation member of the Lions Club.
Leaving the rest of the family in PNG, Bill and Doreen returned to the UK in 1962 for a brief period, then settled in Brisbane where they owned and operated the Airway Motel at Ascot before eventually retiring to Clontarf on the Redcliffe Peninsula.
Bill is survived by his wife Doreen, son Alan, daughter Frances, five grandchildren and five great grandchildren. Jonathan Holmes (Bill's son in law)
Ann Veronica BITMEAD (12 April 2000, aged 92)
Ann Bitmead was the wife of the late Harry F Bitmead. No further details available.
Leonard PROUDFOOT (19 April 2000, aged 76)
Stan Wigley has written a tribute to Leonard which was printed on pages 26-7 of the June 2000 issue of Una Voce. Leonard is survived by his wife Esme, son Anthony and daughter Michelle.
Stanis TOLIMAN (About March 2000, aged 76)
Stanis Toliman, of the Gazelle Peninsula, East New Britain, was the brother of Mathias Toliman. In 1940, aged 16, he finished his early education and returned to his village to start his own school. During the war he was involved in spying for the allied forces. In 1946 he started the St Mary's High School, Vuvu, with Fr Dempsey and in 1960 he became the school's first national headmaster. In 1966 he was a member of the Legislative Council. In 1969 he went to Manam Island, Madang Province, as headmaster of a school and in 1972 he was elected MP for Bogia (Madang Province). He was involved in putting together the Constitution and guiding PNG to Independence. He then returned to his home area and took an active part in community affairs until his death. He and his wife had nine children, and numerous grandchildren and great grandchildren. Around 1,000 people attended his funeral. Post-Courier, 7 March 2000
A detailed profile of Stanis Toliman's brother Matias compiled by Neville Threlfall is recorded in the Australian History of Biography and can be viewed HERE
Margaret Sybla FEETUM (8 February 2000, aged 96)
Margaret Feetum came to Australia from the UK at the age of nine. She studied the violin from the age of five and played at the silent movies in Muldura. She married Ronald William Feetum in 1928 and they had a daughter Shirley in 1931. Ron joined the Victorian Police Force, and in 1932 was posted to Madang as officer in the PNG Police Force. After Madang, the family lived in Lorengau, Manus and Rabaul. Margaret was evacuated from Rabaul on the Medina and settled in Melbourne. She was widowed in August 1943 when Ron was assassinated by the Japanese on Aroe Island. Margaret played in the orchestra at Her Majesty's Theatre, Melbourne and in later life lived in Mullumbimby and then Tweed Heads NSW. Shirley Lockhart (Margaret's daughter)
Ivan Bernard (Austin) TUOHY (7 May 2000, aged 82)
Austin joined the Australian Army in 1940, and joined ANGAU in early 1944. After discharge Austin remained with ANGAU, but then returned to Australia to train as a doctor. However in 1947 he returned to PNG as a Patrol Officer. He was posted initially to Kairuku, then Rigo and Tapini. Other postings included Rabaul, Kokopo and Kavieng, then Mumeng and Wau. In 1969 he joined the Magisterial Service and served as Magistrate in Lae. He retired in 1972. Following his retirement Austin lived in Wau and helped his son, Michael, run a trade store. In 1979 Austin and Sylvia returned to Australia.
In 1980 while holidaying in London it was discovered that Austin was suffering from an 'acoustic neuroma'. The following operation left him paralysed in one side of his face and arm. Austin and Sylvia settled in Toowoomba in 1981 and for the last 19 years of his life Austin was a semi-invalid. He is survived by his wife Sylvia, children Michael, Elizabeth and Felicity and grandchildren and great-grandchildren.
Greta MITCHELL (20 April 2000, aged 78)
Greta and Iain Mitchell and their two children arrived in Rabaul in 1961 to live at Paluat, Tavui, on the North Coast Road, where Iain represented Cadbury-Fry-Pascall's interests in cocoa growing and production.
Greta and the children (Robyn and Colin) quickly adapted to life in the Territory and Greta's unique and gentle disposition endeared her to her new friends. Paluat was open to all and sundry and Greta a kind and generous hostess who enjoyed entertaining. Christmases at Paluat were something special when our friends, so far away from their own families, became Greta's family. Fain and Greta suffered a great sadness when Robyn died in 1964 but were greatly comforted by the love and affection of our expat family. Greta and Iain left Rabaul in 1973 to settle in Sydney.
After a long illness Greta died peacefully in Chatswood. She will be long remembered for her quiet sincerity, her understanding and loyalty by those who were fortunate enough to know her. Iain Mitchell