Vale September 1986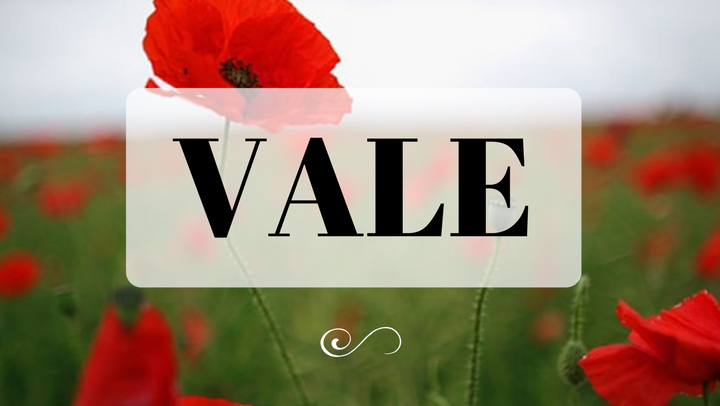 BAINES, Charles | BARR, Duncan | BURKE, Matilda | CHAMPION, Gladys (Pin) | CLARK, Eileen | COTTRELL-DORMER, William (Bill) | DAVIES, Pat | ELPHINGSTONE, Doug | FALCONER, Joy | GOODFELLOW, William )Bill) | FALCONER, Joy | HOUGHTON, Lorraine | McARTHUR, Isobel | NEVE, Mavis | SINCLAIR, Gladys | SLEE, E J (Ernie) | WINTER, Richard (Dick) |
Duncan BARR, Captain (August 1986)
Skipper of overseas ships working Rabaul and other PNG ports
Gladys (Pin) CHAMPION, (3 September 1986)
Widow of Claude, former Secretary of our Association. She assisted Claude in sending out "Una Voce" by handwritten envelopes to all members.
Eileen CLARK, (August 1986)
Widow of John F Clark.
Joy FALCONER, (2 August 1986)
Formerly Joy Webb of Works in Moresby in fifties. Latterly in Retirement Benefits Office, Canberra. Leaves husband Tom Ian Hackett.
William (Bill) GOODFELLOW (11 August 1986)
Technician in Posts & Telegraphs, retiring in 1971. Leaves widow Mary, living at Mermaid Beach.
Isobel McARTHUR (11 August 1986)
Retired in 1953 from Customs. Isobel was the second last of our pre-War female officers. (Aged 88)
Mavis NEVE (16 April 1986)
Married to John at Brandi School, Wewak, then living at Hagen and Moresby, where Mavis worked hard for CWA. Leaves her husband John, son Geoffrey and daughter Jenny.
Lorraine HOUGHTON (18 April 1986)
A member of the Signal Corps in WW2, and former personnel officer in Agriculture in Moresby, Lorraine was a dedicated worker for Red Cross, CWA and pre-schools from 1952-75. Leaves her husband David and daughter Lesley.
William (Bill) COTTRELL-DORMER (8 June 1986)
Former Director of DASF, retiring 1961 to live in Brisbane. Leaves a widow, Kathleen.
A brief report on Bill Cottrell-Dormer on a QUT website can be viewed HERE
Also a copy of his death entry in Queensland Government records HERE
Matilda BURKE (10 June 1986)
Widow of Clarence, former Treasury clerk.
Richard (Dick) WINTER (16 June 1986)
Former foreman storeman in Treasury, retiring in 1965. Leaves a widow, Margot, at Chevron Island.
Charles BAINES (11 July 1986)
Early DCA Officer in Moresby, well known for his work with the Hanuabada Scout Troop and interest in climbing – for instance, Mount Victoria.
Doug ELPHINGSTONE (18 July 1986)
Pre-war engineer, then pilot. During the war he was in the Air Force Reserve on loan to Qantas, flying to and from PNG. In the late forties he started a coffee plantation near Goroka, selling out in the early 60s to run a Volkswagen franchise in Sydney, before retiring to Queensland. Leaves a widow, Ethel, sons Peter & Geoffrey & daughter Jan.
Pat DAVIES (25 July 1986)
Physiotherapist in Health Dept who retired to Melbourne in 1974.
Gladys SINCLAIR (31 August 1986)
Wife of "Sandy" Sinclair, OIC of Police Training Depot. Died after long illness.
E J (Ernie) SLEE (30 July 1986)
Retired from Treasury in 1949 to live in Brisbane. He leaves a widow, Kathleen.