Vale March 2015
ADAMS, John "Didiman" | (4 January 2015) BONNETT, Kenneth Malcolm | (20 June 2009) BONNICK, Roger Hugh | (22 December 2014) COOPER, Noel Vincent | (9 November 2014) CURRIE, Ronald Macintosh | (3 November 2014) FLOWER, Eric | (25 November 2014) GIBBS, Jeannie | (23 January 2015) – No details available INDER, Stuart | (30 January 2015) SMART, Leslie Boddington | (24 September 2014) THOMAS, Dorothy | (5 January 2015) TONGS, Captain Bede, OAM, MM | (14 December 2015)
John "Didiman" ADAMS (4 January 2015, aged 78)
John first went to PNG in 1956 as a 20-year-old to work for Burns Philp, as an overseer on Kalili plantation on New Ireland.
Two years later, he found work with Comworks Rabaul where he made many good friends. Coming from the land John's true calling was agriculture so in 1959 he enrolled in a three-year Diploma course at Gatton Agricultural College.
John returned to PNG in 1962 as a field officer with DASF to be posted to Namatanai. Here with scant resources he built an agricultural training station whilst also spending half his time patrolling throughout the sub-district and offshore islands. He had considerable success in establishing the cocoa industry, which survives to this day. He also worked closely with the kiaps in kicking off the Namatanai and Susurunga Marketing Societies.
John married Saima in 1964 and four children ensued: Sandra, Christine, Sonya and David.
In subsequent years, John served in all New Guinea Island Districts rising to the position of District (Provincial) Agricultural Officer. Their home was always open to all and many friendships from those days remain.
On leaving PNG in the late seventies, they bought a small pineapple farm at Kandanga. It was not long before it became one of the show places of the Mary Valley, employing the latest innovations in the pineapple industry with Golden Circle choosing to hold several Field Days there.
In later years, John's health failed and he moved to Mapleton where he lived out a quiet retirement. John's four children and two grandchildren survive him. John Brady
Kenneth Malcolm
BONNETT (20 June 2009, aged 89)
In the days before the formation of a separate fire brigade branch, about 7 or 8 firemen were sworn in and uniformed as officers of RP&NGC. Ken was appointed to RP&NGC on 26 August 1957 to Lae and then to the old Rabaul Police Station in Mango Avenue, where the Dennis fire engine was housed in an adjacent garage along with a small red Land Rover equipped with a water tank and pump (affectionately known by us as "Little Toot").
He was also very active in assisting the Australian Army demolition expert, Cpl "Shaky" Brown, in the recovery of wartime ammunition and explosives which were found regularly everywhere in and around Rabaul. I remember going into one of the caldera rim wartime dug tunnels with Ken. We came across a cache of explosives, which Ken quickly identified as seeping nitro-glycerine. We both beat a very hasty tiptoe retreat from that cave. Ken's biggest fire in Rabaul was the total conflagration of the New Guinea Company store in Mango Avenue on 18 December 1961. Such was the intensity of the blaze that it was impossible to save anything. On 18 February 1966, Frank Tam's store in Malaguna Road was ablaze. The fire brigade was quickly on the scene and saved a number of adjoining buildings, though the life of a small child was lost.
On 16 January 1961, the Fire Brigade Branch of the Department of Civil Affairs was created and all the firemen ceased to be sworn in as regular members of the Constabulary. They were appointed Station Officers at their various locations.
Ken was pre-deceased by his wife Ivy. A son and a daughter survive him. Maxwell Hayes
Roger Hugh BONNICK (22 December 2014, aged 81)
Roger Bonnick died unexpectedly, although after a long illness.
Roger joined the PNG administration as an Assistant Patrol Officer on 21 February 1972. After preliminary training courses, he and Judith came to Finschhafen on 3 July. He brought with him a unique variety of experience: he had worked as a volunteer in the Gilbert & Ellis Islands and Tonga; skippered a boat around the Torres Strait for the Anglican Mission; worked with aboriginal communities. All things a young English diesel engineer would not normally get involved in.
In Finschhafen, Roger slotted naturally into the role of consultant mechanic; town troubadour; and guide, philosopher, mentor and friend to everybody.
He was the Administrative Adviser to the Finschhafen Local Government Council, with the main task of devising, organising and supervising council projects. These included roads, bridges, Aid Posts, buildings, schools, water supplies and of course the maintenance and operation of plant and equipment. As the government's localisation program evolved, his responsibilities spread to assist the other three councils in the District, including training local officers as advisers. Roger's talents, temperament and enthusiasm earned him promotion to Patrol Officer in 1974 and Assistant District Officer in 1975.
Roger and Judith transferred to the Department's Field Training Unit at Rabaul on 29 April 1976. His contribution to the development of the Finschhafen community was very real and very much appreciated. Rest in peace old friend. Frank Haviland
Noel Vincent COOPER (9 November 2014, aged 82)
Noel died after a long illness at Green Point NSW. He joined the NSW Police on 21 April 1951, serial nr 6942, and served until resigning on 22 April1957 to join RP&NGC five days later. He served at Port Moresby and Boroko. He resigned from RP&NGC on 21 August 1962 to pursue business interests. He rejoined RP&NGC on 28 February 1964 and was appointed as OIC Boroko CIB. He was the lead investigator in the triple murder of two white citizens and a Papuan female committed in 1970 by a Goilala native, Peter Ivoro, who was later convicted of three wilful murders.
Contemporaneously with this event, another suspect, Karto Kartogati, a Goilala native of Zhenevai Village, Central District, was being pursued when armed with a stolen .32 Colt automatic pistol for the attempted murder of Inspector 3/c Graeme Twigg and the wounding of Officer Cadet Vincent Kipma at Taurama Autoport on 12 February 1970 (for which Kipma was awarded the Constabulary's highest award the RPNGC Valour Medal for total disregard for his own safety, though himself shot when saving Twigg's life).
Noel then led an extensive manhunt for Kartogati involving helicopter sweeps of bushland surrounding Moresby and numerous night raids on Goilala squatter camps. Kartogati slipped the dragnet and walked to Lae from where he stupidly posted a letter taunting Noel.
In Lae, in a burglary at a house near the golf club on 28 April 1970, Kartogati shot the occupant, Wilhelm Beler, a German national, dead with the stolen firearm he still possessed. Noel flew to Lae to identify this offender who was promptly arrested in the town market and subsequently charged with wilful murder and 14 other offences. Kartogati was believed to have been the murderer of some 15 persons in and around Moresby and his home district.
Noel resigned from RPNGC on 10 February 1971, at the rank of Superintendent (Second Class) to pursue business interests in Australia. In an earlier period he played "A" grade rugby for NSW team St George. He also was instrumental in forming a Bomana police rugby team which he coached. He is survived by his wife of 58 years, June, a son and his family. Maxwell Hayes (with thanks to David Fitzgibbon and Alwyn Stuckey)
Ronald Macintosh CURRIE (3 November 2014, aged 83)
Born in Glasgow, Scotland, Ron died after a long illness at Hastings, Victoria. He served in the Royal Electrical & Mechanical Engineers (England) for two years until 1952. On 6 November 1956, he joined Edinburgh City Police and resigned on 24 January 1963 to migrate to Australia with his family.
He joined RP&NGC on 11 November 1968 and after brief service at Port Moresby, spent the remainder of his service at Rabaul, where he prosecuted offenders involved in the Mataungan incidents. At the conclusion of his first term leave in Scotland, he resigned from RP&NGC.
On 12 September 1963, he served as a Detective Sergeant in the Commonwealth Police resigning on 11 November 1968. He then became an administrativre officer with the Shire of Hastings, retiring in 1987.
He is survived by his wife of 65 years, Minn, 3 daughters and their families. Max Hayes (with advice from Harry Bryant, RPNGC)
Eric FLOWER (25 November 2014, aged 93)
Eric was born in Cammeray on Sydney's North Shore in 1921 into a family strong in the Presbyterian faith. He was an only child. He grew up and was educated in Cammeray.
He enlisted in 1940, joining the 2/2nd machine gunners. He saw service in Egypt, Libya, Palestine and Lebanon and on return to Australia went on to the then TPNG. After serving in Milne Bay and Finschaffen he was selected to do officer training at Duntroon and joined the Australian New Guinea Administrative Unit (ANGAU) as a lieutenant.
In 1945 he married Jean Robb, his fellow Sunday school teacher.
As did many of his contemporaries, he saw a career opportunity as a Patrol Officer and decided to stay after the war. Eric served in many locations including Goroka, Hengenofi, Kerema, Kikori, Daru, Kokopo and Rabaul.
He was fluent in Pidgin, Motu and Tolai. During the Mataungan crisis, he made the front page of the Sydney Morning Herald explaining new taxes to a hostile crowd.
A career change saw Eric and family move to Port Moresby where he held the position of Coordinator of Works firstly with Public Works and then Treasury until he was localised at Independence.
We understand that Eric was the first Public Servant invited to join the Rotary Club of Port Moresby and was the sponsor of the first PNG national to join that club, an up and coming young Paulius Matane.
The Flowers retired to the Gold Coast where they continued in community service, Eric being President of Broadbeach and Mermaid Beach and District Governor of District 964 in 1982-3.
In 1985, Jean died and Eric married his neighbour but became a widower again in 2005. Eric and both his wives travelled extensively and in retirement, he pursued fishing, boating and golf and still found time to become a master in the Grand Lodge.
In 2013, Eric was awarded the Police Overseas Medal along with many other ex-kiaps.
In 2005 Eric moved to Dubbo to be nearer family and resided at Orana Gardens, an RSL aged care facility where he stayed until his death from dementia.
His two daughters Jan Bevan and Diane McKeowen, 6 grandchildren and 15 great grandchildren, survive him. Bob and Di McKeowen
Stuart INDER (30 January 2015, aged 88)
See the obituary article in the Library | .
Leslie Boddington SMART (24 September 2014, aged 97)
Prodigious PNG sportsman Les Smart died in Brisbane in late September.
Born in Burma, Les was the second son of Walter Maitland and Estrild Smart. His father, a member of the Indian Civil Service (ICS) when Burma was part of the British Indian Empire, worked in the Lands Department of Burma, mainly in the outlying areas. There were many Boddington Smarts based in India and Burma at that time. Growing up in Burma was free and easy for Les, his brothers Percy and Richard and sister Essie, where they were often the only expatriates in the village. They mixed well with the locals, hunted with them—including tigers—and learned the lingua franca along with a number of dialects.
Les attended Victoria Boarding School, Darjeeling, in the Himalayan foothills for eight years. The journeys to and from school took 10 days each way and comprised paddle steamer up and down the Irrawaddy, steamboats to Calcutta via Chittagong, railway to Siliguri and thence to Kurseong by the small world renowned narrow gauge "toy train". He excelled in all sports at Victoria: cricket, tennis, soccer, rugby, and hockey. His sporting successes continued at Rangoon University where he gained his Bachelor of Arts degree and also the soubriquet of "The Great Mr Smart". The Indian cricket hierarchy singled him out as a player who would in time play cricket for India.
In 1940 Les joined the Burma Oil Company as a junior executive, which became an essential service at the outbreak of hostilities against Japan in late 1941. For a period he was involved in the destruction of oilrigs and pipelines in upper Burma to prevent them falling intact to the oncoming Japanese. They were classified as saboteurs. Subsequently, he and his family were part of the general exodus to India along the 178 miles of the Death Valley track to Calcutta from Rangoon. There was virtually no food available on this trek and a great many died, particularly children. Les caught a severe dose of malaria en route and was lucky to survive. After he recovered he met up with his parents and extended family in Bangalore, India. Thereafter, he was seconded to the Anglo-Persian Oil Company in the Middle East.
Travel to Abadan in Persia (Iran) was precarious by ship due to axis submarine activity between India and Africa. He worked in servicing the fuel requirements of the British Eighth Army, in North Africa. This included hiding fuel dumps in the desert. If there was any risk of losing the oil fields proper, the orders were to destroy. Les played as many ball sports as he could in Abadan. This included an exhibition tennis match against a leading American player and captaining the RAF cricket team. Quite an achievement for a civilian.
After the war, when Burma gained independence in 1948, Les' job was given to a Burmese national. He decided to join his family in Perth, Western Australia. After a period in Perth, during which he set the South Belmont Cricket Club and the Association record batting average, he successfully applied to join the PNG Administration and proceeded to Port Moresby in 1950 to join his brother Percy who had preceded him.
After a two-year spell with the Production Control Board (later the Copra Marketing Board), Les transferred to the Department of Customs and Marine. He remained with Customs until his retirement post PNG Independence in 1977. It was at PCB that Les met and married his wife June. They had four children of whom the first child, Julie, died at child birth.
The Smart brothers dominated the Moresby cricket and tennis (and later hockey) scenes in those years. It seemed that Percy, an outstanding sportsman himself, was content to let Les take the leading role, which he seamlessly did. Scoring centuries and taking wickets with his slow 'floaters' were second nature to him but there was never exhibited any hint of ego or arrogance. His Victoria School motto "with truth and loyalty" was part of him, and his expatriate and Papua New Guinean colleagues who worked with him instinctively sensed the decency that reposed within him. He was well respected and extremely proud of the PNG Medal awarded to him in 2000.
When cricket and tennis became too much for him, Les took up golf, which he played with a passion, almost daily, for many of his retirement years. A dedicated lover of animals, he fed the local birds daily at dawn and was known as "The Birdman of Camp Hill".
His last few years were spent in an aged care home. He is survived by his children Chris, Susan and Andrew and five grand children. In reaching the grand age of 97, he did not quite make one final century. Derek Baldwin in collaboration with Les' daughter, Susan Smart
Dorothy THOMAS (5 January 2015, aged 71)
Dorothy was born in Penshurst, NSW, on 15 March 1943. She graduated as a registered nurse in 1964, and continued her training at the St Vincent's Hospital, Kings Cross, in theatre nursing and mid midwifery. Dorothy had a good friend Wanda in nursing there and the two of them decided it would be a good challenge to apply for a job in PNG in 1968. On arrival, they worked firstly at the Taurama Base Hospital in Port Moresby for a short time, before transferring to Nonga Base Hospital in Rabaul.
Their plans were to work hard and save money, and then to be able to travel to South Africa and the UK. Love and marriage jumped in the way with Wanda first to be married in Rabaul to Kevin Wong. Dorothy later transferred to Kavieng where she met Tony Thomas and they married in 1969.
During Dorothy's time at the Kavieng hospital, she delivered many babies and she was well regarded by the community for her nursing duties. Dorothy and Tony met in late 1968 and married in late 1969 with the first ever history making dual marriage nuptial mass between the Catholic Church and the Church of England. Both Dorothy and Tony had to have their own separate church service when receiving the Holy Communion, however at the wedding ceremony in the Catholic Church both priests from the Catholic religion and Church of England were able to partake in the Holy Sacrament after the local Bishop gave permission. There was much written in the Post-Courier about this wedding ceremony. Dorothy also worked with Sister Madge Kenny who was awarded an MBE for her nursing care throughout PNG.
After Dorothy and Tony returned to Australia in 1973, Dorothy worked for many years for Boral Bricks and lived in Petrie, Qld, with her adopted twins. Dorothy retired in 2012 and lived with her daughter and Grand Daughter at her home in Petrie. Dorothy became very ill just before Christmas and passed away due to major organ failure on Monday 5th January 2015 in the Redcliffe Hospital at age 71. RIP Dorothy. Tony Thomas
Captain Bede TONGS, OAM, MM (14 December 2015, aged 94)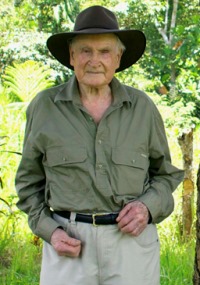 In 1942 Bede Tongs, one of the heroes of the Kokoda campaign, pledged to keep alive the story of the Papua New Guinea carriers, better known as the Fuzzy Wuzzy Angels.
Without them, Bede used to say, there might have been a different result. "They carried in all the heavy supplies and, with tender care, carried out our wounded. We owe them a great debt." For more than 70 years Bede worked ceaselessly on his own and through the Kokoda Track Foundation to keep the Kokoda story alive. His aim was to improve the lives of the Fuzzy Wuzzy Angels, especially their descendants. He was always ready and willing to speak about Kokoda. He spoke to schoolchildren, university students, apprentices, Defence Force members and, at the age of 93, he delivered a major address to 350 guests at a Sydney function. Bede George Donald Tongs was born 27 June 1920 at Narrandera, NSW. He served an apprenticeship in Canberra as a carpenter. It was then he joined the 3rd Militia Battalion (the Werriwa Regiment). As a 22-year-old sergeant he took over when the platoon commander was wounded during the advance on the Japanese-held Templeton's Crossing. Rather than exposing his men to a frontal attack, Bede crawled along an enemy fire line and destroyed a Japanese machine gun post with hand grenades. He was awarded the Military Medal for bravery. Later, he joined the 2/3rd Battalion AIF and was commissioned in the field during the Aitape/Wewak campaign. He was a frontline observer during the Korean War. Don Hook