Vale March 1989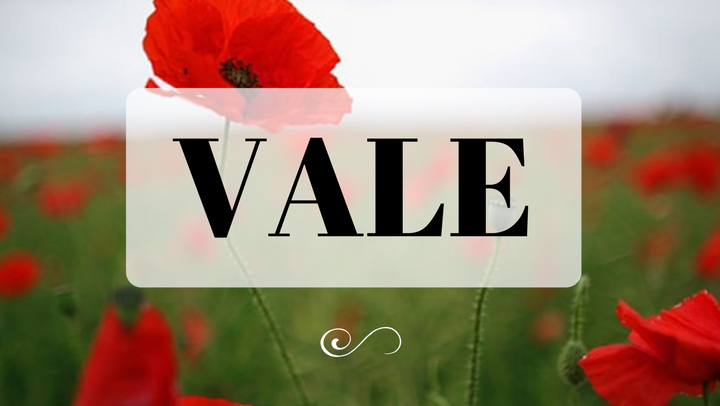 BLOINK, Vincent de Paul, MBE | BURNS, William Michael | CHAMPION, Frank Alan | GOODGER, David Raphael | LOWNEY, Ena | MORLEY, William A (Hookey) | PRITCHARD, John Adrian McNair, QC | QUIRK, Raymond, OFM, AM, MBE | WALSH, Herbert William |
Ena LOWNEY (15 November 1988)
Wife of late Edward Lowney, who joined the New Guinea Administration in 1933 and retired as Administrative Officer, Lands, in 1967. Ena leaves a daughter Yvonne, 6 granddaughters and 10 great grandchildren. No further information available.
Herbert William WALSH (6 February 1988)
"Herbie" aged 63 years, had a long career with the Dept of Public Health in Papua New Guinea, retiring in 1973. He remained in PNG for some time with private interests in Chimbu, Tari and Mt Hagen before finally settling in the Atherton Tablelands in North Queensland.
Many years ago Herbie and his wife, a nursing sister, were travelling on board the Pearl of Sea when the vessel caught fire and his wife was drowned. He is survived by a daughter Maria and two sisters in Victoria.
John Adrian McNair PRITCHARD, QC (10 January 1989)
In 1971 John was appointed a Stipendiary Magistrate in Port Moresby and from there travelled extensively throughout Papua New Guinea. He was appointed Chief Magistrate in 1975 and set up the first Magisterial Training Service.
In 1977 John was appointed to the Bench of the Supreme Court of Papua New Guinea. He resigned in 1979 and took Silk in Sydney in 1983. John served for many years in the Air Force Reserve and, immediately prior to going to PNG, had completed three years full-time duty in Vietnam, Malaya, etc. He attained the rank of Wing Commander. He is survived by his wife Rowena, sons Adrian, Jeremy and Stephen, and grandchildren Kristy and Ewen.
William A (Hookey) MORLEY (2 December 1988)
Hookey went to Port Moresby in 1954 to visit his sister, liked the place and stayed, joining Posts and Telegraphs. He rose from the bottom rung to the top of the ladder in Postal Administration. On the way he was Postmaster at Madang and then Rabaul, before he became Assistant Director (Postal), the top Post Office job in P & T. Whilst in Rabaul and later in Port Moresby, he trained a local officer, Dale Kamera, to take his place before returning to Australia in 1975. Dale Kamara 6 years later became head of P & T.
Hookey was also an outstanding sportsman. He played Rugby League for both Papua and New Guinea. He played on a very low handicap golf and was Captain of both the Madang and Rabaul Golf Clubs. He and his wife Helen also took up sailing in their own yacht when they went to Port Moresby. Back in Australia he transferred his talents to Bowls and excelled.
Hookey leaves a widow Helen, son Scott and daughter Toni.
William Michael BURNS (20 December 1988)
Bill was born on 8 June 1920 at Cootamundra and grew up in Caringbah, NSW. From December 1940 to May 1946, he served with the AIF in 2/7 Australian Armoured Regiment and the Papuan Infantry Battalion. He rose to the rank of Captain in 1945 and saw active service in PNG at Samarai and in Bougainville at Torokina, Numa Numa and Soroken.
In May 1946 he was appointed a Patrol Officer, serving in Central and Gulf Districts before transferring to the Royal Papuan and New Guinea Constabulary in April 1947, where he served until February 1971. Whilst in the Police Bill was stationed at Port Moresby, Sogeri, Lae, Finschhafen, Goroka, Wau, Rabaul and at various times at Headquarters in Port Moresby.
Bill established the Police Training Centre at Goroka and in 1953 he was selected for a tour of duty with the RP&NGC Contingent to UK for the coronation of HM Queen Elizabeth II. On the tour he was accompanied by Sandy Sinclair and Peter Broman. On his return to PNG Bill served for some 7 years as OIC Police Training Depot at Goroka. In 1962 he was appointed first Principal Police Training College Bomana. He then held various positions in Police HQ as Superintendent 1st Class and Acting Assistant Commissioner before doing a stint as Divisional Superintendent Islands Division at Rabaul. Bill finally returned to HQ as Senior Superintendent and retired 1974 to Caringbah, NSW. He was awarded the Police Long Service and Good Conduct Medal in 1969 and Queen's Police Medal for Distinguished Service in 1971.
Bill is survived by his widow Barbara and children Vivien, Stephen, Dennis and Michael.
Raymond QUIRK, OFM, AM, MBE (14 February 1989)
Father Ray was the Parish Priest at Vanimo for a number of years before being appointed Army Chaplain at Murray Barracks in Port Moresby where he served for some 20 years before returning to Australia and being posted as Priest at Midlands in WA. He joined the Church as a young man and devoted his life to the wellbeing of his fellow man. He had a multitude of friends, not only in the armed services but the wider Papua New Guinea community.
He had a very special relationship with families, especially children and it is well known that he always spent a lot of his recreation leave in Australia visiting children of broken marriages. An indication of his tolerance and understanding is that he became a close friend to many of his friend's children.
Father Ray also played a significant role in the development of the Papua New Guinea Defence Force. His leadership, drive, enthusiasm and determination helped in no small way to overcome the many problems that occurred at that time. The Chapels of the Force are a lasting monument to him. For his great service to the community and the Defence Forces Father Ray was awarded the Australia Medal and was made a Member of the British Empire.
On 17 February 1988, a Solemn Pontifical Concelebrated Mass was offered at St Francis of Assisi Church, Paddington NSW, for the soul of Father Ray Quirk. The Mass was said by Bishop Brian Barnes of Aitape (ex Chaplain RP&NGC) together with a number of other Bishops and many priests. The army was well represented, including some four Major-Generals. Also present were many of his friends. The Eulogy was delivered by Major-General Jim Norrie.
Frank Alan CHAMPION (19 November 1988, aged 83)
Alan as a young man trained as an engineer and became a ships engineer in Australia. In 1935 he joined an oil company in Papua and in 1936 joined the Papuan Government Service as a Patrol Officer. He rose to the rank of District Commissioner and retired to Australia in 1960.
Alan is survived by his widow Emily and a son Peter.
Vincent de Paul BLOINK, MBE (30 January 1988 at Sydney, aged 77)
Vince applied for a position in PNG before the second world war but before he could be appointed the war intervened. He immediately joined the AIF from Cairns and was soon sent overseas. He was taken prisoner of war in Crete in 1941 and was not released until the end of the war. Most of his time as a POW was served in coalmines in Poland.
He was appointed an Operator-Compositor in the Government Printing Office in Port Moresby in October 1946 and rose through the ranks to Government Printer in 1962. In this position he served until he retired in 1971 to Kenmore in Queensland. Vince is survived by his widow Dixie, daughter Lois, son Paul and 4 grandchildren.
David Raphael GOODGER (27 December 1988, aged 59)
David went to PNG as a Cadet Patrol Officer in 1953 after teaching in rural Victoria and a brief period of service with the RAAF.
He served his first term in the Central District where he met and married Margaret Gee. Their first home was in a "haus kiap" on the Sogeri Plateau where David worked on matters related to the Sirinumu Dam Project. He then spent several years in West New Britain at Talasea, Mora Mora (Cape Hoskins) and Kandrian. In the 1960s David qualified as a Bachelor of Economics and then held a variety of senior posts in the Departments of Trade and Industry, Labour and Public Works. Before leaving PNG in the mid seventies, he undertook a special assignment relating to RPNGC for then Chief Minister Michael Somare. David is survived by his widow Margaret and children Michael and Kelly.