Vale June 1994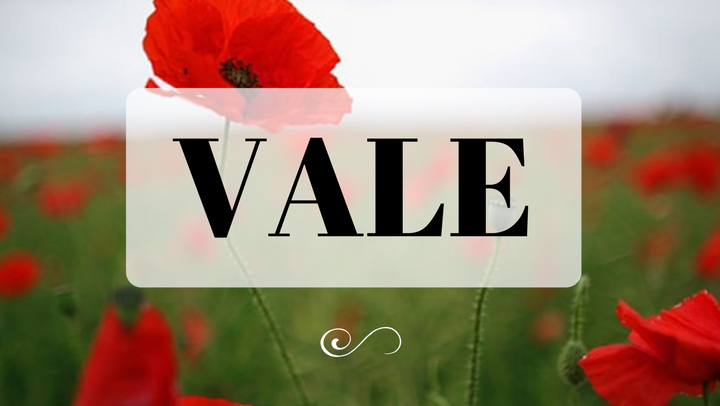 BROMAN, Anne-Marie | BRYANT, Jeanie | BURTON-BRADLEY, Sir Burton Gyrth | COYLE, Lucille Moira | DELBRIDGE, Audrey | DOYLE, Douglas (Arthur) | EGGINK, Antoinette Cornelia | ELMER, John, MBE | KAAD, June Walker | MURTY (neé Woods), Elizabeth Em (Nicky) | NIALL, Sir Horace Lionel Richard, KB, CBE, MBE | O'DELL, Kenneth Dan Jack | PALMER, Derek | RAMACHANDRAM, Robert (Bob) Ganasen | RANDMAE, George | TOLHURST, Noel Michael |
Sir Horace Lionel Richard NIALL, KB, CBE, MBE (30 April 1994, aged 89)
[Eulogy delivered by Doug Parrish at Horrie's funeral on 3 May 1994.]
Sir Horace Lionel Richard Niall, KB, CBE, MBE, was a great Australian, who most ably represented his country whilst it was responsible for the administration of the Mandated Territory of New Guinea and later the Trust Territory of Papua New Guinea. At the same time he gave great service to the peoples of Papua New Guinea, spending most of his working life there, a period of more than 40 years, before, during and after World War II.
Sir Horace was always known to his friends as Horrie and, as I was honoured to be one of those friends, I will hereafter refer to him thus. Horrie was born on 14 October 1904 at Coolah in NSW, was educated at Mudgee High School and later at Sydney University.
He joined the Administration of the Mandated Territory of New Guinea in 1927 as a Cadet Patrol Officer, arriving in Rabaul, New Britain, in April of that year. Rabaul, pre WW II, was the Administrative Capital of the Mandated Territory of New Guinea. His first term was spent in New Britain at Kokopo, Talasea and Nakunai and he had a short spell in Rabaul. He went on leave early 1930 and spent that year at Sydney University studying Law and Anthropology.
Whilst in Sydney he married Alison Weir, whom he had previously met at Kokopo when she was visiting Jess Ross, a long time resident of Rabaul and now a member of our Association. Accompanied by Alison, Horrie returned to New Guinea in 1931 and was posted to Gasmata located on an island on the south coast of Hew Britain. Subsequent postings were to Talasea, Kavieng in New Ireland, Aitape, which at that time was the most western Sub-district in the Sepik District and on the New Guinea mainland and then Wau in 1941. Sometime during this period, a daughter, Lois, was born and Horrie became a doting father. He was also promoted to Patrol Officer, Asst District Officer and District Officer.
Prior to his posting to Wau, Horrie's postings had been to very isolated stations where there were very few, if any, amenities. Supplies were transported by sea and long periods elapsed between deliveries. There was no electricity and lighting was by kerosene or pressure lamps. Telephones and wireless communication, as we know it, were non-existent. Cooking was mainly on a very basic type of fuel stove. Houses were not mosquito proofed and in all of these places the mosquitoes were very bad, which meant sleeping under mosquito nets.
Describing to me his posting to Gasmata, Horrie called it an "outlandish place" which had a rainfall of at least 300 inches a year and this all fell during a period of six months. He said "You lived on an island and I got malaria. For those six months you just had to stick to the island because it was too wet, all the rivers were in flood, you could not go on patrol, so you just stayed there. My wife was the only white woman for hundreds of miles and she arrived there as a new bride. Her trousseau went mouldy because the first month it rained 60 inches and the next month it rained 65."
Of living conditions generally during these postings, Horrie said: "It was very difficult in both Talasea and Aitape and especially in Gasmata when all your foodstuffs had to come in tins and you lived on pigeons or fish. I learnt to cook pigeons 28 different ways. Otherwise you lived out of tins, tinned butter which you poured out, and no mail, no planes, waiting for something to happen, lots of boredom, but we all had an interest in what we were supposed to do: bring New Guinea into self-government. It looked like something that would not happen in my lifetime."
At the outbreak of war in the Pacific, Horrie was still stationed at Wau and was there when the Japanese landed on the New Guinea mainland. The town was then burnt by the Army as part of a "scorched earth policy" and Horrie had a most difficult time maintaining law and order during this period.
In 1943, Horrie was appointed as a Major in the AIF and posted to the newly formed Australian New Guinea Administration Unit (ANGAU). That same year he was awarded the MBE (Military). Whilst in the Army, Horrie served mainly in the Morobe District at Wau and Lae, except for a six-month period when he was attached to the American 6th Army at Finschhafen. ANGAU had a dual role, being part of the Army with the additional responsibility of trying to administer the country in a civil sense.
When the war finished Horrie went to Sydney, was discharged and returned to New Guinea early 1946 as a civilian. He was posted to Wewak as District Officer in charge of the Sepik District which he said was in an unholy mess when he arrived. Wewak, however, he said was quite good, the old township had been bulldozed, levelled, roads had been constructed and there were two airstrips. They had electric light, freezers and later running water. He remained at Wewak for nearly four years and contributed substantially towards the settling down and rehabilitation of the District. At the end of 1949 he was posted to Lae as District Officer, Morobe District, and later District Commissioner when these positions were established.
Whilst at Lae, Horrie worked very hard to develop the District's infrastructure, concentrating on the development of roads, schools, hospitals, etc. He was also very active in encouraging economic development of all kinds, particularly agriculture and animal husbandry. He was a Member of the PNG Legislative Council from 1951 to 1963. In the 1958 New Year's Honours List he was awarded the CBE. In 1961 he was PNG's delegate to the Pacific Commission in Noumea and in 1962 he was PNG's Special Representative to the United Nations Trusteeship Council. Horrie's wife, Alison, died in 1964 and in the same year he retired as District Commissioner, Morobe District and from the PNG Administration.
Shortly after, in the first PNG general elections Morrie was elected the Member for the Open Electorate of Morobe in the House of Assembly. Following his election that House, by popular vote, appointed him the first Speaker of PNG's Parliament. In that office, his innate leadership and ability to command fair play ensured a successful legislature culminating in the development of self-government and ultimately independence for PNG.
Horrie in 1966 married Una de Salis, whom he had met during the war years in Lae when she was a Nursing Sister in the Army. Una has been a tower of strength for him in his declining years. During his working life, Horrie always expected the best or better from his staff and did not suffer fools gladly. He hated unpunctuality and abhorred waste, waste of anything, land, food, cash, whatever.
He had a great command of Pidgin English and his native police would do anything for him. Years later, they would turn up at the back door of Horrie's residence and call out: "Masta or Kiap, mi stap." Horrie would sit down with them, drinking tea, smoking and yarning of days of yore or a patrol of long ago. He also always seemed to remember the children of his staff and asked after them. In 1972 he retired from the House of Assembly and in 1973 he and Una left PNG and retired to Palm Beach, north of Sydney.
However, such was the esteem and respect for his work in the House of Assembly and in and for PNG for over forty years, that its government recommended to Her Majesty the Queen, Horrie's appointment as its first Knight. Knighthood was duly bestowed upon him in 1974, but in no way did it change his way of life, his humble and serene demeanor and his friendliness to all.
During his last years in PNG he lived in Lae and under his direction as President (and later as Patron), Lae Golf Club developed an 18 hole course which is on a par with the best to be seen in Australia today. On his retirement to Palm Beach he continued to play golf and with his wife, Una, also played bridge. As his mobility decreased more time was given to bridge, master points came their way and his consummate ability to play a hand was enjoyed and noted by all. On last Anzac Day, whilst listening to the Anzac Parade there was mention of Damien Parer, and he told my wife, Candy, who was with him, that Damien Parer's father had taught him bridge.
In fact, in all facets of life Horrie was held in high esteem, the recounting of his experiences in PNG from 1927 enraptured all those privileged to hear them. With children, particularly, his recital of "The Man from Snowy River" was heard in awe, communication lines were opened and hearts were won.
After returning to Australia, Horrie served for a number of years on the Committee of the Retired Officers' Association of Papua New Guinea and in 1986 became its Patron. When I asked him two weeks ago if he had read the March issue of the Association's Newsletter he replied: "Yes, it was like the Sydney Morning Herald." I understand from Una that it was the very last publication he read.
To those of us of more mature years, his passing is a sad loss and an even deeper appreciation of having known and enjoyed the company of one of the greatest servants of Papua New Guinea, a Knight of the British Commonwealth of Nations, a loving husband, brother, father, grandfather and dear friend.
Horrie is survived by his wife, Una, daughter and son-in-law, Lois and Frank Johnson, grandsons Niall and Jeremy and grand daughter-in-law, Ruth.
Horrie, mipela hamamas tumas long gutpela wok bilong yu, tasol bel bilong mipela ologeta i hewi tumas, gutbai masta gutbai pren."
An aditional profile of Sir Horrie Niall appears on WikiTree and can be read HERE
Noel Michael TOLHURST (6 April 1994, aged 69)
After matriculating from Geelong Grammar School, Michael enlisted in the RAAF in 1943 and flew Spitfires in the New Guinea campaign until discharged in 1945 with the rank of Flight Lieutenant.
He joined the PNG Administration early in 1947 as a Patrol Officer. He held appointments as Patrol Officer, Assistant District Officer, and Senior Administrative Officer. His postings included Samarai, Goroka and Port Moresby. He resigned in 1956.
During the next seven years he worked with the Shell Group, covering all aspects of personnel and industrial administration. In 1966, following three years as a director of a personnel consultancy, Michael joined La Trobe University. He was Deputy Registrar and Head of Chisholm College when he retired in 1984. In 1973 he had graduated BA.
He married Elizabeth Dod in 1946. She and their four surviving children (Timothy, b.1949; Louise, b.1950; Nicholas, b.1955; and Meredity, b.1960) heard former vice-chancellor Prof. John Scott and others praise Michael's contribution to La Trobe University before a large crowd at the commemorative service held at the University on 15 April 1994.
Robert (Bob) Ganasen RAMACHANDRAM (29 May 1994)
Bob enchanted the main dining room at the Papua Hotel (the top pub) in Port Moresby for many years with his wonderful playing of the piano and electric organ.
Those who will remember him were astonished that he could sit and play the piano with one hand and the organ with the other, the two key­boards set at right angles to each other. Not only that, he sang while he played and accepted requests from the evening diners. One of his favourites was "Tie a yellow ribbon round the old oak tree".
He was able to make friends with his gentle manner and appreciated a beer to keep him going with his musical entertainment while patrons danced away the evening. He always made a night out at the top pub a happy and enjoyable one.
Sir Burton Gyrth BURTON-BRADLEY (31 January 1994, aged 79)
Sir Burton died in Port Moresby. He was a citizen of PNG having come originally from Sydney in 1959. He founded the Laloki Mental Hospital and was an internationally recognised psychiatrist. He was knighted by the Queen in 1990 in recognition of his services to mental health in PNG. No further details available.
Jeanie BRYANT (4 February 1994)
Jeanie spent many years in PNG at Port Moresby and Wau when her late husband, Stan, was Mining Warden and Chief Draftsman in the PNG Department of Lands, Surveys and Mines. She is survived by three daughters. No further details available.
Douglas (Arthur) DOYLE (26 December 1993)
Arthur served in the AIF in World War II and spent 3½ years as a POW following the fall of Singapore. After his discharge from the army he accepted a position in PNG and worked for many years for the Public Works Department in Port Moresby. I am sure that many ex-residents of Port Moresby will remember him. He is survived by his wife Gwenda. No further details available.
John ELMER, MBE (26 January 1994)
John was well-known in PNG, having spent some 25 years with Burns Philp, the latter years as Assistant General Manager and Company Secretary. He was President of the PNG Employers' Federation in 1974-76 and President of the Papua Club in 1979. He is survived by his wife Wynne, daughter Lesley (Radomyski) and son Timothy. No further details available.
Kenneth Dan Jack O'DELL (31 March1994, aged 83)
Assistant Director PNG Public Works Department. No further details available.
Antoinette Cornelia EGGINK (9 April 1994, aged 81)
Widow of Johannes Marinus Eggink, who was a Senior Technician with the PNG Department of Public Works. No further details available.
June Walker KAAD (8 June 1994)
June spent many years in PNG with husband, Freddie, and at the funeral service the church at Mosman overflowed with relatives and friends, a fitting tribute to a highly regarded lady. Survived by husband, Freddie, and daughters, Gaynor, Mandi and Debbie. No further details available.
Lucille Moira COYLE (26 March 1994, aged 78)
Lucille was the wife of Jim Coyle, who worked for the PNG Administration from 1960 to 1973 at Lae, Wewak and finally in Port Moresby with the Police Department. Jim and Lucille were married for 47 years and Jim is finding it difficult coming to terms with his sad loss. Lucille is survived by husband Jim and children Roy, John, Peter, Susan and Jayne. No further details available.
Elizabeth Em (Nicky) MURTY (neé Woods) (4 June 1994)
Nicky was the wife of Don Murty and they spent many years in PNG whilst Don was the Chemist in the PNG Department of Agriculture, Stock and Fisheries. Survived by husband Don and children Paul, Christine, Anne and David. No further details available.
Anne-Marie BROMAN (13 May 1994)
Anne-Marie was the wife of Peter Broman, who served in PNG from 1946 in District Services, Police and then Official Secretary, Government House, until 1972. Anne-Marie passed away unexpectedly and peacefully and is survived by husband Peter and children John, Christine and Sonja. No further details available.
Audrey DELBRIDGE (December 1993)
Audrey was the wife of Bob Delbridge, who served for some years with the PNG Department of Education. She died of cancer in New Zealand.Bob and Audrey were serving in Chimbu when Laurie Doolan and Geoff Burfoot were stationed there. Audrey was also the sister of Colin De'Arth. No further details available.
George RANDMAE (8 November 1993, aged 76)
George was one of the first group of 15 Medical Officers recruited by Dr Gunther from European Countries and went to PNG in 1949. He served in a number of areas and in later years specialised in tuberculosis. Stationed in the Gazelle Peninsula for some five years, he was responsible for TB work in the island districts of New Britain, New Ireland and Bougainville.
Leaving PNG in the late sixties he worked in Sydney in the TB field for some four years before retiring. He was a keen photographer, philatelist and loved music. Survived by daughters Emma and Tina.
Derek PALMER (April 1994, aged 80)
In 1989, Derek and his wife Daphne donated 6,000 long-playing records to the Queensland State Library. Serious record-collecting by the Palmers began when they were living in Papua New Guinea, with very few opportunities of hearing live performances, although Derek had gathered his first classical records while growing up in England. The hobby continued when he came to Australia in 1935, working in isolated areas such as Mt Isa and Biloela. After WW II the Palmers went to Papua New Guinea, where Derek worked as a government clerk. When he returned to Australia in 1960, there was the problem of getting through Customs with 7,000 records. Derek is survived by wife, Daphne, and daughter Ruth Ryan and family.