Vale June 1988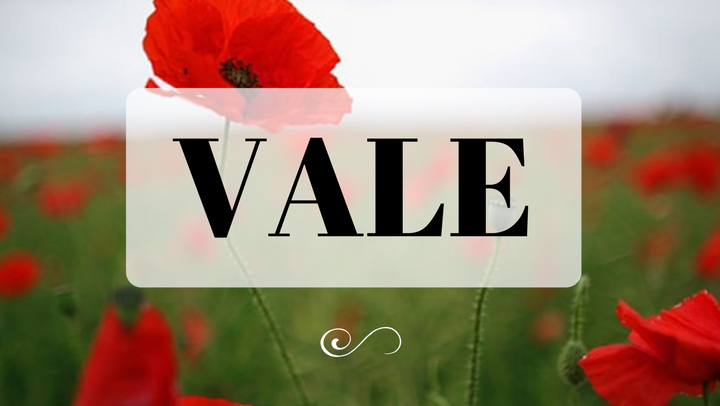 ABBOTT, Grace | ASHTON, Jean | AYRES, Patricia | BASSETT, Thomas Joseph | BENTICK-PITT, Reginald (Reg) | BLACK, John | BLACK, Robert | BLAKE, Charles, MM | CALLAGHAN, Leo Charles | CAREY, Arthur Thomas | CLARKE, Lilith | COTTLE, Ida (neé Dobbyn) | CROUCH, Geoffrey William | DALEY, Herbert | FRANK, Prudence | GORDON, Leonard Peter | HASSETT, Thomas Joseph | LONERGAN, Irene | MATTES, Jack Royston | ROGERS, Harold | SEARLE, Glendyn (Glen), MBE | SIMNETT, Monica Elsie | STANTON, Terry | STEPHENS, Steve | WALLACE, Isaac | WATKINS, Alwyn Edward (Bud) | WEIR, Kathleen |
Herbert DALEY (11 November 1987)
Medical Assistant who retired in 1953. No further information available.
Lilith CLARKE (25 February 1988)
Widow of A.J. Clarke, former senior technician with Posts & Telegraph. No further information available.
Thomas Joseph HASSETT (24 April 1980)
Formerly of the Franciscan Mission Aitape
Prudence FRANK (3 March 1988, aged 80)
Old time Moresby resident and stalwart of Dept of Education from which she retired in 1962. Survived by daughter. No further information available.
Alwyn Edward (Bud) WATKINS (11 March 1988)
At Gold Coast. Survived by widow Nancy and son Peter. Buddy was a pre-war Magistrate in Papua and after war service in PNG returned to Moresby as DO. Upon retirement he was active in trying to improve benefits for retired officers and was one of the original group (3 NG, 3 Papua) who went to Canberra in 1952 to negotiate a new superannuation deal for post-war officers. Those on the Super pension owe a debt to those six. With Buddy's passing only Mac Rich remains.
Geoffrey William CROUCH (15 March 1988)
After a successful career, Geoff retired 1974 as Director of Public Works. Survived by widow Hilda, son Dr Andrew Crouch, daughter Mrs Leonie Botch, 6 grandchildren and brother Reverend Crouch. No further information available.
Irene LONERGAN (18 March 1988)
Widow of Stephen, former Government Secretary and Director of Civil Affairs. No further information available.
Kathleen WEIR (21 March 1988)
Widow of Tom Weir, former Town Planner with Department of Lands. No further information available.
Arthur Thomas CAREY (30 March 1988)
Survived by widow Jean, son Robert, daughter Vivienne, son-in-law Julian and grandson.
Arthur served in the RAAF in WW II. After training as a teacher he went to PNG in 1947 as a Patrol Officer and worked his way through the field service to become DC Rabaul and then DC Lae. After retirement he lived in Wangaratta, where he took a very active part in community life becoming, amongst other things, Secretary of the Turf Club, Secretary of the Golf Club, member of Rotary and very active in assisting youth in the Commonwealth Employment Service.
Fellow officers came from Melbourne, Canberra and Sydney for Arthur's funeral, where the following tribute gives an idea of his service and popularity:
How do you measure lengths of love, the value of a smile; Or is it from a ruler that we determine who is kind? If gentleness is worth a five, then how much to forgive; And who can say just what it's worth to help others love to live. How important is it to be there when others are in need, With generosity everyday – while around us so much greed. How can we assess the tenderness, that's needed when we're down, Or the devotion to ones partner, that all too often is not found. What's the rate for being approachable, the score for giving hugs, You can't compute in goals or points, the value put on love. The appraisal of these attributes, so indefinable, Are lacking in us all these days, their users are so few. But Arthur Carey had them all, he showed them every day, Each time he smiled or said hello, was in his special way. So, what's the sum, the final score, now Arthur's had his call? I would suggest to you my friends, the scoreboard's just TOO SMALL!
Monica Elsie SIMNETT (4 May 1988)
At Royal Brisbane. Lived In Rabaul pre-war for many years. No further information available.
Patricia AYRES (May 1988)
Former Matron at Nonga and Goroka Hospitals. Retired to live in the Blue Mountains. No further information available.
Ida COTTLE (neé Dobbyn) (29 May 1988)
Former hospital matron at Wewak. Married after her retirement, she is survived by her husband. No further information available.
Father Harold ROGERS (22 March 1988)
In Wangaratta. Formerly worked in Anglican Mission in Highlands and Port Moresby. No further information available.
Terry STANTON (April 1988, aged 30)
In PNG. No further information available
Steve STEPHENS (May 1988)
Served in "Z" Special Unit in WW II and later well known as editor of "Post Courier".
Leonard Peter GORDON (4 April 1988)
Formerly of Rabaul and Moresby. Survived by widow Enid and two children. No further information available.
John BLACK (6 April 1988, aged 79)
John went to New Guinea in 1933 and later was with Jim Taylor on the famous Hagen-Sepik Patrol which traversed much of the remaining unexplored highland areas. He served with ANGAU and then went to Borneo during the war. After a period with a policy advisory group he returned to Moresby as Assistant Director, District Services. In 1953 John retired to farm in South Australia, and is survived by 5 children and 4 step-children.
An excellent profile compiled by Bill Gamage and published in the Australian Dictionary of Biography can be viewed HERE
Thomas Joseph BASSETT (24 April 1988)
Formerly of the Franciscan Mission, Aitape. No further information available.
Robert BLACK (May 1988)
Professor Black was a specialist in Malaria and other diseases at the School of Tropical Medicine, Sydney University, and a lecturer at ASOPA. Bob was always interested in and ready to help anyone from PNG. No further information available.
Jack Royston MATTES (15 May 1988, aged 68)
At Blackheath. Jack was Lecturer then Principal at ASOPA from 1952 to 1911. Survived by widow Zara, son Brett and daughters Marilyn and Penne.
After service as an officer in the AIF, Jack was a gold medallist in Law at Sydney University. He joined ASOPA in 1952, as Lecturer in Law, and became Principal from 1964 to 1971. From 1972 he was seconded to PNG Government to undertake the revision of the laws of PNG in collaboration with Messrs Bill Kearney and Joe Lynch. He later became Commissioner for the Revison of the Laws of PNG and continued to update the work until his retirement in 1986. Always friendly, approachable and helpful, Jack exercised a significant influence in the development of the field officers and teachers who passed through ASOPA, and in the development of the law in PNG. He enjoyed the affection and respect of his colleagues and all who came in contact with him during this long period.
Charles BLAKE, MM (16 May 1988, aged 90)
Well-known plantations owner, Charles was decorated for his service in WW I, and also served in PNG in WW II. Survived by widow Marl, daughter Belinda and son Michael. No further information available.
Glendyn (Glen) SEARLE, MBE (May 1988)
Pre-war with OTC. After service in PNG with spotting units, Glen took up a rubber holding near Higaturu. He was the first to alert the outside world of the Mt Lamington eruption in 1951 which took 3500 lives, and he kept communications open in following weeks.
Leo Charles CALLAGHAN (1 May 1988)
He was the sole survivor of a Hudson bomber shot down on 4 December 1942 over Buna and long time resident of PNG. Survived by widow Ruth and children Jill Leon, Ron, Ian & Margaret. No further information available.
Isaac WALLACE (23 May 1988)
In Moresby aged 54. Survived by Heather, Suzi and Amanda. No further information available.
Grace ABBOTT (27 February 1988)
Previously Mrs Grace Hodgson, wife of Dr Douglas Abbott, formerly of PNG and lately of South Coast. No further information available.
Reginald (Reg) BENTICK-PITT (May 1988)
Former Field Officer and Magistrate prior to retirement. Survived by widow Jean, now living in Cleveland, Qld. No further information available.
Jeanne ASHTON (29 May 1988)
Died after a long illness. Survived by husband Des, former District Commissioner, and two daughters. No further information available.