Vale June 1985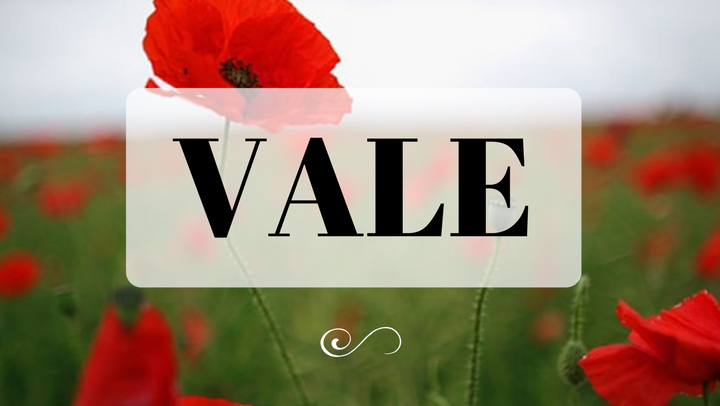 BACKHOUSE, Thomas | DIX, Ethel | EGAN, Marie | FAIRFAX-ROSS, Molly | FISHER, Patricia | FORGAN-SMITH, William (Bill or Forgy) | GLOYNES, Albert | LYNCH, Cyril (Joe), OBE | MYNARD, Ralph | ROBINSON, James | ROSCOE, Geoffrey |
Dr Thomas BACKHOUSE (12 May 1985)
In Sydney. Pre-war Medical officer, retiring in 1945. He leaves a widow, Lorna.
Marie EGAN (29 March 1985)
Department of Education and headmistress Secondary Correspondence School, retiring 1965.
Ethel DIX (15 April 1985)
Widow of Bill, former Superintendent of Police.
Molly FAIRFAX-ROSS (27 June 1985)
Widow of "Fax" former head of British New Guinea Company.
Patricia FISHER (4 May 1985)
Widow of Leonard, former Medical Assistant.
William (Bill or Forgy) FORGAN-SMITH (6 May 1985)
One of PNGs best known pilots in, Bill flew pre-war with Guinea Airways and post-war with Qantas, Patair and Ansett.
A profile and photographs of Bill can be viewed HERE
also details of an aircraft accident HERE
Albert GLOYNES (6 May 1985)
Former technical officer in Forests, retiring 1974. He leaves a widow, Marie.
Cyril (Joe) LYNCH, OBE (5 May 1985)
The very likable and hard working legal eagle who for many years was Parliamentary Draftsman in Port Moresby. Since retiring in 1975, Joe has been a consultant working in PNG and over most of the Pacific (at one time he was Attorney-General in Kiribati). He is survived by widow Jean and daughter Elizabeth, now also a solicitor.
Ralph MYNARD (8 May 1985)
Former OIC Transport, Port Moresby, until retiring 1971. Well remembered by many "Outside" officers for whom he could usually find wheels. He leaves a widow, June, in Southport.
James Robinson (21 June 1985)
Joining as a P.O. in 1945 Jim was mostly in Papua until late 50s. Went to Goroka later as clerk with Laurie Doolan before returning to Public Service In Victoria.
Geoffrey ROSCOE (6 June 1985)
Former Director of Education, retiring in 1962. Well known inter alia for his development of station and village schools. Although 85, until recently Geoff has been librarian at an Anglican Seminary in Brisbane. He leaves a widow, May, at St Lucia, Qld.