Vale December 1993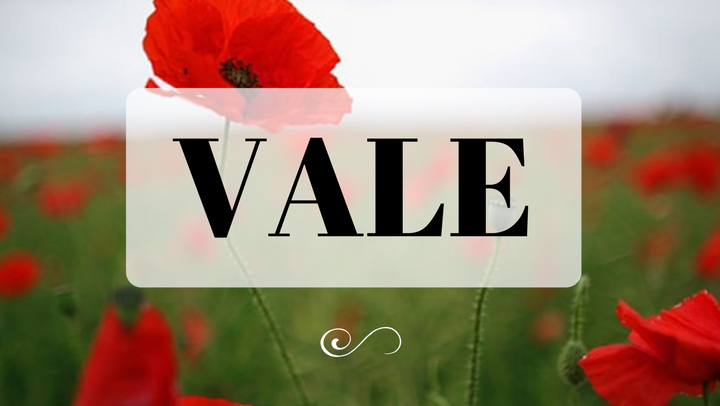 ANDERSON, A. | CLOUT, Leslie Ernest | COPAS, Sir Virgil, MSC | CRUICKSHANK, Alan John | DONALD, Robert Charles (Bob) | EVANS, Joseph Horace (Frog) | MEARES, Ina Catherine | TRINICK, Patricia, OAM | WOODCOCK, John (Jack) |
Leslie Ernest CLOUT (18 September 1993, aged 79)
Les joined the PNG Department of Lands, Surveys and Mines as a Draughtsman in August 1935 and when he retired in October 1968 was a Chief of Division of that Department.
Soon after retiring Les joined our Association and was for many years a very active member of our Committee. For some eight years Les, ably assisted by his wife Doreen, produced Una Voce doing some of the typing, all of the labelling, wrapping and posting without any other assistance. In addition he kept the membership list up to date, in all a truly remarkable effort. In recognition of this outstanding contribution to the affairs of our Association Les was made a Life Member in 1990. Les is survived by wife Doreen and son David.
John (Jack) WOODCOCK (22 September 1993, aged 84)
Jack was born in Newcastle-upon-Tyne, England, on 19 August 1909. He entered the British Post Office aged 14 years and worked there until the outbreak of World War II. He was a long time member of the Northumberland Hussars, a Territorial Regiment. He enlisted in the British Army on 3 September 1939, two days after the outbreak of war. After basic training in the Royal Corps of Signals he served in France, North Africa and Italy. Wounded twice, he was actually in hospital in North Africa when the war came to an end in Europe.
In 1949 he emigrated to Australia under the ex-serviceman's scheme, with wife Grace (Ella) and son Alan, to Daylesford, Victoria, where there was a large Australian 'branch' of the family. He worked for the PMG's Department as a lineman/cable jointer, before taking the family to Western Australia in 1952 where he worked at the South Perth line yard.
He went to Port Moresby in December 1953 and joined the PNG Department of Posts & Telegraphs. He first worked in the old P & T line yard behind what is now Murray arracks. However, housing problems of those days meant that Ella could not join him until two years later and they eventually lived in Boroko. Jack then worked in the estimating branch of P & T and when he retired in 1972 he was working in the P & T drafting section, having spent all of his service in PNG stationed in Port Moresby.
Jack and Ella moved to Palm Cove, north of Cairns, and lived there until "built out" in 1990 when they moved to a strata title unit in Atherton where they enjoyed the cooler less humid climate. Unfortunately Ella had a stroke and died in hospital on 27 July this year. Jack was also in hospital at that time having suffered a severe asthma attack. He was admitted to Carinya Home for the Aged on 29 August and died there suddenly on 22 September, 58 days after Ella's death. He is survived by their son Alan.
Ina Catherine MEARES (30 September 1993, aged 88)
Ina had been in a nursing home in recent years and was the widow of Clive Meares who was Secretary to the Administrator in Rabaul pre-war. No further details available.
Joseph Horace (Frog) EVANS (21 May 1993, aged 84)
'Frog', complete with monocle, was Harbourmaster at Madang. He retired early, in 1965, after 12 years service in PNG. He had been in the Pacific before World War II, and during it, but went "finish" to start an entirely new life of retirement, huntin', shootin', and fishin' in County Wexford in the Irish Republic. There he found the natives very like Polynesians; they couldn't care less what denomination you belonged to, as long as you were fond of horses, dogs and an argument over anything except religion. So different from Northern Ireland.
Although Frog coached the local fishermen to get their fishing master's licences, he missed the sunshine so much that he jumped at a chance of going to Ghana, West Africa, to teach African tug-masters to be pilots, at the modern port of Tema. He was then transferred to the capital port of Takoradi as Harbourmaster and ship-surveyor. After surviving three government coups he retired again in June 1972 and made for the south of England to resume his glider flying, for which he had obtained his bronze "C" in Ghana. The English summer was terrible, even cold in the Dorset Hills, and colder still at several thousand feet up in a glider. Here were no vultures, as in Ghana, to give pilots a hint of thermal uplift. Even jungle-bashing in Malaya might be better, but the Pacific called again, and Frog grabbed a job with IMCO of the United Nations to go to Samoa in December 1972.
Western Samoa needed a marine expert, and they got one, but there were no dry-docks, slipways or marine workshops like those in Malaya, PNG and Africa. Despite the frustration of not being able to achieve results, his one-year contract extended to four. The climate suited him, the people were friendly, like the Southern Irish, so he decided to settle there permanently. He therefore married Fa'ava of Apia, sold up his property in Ireland, built a house on Vaivase Uta hill, overlooking the sea, and settled down to establish a Samoan House of Evans.
This he did by raising a family and serving variously as harbour master, marine consultant and teacher. Frog became very much a part of the Samoan community and enjoyed life in, what most of us would consider, an ideal climate with a wonderful, easy going life style. Subsequently, Frog made few forays into the outside world and perhaps the only things he really missed were the friends he had made in PNG and as a consequence was an avid reader of our Newsletter.
During his last two or three years, Frog had a lot of trouble with his eyes and visited Sydney on at least three occasions for treatment. Frog enjoyed life to the full and I am sure he found the ideal haven in Samoa to live out his declining years. He will be sadly missed by his Samoan family and friends and we who knew him mourn his passing. The foregoing was prepared by Doug Parrish (Editor, Una Voce) with the assistance of an article by Captain Brett Hilder in Pacific Islands Monthly, July 1978
Mrs A. ANDERSON (18 May 1993, aged 94)
Mrs Anderson's late husband worked in the Government Printing Office in Port Moresby pre-war and retired in 1941 after 18½ years in Papua. He died in 1974. She became a member of the Association in 1985 and lived at Balgowlah NSW until her death. She is survived by a son. No further details available.
Archbishop Sir Virgil COPAS, MSC (3 October 1993, aged 78)
"A simple, humble person" are the words most frequently used when those who knew him talk of the late Archbishop Sir Virgil Copas, MSC.
Archbishop Copas died suddenly of a heart attack on the evening of Sunday 3 October, in his Gold Coast apartment. He was 78. Born and educated in Toowoomba, he spent almost all his apostolic years in Papua New Guinea, where his concern became the localisation of the church through the appointment of Melanesian priests and bishops.
The impetus for Archbishop Copas's knighthood in 1981 came from the PNG government in recognition of his untiring work in that country.
From his first appointment as chaplain with the Defence Forces in PNG in 1945-46 until he returned to live in Australia four to five years ago, Archbishop lived and worked in PNG, with the exception of the years 1954-59 when he was religious superior to the MSC community and Navy chaplain based in Darwin in the Northern Territory. He was appointed Bishop of Port Moresby by Pope John XXIII in December 1959, and Archbishop in 1965 with the creation of the Port Moresby Archdiocese. In 1976, Archbishop Copas resigned in favour of the first national Archbishop Herman To Paivu, who had been his Auxiliary Bishop, along with Bishop Louis Vangeke who became Bishop of Bereina. He was appointed the first Bishop of Kerema Diocese in 1976 by Pope Paul VI and his objective soon became to see his own replacement with another national bishop.
Archbishop Copas saw his priorities during his years in PNG as pastoral care, the extension of educational and medical facilities, especially in remote areas, and the sponsoring of development projects in agriculture, trade, business and so on. He was a prison chaplain and chaplain of a leprosarium for six years, an involvement which he later continued by welcoming patients into his house. He encouraged the use of Melanesian art and customs in the life and liturgy of the church. He was made a life member of two tribal groups in PNG.
In 1973, he composed a prayer for use at each sitting of National Parliament. The prayer is still in use.
Archbishop Copas was accustomed for many years to going on patrol far several weeks at a time. He travelled by light plane, canoe, dinghy or on foot, sometimes walking from one village to another, hearing confessions, saying Mass, eating and talking with villagers, before sleeping on the ground and setting out for the next village. In his younger days as as priest, Archbishop Copas was an excellent cricketer and tennis player. Whilst stationed at Vunapope near Kokopo in New Britain he played in the Kokopo Cricket Team and there was always great rivalry between that team and the Rabaul Cricket Team.
For a time too, he was the Business Manager at Vunapope, a task which entailed the management of the Mission's widespread and extensive business operations, plantations, stores, shipping and the provisioning of its many mission stations. The Archbishop was a very accomplished person and would have excelled in whatever path in life he chose to follow.
The Archbishop will be sadly missed by his friends, many of whom are members of our Association. He is survived by his brother, Mr John Copas, and his sisters, Mrs Loretto Meares, Mrs Beris Whitehill and Mrs Regina Ricardi. Compiled from an article in The Chronicle, a newspaper based in Toowoomba, Qld.
Father Alan John CRUICKSHANK (25 March 1990, aged 74)
Alan worked for a number of years as a Principal Training Officer with the PNG Department of Trade and Industry and during this period was very much liked by his PNG students and white colleagues. In the 1960s he was accepted for training as a Catholic Priest and undertook this training at the Beda College in Rome.
Later, Father Cruickshank was stationed in Port Moresby for a time and then Darwin where he was Procurator to the Bishop. His subsequent whereabouts are unknown but it is believed that when he died he was in a home for Catholic Priests in Victoria.
Robert Charles (Bob) DONALD (24 June 1993)
Bob spent his entire working life as an employee of Burns Philp (N.G.) Co. Ltd., firstly as a B.4 and then again after World War II in Samarai, Madang and Port Moresby until his departure from PNG in 1970. Bob is survived by his wife Dulcie. No further details available.
Patricia TRINICK, OAM (1 October 1993)
Patti, wife of Mike and true friend of many, passed away after long years of suffering with M/S. She was an Educational Psychologist with the PNG Department of Education and United Nations and Mike was in the Chemistry Section of the Department of Agriculture, Stock and Fisheries. Patti never complained and was always concerned about others, being awarded the OAM for her work for the disabled. No further details available.