Vale December 1989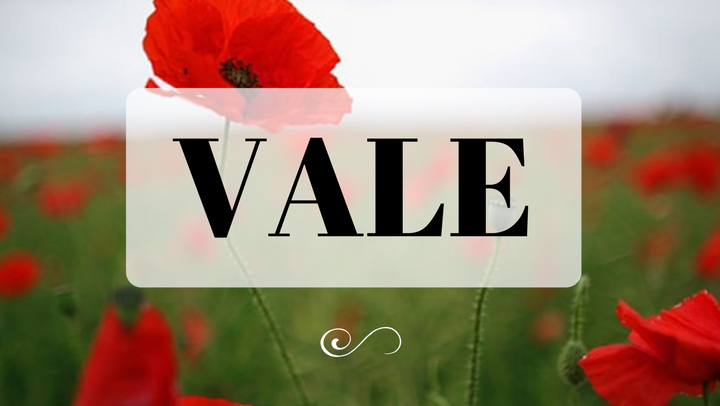 ATHERTON, Carson (Kit) | COLE, Kay | CORLIS, Dallas Mary | GILBERT, Sister Edna May (Gillie) | GORDON, W A (Bill) | GOWDIE, Grahame Stuart | HARRISON, Robert McNaught | MARSLAND, Rod, MBE | KENT, Greg | LAPPIN, James Hamilton Arthur | LEVY, Keith | LILLYMAN, James Kennerley | MINOGUE, Sir John Patrick | MORRIS, Marlene Joyce | NOLAN, Susan | OSBORNE, Norm | PATTERSON, Andrew S C | RODE, Frederick Philip | SHAW-MAYER, Fred, MBE | WAYNE, Helen Annie | WEST, Dulcie |
Kay COLE (14 October 1989)
Kay Cole spent her life since the war in PNG with her husband, Bob, while he served in various districts as a senior Kiap and then in Port Moresby as Commissioner of Police from December 1964 to April 1969. The Coles then lived in St Ives, Sydney, for a time before going to their final home at Nerang on the Queensland Gold Coast. Whilst in PNG, Kay was a tireless worker for charities and in 1969 was awarded a citation for her work with CWA.
Kay was always active, she never "retired". On the Gold Coast she played golf regularly with Bob and various friends. She swam most days. She was also interested in numerous crafts and was an accomplished potter, apiary assistant, expert needlewoman (being this year's embroiderist of the year), and a secret organ player. She was well read, enjoyed music, ballet and the theatre and loved attending concerts in Brisbane.
Kay, is survived by her husband Bob, her two sons Robert and James, her daughters-in-law and her grandchildren. The funeral service was conducted by Archbishop Virgil Copas, ex PNG, and was attended by a very large number of ex PNG people.
Read Bob Cole talking about Kay's introduction to life in New Guinea HERE
Carson (Kit) ATHERTON (25 September 1989)
Kit first went to PNG as a member of the 2/6 Commando Company after training at Foster. He fought in the Owen Stanley campaign, Ramu Valley, Wau and Kaiapit (where as RAP Sergeant he was awarded MID).
He returned to PNG in 1946 as a member of the Public Health Department at Lae. Later he was posted as Medical Assistant to Mumeng where he built the Native Hospital. In 1949 he married Pat and returned to Mumeng with the Commonwealth Department of Works building bridges at Patep and Mumeng. He then transferred to the Public Works Department and worked at Lae before being transferred as Works Supervisor to Kavieng and then Mt Hagen, retiring in 1971.
Everywhere he went, Kit had a beautiful garden after only a few months and his home in Frankston, Vic, is noted for its acre of lovely shrubs and his pot plants. Kit is survived by his wife Pat, sons Nicholas and Martin and stepson Julian.
James Kennerley LILLYMAN (28 September 1989)
Jim was born on 31 December 1918 and went to the Middle East in 1940 with the 2/5 Field Artillery Regiment. He saw active service in Syria and PNG until 1943 when he transferred to ANGAU. In 1945 he was seconded to the Provisional Administration in Port Moresby and early in 1946 he was discharged.
Jim was appointed to the PNG Public Service on 17 January 1946 and posted to Lae where he and his wife Joyce remained for ten years before being transferred to Port Moresby when Jim was appointed Superintendent of Stores. They remained there until 1972 when Jim retired and they moved to Dural NSW where Joyce still lives. Jim is survived by his wife Joyce, his two sons, Mark and John and one grandson, Nicholas.
Dallas Mary CORLIS (3 July 1989)
Dallas was born in Port Moresby in 1932, the daughter of Archie and Mary Baldwin, whose parents had come to the Territory before the turn of the century. During the war Dallas was evacuated to Brisbane on the SS Katoomba with mother Mary and brothers Ken, John (deceased 1987) and Derek.
She returned to PNG in 1947 and in 1952 married Max Corlis who was then a Sub-Inspector of Police. Max subsequently joined the Corrective Services Division and was posted in turn to Lae, Kerevat and Bomana. Their only son John, who is now with the Taxation Department in Townsville, was born in Moresby in 1956. Dallas' working career in PNG spanned three decades from the late forties to the late seventies and included stints with private enterprise (Steamships and Qantas) as well as government (Corrective Institutions, Education and Civil Affairs). While Max was OIC Bomana during the mid sixties Dallas oversaw many of the diverse clerical functions which made Bomana run so efficiently. Her knowledge of and affinity with Papua New Guineans enabled her to make a contribution that was special at the time.
Dallas and Max left PNG in 1977. Since then Dallas has lived mainly in Canberra with son John and thereafter at Caloundra near her mother Mary and brothers Ken and John. Dallas is survived by her son John, mother Mary and brothers Ken and Derek.
W A (Bill) GORDON (September 1989)
Bill died in Sydney and was the last surviving child of the late Bob and Alice Gordon, long time PNG residents from Gordon Estate, Port Moresby. He was born in Port Moresby in 1923 and after completing his education there he served in the Papuan Police Force. When the war broke out he joined the AIF. After discharge from the army he resumed work in Papua in various fields with dedication and integrity. He bridged the gap between European, Chinese, Mixed-race and Papua New Guinea people and was praised, loved and noted for his kindness and generosity.
Due to health reasons he was repatriated to Sydney in the late 70s. Despite his incapacity (he was a diabetic and had a leg amputated), he would venture occasionally to visit his late sister Betty Zander's family and his late brother John Gordon's family.
Sir John Patrick MINOGUE (20 September 1989)
Sir John was a distinguished barrister, judge and law reformer. He was also a gallant and effective soldier, although he would have been the last to mention it. Born in 1909, son of a country solicitor, he was educated at St Kevin's College and the University of Melbourne. After two years as a solicitor in Bendigo, he was called to the Victorian Bar in 1939. He served in the army from 1940 to 1946.
In 1942, when Australian troops were starving in the mud of the Kokoda Trail, Lieutenant-Colonel J. P. Minogue was the first senior staff officer to slog it forward to where the bullets were falling. It is said that he found horrors caused as much by Australian incompetence as by Japanese action; with calm forcefulness, he did much to sort things out. Later he was a key man with a vital military mission to Washington.
Back in civil life, he became a Queen's Counsel in 1957 and was a member of the Victorian Bar Council from 1958 to 1962, when he was appointed a judge of the Supreme Court of the Territory of Papua and New Guinea. He was Chief Justice from 1970 to 1974. He was knighted in 1976 and in 1977 became Victorian Law Reform Commissioner, a post he held until 1982 when he retired.
Dulcie WEST (1 November 1989)
Dulcie lived in PNG for many years and is survived by her husband Harry, our Deputy President, and son David. No further information available.
James Hamilton Arthur LAPPIN (26 September 1989)
James was a Senior Technical Officer with the Department of Posts and Telegraphs and is survived by his wife Joyce. No further information available.
Andrew S C PATTERSON (4 September 1989)
Andrew, formerly of the PNG Department of Trade and Industry, retired to Point Vernon, Qld, and is survived by his wife Celia May. No further information available.
Frederick Philip RODE (17 September 1989)
Fred was born on 22 February 1919 and joined the PNG Public Service on 22 January 1951. He was with the Department of Law when he retired and is survived by his wife Edith. No further information available.
Robert McNaught HARRISON (12 September 1989)
Robert was a Senior Communications Officer with the PNG Department of Posts & Telegraphs before he retired and is survived by his wife Vera. No further information available.
Marlene Joyce MORRIS (7 August 1989)
Widow of William Noel Morris, ex PNG Public Service. No further information available.
Susan NOLAN (11 October 1989)
Widow of Henry Nolan, ex PNG Public Service. No further information available.
Helen Annie WAYNE (19 September 1989)
Resident New Zealand and widow of Ronald Norman Wayne, ex PNG Public Service. No further information available.
Sister Edna May (Gillie) GILBERT (27 October 1989)
Formerly of Coorparoo, Qld, she served in the AIF with the Australian Army Nursing Service QFX4520, 2/2 AGH. Ex Infant Welfare Sister for many years with PNG Department of Public Health. Rendered exceptional service at Mt Lamington after the eruption. Gillie will be fondly remembered and her passing mourned by the many friends who would be aware of her dedication and devotion to duty in improving Public Health in PNG.
Grahame Stuart GOWDIE (16 October 1989)
Grahame was a graduate of Queensland Agricultural College, Gatton, and was with the PNG Department of Agricultural Stock & Fisheries from approx. 1952. A Memorial Service for Grahame held at St Joseph's Technical College, Lae, 27 October 1989 was attended by 100 expatriates and 200 Nationals.
Fred SHAW-MAYER, MBE (1899-1989)
The foregoing is a modified and edited version of Fred Shaw Mayer's obituary by Graeme George and Bill Peckover published in the Royal Australasian Ornithologists' Union journal EMU, in December 1992 and published in the September 1993 edition of Una Voce, page 9.
"MASTA PISIN" – THE BIRD MAN OF NEW GUINEA
That Fred Shaw Mayer died at Nambour, Queensland on 1 September 1989, 25 days short of his 90th birthday, was noted in the December 1989 Una Voce. A great Naturalist and Aviculturalist Fred was a true 'Quiet Achiever' in his chosen field: collector of living birds and other animals for zoos and private collections and of specimens for museum reference collections. Fred made his first collecting expedition to New Guinea in 1922. Unfortunately no trace of that collection can be found in the literature and consequently neither where it was made nor its contents are known.
In his professional work Fred Mayer used his given name Shaw to avoid confusion with both the German ornithologist A.B. Mayer, who published extensively on New Guinea birds between 1874 and 1895, and the American Ernst Mayr, who was in the field in New Guinea at much the same time as Fred's early NG collecting expeditions. Fred pronounced his surname 'Mair' but he was known throughout New Guinea and scientific circles as Mr Shaw 'Mire'. After his retirement to Nambour he reverted to being Fred Mayer. He was known to the New Guinea highlanders as "Masta Pisin" – the "Bird Man" in neo-melanesian pidgin.
New Guinea biological literature records the following Shaw Mayer collecting localities: Arfak Mountains, Irian Jaya (1928), Southeast Halmahera, Moluccas (1929), Gebroeders Range, Weyland Mts, Irian Jaya (1930), Wandammen Mountains, Irian Jaya (1930), Sattleberg, Huon Peninsula (1931), Kratke Range, PNG (1932), Mount Maybole, (south slopes), Fergusson Island, PNG (1932), Purari-Ramu Divide, (southeast Bismarck Mountains), PNG (1940), Mount Simpson, southeast PNG (1940), Hagen Range, PNG (1946/47, 1950/51), and in 1952, Mount Wilhelm, PNG (1949 and 1950), Kubor Mountains, (Minj River), PNG (1950), Mt Giluwe and Lamende Range, PNG (1951).
In 1953 Fred took over as Manager of Sir Edward Hallstrom's aviaries at Nondugl in the Wahgi Valley of the Western Highlands Province. The aviaries had been established in 1948 in conjunction with a sheep breeding station, then later as a joint project with the Administration of the Australian Territories of Papua and New Guinea. Captain Neptune (Nep) Blood, himself a competent naturalist and collector, was the first manager of the joint facility. In 1953 Hallstrom handed over the sheep breeding operation to the Administration but retained the aviaries.
Fred continued to collect widely, using Nondugl as a base, primarily seeking live birds for establishment in captivity. Nondugl was used by Hallstrom as a staging post, with most of the established stock going to Taronga Zoo (Sir Edward was Chairman of the Taronga Park Trust). The Victoria Goura Pigeons at Taronga are the survivors of about 50 birds collected by Fred in the Ramu Valley, north of Nondugl, during this period. The very successful White-bibbed Ground-doves at Taronga were also collected by Fred, either from Yule Island or the mainland opposite. Regrettably, few of Fred's Nondugl ­based activities have been reported in the literature. His last New Guinea field collecting trip was from Lae to Kabwum in the Cromwell Mountains of the Huon Peninsula in January-February 1970. On this trip, sponsored by US naturalist photographer Crawford H. Greenewalt, Fred obtained a number of the locally endemic birds of paradise and the Spangled Honeyeater for the Baiyer River Sanctuary.
Fred's most spectacular discovery was the Bird of Paradise Astrapia mayeri, the last bird of paradise to be described for science, and about which he learned from page 106 of Jack Hides's Papuan Wonderland. Hides wrote:
"As I stood in the branches of this tree gazing at the rock and heather-covered summit of the peaks in front of me, I noticed pairs of an interesting species of paradise birds flitting through the moss-covered branches of the trees around me. The males had two long ivory-white feathers as a tail with which they made flicking noises as they trailed the plumes after them through the air. I did not know the species, so for the information of our ornithological department, I instructed one of the police to shoot a male bird, remove the tail feathers, and carefully pack them away."
Fred was quick to follow up this lead but without success. Jim O'Malley, who accompanied Hides on that patrol, remembered the feathers but was not able to find them. He did however give Fred a quite good description of the bird. In August 1938 Fred was given by a missionary the two central tail feathers, three other tail and two wing feathers of that elusive species. He sent these to the British Museum from Singapore in December 1938, only 28 days later from those few feathers the Museum's bird curator Mr C.R. Stonor accurately described the new bird to a meeting of the British Ornithologists' Club. Appropriately, Stonor concluded his description:
"in view of the trouble he has taken to establish its existence, and as a slight recognition of the efforts he had made during the past few years to add to our knowledge of the family as a whole, it is a pleasure to name this most striking new bird after its discoverer, Astrapia mayeri, Shaw Mayer's Bird of Paradise."
Today that species is also known as the Ribbontail Bird of Paradise. As well as the bird of paradise there is a Muruk (Cassowary) subspecies, a tree-kangaroo, six mice, a ring-tailed possum and an antechinus (a small insect eating marsupial) that carry Fred's name. In addition to those named for him are many other species first brought to the attention of science by Fred. These include the spectacular striped possums Dactylopsila megalura, from the Weyland Mountains, D. tatei from Fergusson Island, and the diminutive striped bandicoot Microperoryctes papuensis from the southeast mountains of Papua.
Fred relied on local hunters bringing specimens to him. He delighted in recounting how he released surplus tree-mice back into the forest on one of his collecting expeditions to Dutch New Guinea. The local people brought in many more specimens of a delightful little tree-mouse that carried its 8 to 10 cm long tail straight up in the air like a flag pole. He couldn't just take them out to the nearby bush and let them go, because the locals who followed him everywhere, wouldn't understand what he was doing after they had gone to so much trouble to bring the little critters to him. The one place they didn't follow him was down to the pit latrine, so that's where he let them go at night.
Fred noticed that when young birds of paradise weren't doing well the mother fed them certain kinds of spiders. He then sought out the same spiders when young he was hand-rearing seemed off-colour. He was an expert on hand-rearing young birds, concentrating on birds of paradise. He would cut a small stick to the shape and size of the mother bird's beak, and use it to pick up a pea-sized piece of food, inducing a gaping response from the nestling by touching the container or moving his hand over the bird. Without doubt, the most photographed and filmed bird of paradise was the male Paradisaea raggiana salvadorii, hand-reared by Fred at Nondugl in 1959, later housed for many years at the Baiyer River Sanctuary and, while still in prime condition, was killed by a python at the age of 25 years. This bird which became known as 'Fred Raggiana', responded to Fred's bobbing finger by going into a display routine in front of visiting dignitaries and natural history photographers.
With great skill and taste he extended the gardens commenced by Nep Blood at Nondugl. There were three large ponds, one below the other, the lowest with a small island. With one pinioned female he soon had New Guinea's only endemic waterfowl, the far from common Salvatori's Duck coming in from the wild to feed on all ponds and one pair breeding regularly on the island. The Nondugl Bird of Paradise Sanctuary, as it became known, was soon the top Papua New Guinea showplace for visiting dignitaries; Prime Ministers, Ambassadors, etc., and an essential stop-over for prominent international ornithologists.
In 1966, when Hallstrom decided to sell his remaining Nondugl interests, he offered part of his private collection of Birds of Paradise to the Government. This led to the establishment of 'The Hallstrom Park Bird of Paradise Sanctuary' at Baiyer River under the control of a Trust. The Trust employed Fred to establish and manage the Baiyer River Sanctuary. Fred was not unpleased with the change of employer: he always treated Sir Edward with respect but there was no real rapport between them. Their relationship was not at all like his past relationships with Lord Walter Rothschild, the world famous ornithologist and aviculturalist, Frenchman Jean Delacour, whose internationally famous aviaries were destroyed in both World Wars by the German invasions, or the other rich and famous aviculturalists for whom he had collected. Fred was too human a person to easily digest without criticism an irrevocable order from Sir Edward to take a brooding female rare Blue Bird of Paradise off the nest with a fertile egg to immediately fill a request from an overseas zoo (that species has still never been bred in captivity!). Or to accept without adverse comment Hallstrom's denial of responsibility for payment of prearranged and known purchases when the purchase receipts were lost in stolen luggage.
He moved Sir Edward's gift birds to temporary aviaries in March 1967. After setting up Baiyer River, late in 1967, Fred's health began to fail and he was obliged to seek treatment in Australia. He returned less than a year later and suggested to the Trust that they arrange with the Government for Graeme George to manage the sanctuary. In August 1969 the Sanctuary was officially opened by Sir Edward. Fred retired at that time, but stayed on for several months to lend a hand and to pass on to Graeme more of his wealth of practical knowledge.
Probably during the first half of 1969 he moved to Lae where he stayed with his sick friend Dick Tebb. After Dick died Fred stayed on in Lae for a period. He kept an eye out for young tree-kangaroos and cuscuses brought into the Lae Market and sent several up to Baiyer River. Descendants of Matschie's Tree-kangaroo, obtained by Fred during this period, are now well established as a captive breeding population in United States zoos.
He had invested in stocks and shares over the years and bought a house in National Park Road, Nambour, after returning to Australia. Here he enjoyed the company of occasional visits by his admired good friend 'God' and by his other good friends and acquaintances from PNG. He kept exotic finches and again demonstrated his gift of rapport with wild creatures, at one stage having a wild Eastern Whipbird, a very shy species, often come right into the house! Doubtless for this it would have been rewarded with tasty mealworms. He moved into the Sundale Retirement Village nearby after having a blackout. The Village management built him two quite large aviaries in the grounds. He kept some pheasants and foreign finches in them, establishing his mealworm cultures and a small workshop under the units nearby.
Fred was a very generous person. Appropriately, soon after self-government, in December 1973, he presented the sibling nation with two very valuable original paintings, the splendid Birds of Paradise, Astrapia splendidissima, and the Lowland Sicklebill Bird of Paradise, Drepanornis bruijnii, by the renowned bird artist J.G. Keulemans. Fred bought them at the auction in London about 1930 of the originals painted by Keulemans to illustrate R. Bowdler Sharpe's classic Monograph of the Paradiseidae or Birds of Paradise and Ptilonorhynchidae or Bower Birds, published in 1891. He progressively gave away much of his collection of natural history books to friends who visited him over his years in Sundale Retirement Village, at Nambour.
Frederick William Shaw Mayer was honoured by the Queen in 1972 with the award of Member of the Order of the British Empire, for his work in establishing the Nondugl and Baiyer River Sanctuaries and the breeding of birds of paradise. He was made the first Honorary Life Member of the Papua New Guinea Bird Society.
Fred never married. He is survived by his sister Miss Janet Mayer, of Sydney.
Keith LEVY (27 September 1989)
Keith was born in 1927 at Merrylands, NSW. He joined the PNG Provisional Administration in 1947 and in 1949 he married Dawn. He remained with the government for 12 years, first as a records clerk and later an assistant statistician.
When Keith left the government, it was to accept the challenge of taking up a land grant in the Western Highlands, at the time, a largely uncontrolled and primitive area of PNG. These were pioneer days. With Dawn beside him and hard back-breaking work, second hand equipment, irregular supplies, poor refrigeration and a new baby each eighteen months, he established Bitten Plantation which produced high quality mountain coffee.
Not content with this he used his building skills to erect several spec. buildings in Mount Hagen. He also led an active public life, holding executive positions in the Farmers and Settlers Association, Western Highlands Rugby League Association, Pre-School and P & C Associations, Western Highlands Show Society and the Baiyer River Bird Sanctuary.
Keith gained the respect of the native people in the Western Highlands—an arrogant difficult group of people—and went on to represent them in the First House of Assembly. He won the seat against their own tribal leaders: no mean task for a European. He was a man of vision who realised that constitutional change was coming and did much to assist them in understanding what was happening.
With the coming of independence Keith had the foresight that his tasks in PNG were finished and he and his family returned to Australia. He settled first at Wauchope, then Cootamundra before retiring to Laurieton. He is survived by his wife Dawn and children Gayle, David, James, Mark, Teresa and Keith.
Norm OSBORNE (30 July 1989)
He spent years in Lae and was PNG RSL State President. Survived by wife Sue and two daughters. No further information available.
Rod MARSLAND, MBE, MID, Bronze Star (USA) (15 July 1989)
Rod went to the PNG in 1937 and was a well known planter, shipmaster and Coastwatcher. He played a major part in the evacuation of Australian troops from Rabaul and had other distinguished war service. No further information available.
Greg KENT (2 October 1989)
Greg spent many years in Rabaul as an insurance representative in association with W. R. Carpenter & Co. He is survived by wife Eileen. No further information available.