Vale June 1987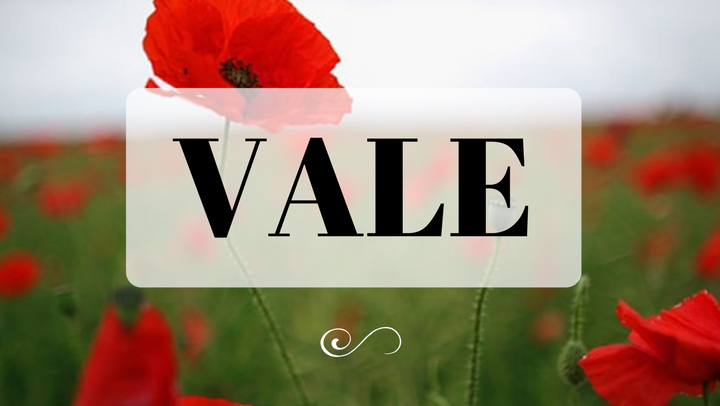 BENSTED, Florenz Allan | BRADY, Elizabeth (Bess) | BRINKLEY, Alfred | BURKE, James Peter | BURKE, Mary | DALY, Raymond | DAVIDSON, James (Davo) | GOW, Phyllis | HOGAN, Della | LARKIN, Teresa (Terry) | SEARLE, Ken | SIMOGUN BEM, Sir Pita | WILKINSON, Jack |
Della HOGAN (24 January 1987, aged 99)
Widow of Gerald Hogan who was Crown Law Officer in Rabaul pre-war and was lost on the Montevideo Maru.
Mary BURKE (18 February 1987, aged 88)
Widow of John Burke who was in the Titles Office in Rabaul pre-war.
Raymond DALY (9 March 1987)
Retired in 1973 as Health Inspector.
Florenz Allan BENSTED (15 March 1987, aged 84)
Son of a Director of Works in Papua and born in Port Moresby, Allan returned to become a pre­war Patrol Officer, then served in ANGAU and later became a DC, retiring in 1969. He leaves a widow, Phyllis.
Teresa (Terry) LARKIN (17 April 1987)
Widow of Patrick (Paddy) Larkin, former Deputy Commissioner of Police at Moresby.
Phyllis GOW (21 April 1987)
Wife of Alan Gow, former DC, now living at Clareville, Sydney.
Ken SEARLE (26 April 1987)
Senior Radiologist at Moresby and later adviser to United Nations. Ken started training of local men as assistant radiographers. He worked on the first mass X-Ray anti-TB campaign along the Sepik and is remembered for his dedicated work in both clinical and preventive areas. He leaves a widow, Dorothy.
James Peter BURKE (19 May 1987)
Pre-war Treasury officer Rabaul and post-war senior officer Moresby, retiring 1953. Leaves widow Nancy, son Peter and family, all in Mosman, Sydney.
Sir Pita SIMOGUN BEM (11 April 1987, aged 87)
Passed away in Boram Hospital. Policeman, wartime leader, Coastwatcher, pioneer Politician and Statesman.
Most members of the Association will know the post-war work in political and economic development carried out by this great Papua New Guinean. The following letter written by Malcolm Wright to the South Pacific Post is printed as a tribute to his wartime work:
On behalf of a group of Australians, I would like to record our high regard for, and express our appreciation of, Sir Peta Simogun who died recently.
I first met Sir Peta in 1935 when, as a Lance-Corporal of Police, he was assigned to my patrol to re-open the post in Central Nakanai, New Britain. We became friends and I was aware even then of the great potential of this man. His influence with the local people was, from the start, very strong and although, as a Sepik man, he was a stranger, their acceptance of him as a friend and adviser was quick. He was promoted to Corporal on my recommendation.
In 1943 I was in Port Moresby forming a party to carry out Coastwatching operations on the south coast of New Britain which was then occupied by Japanese forces in strength. The purpose was to cover air and sea movement to the south-west of Rabaul. Les Williams and Peter Figgis, both AIF officers, had joined my party and when I heard that Sergeant Simogun was at the RPC training depot at Hanuabada, I approached him with ANGAU approval. He immediately agreed to go with us and in reply to my saying that there was a risk of our being killed, he responded in those now well-known words, "Mi dai, mi dai. Mi got pikininni man belong karim nem belong mi".
With three more New Guinea men, all from New Britain, we landed from a US submarine at Balen on the night of 30 April 1943, and immediately began moving our equipment and six months' supplies into the bush. Not wishing to involve the beach people in the event of Japanese inquiries, we carried our own cargo, the great bulk of it by Sergeant Simogun. With the assistance of some bush people we built a post overlooking the coast. In these very difficult times, Sergeant Simogun's personality never flagged and he inspired everyone with his energy and optimism.
In October 1943 after receiving reinforcements by submarine, Les Williams, Lou Searle, Sergeant Simogun and Sergeant Marsh and I, with three New Guinea men recruited locally, moved across New Britain in a very difficult march to take up a new position in Central Nakanai. In this operation Paramount Luluai Golpaik of Pomio was superb in his organisation of the carriers and warning of the approach of Japanese patrols in the area. Our welcome by the Nakanai people was tremendous and Simogun in particular was received with enthusiasm and a great show of friendship.
As the Allies moved towards Rabaul, our coastwatching functions were reduced and GHQ approved our operating as Guerillas against the Japanese troops retreating towards Rabaul. There was an indication that the hungry forces would move into the huge food area in the Central Nakanai mountains. We armed 200 Nakanai men with rifles and shotguns and after a short course in handling the weapons from Lou Searle and (now) Sergeant-Major Simogun they began attacking the retreating enemy. Simogun was in command of the main group and his courage, tactics and great leadership brought them immediate success. In less than two months the Nakanai groups killed 256 Japanese and wounded many more; two Nakanai men were lost. Sergeant-Major Simogun's personal score was 31.
In April 1944 we were relieved and Les Williams, Sergeant-Major Slmogun and I with twelve Nakanai men were taken off the beach by US PT boats and the entire party brought to Australia. For his services in New Britain Simogun was awarded the British Empire Medal.
After the war Simogun served in the RPNG Constabulary for a short time, then he saw the possibility of development among his own people and worked with them. His influence, ability and reputation became widely known and so great that he was selected by the Minister for Territories to be one of the three indigenous members in the new Legislative Council. His career from then on is well known and his knighthood was an honourable and fitting recognition of his work. After meeting him in PNG, Lord Casey, the Governor General of Australia, described him to me as "a man of consequence".
Les Williams, Peter Figgis, Lou Searle and I wish to record our high regard for this great New Guinean, great man and great friend.
Yoko, friend Peta Simogun.
Elizabeth (Bess) BRADY (1 May 1987)
Wife of Les Brady, coffee planter near Kainantu in the fifties. Killed in a car accident.
Alfred BRINKLEY (May 1987)
Formerly of Moresby before retiring to Kadanga, Qld.
Jack WILKINSON (March 1987)
Born at Misima and worked in Milne Bay District all his life. Was in 39th Bn on the Kokoda Trail, and went to Ferguson Island sawmilling after the war.
James (Davo) DAVIDSON (April 1987)
Came to Moresby late 40s and worked with Gunner Anderson at 17 Mile quarry, then later as PNG Manager for Monier.