Radio comes to Kompiam: Ron Ehrke
Enga Province in Papua New Guinea Highlands region is a remote and isolated region of PNG. Kompiam is a key community in the Wabag sub-district in a mountainous region of the highlands that runs through the centre of PNG's mainland. People living in and around Kompiam communities are served by a large health centre, and primary and secondary schools. They have a regular weekly small plane service (a 15 minute journey) from Mt Hagen, a major Provincial town in Western Highlands Province. Kompiam is also accessible by road from Mt Hagen, mostly sealed road (Mt Hagen to Wabag) and unsealed into Kompiam. The road trip generally takes around 4 to 5 hours but is often impassable during the wet season due to small landslides on to the unsealed section of road.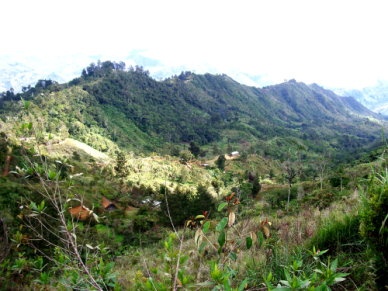 Satellite technology is now enabling radio email access for 'outside' communication with the health centre and local high school (introduced in 2008). But when the community radio station was established in May 2007, this was the first communication medium to be provided for people within communities in the Kompiam valley and surrounding communities through the repeater station at Pakau.
Radio services (AM, FM or Shortwave) are provided in PNG by the National Broadcasting Corporation (NBC) and its extensive network of Provincial radio broadcasting services. However ageing NBC technical infrastructure and lack of Government funding over many years has resulted in people in many remote PNG communities being denied access to these kinds of radio broadcasting services that are taken for granted in developed economies.
International donor communities through Government foreign aid programs (Canadian and Australian) and also an Australian Non-Government Organisation (Baptist World Aid Australia) provided funding to establish a community radio station at Kompiam, commissioned in May 2007. This station, operated by local people trained to produce and present radio programs, provides 7 hours of radio broadcasts each day to inform, educate and develop local people as well as provide music for entertainment.
Radio Building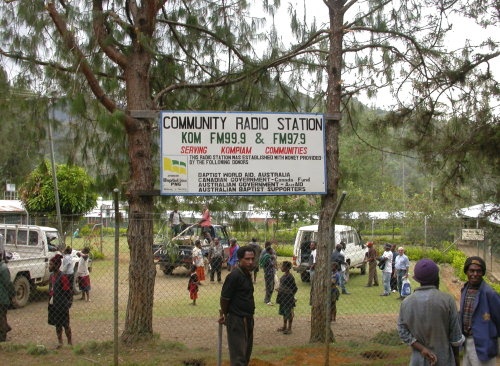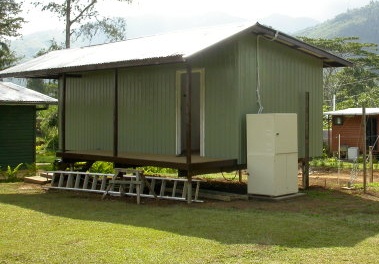 The Kompiam Community Radio Station was established within the Kompiam Health Centre compound and a purpose-built building was erected by a local contractor for the radio studio and office/technical area.
Although space adjacent to the studio building was limited for erection of the antennae mast, local effort cleared significant trees for this purpose with the help of a new 'digger' recently purchased for road construction between Kompiam and Wabag.
Equipment installation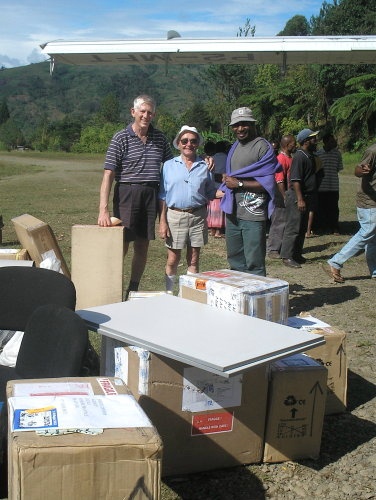 Studio equipment, solar panels and other components for the solar system and antennae mast were shipped from Australia and installed on site with labouring assistance provided by local people who were very enthusiastic to help.
A total of 8 solar panels were installed on the roof of the radio station building together with 12 x 2 volt batteries and associated solar control equipment to provide power for the radio studio and transmitter equipment.
Transmission equipment using a 50 watt transmitter sourced from Broadcast Solutions Electronics, Cape Town, South Africa, and antennae from Aldena, Italy, were shipped directly to PNG and installed on site, again with the assistance of local people.
Repeater Station
Location of the radio studio, at the Kompiam Health Centre was very suitable for security and easy access for some announcers who are also health centre staff. However the health centre is in a valley and therefore to provide radio broadcasts to a much larger potential audience outside the valley, a repeater station was established on a high mountain ridge eight kilometres (as the crow flies) from the radio station.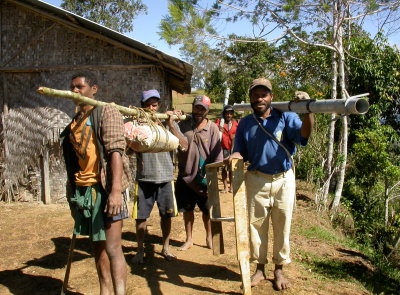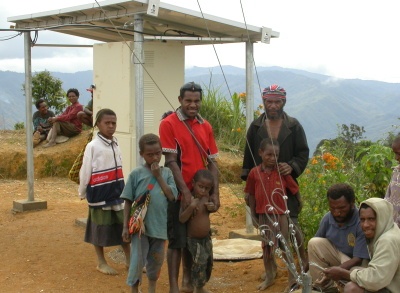 Simply, a repeater station, that needs to be in 'line-of-sight' to the main transmitter, receives the radio broadcast signal (using a high-quality professional radio receiver) and re-transmits that same radio program on a separate FM radio frequency.
The chosen repeater site was within a community known as Pakau. Being on a mountain ridge, there was only one possible site with sufficient level area to enable erection of a 20 metre antennae mast, receiving antenna mast and solar system. Negotiations were necessary with the local landowner to use his land, on which his house was erected, for the repeater station. The local community agreed to dismantle the existing house and re-erect it on another nearby piece of land in preparation for installation of the repeater station.
All equipment for the repeater station and also building materials (cement, sand and stones) had to be transported, firstly by road to within 2 kilometres of the site and then hand-carried by local people to the site (a 2 km road especially built for this purpose was impassable at the time due to recent heavy rain and small landslides).
Local people prepared the site by digging holes, mixing concrete and assisting with foundations for masts and guy anchor points; also a foundation for battery cabinets and associated solar control equipment, receiver and 50 watt transmitter. They also generally assisted with manual tasks in the erection of a frame for installation of 4 solar panels and erection of a 20 metre mast with four dipole antennae.
The Kompiam station was already on air in a test mode so that when installation of the repeater was completed, its operation could be confirmed by being able to receive radio broadcast transmission on its own separate repeater station frequency (95.9 MHz).
Local children showed absolute delight that they were listening to their own radio station.
Radio training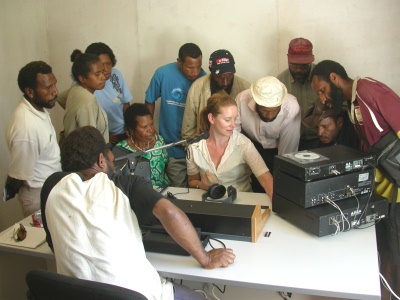 Radio broadcast training specialists from Australia provided training to local people from the Kompiam communities who had been chosen to be trained as announcers to operate the studio equipment and produce and present radio programs.
After two weeks of intensive production, presentation and operational training, local announcers were ready to go 'on-air' and be rostered to provide radio broadcasts each day from the new Kompiam radio station.
Grand opening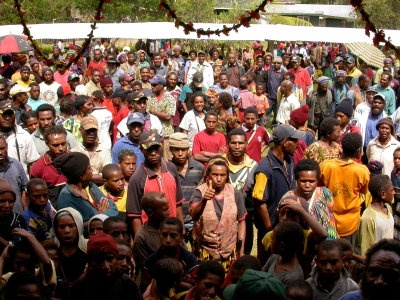 Kompiam Community Radio Station, broadcasting on FM 99.90 MHz, and repeater station re-broadcasting on FM 95.90 MHz, was formally opened and commissioned on 19 May 2007 by the Member of Parliament for the Enga Province and attended by more than 3,000 people from surrounding communities. After the formal opening, the general public who attended were invited to walk through the radio studio and a very large proportion of the crowd excitedly lined up, to file through in small groups, to see how radio programs were made.
The future
The estimated population receiving Kompiam community radio programs is around 60,000 people. Radio programs broadcast from Kompiam Community Radio station include a range of different education and development programs covering various health issues and concerns (especially HIV Aids), women's issues, and agriculture as well as informing local people about Local Government information and development matters. The Australian Broadcasting Corporation Radio Australia PNG production unit also provides (on compact discs) especially prepared programs, in their common language Pidgin English, for radio broadcasts to people living in PNG.
Thanks to Alpha Broadcast Services for permission to include this article.