PNGAA Scholarship Fund
PNGAA Scholarship Fund for PNG Students
The PNGAA has a scholarship fund to support secondary school students in PNG in the pursuit of their secondary education.
Initial funding will support two students attending secondary school in Wewak. In time, PNGAA aims to extend this to more students.
The cost is approximately A$3,000 including boarding fees per student, and the students will be chosen based on lack of family income and lack of employment opportunities for their parents.
Students with good citizenship qualities and sufficient academic ability to continue through from grade 9 to grade 12 will be selected for the program.
The initial two students will be selected from Anguganak High School which is a rural Junior High School in Sandaun (West Sepik) Province.
PNGAA is grateful for the assistance of Glenda Giles who spent many years as a high school teacher and district education inspector in West Sepik Province. Originally from New Zealand, Glenda is now retired and lives in Wewak although she still has an active involvement with schools in the Province and has recently finished a stint supervising the marking of high school entry examinations.
Glenda will be liaising with Headmistress, Mrs Waino, to select one boy and one girl who will be commencing grade 9 in 2023. The recipient details will be announced in early December 2022.
Glenda will be able to monitor the progress of the students, supply photos and encourage the students to write to PNGAA.
Fees provided under the PNGAA scholarship will be paid directly to the school so they can be properly accounted for, and in conjunction with the school's headmistress, Mrs Waino, regular reports will be provided to the PNGAA regarding the student's academic progress. PNGAA expects to also receive copies of their school reports mid-year and at the end of the year.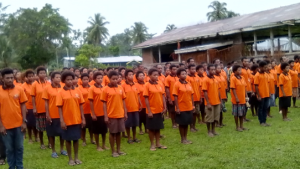 Anguganak High School is small with 185 students and is located near a river. It is surrounded by rain forest.
Anguganak provides grade 9 and grade 10 education within the national government system, under the Evangelical Alliance agency. The school is at Anguganak Christian Centre in the Yangkok LLG of Nuku district, West Sepik Province. It is located on the inland side of the Toricelli Range and has road access to Wewak in East Sepik Province. The school is registered in the government system.
PNGAA members are invited to assist by making a specific donation to the PNGAA Scholarship Fund by depositing money into the PNGAA account and marking it as "Scholarship Fund" along with your name. The following are the Account details:
BSB: 062-009/Account No. 0090 7724.
Please also email treasurer@pngaa.net to confirm.
Alternatively, complete the form below . . . . or follow the directions for donations in the Treasurer's Corner which is located at the back of every issue of the PNGAA journal.
PNGAA also encourages members to organise fundraising events in their own communities to support the PNGAA in this 'PNGAA Scholarship Fund for PNG Students'.
Following a chance comment, our Western Australia member, Jill Worsley kindly offered to make another quilt as a fundraiser for the PNGAA. This community help for the PNGAA is greatly appreciated as it enables so much more to be achieved.
Please view the details of this Quilt initiative HERE.
PNGAA looks forward to your support with this important project.
Donate to the PNGAA Scholarship Fund
Donation to the PNGAA Scholarship Fund