Independence Day reminiscences
(Published in Una Voce, September 2005)
 
Dave Tarrant
In 1975 there were many expats leaving PNG and I was one of them. As an Industrial Relations Officer with the Dept of Labour I had been issued with a leather brief case bearing the gold stamp lettering TP & NG. Just prior to leaving I realised that it should be handed back in, so I went to see William Edoni, the Papuan Officer who was to be in charge of Industrial Relations. When I told him that I wanted to return the brief case he said, with a pleasant smile 'Oh, no Dave, you keep it – it is only a relic from the colonial era'. It was just one little letter of the alphabet – 'T' (for Territory) but it made a heck of a difference and was, understandably, about to be eradicated quickly.
Harley Dickinson – Independence Day Mendi Southern Highlands
That special day with the court house covered in PNG National flags. I recall former DDC, Gus Bottrill, was invited to return to PNG and lower the Australian flag. As an artist I have since painted that scene with the beautiful mountain backdrop and put together forty paintings 'The Windows of My Life 1958-1976'. Hopefully I will see the paintings returned to PNG.
John and Christina Downie
Returning to PNG after an absence of five years, we arrived in Port Moresby on 12 September 1975. After depositing our baggage, we headed for the stores for some necessities. Here, we found, to our horror, that the most important item on the shopping list was unavailable, as an embargo on the sale of liquor prior to Independence Day was in place. The great occasion looked like being anything but a celebration. However, the day was saved by an old DCA hand who, bless him, had taken the motto 'Be Specific, Say South Pacific' to heart; had stocked up for a few rainy days, and helped us out so that we were able to greet the dawn of a new era in the manner to which we had grown accustomed.
Brian Hartley – Tuesday, 16 September 1975
What a great day for Papua New Guinea, for Australia in helping PNG reach this day, and for all the kiaps and others who had been trying to prepare the Papuans and New Guineans for this momentous day. From 1970 to 1975 firstly Self Government and then Independence had been a major part of our political education when on patrol. Where I was in the Highlands, it was a difficult and frustrating topic. Invariably kiaps returning from patrol would say – 'Bring it on, let the people experience it and discover for themselves that it won't adversely affect their lives.' The great sigh of relief was probably heard in Australia!
By Independence Day I was stationed in Rabaul. On 14 September 1975 I was privileged to spend several hours on board HMAS Torrens, being given a guided tour and being allowed to be up on the flying bridge while the ship was manouvered to its anchorage in Rabaul harbour for Independence Day.
On the 15th I attended the ceremony for the lowering of the Australian flag, in Queen Elizabeth Park. On the 16th I watched the colourful street parade, followed by the impressive ceremony for the raising of the new PNG flag, including a gun salute by HMAS Torrens. In the afternoon I refereed two soccer matches as part of the celebrations, in one of which a Rabaul team beat an HMAS Torrens team 3-1. A truly memorable day in many ways.
Ron Fergie – Indepence Eve
This is a framed watercolour (69x53cm) painted by Ron Fergie from a photo taken off Ela Beach in September 1975. Ron says that 'Ela Beach was alive with celebrating lakatois and sluggish expatriate boats like mine were fair game.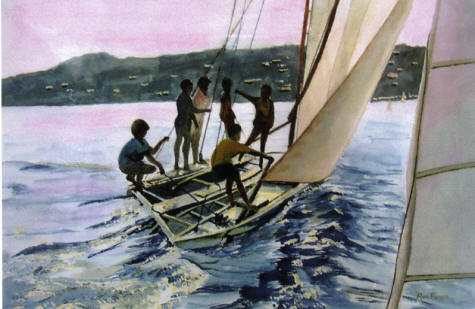 So, as I photographed this lakatoi and its exuberant crew sheering past my trailer sailer, I took their hail to be a good-natured gesture of derision. Clearly our Coral Queen was a lame duck and a very appropriate target (as my watercolour faithfully records, our self-furling jib was badly twisted around the forestay!)
But as I look back now, 30 years later, there was something of a symbolic gesture here for all outgoing expatriate administrators – these very capable young Papua New Guineans were the new leadership 'sending us off' before they took over the wheel!
I retired from the statutory appointment of PNG National Statistician in 1976 but was back to Port Moresby in later years on some of my short-term consultancy and training assignments. In 1996 I discovered a latent painting talent and now in my eighties enjoy reliving exciting times by way of my colour slide photos and by-product artwork such as this!'
Nancy Johnston From the Memoirs of the late William J. Johnston
It was a sad moment for many of us when our flag was lowered for the last time as the official one. The raising and lowering of it had been a daily ritual in our lives for many years. At sunrise and sunset, on every Government station, right throughout the country, no matter how small, the police paraded first in front of the District Office and then marched to the residence of the officer in charge and raised or lowered the flags. If there was a bugler on the station, Reveille was played at sunrise and the Retreat at sunset and in places where there was no bugler a Kibi shell was blown to signal the ritual was in progress. Any person outside, at these times, stopped and faced the direction of the flagpole and stood at attention. Even in the primitive areas, the patrolling officers 'showed the flag' wherever they stopped during their patrols.
Stuart Inder
Papua New Guinea had two kinds of independence celebrations: the quiet grass-roots independence of the vast majority of the population, which was enhanced through a vast national hook-up by the National Broadcasting Commission, and the busy, efficiently-organised, smooth-running celebration in Port Moresby, dominated by the presence of VIPs from 37 nations. In covering that week for the Pacific Islands Monthly, I was able to report both kinds of celebrations were resoundingly successful. But that's not to say there weren't unexpected, off-beat, or exasperating occasions – and in that latter department one of the official guests, Imelda Marcos, first lady of the Philippines, contributed more than her share. To start with, she insisted in flying in to Jacksons in her own stretch DC8 with a huge entourage despite the fact she had been warned of Port Moresby's doubts whether the runway could take the load. The greater part of that entourage comprised security men, who surrounded her in a flying wedge wherever she moved. Others of her entourage invaded the press room of the big international media contingent, piling our desks unasked with expensive glossy publications outrageously extolling the virtues of Imelda as her nation's beloved first lady, who did so much for her people. Meanwhile she repeatedly demonstrated her extraordinary scene-stealing capacity by arriving late at the flag-raising ceremony and from an unexpected direction, being unpardonably late for the State opening of the national parliament by Prince Charles and thus interrupting proceedings, and later at Government House by attempting to take precedence at the formal presentation of diplomatic credentials to the Governor-General, so enraging one diplomat that he walked out. But this was 1975, and I regret I probably missed a good story angle by failing to ask about the number of expensive pairs of shoes Imelda brought with her.
David Marsh – PNG Independence
When in 1975 Gough Whitlam asked Michael Somare to provide a date for PNG Independence, Somare set the date and gave me the job of organising the events. We had 2½ months to do it. Many of the details of how we went about it will appear in a piece I've written for the PNG Post-Courier independence anniversary supplement this 16 September, at their request. There I explain how getting people to join me in the job done was difficult. It had to be a PNG show, yet there was no expertise amongst the indigenous people or government for it, and government departments were reluctant to release their more senior staff. I also explain in that piece that there were some early concerns over micro nationalistic movements that had sprung up, cults and also emotional talk from University students. But when I had a general picture in my mind of the ceremonies that were required, the people to invite, the security, transport, accommodation, etc., I gathered a few staunch souls together and started on the detail. We raised funds from businesses, organised fireworks for each district and provided cash to make other district activities possible, paid for the West Indies cricket team to play in Port Moresby and Lae, had an Independence Medal made and issued all sorts of literature and badges. During the six days of celebrations between 14 and 19 September there were exhibits, church services, sporting events, bands, pageants, formal addresses, dinners and ceremonies.
The two outstanding ceremonies in Port Moresby were the flag lowering ceremony at sunset on 15 September and the flag raising ceremony on the 16th. I selected the Sir Hubert Murray Stadium for the first, as it was the closest possible place to Hanuabada where the British flag was first raised in 1884. That marvellous sunset, together with Sir John Guise's words, 'We are lowering this flag, not tearing it down', made it a memorable occasion. The flag raising ceremony was conducted on Independence Hill, a hill where there had been an anti-aircraft gun during the war defending Wards Strip. It's in view of the administrative headquarters, Parliament House, Supreme Court and Prime Minister's residence.
At one minute past midnight on 16 September, the Proclamation of Independence was announced by the Governor-General in a radio broadcast, followed by the National Anthem and a 101-gun salute provided by the RAN. At 9.30 am the flag raising ceremony commenced. Prince Charles inspected the Royal Guard before taking his place on the VIP dais. Cultural groups then handed the PNG flag to the Governor-General who then handed it to the Commander of the PNG Defence Force, asking him to raise it on behalf of the people of PNG. Two chaplains blessed the flag and it was raised at 10 am. This was followed by a fly-past of RAAF and PNGDF aircraft. Prince Charles unveiled a plaque and then joined Sir John Guise and Sir John Kerr in planting trees to commemorate the occasion. The individual officers in charge of each official occasion all did very well and Government Departments – especially Public Works, the Government Printer, Dept of Information – all rose to the great occasion. Many people say it was all too soon, but a country growing up is, to me, just like any family of teenagers wanting to express themselves and resenting parental controls. When their attitudes and demands reach a point of no return, the parent is wise to modify control and just provide advice when it is requested.
The following is taken from the Official Programme of Ceremonies and Celebrations in the National Capital District for the Papua New Guinea Independence Celebrations, 1975.
DRESS
Dress tends to be very informal in Papua New Guinea. It may be described in terms of Tropical Formal, Day Formal and Informal.
LADIES:
Evening – Tropical Formal – long frocks
Day –        Day Formal – short frocks in cool fabrics. Gloves are not worn. Hats are optional, and may be advisable for those who are not used to the tropical sun.
GENTLEMEN:
Evening – Tropical Formal – Rami (laplap) or long trousers with open necked Dress-shirt, or long-sleeved shirt with tie.
Day –        Day Formal – Rami or long trousers with safari-style jacket, or long- sleeved shirt with tie.
Informal – Rami or long trousers with short-sleeved shirt, usually brightly patterned.
For ceremonial occasions, it is suggested that guests wear the National Dress of their own country, or Day Formal.