Gender-based violence (GBV) in PNG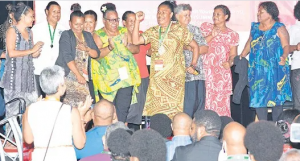 Gender-based violence (GBV) in PNG
Participants recently gathered and danced at the National Summit for Ending GBV.
According to Human Rights Watch, nearly seven out ten women in Papua New Guinea experience rape or assault in their lifetime.
But experts say that most cases are never reported because the victims are often too afraid to come forward, and even when they do, pursuing the matter through the PNG justice system is no easy task.
Stronger collaboration among service providers in the country is needed for effective case management of survivors of gender-based violence (GBV).
For example, the high profile case in PNG against Bhosip Kaiwi, who's been accused of killing his partner Jennelyn Kennedy, is scheduled to be back before court shortly, after being adjourned early last month to give police more time to finalise their investigation.
Experts say delays like this highlight just one of the challenges that exist when it comes to getting a domestic violence conviction in PNG. Court delays are a common challenge that victims have to deal with.
Sometimes people are waiting because their police files are not prepared on time and it's a real challenge.
Dr Judy Putt from the Department of Pacific Affairs at the Australian National University said there are two key factors behind the low conviction rates for domestic violence in PNG: the pressure on the victim or survivor and the formal justice system itself. Local organisations are addressing these problems.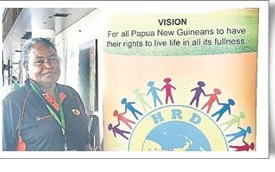 President of the Human Rights Defenders Association (HRDA) of Papua New Guinea Linda Tule.
The first responders to gender-based violence (GBV) situations are the human rights defenders (HRD) who do what they do purely out of passion to end GBV in their communities. The Human Rights Defenders Association (HRDA) of Papua New Guinea president Linda Tule said human rights defenders were found right across the country and in Port Moresby there were 20, all men, active members in her team.
She said 250 HDR defenders were trained in the city in 2017 and they were working individually in their communities until in 2018 when an association was formed and was launched last year.
"Our vision is for everyone in PNG to have their rights to live life in all its fullness," she said.
"We identify ourselves as HRD in our communities and we are volunteers operating out of our own pockets.
"Because we are based in the community and people know who we are, we either get to them or they come to us.
"We intervene and help the victims and survivors of GBV through showing them the referral pathways.
"Issues may include lack of financial independence, ability to attend court, being scared of the perpetrator or retaliation from his family," she said. However, as Dr Putt reports,
"The justice system itself is just very under resourced and it makes it very difficult for any kind of offence to result in a conviction but, it just gets exacerbated when it comes to domestic violence,"
Dr Putt said these kinds of delays, barriers and low rates of convictions can lead to a lack of confidence in the police and the formal justice system and dissuade victims and survivors from coming forward.
However, the recent conviction and sentencing of Richard Namaliu for the 2017 death of 24-year-old law student Ruby-Anne Laufa has restored some people's hope in the system.
Ms Laufa's friend, Avis Babalu, and gender-based violence activist, said she was surprised but happy when her friend's death recently ended in a conviction.
"A lot of times cases like this get thrown out of court or the suspect doesn't get locked up so, this is a big win for gender-based violence in PNG," she said.
Linda Tule's HDR says that her volunteers direct or get them to the safe houses, family and sexual violence units (FSVU) and do awareness on GBV and inform them about their rights. "We are on the ground working and we are the first responders in many cases." Tule said one of the main challenges was financial constraints of the individual HRD because the association did not receive any funding.
Dr Putt says for things to change in PNG the government needs to make strong statements about how wrong domestic violence is and show commitment by resourcing services providing help to victims and survivors.