Event: PNG Tales – Jan Anthony, Jennifer Gagau, and Robin Hodgson – Sydney 21 March 2021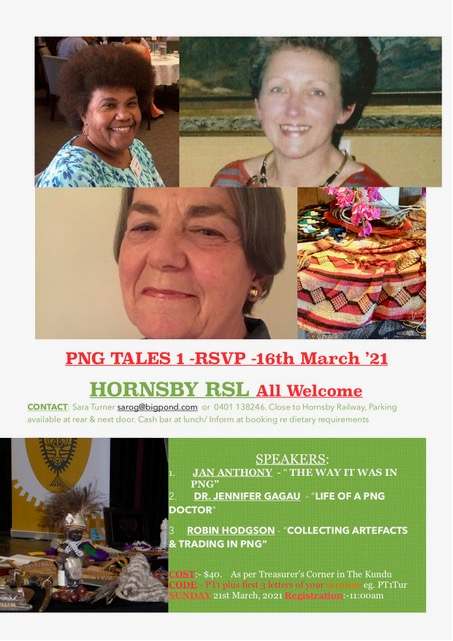 PNG TALES
There is still time . . . . but not very much . . . you must be quick.
Date: SUNDAY 21st March 2021
Speakers:
Jan Anthony – " The Way it was"
Dr Jennifer Gagau – "Life of a PNG Doctor"
Robin Hodgson – "Collecting Artefacts and Trading in PNG"
Venue: Hornsby RSL
Public transport- Hornsby Rail Station is about 5 minutes away
Disabled access
Registration at 11:00 . . . . will finish at 3:30
Cost: $40 per person
Please notify Sara if you have any special dietary requirements.
If paying via EFT, the account details are:
Account Name: PNGAA
BSB: 062 009
Account No: 0090 7724
Please use code: PT1 and your surname.
Please contact Sara ASAP to confirm your place.
0401 138 246
Or