Christopher Viner-Smith, OAM: Chips Mackellar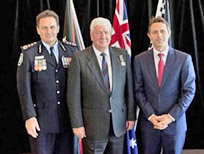 Christopher Viner-Smith was named in the 2015 Australia Day Honours list, with the citation: The Medal of the Order of Australia in the General Division, for services to community history particularly through securing recognition for Patrol Officers in pre-independence Papua New Guinea.
Chris said, 'I am certainly honoured to receive it and hope it opens a few more doors to Australia's understanding of the work done by the
Kiaps and indeed all of those Australians who served the Government in developing TPNG.'
Many people were involved in securing the Police Overseas Service Medal (POSM) for Patrol Officers (Kiaps). Most notable amongst them are the Hon. Jason Clare, a Minister in the then Labor Government, the Hon. Scott Morrison, a Minister in the current Liberal Government, Julia Gillard, the then Prime Minister, who recommended to the Queen that the criteria for the award of the Medal be altered to include Kiaps, and of course, Her Majesty the Queen who authorised the granting of this medal to us.
Several Kiaps, including Mike Douglas, were also involved in securing the POSM for us and we thank them for their contribution. We are grateful to everyone who helped, but none of us would ever have received this medal without the tireless persistence and perseverance of Chris Viner-Smith.
Chris began his campaign for our medal in 2002, with a letter to the Hon. Dana Vale, Minister for Veterans Affairs, followed in 2003 by letters to the Hon. Chris Ellison, Minister for Justice and Customs, the Hon. Phillip Ruddock, Attorney General of Australia and the then Prime Minister John Howard.
Every year from 2004, Chris sent a series of letters and submissions to Prime Ministers John Howard and Kevin Rudd, various Ministers and other Members of Parliament. Chris also met with various Ministers, Members of Parliament, government agencies and NGOs in a monumental effort of extraordinary perseverance, to secure official recognition for us, but all to no avail.
Then, on 16 November 2009, Scott Morrison MP in the presence of several Kiaps in the public gallery, rose in Parliament to propose that Kiaps be officially recognised.
However the opposition rejected the Private Members Bill and Chris then had to lobby the independents Windsor, Oakeshott, Brandt and Wilkie and the Labor MP for Canberra, Brodtmann, who all supported him. Although the Bill was withdrawn there was enough support, especially from Canberra Labor Senator Lundy, to allow both sides to agree to seek a change to the POSM Letters Patent from the Queen and in 2013 we were granted our Medal.
Those of us who have received this Medal owe it to Chris for his dedication, diligence and perseverance. His reward, justly deserved, is the Medal of the Order of Australia.
Thank you, and congratulations Chris Viner-Smith, OAM.